It is generally recognised that Modernist design had its initial inception in Europe in 1919, with the opening of the Bauhaus school of Design in Germany. It was founded with the idea of creating a "total" work of art in which all arts, including architecture, would eventually be brought together. The Bauhaus style became one of the most influential currents in Modernist architecture and modern design.This was also the major driving force behind the Mid-Century era of art, which spanned from the early 1940's to the early 80's. In the USA, the sparse, clean lines of Frank Lloyd Wright's architecture and the emerging acceptance of the Scandinavian design ethic, had an incisive influence on interior design and ceramic styles. Below are a collection of some of the many American artists that made fantastic  contributions to this unique phase of art and design.
…
 Clyde Burt :
Ceramic artist Clyde Burt (1922-1981) is widely recognized as a pioneer in the American studio ceramics movement. He studied at Fort Wayne Art School and the Cape Cod School of Art and completed graduate work under Maija Grotell at the Cranbrook Academy of Art. He exhibited at the Ceramic Nationals in Syracuse in 1954, 1956 and 1958. In 1957 he won the Art Institute of Chicago Designer-Craftsman Award. His pieces are in the permanent collections of the Smithsonian American Art Museum and Everson Museum of Art.
Clyde Burt Lidded Vessel
Ceramic Wall Relief  – Clyde Burt   c       a – 1960
( 1stdibs )
Large ceramic vessel wtih etched design – Clyde Burt
Clyde Burt – Glazed modernist stoneware vessel with lid
Clyde Burt pottery vase
Clyde Burt vase, stoneware
(  Clyde Burt Ceramics | Facebook )
Clyde Burt well panel,plate & vases
( AAA Auctions )
 Large stoneware bottle form vase with an incised geometric design – Clyde Burt
Height 16.5 inches  ( Trocadero – Studio 2.0 )
Clyde Burt  – Monumental glazed earthenware vase.This dates from early in Burt's career when he was working in Ohio in the 1950's
Height 33 inches ( Wright Auctions 2002 )
Clyde Burt Tiled Wall Panel
(  Clyde Burt Ceramics | Facebook )
Clyde Burt – Vase, Dayton-Melrose, OH, 1955
Clyde Burt ceramic vase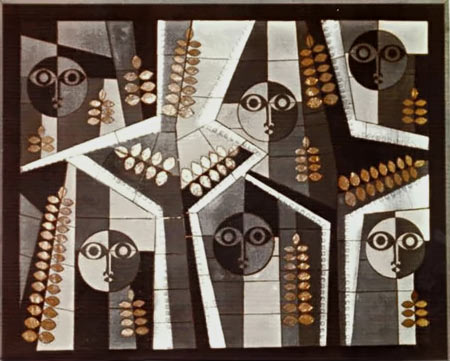 Clyde Burt ceramic wall panel
(  Clyde Burt Ceramics | Facebook )
Large Bottle –  Clyde Burt
Modernist Bowl – Clyde Burt
Clyde Burt modernist vase
Clyde Burt Vase
Mid centuryVase -Clyde Burt
Modernist Figurines  – Clyde Burt
1963-1964
Clyde Burt Ceramic Vessel  Incised design
 Jerome and Evelyn Ackerman :
Jerome and Evelyn Ackerman are skilled craftsmen and designers who were instrumental in defining Mid-Century Modern home decor.  After attending the "For Modern Living" exhibition at the Detroit Institute of Arts in 1949, where they encountered the design duo of Charles and Ray Eames, the couple decided to devote a life and career to design . Here, for their generation, was a fresh and exciting alternative to the "mundane, what-your-mother-had, doilies-on-a-table" kind of traditional home decor. "We didn't know we had missed it, because it hadn't been there. * Jerome recalls, "If the Eames can do it, why can't we?"; so they opened the Jenev Design Studio (a combination of their names) in West Los Angeles. They began producing slip-cast ceramics and eventually expanded their offering to include a  wide variety of home decor and architectural elements. The business name changed to ERA Industries in 1956.
Jerome and Evelyn Ackerman modernist ceramic collection
Evelyn Ackerman – Horse  1950's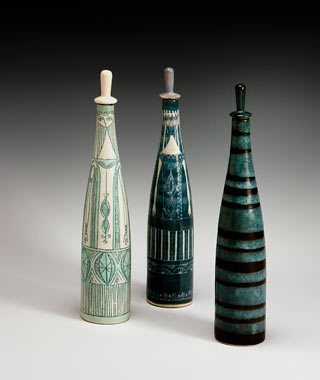 Jerome and Evelyn Ackerman  – Ceramic Bottles
Female Figures vase by Jerome Ackerman, 1953
( Mid2Mod .blogspot )
Rain – Evelyn Ackerman Mosaic
Gertrud & Otto Natzler :
Gertrud  Natzler's collaboration with her husband, Otto Natzler, extended over almost four decades and produced some of the twentieth century's finest ceramics. They are held by over seventy museums throughout the world and by countless private collections. Her nearly twenty-five thousand hand-thrown pots, bowls, and bottles are celebrated for their refinement, delicacy, and proportion  Her husband brought exceptional color and texture to the work with the glazes he invented and developed by experimentation, carefully documenting several thousand formulas.
Natzler modernist bowl
Gertrud & Otto Natzler folded bowl with yellow glazed earthenware
Natzler crater bowl  -glazed earthenware with a burst-bubble glaze and blue highlights.
( Treadway Toomey Auctions – sold )
Gertrud & Otto Natzler earthenware footed bowl
Natzler Tall bottle with lip – 1962
Gertrud & Otto Natzler  – Monumental vase – 1957
( LAMA – Los Angeles Modern Auctions -Realized: $93,750 )
Otto & Gertrud Natzler ceramics at Common Ground, AMOCO
Otto & Gertrud Natzler Bowl with a lava glaze.
Gertrud & Otto Natzler  – Velvet Chartreuse glazed ceramic – 1945
( LAMA )
Gertrud & Otto Natzler – folded shape bowl
Gertrud & Otto Natzler – Tomato Red Vase
Gertrud and Otto Natzler
 Russell Wright :
Centrepiece bowl designed by Russell Wright for Bauer Pottery.
1948
Russel Wright – American Modern dinner set
See more Russell Wright ceramics HERE
Eva Zeisel :  ( 1906 –  2011 )
Known for her organic modernist ceramic works, Eva Zeisel was truly one of the foremost designers of the Twentieth Century, with a career that spanned into the Twenty First Century. She was the first designer in America to produce an all white dinner service. After settling in the USA, she started designing for pretty large-sized companies like General Mills, Rosenthal China, Castelton China and more. Zeisel was also proud to share her knowledge, and eventually became a professor of Industrial Design at the Pratt Institute in New York. One of her career highlights was in 1946, where she had a one-woman show at the Museum of Modern Art in New York. She was still designing at the age of 100.
Eva Zeisel was continually intrigued by what she called her "playful search for beauty." A person of delightfully defiant spirit, the designer was just beginning her career when she declared war on the fashionable avant-garde. "I didn't accept the purism of modern design," she said. "In my definition, if it gave beauty to the eye, it was beauty."
Eva Zeisel  – Art Deco coffee set
1932
Eva Ziesel carafe and tray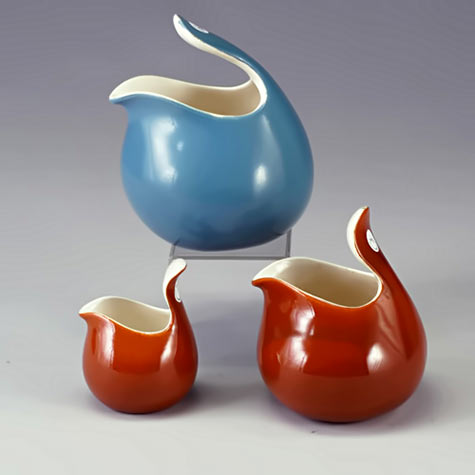 Eva Zeisel jugs
"It's easy to do something stunning that stays in a collector's cabinet.  But Eva's designs reached people at the table, where they gather"  – Paola Antonelli
Large milk pitchers – Eva Ziesel
"The clean lines of modern design can be successfully combined with sensuous, classic shape"  – Eva Zeisel
Eva Zeisel Vase
Eva Zeisel  1983
Eva Zeisel Sauce Bowl
 Beatrice Wood :  (1893-1998)
As a potter, Wood was fascinated by the glazing process from the beginning, and dedicated much energy to the study of luster glazing techniques. She also studied briefly with master potters Getrud and Otto Natzler in 1940, who impressed upon her the value of the ceramic vessel as fine art. . In 1948 Wood began to establish a home and studio in Ojai,California and over the next fifteen years began perfecting her own version of the luster glaze.
She was lifelong member of the Theosophical Society which would greatly influence her artistic philosophies. Her path was also shaped by Dada, the art movement of which Wood was a seminal part, which rejected reason and logic; prizing nonsense, irrationality and intuition. By the early 1970's, Beatrice Wood had established a reputation as a fine artist and emerged as a leading American exponent of luster pottery. She eventually turned her focus to more complex, decorative vessels, and her work was increasingly sought after by galleries and museums. By the time of her death at the age of 105, Wood had become a well-recognized figure in the world of ceramic art, renowned as much for her luster glazes as for her longevity, vitality, and charm.
Beatrice Wood ceramic vessel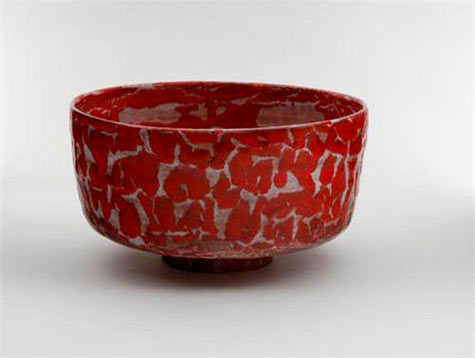 Beatrice Wood ceramic bowl
Beatrice Wood vase, bulbous shape covered in a volcanic textured yellow glaze with subtle black highlights.
( Treadway Toomey Auctions )
Mottled Glaze, Ovoid Crimped bowl – Beatrice Wood
( roadside-america.com )
Gold Luster Vessel with Figures  1985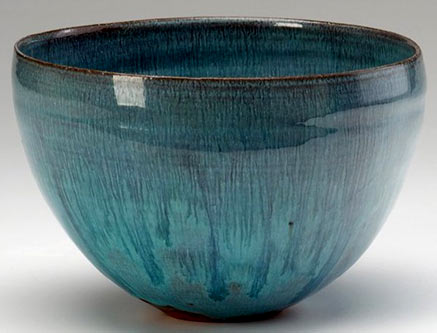 Beatrice Wood – deep tourquise glazed bowl
Beatrice Wood
Charles Ray Eames Elephant
Harrison McIntosh :
Born in California in 1914, Harrison McIntosh was a master at his craft, setting aesthetic standards of elegance, precision, technique and design in ceramics. As a pioneer in the post-World War II Southern California crafts movement, his ceramic art continues to be recognized beyond today.
Harrison McIntosh Pottery Vase
Glazed Platter Harrison McIntosh
1984
Harrison McIntosh
( Otis Legacy )
Double Gourd Bottles – Harrison McIntosh
1950
Harrison McIntosh ceramics at Common Ground, AMOCO
…
* See more at: http://www.craftcouncil.org/magazine/article/mid-century-modernists#sthash.udAAzkhK.dpuf
–