'Totem'  sculpture with blue resin band – Peter Hayes 2009
Shoji Hamada 1997
Massive Ceramic Sky Pot  –  Jerry Rothman  -1961
Pablo Picasso light painting, taken in 1949 by Gjon Mili  for LIFE magazine.
Jennifer McCurdy carved ceramic vessel
Clement Massier Art Nouveau vase
Ceramic Vase By Jacques Innocenti
Ancient Greek Proto-Corinthian olpe with registers of lions, bulls, ibex and sphinxes,
c. 640-30 BC, Louvre
Lidded vessel blue and white – Ralph Bacerra 1980
Amphora Art Nouveau Vase – Klimt Style 1905
Ginny Marsh Flower Arranger 1995
Kurt Weiser –Semi Concious
In the hands of Kurt Weiser, (b. 1950) the centuries-old tradition of china paint on porcelain is given new life. Weiser's sumptuous, provocative teapots and jars, resplendent with lush jungle scenes, can be both alluring and unsettling. Detailed depictions of tropical splendor become wayward reveries as radiant colors and subtle distortions transform classic porcelain vessels. – Stephen Robison Flickr
George Ohr
Julia Galloway – Wheel-thrown soda fired porcelain mug illustrated with mishima and handpainted clouds and precious metal luster
Mudfire Gallery
 Mary Rogers  – Kiwi Bowl
LACMA Collections
Milton Moon
Yoshita Yukio
Art Nouveau Jardiniere – Lucien Lévy Dhurmer-(French,-1865–1953);-Clément Massier (French,-1844–1917)
Michael Bauermeister wood vessel
Rene Lalique Domremy Vase
1926
Ralph Bacerra stoneware bowl – 1975
Abstract-figure pitcher – Ball F Calrton
Taxile Doat
Ernst Wahliss Japonisme Vase – c.1900
Alexandra Porcelain Works, E. Wahliss Turn-Teplitz
On our website you will find antiques and applied art from the 19th and 20th centuries, in particular Art Nouveau and Art Deco glass and ceramics.
Mid-century modern – Leon Applebaum Art Glass Vase
Colin Pearson ceramics
Polia Pillin mid-century charger
Dale Chihuly red and gold glass sculpture
Hand painted baluster vase – Rene Buthaud
Paris 1922
Camard-&-Associés
Crackle textured vessel – Robin Hopper
Ceramic crackle glaze bottle- David White
Frederick Hurten Rhead vase – University City Pottery
Guido Gambone modernist Mid Century vase
1950's
Ken Price 2001
Kondo Yutaka bottle
Nicholas Bernard–'Wide Stroke Bottle'
Emile Gallé lidded vessel with floral motif
Camille Faure art deco vase
Jeff Shapiro -, Copper Black stoneware, glaze wood fired 'Elongated Form'
Yoichi Ohira – Hand-blown glass canes with murrine and powder inserts, gold leaf
2002
Abstract form – Paul Soldner
Moorcroft Carp vase,- moulded with three carp in yellow and blue
EJ Ainger—Auctions
Joan Miro
Miro created a pictorial world of intense imaginative power, in which visionary and cosmic elements are inextricably intertwined with the earthly and mundane.
Farsta stoneware vase by Wilhelm Kåge
1956
Porcelain vase – Mazuku Kozan
Jean Dunand – lacquered metal Art Deco vase with crushed eggshell inlays
1925
Elsa Rady
Aaron Bohrod and F. Carlton Ball Monumental Hand Thrown Pottery "Eve" Vase
Sgraffito stylized nude, glazed stoneware
1952-1956
Akio Takamori
Mottled Footed ceramic vessel –  John Glick
Brown and White Vase – Kurt Weiser
height 24 inches
1987
Mark Kuzio Untitled Vessel
1990
Niels Hansen Jacobsen
www.freeformsusa.com
Thomas Hoadley
Art Deco 'Woman dancing to the flag' vase – Mougin, France
Viola Frey
Warren McKenzie
Christiane Wilhelm, Germany
'Ember Figure' from the 'Figure' series, John Mason
1998
Gérard Brossard
Malcolm Davis vase
Michael Wein raku bottle
Split Foot Vase – Karen Karnes
Glass+stone vase – William Morris
Zsolnay Green Eosin and Copper Glazed Figural Lustre Vase
Jeff Shapiro
Andrea Gill Untitled Vessel Earthenware
height 26 inches
ca 1981
Don Reitz
Dylan Bowen, UK
2013
Frank Boyden – 'Some Are Blind'
1983
African Jar by Marilyn Wheeler, NZ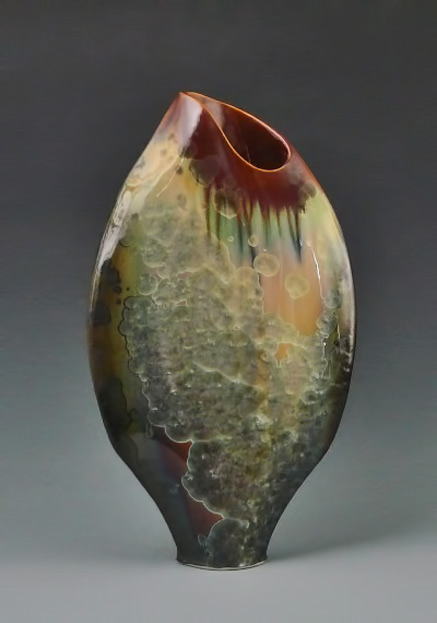 Ginny Conrow
Ceramic Arts Daily
'Intangible Bay' ceramic cup by Wayne Higby
John Ward-Vase with Green Circles
ca 1985
Michael Anderson & Son cup
Rimas Vis Girda
Susan Folwell
Taxile Doat
Timothy Langholz vase
Ciboure vase . Décorateur Richard Le Corrone
Pâte de Verre vase – Henri Cros
 Wood-Fired Ceramic Vessel – Paul Soldner
Milton Moon vase, Australia
'Head with Two Curls Teapot' – Michael Lucero
2009  The Nevica Project
Richard Batterham cut-sided stoneware bowl  9" inches diameter
 Durweston, Dorset  2011.
Carolyn Genders
Lidded celadon multi faceted vessel  – Ralph Bacerra
2000- height 14 inches
Robin Stark
Potters Council "Chromatic Edge" exhibition 2012
Robin Stark Studio
Adrian Sandstrom
Potters Council "Chromatic Edge" exhibition 2012
F Carlton Ball
French Art Nouveau Period Stoneware Vase – Pierrefonds
OR  Gabriel Fourmaintreaux of Desvres (see comments below)
early 1900s
Desvres Gres faience three-handled Art Deco art pottery vase with crystalline metallic luster glaze
Guido Gambone–Mid-Century pitcher, Italy
…
–