Spirits  – Crispin Gonzales
Four Seasons Jar – the seasons change with every 90 degree turn. – David Misch
(  studio potter archive blog  )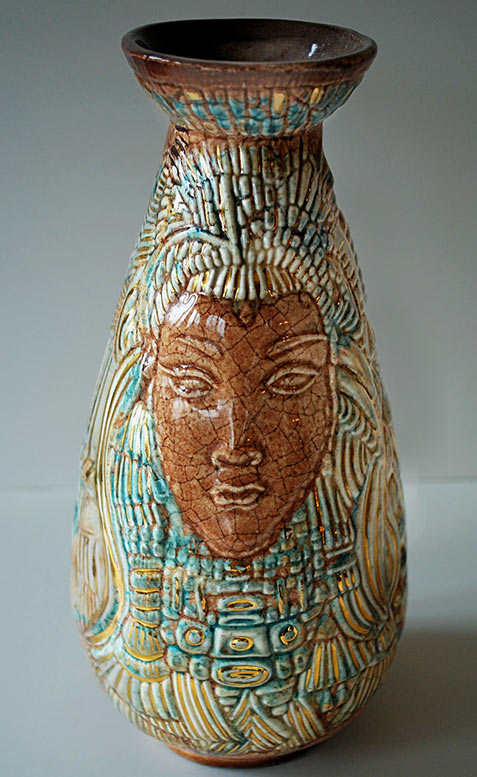 Sascha Brastoff –  Mid-Century Aztec vase
Post on Sascha Brastoff HERE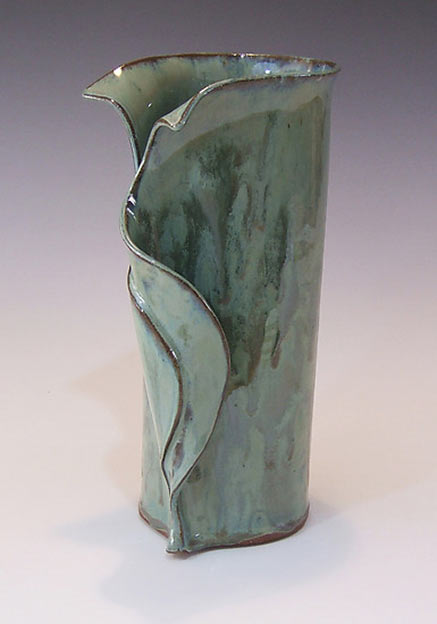 Handbuilt vase with graceful turns and folds – Ken Drolet
Ceramic artist, Ken Drolet, creates one-of-a-kind abstract sculptures in his studio in the Arizona desert. Though previously an oil and pastel artist, then later a furniture maker, working with the organic medium of clay provides a deep connection to nature Ken can no longer live without. He says that the clay talks to him. There is a feeling of harmony with the medium. It is not just Ken trying to make something out of the material, but the material adding its own spirit to what it will become.
"I am fascinated with shapes, colors, and textures. I love combining them in a work that reflects the world as I see it, with grace, beauty and the illusion of movement." 
Waylande Gregory, Jeweled Crystals Bowl, ca. 1942, stoneware with fused glass crystals.
 Collection of Martin and Judy Stogniew
Glazed earthenware vessel by Christopher Dresser
Porcelain bowl – Susan Nemeth
Roman cobalt blue glass amphora
Large Pot – Jerry McGlothlin
( The Artists Gallery )
Raku fired vase – Terry Crook
Pippin Drysdale – Australia
Gilded and enamelled glass perfume sprinkler, 1295–6, probably Syria. 
Hand-thrown Maple Leaf  Raku Vessel with Rings – Christopher-Mathie
Seth Payne teapot
Rockwood Vase
Wave vase-  China (Southern Song or Yuan Dynasty)
( The Cleveland Museum of Art )
Julius Dressler Austria Art Nouveau Organic Motif Vase (c.1900-1945).
Enno Jaekel – Keramistoe
  Green bottle with turquoise crystals –  Leigh Merrit
Rippl Ronnai – 1900
Zsolnay Art Nouveau
Another amazing Art Nouveau design from Amphora
Terri Kern – Inspired by the poetry of Richard Hague, this intimate wall piece is hand crafted from a slab of clay and is part the "Icon" series.
Clarice Cliff   Art Deco Teaapot
Carved and richly glazed vase – Denise Brown
Kristin Doner
Elizabeth Shriver
Stalagtites – Pietsch pottery
Large fruit bowl
Three legged pumpkin sugar bowl
Vlodek and Danuta Taylor – Poland
Their site is here
Guy Van Leemput – Belgium
Chris Carter
Large red stoneware vase with shino  –  Esther Griffith
Yves Lambeau
—
–