Shelly Art Deco saucer and cup
1930-1931
Seeking a new teaset : 
I'm currently in the market for some new teacups. The last one standing is shown below, the set lasting over 15 years. Their durability surprised me, you could barely feel the weight of the fine Japanese translucent porcelain when you lifted the Art Deco cup. It is getting promoted to the cabinet in recognition of its long service. I've had to avoid inviting anyone for a cuppa, as it would be slightly awkward having to share the same cup, or I could, shock horror, resort to using mugs. Mock elitist indignation aside, the occasional indulgence of tea from a teacup is a worthy act of reverence for the great beverage.
Serving tea or coffee is usually the final act of any dinner so its only appropriate to use a fine tea set to round off the occasion in style. Despite coffee having more caffeine and being more addictive, I think tea drinkers are probably more fanatical, having a rich tradition of serving rituals and having a much greater variety to choose from that offer an enticing array of captivating flavors… Ok, I'm slightly biased being a devoted tea drinker. The elaborate tea drinking ceremonies, especially in Japan, are particularly detailed down to how the tea is stirred.
My choice for a new set is basically fine porcelain, no floral decoration or gold trim, only two colours and a wide diameter rim so the tea cools more rapidly. I'm showing some of the cups I saw while searching, with full admiration for their fine craftsmanship.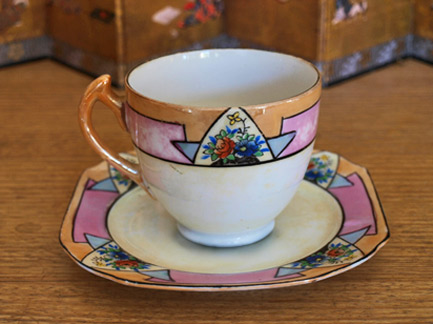 Japanese Art Deco cup
Footed cup with abstract decoration –  John Maltby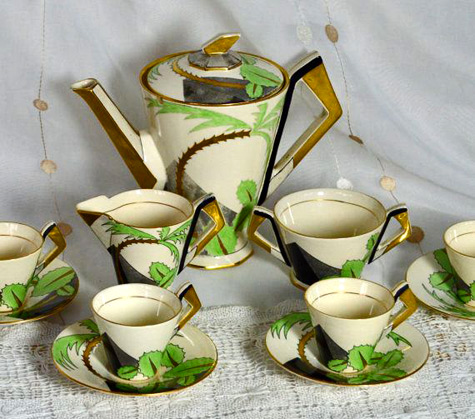 1930s Art Deco Coffee/Tea Set with Palm Tree Pattern
Pottery Ambassador Ware England
Wicksteads Etsy (sold)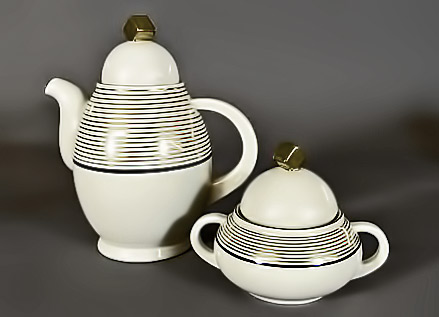 Art Deco teapot and sugar bowl – Nora Gulbrandsen for Porsgrund Porselen, Norway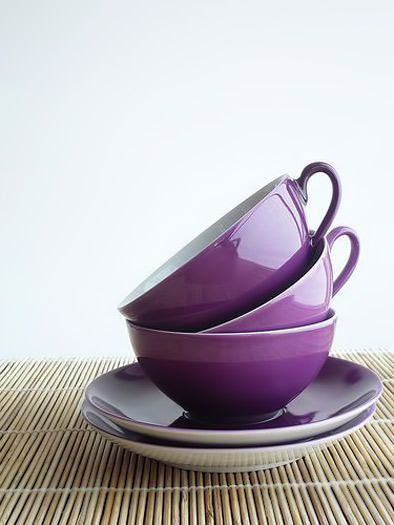 Purple cups  – Gisela Francisco
Shiro Hagi Chawan by Shibuya Deishi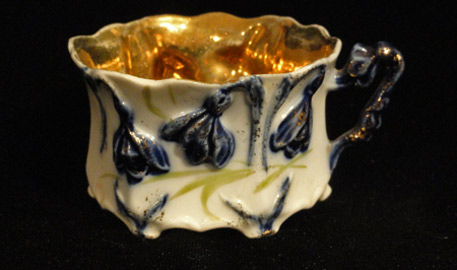 Small Art Nouveau tea cup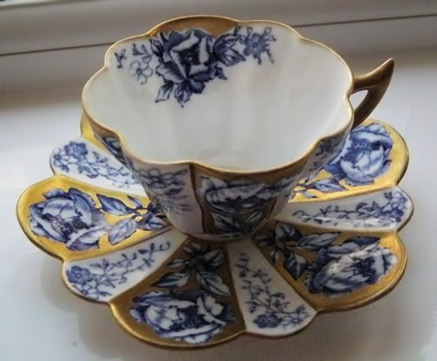 Victorian Foley Wileman Tea cup and Saucer
Geometric Art Deco  Trio – handpainted Grosvenor China cup, saucer and teaplate.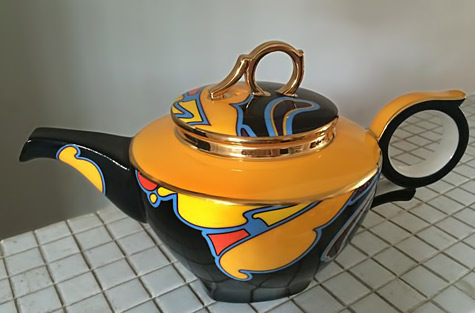 Art Deco teapot
Lomonosov 'Balley' cup and saucer
Russia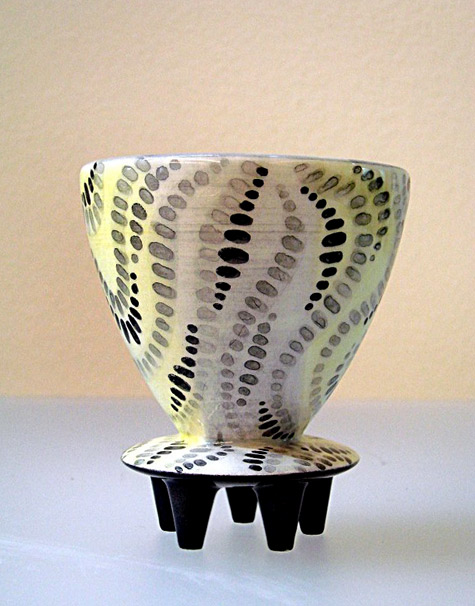 Footed contemporary styled cup- 'Imolarte' –  Bertozzi e Casoni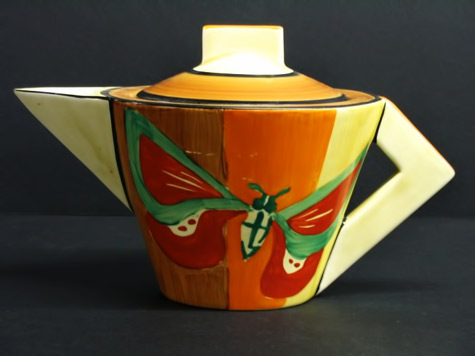 Art Deco Conical Butterfly Teapot, Clarice Cliff
Carved  Capodimonte cup and saucer.
Italy, Circa 1750
Bonhams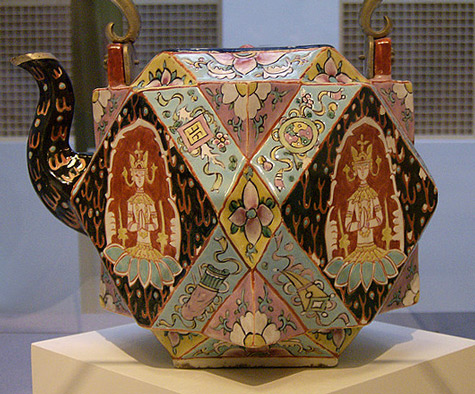 Chinese porcelain faceted teapot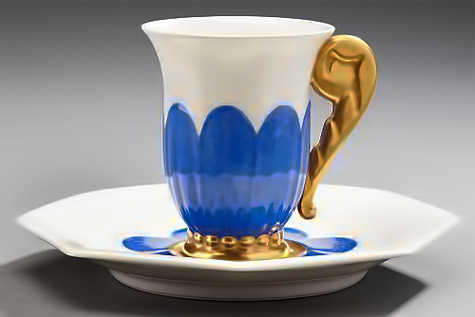 Porcelain flared cup with a gold handle and pedestal – Louis Sue and Andre Mare
 Noritake Art Deco sugar bowl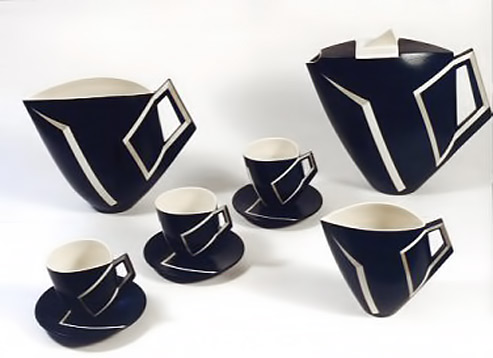 Black and white coffee/tea set – Jonathan Middlemiss
 http://www.middlemissart.com/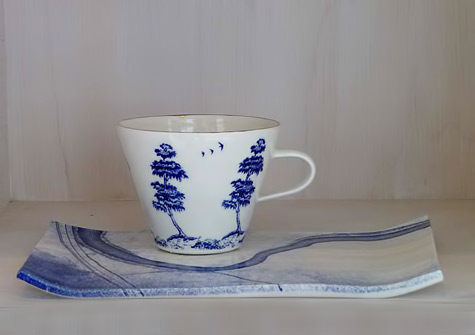 Contemporary cup and plate – Paul Scott & Ann Linnemann collaboration
 The porcelain forms are hand thrown and glazed by Ann in her studio in Copenhagen, Denmark. Paul creates the graphic then screen-prints in-glaze ceramic decals in his studio in Blencogo, Cumbria, England.
Anne Linnemann Studio Gallery
 Hans Vangso
 Helene Morbu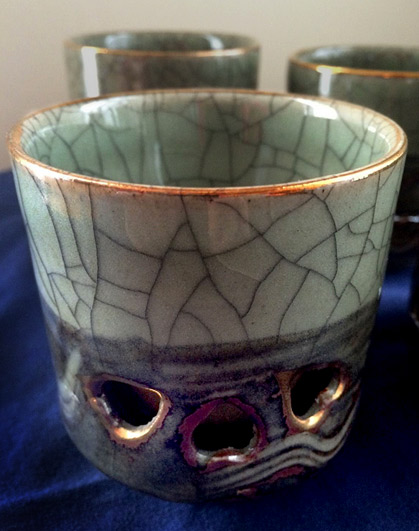 Crackle glaze tea cup –  Somayaki Somaware, Japan
 Karin Bjorquist tea set for Gustavsberg
 Antonis Minor tea pot in lapis lazuli with gold trimmings, by Dionysio, grandson of Ottavio Miseroni.
Miseroni lapidary workshops, Milan
 Laurel Birch
 Mid Century incised green retro tea set  – Stavangerflint, made in Norway
Old & Cold etsy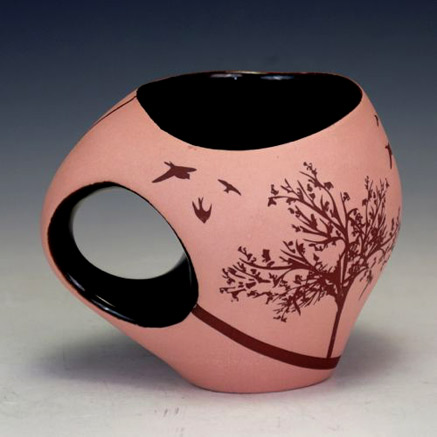 Andrew Gilliatt
 Crimson Laurel Gallery, Bakersville, NC.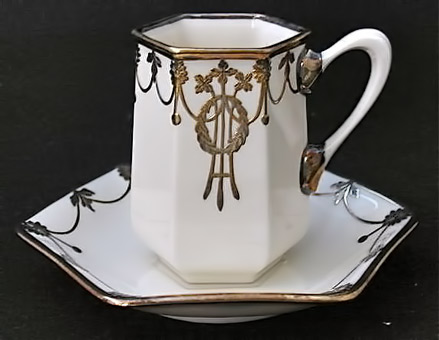 Art deco sterling overlay demitasse cups and saucer – Belleek Pottery
 Japanese Satsuma Lithophane porcelain Tea Set
Prosperi Tea
Russian Lomonosov  teacup and saucer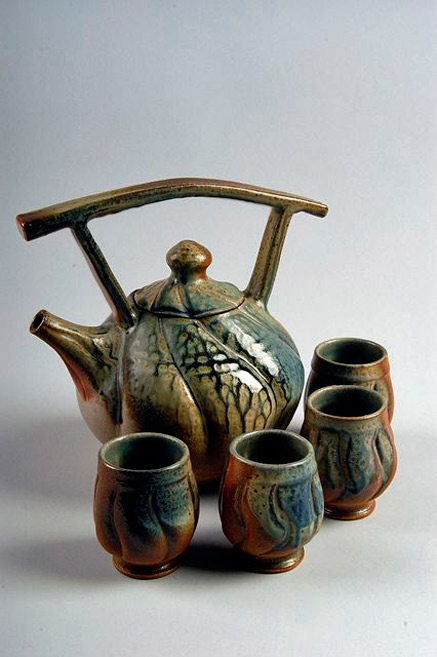 Tea set by Ben Owen III
American Museum of Ceramic Art, via Flickr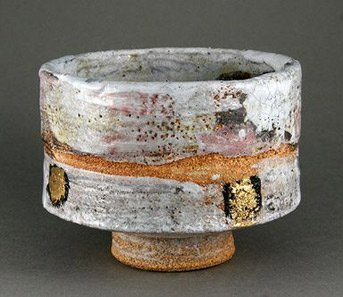 Robin Welch tea bowl
Susie Cooper-  Hand painted rich Art Deco Cubist pattern coffee/tea set; c. 1928.
eclectables.co.uk
 Mondrian Tea Pot
China Tea Cup & Saucer –  Paragon
 Contemporary tea set – Paul Eshelman, Elizabeth, Illinois
 Pink Lusterware Gold Pedestal China Japan Tea Cup Reticulated Saucer Set
Tango Pattern Art Deco trio tea set –  Royal Doulton, UK
 Red ceramic abstract teapot – Rick Rudd, NZ
 Rosenthal Versace teacup and saucer
 Royal Halsey Teacup and Saucer
Layla Blackshear-fkickr
Nippon Art Nouveau demitasse cup and saucer
 Royal Doulton Art Deco Tango pattern tea set
 Art Deco teacup and saucer – Royal Paragon
 Dinnerware Objects  Roy Lichtenstein
 1966
 RW-Bavaria, Germany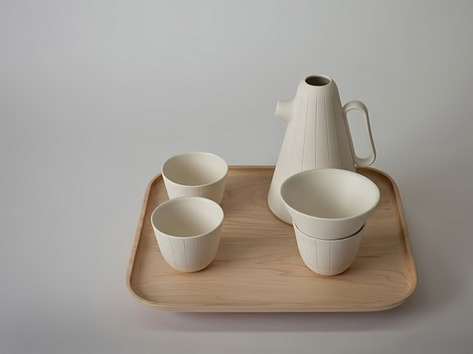 Sucabaruca tea set  by Luca Nichetto
 Tennis set for tea and a biscuit
Muchos Tesoros – Etsy
The  Miito by Nils Chudy
MIITO is an innovative product that heats liquids directly in the vessel to be used, hence eliminating the heating of excess water. Simply fill your cup with water, place it onto the induction base and immerse the rod in the liquid.
Photograph–Handout
 Dame Edna's tea drinking etiquette – "when in doubt, pinky out".
Tuscan teacup and saucer
Rometti Art Deco Futurist tea/saki set
Umbertide, Italy
Shelly Art Deco moth wing cup and saucer
Japanese Kato Kogei neo Art Deco teaset
Teapot with wooden handle and tea bowls by Maa
Pucci, Rometti futurist teaset, Italy
1930
'Legend Return' – Lomonosov Contemporary Porcelain Teapot
Albisola teaset, Italy
1930
Airbrushed teacup – Carraressi & Lucca
Sesto Fiorentino, Italy
1930-40
Ken Price
Art Deco Bubbles Royal Worcester coffee set
Tea bowl – Peter Voulkos
Oriental Glaze Handbuilt Porcelain Teapot by Kathy Riggs
Crown Ducal Art Deco Teacup
French Art Deco tea set – Limoges
Royal Sealy tea cup
Detailed purple lace pattern on white cup and saucer
Birdy tea set – Sandoz
Lemon tea cup and saucer – Shelly
 Ochamori 'Big Tea' at Saidaiji Temple in Nara, Japan
Jeroen Bechtold contemporary tea set
Morning tea in feathered hat  – Dorothea shot by William Klein
1962
Octagonal Geometric Tea Service with Kandinsky inspired motif
French Limoges Art deco
c 1925
Deep orange and gold teacup – Coalport
 'Rio' tea service – Carstens Uffrecht
1930
modernaumaoutranemtanto.blogspot.com.au
Ombre Drip Ceramic Cup and Saucer Set in Blues and White
Artmika Etsy
Rosenthal lavender and gold teacup with violets motif
Turquoise and Gold Scalloped Footed Tea Cup – Alka Kunst Kronach
–