Clayoga
Clay pottery goes through many transmutations that are analogous with yoga during its creation. The stretching, kneading and contortions it experiences is not dissimilar to what yogic practitioners subject themselves to when practicing their asanas ( postures) in the pursuit of agility and good health. Added to this is when the clay becomes an object of intense concentration during formation, being scrutinized and contemplated till deep meditative moments arise that lead to illumination for its design. Not to mention the exhilaration of the whirling dervish moments it can experience when being thrown on the wheel. At times it is privileged to experience the flashes of brilliance from its creator, which surely infuses it with a sense of wholeness and contentment. Next comes the purifying powers of the kiln unleashing its subtle and unpredictable refining forces not unlike the " fire of yoga ". If it survives the post kiln scrutiny, it can go on to further glory, rather then be discarded from the Path into the reject bin. Now for the deep cleansing it receives in the cleanup that takes it to its final Enlightenment where it experiences an eternity of bhakti yoga (adoration) when on display.
 Marjory Bankson in her book " The Soulwork of Clay – A hands on approach to Spirituality" states –  "Working with clay is a way to get our hands dirty and our minds clear ".  She also alludes to it being a kind of primal therapy with the statement "We were all mud-loving children once".  
♦◊♦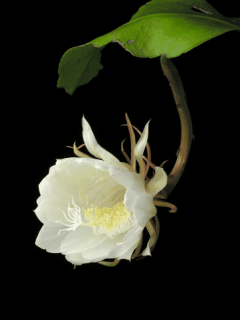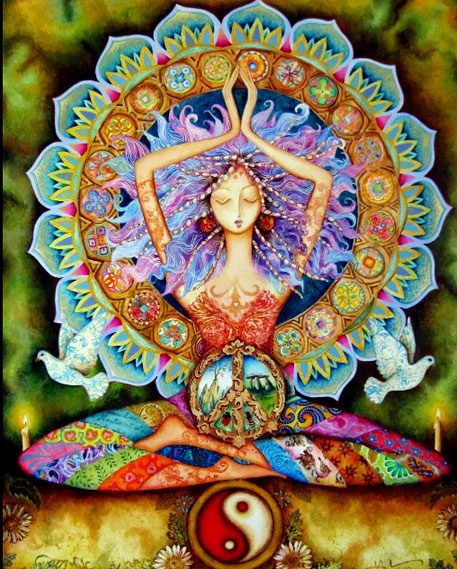 Holly Sierra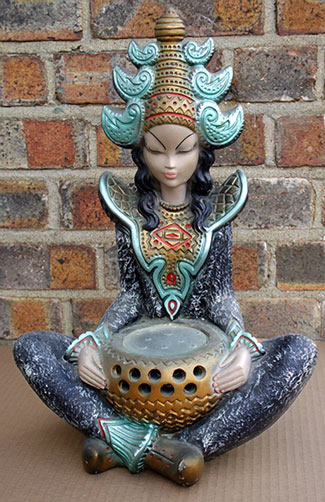 Mid century oriental Siamese lady lamp
(  beetle2001cybergreen – flickr )
 Bill Campbell lotus plate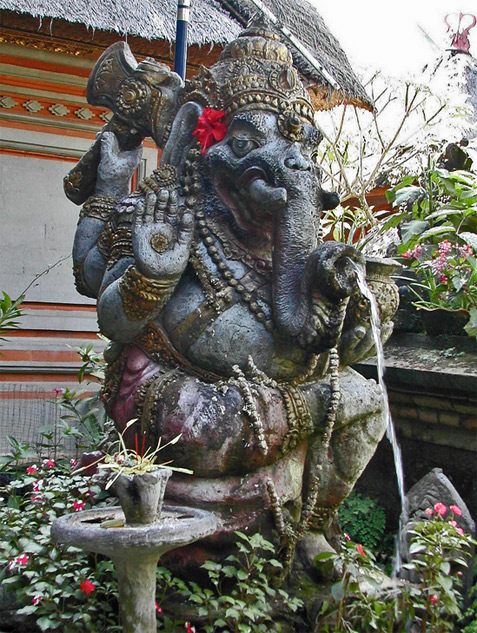 Ganesh statue, Ubud, Bali
Blue Lotus Jar – Moorcroft – 2009
The divine image of the lotus is often used to symbolize purity.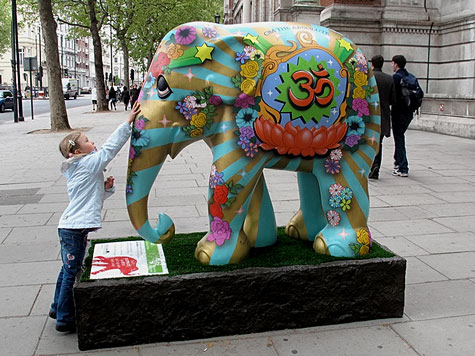 The Elephant Parade is an open air art exhibition of life size models of elephants held for the preservation of the Asian elephant. Held in the streets of Holland, Belgium and London over the years, the Elephant Parade has raised millions of Euros for the Elephant Family charity- which is working with the Wildlife trust of India in preserving the Asian elephant.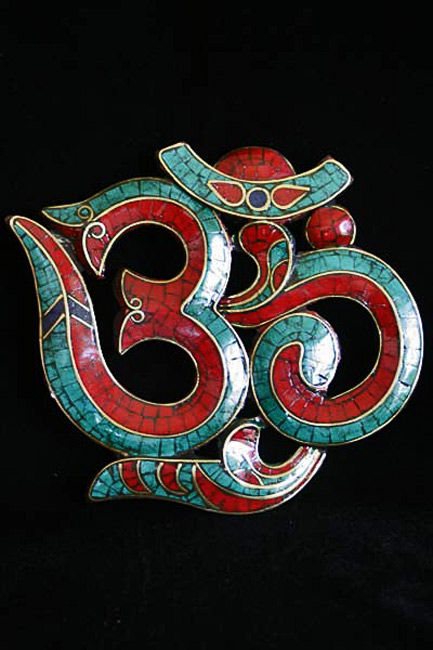 'Om' turquoise and coral inlay pendant
Exquisite teak mandala screen
Bowl with a ceramic wavy organic shape for a meditation bowl in wabi sabi turquoise
WickedClayGirl – Etsy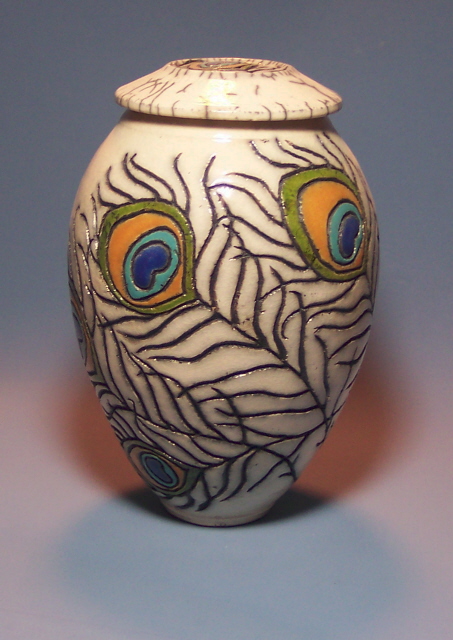 Raku Peacock Jar by Anne Webb
Meditation Shrine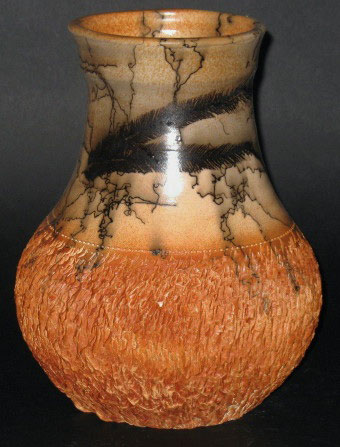 Cindy Fuqua horse hair pottery
Buddha, pumpkin convergence
Miyashita Zenji vase   ( 1939 – 2012 )
( Joan B Mirvis Gallery )
Green Ginkgo Meditation Vase
( JW art pottery )
Japanese Imari bowl
Clarice Cliff –  1929-1931
Peruvian raku lotus bottle – Armando Romero
 'Two Trees At Midnight' –  Linda Starr
( bluestarrgallery blogspot )
Campbell Pottery Studios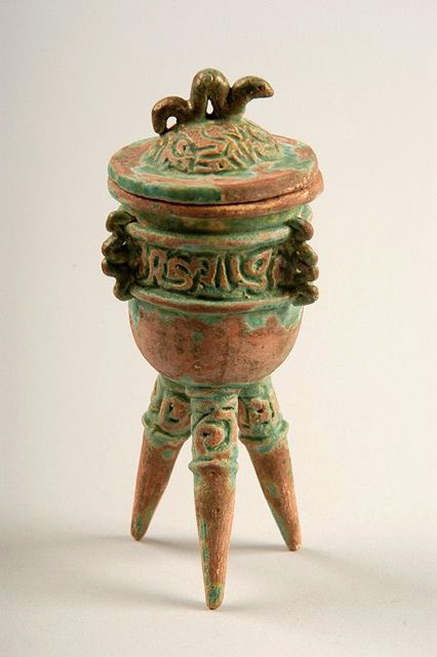 Grace Cheng tri legged ceramic vessel
Muncie Matte Blue Vase
Meditation figurine by Buddahbuilder
Van Briggle turquoise Vase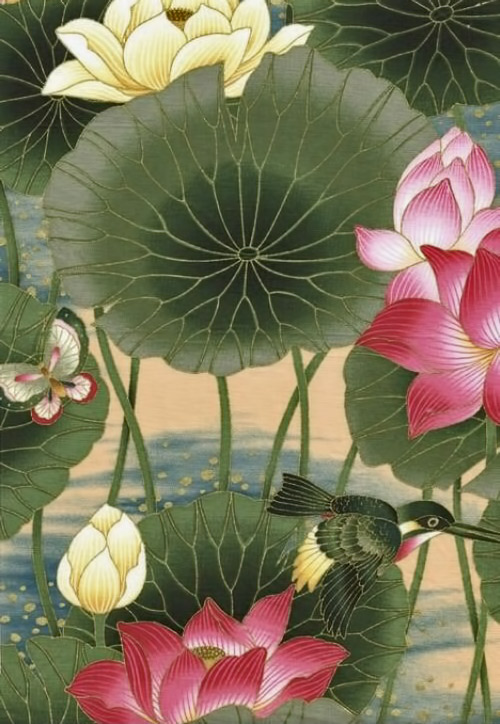 Asian fabric lotus print
Vase signed – Flowering Cherry Tree Japanese Inspired
( Rubylane )
'Contemplation Vessel' – Ann Mallory
Dancing Dakini – Musée Guimet – Paris
The largest museum of Buddhist art in Europe.
Meditation by Victor Salmon
Large Shiva Lingham stone naturally formed by the currents of the Narmada River, India
( Lawton Mull 1stDibs )
Smiling stone Buddha
Om Vase – Toseland Glass
Mandala Pendant
( ShimmerCreek – Etsy )
Raku 'Buddha in Clouds' – Anita Feng
Abstract ceramic sculpture  – Brian Kakas
( Assistant Professor of Ceramics at Northern Michigan University )
Michael Wein Raku Bottle
Jingdezhen Kiln Qingbai Glaze Porcelain Candlestick – Song Dynasty
Yoga Bella sculpture – Acacia
A Chinese famille rose bowl – Quianlong 1760
Artpark sculpture " Lotus "  – Ev Meynel
Celadon ceramic vase, 'Orchid Glory' – Duangkamol, Thailand
( Novica )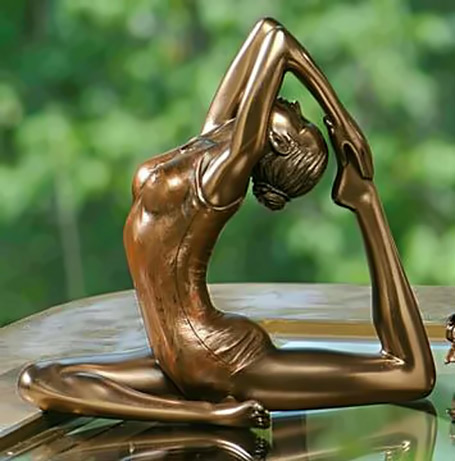 Yoga Figurine King Pigeon
( FemailCreations.com )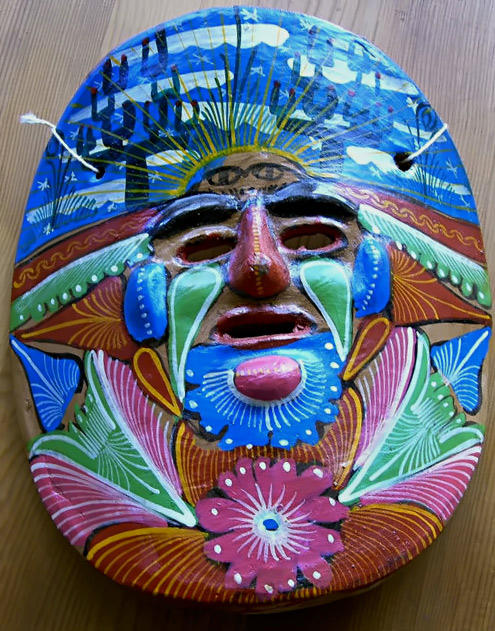 Vintage Mexican Painted Terra Cotta Sun Face Mask Wall Hanging
( beadandbag – Etsy )
Matsui Kosei –  (1927-2003 )
mirviss.com
SMOKEY BLUE OM – Brenda Mcmahon
Healing crystals with  Buddha bust
Studio Salvadore glass vase
Zhao Meng sculpture
 ( Tao Water Art Gallery  )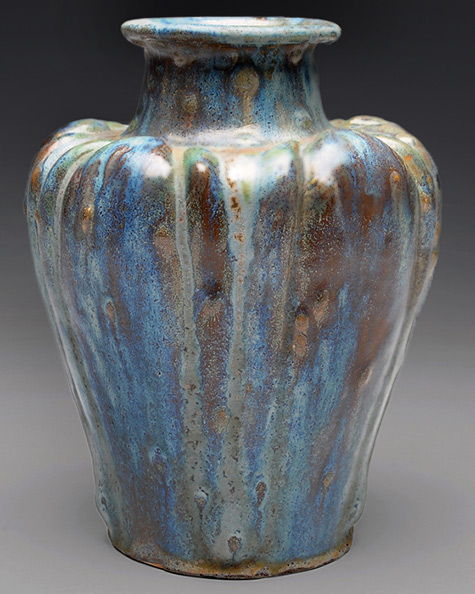 Mougin vase executed by J.Wolfe
Kurt and Heidi Beker – Yoga-Ceramic figures  2011 Australia
( Gannon House gallery )
Curvy Yogini figurine ( cobra pose )
Jizo – Japanese garden statue
A porcelain vase by Ireland's famous Belleek Pottery
Deep Blue Azurite gemstone – Shilu Mine
Ann Mallroy Ceramic Lingam
G.R. Santosh – 'Manifesta'
Delhi Art Gallery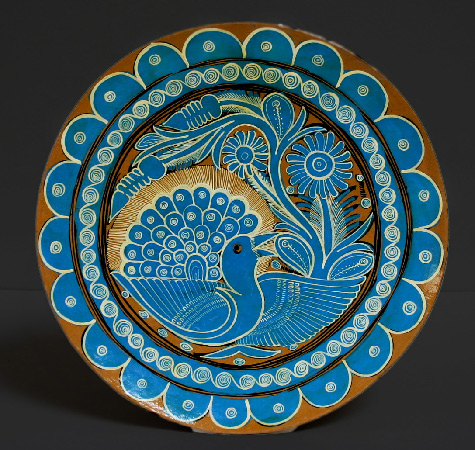 Mexican Folk Art plate
…
    Esse Art and Yoga:   Esse is an Art and Yoga centre combined and is situated in Fargo." Our space is split into two halves that work together to form a whole. We promote the arts + wellness in an intimate and comfortable environment ". Featured below are some their talented artists.
Dale Cook :
Dale Cook
Dale Cook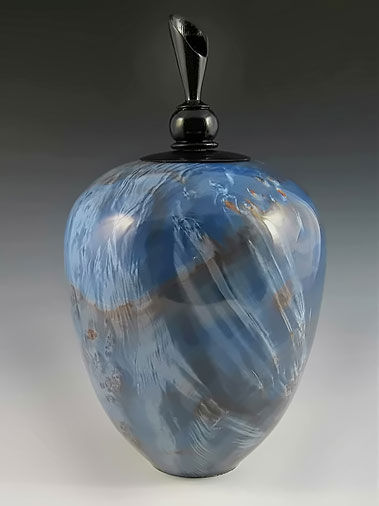 Dale Cook
Dale Cook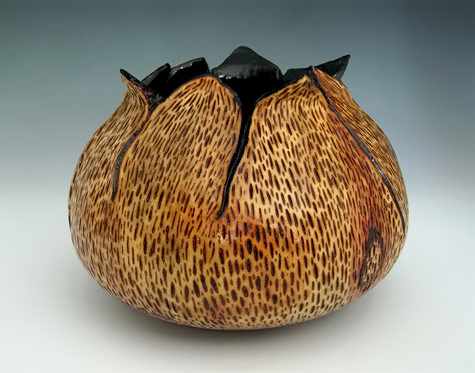 Dale Cook
Emerge :
Circular ceramic vessel – Emerge
 Casey Hochhalter :
'Upsurge' by Casey Hochhalter
'Culminate' – Casey Hochhalter
'Pitfall'
David Valdez ceramic sculpture
Blu lotus flower
Caterina Zacchetti ceramic sculpture
Cypress Cut away Bowl — Bonnie Belt
'Springburst' – mosaic art mandala – Brett Campbell Mosaics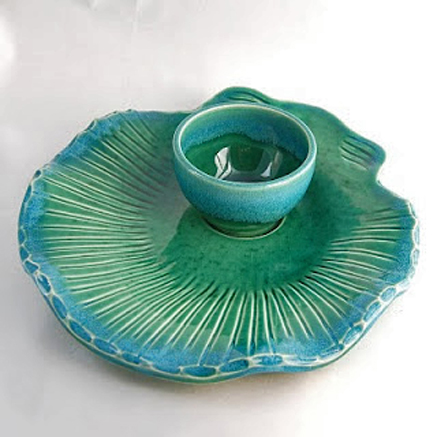 Turquoise and jade glazed platter and bowl – Stone Lotus Pottery
'Awakening' – James Perry
Isabella Garrucho Fine Art
Carved columnar neriage vase with blue, off-white and grey colored clay – Ogata Kamio
2007
 Seated bronze Buddha holding red lotus flower
puxianmalaysia.wordpress
Zen Garden, Koyoto Japan
Buddha display – Elena Ray
–