Judith Pearce and David Rofe are a couple who have been collecting Australian pottery since the mid-1970's. Their contemporary styled rural gallery is nestled in the coastal mountains of Bemboka in the far south coast of NSW, Australia, in a purpose-built wing of their home. Primarily their aim is to display a diverse collection of work produced by Australian potters and ceramic artists over the last fifty years. A new exhibition is created each season that features stories from the collection which in a sense makes the gallery like a museum showcasing the history of Australian pottery. Visitors also have the opportunity to purchase works they might not have had a chance to see when they were first put onto the market.
Judith worked at the National Library of Australia and it seemed a natural extension of her interests to start building a database of Australian contemporary potters and their marks. They source their works from exhibitions, galleries, retail outlets and the artists themselves along with buying works on the secondary market from eBay, auction houses, and private sales.
Current exhibition : Mid-Century Modern: The influence of European style on post-war Australian ceramics.
Displayed below is a selection of pottery that has been shown at the gallery.
Peter Andersson
Vessel
David Williams
  Large vase with a classic rounded shape and pale brown crystalline glaze
Peter Buttaglen
Celadon Plate
Janna Ferris
Round-bodied earthenware jug decorated in a raised floral design using underglaze stains and wood-fired. 2009
Janna specializes in earthenware tableware decorated with underglaze stains in a style influenced by the patterns on old china, cottage garden flowers, and the works of Clarice Cliff, Dorothy Haffner, Patsy Hely and the painter Margaret Preston.
    Jane Barrow
Barbara Swarbrick
White china plate decorated with sulphur crested cockatoos.
Oval platter with scalloped ends and delicate hand-painted picture of a female nude.
Arthur Boyd and John Perceval.
 Casserole dish
Arthur Boyd (1920-1999) learnt to make pots in the family home at Murrumbeena, Victoria.
Cheryl Watson
 Large plate made of a pale tan-coloured clay left unglazed on the chattered base and narrow rim, with a bare-chested Amazonian woman painted in slip and oxides on the shallow concave surface.
Mitsuo Shoji
Paydirt Pottery
Genie Bottle
Ellis Ceramics
Two slipcast earthenware jugs
Mad in Australia
 Large slip-cast vase in a zig-zag shape with a hand-painted black, orange, yellow and purple abstract design.
 Mad in Australia was a Melbourne design studio set up by the sculptor Dianne Coulter in 1983.
Greg Daly
Shallow bowl with a finely-crazed, oxidised copper glaze, partly-reduced on the base, and gold lustre decoration. – 2005
Vessel of compressed spherical form with ultramarine and green glaze and gold lustre decoration.
J.Oldroyd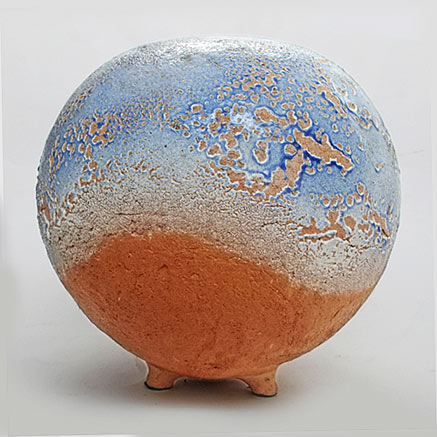 Spherical Vessel
Ted Secombe.
Sergio Sill
Shino charger
Richard Murray
Lidded Box
Unknown
Bird Bowl
Jenny Orchard
 Exploding Seed
Paul Wynn
Bottle  1978 – 1980
From left : Jenny Orchard: vase 1997, Christopher Sanders: bottle c.1981,Victor Greenaway: bottle 1970, Les Blakebrough: charger, 1984
Unknown
Shino Bowl
Les Blakebrough
Giant lidded stoneware jar with winged lid and pale blue, cobalt and red glazes.
Ian Clare
Deep-sided bowl tapering to a small base, with finely crazed white glaze in a raku nu style, inside and out.
Lino Alvarez
Raku Vessel
Paul Davis
Square slab-built platter made of a pale yellow earthenware with rounded corners, shino half glaze and Middle Eastern influenced graphical decoration.
Ros Auld
Ros Auld is a potter based in Borenore near Orange, NSW, specialising in slab-built, or thrown and manipulated, stoneware forms decorated with wood ash glazes and trailed and incised slips, coloured oxides and gold lustre.
Kalmar Pottery
Kalmar Pottery was set up in Sydney, NSW, by Irene and Julius Kalmar, emigrants from Hungary after World War II. The pottery was active from the early 1950s to the mid 1960s.
 Rudolf Sibrava
 High-sided white stoneware bowl with speckled violet and magenta glaze with some cobalt blue at the base, and gilded rim.
Ditmar Urbach
Sphere
Unknown
Stoneware vase
Robyn Stewart
Blossom Jar
Victor Greenaway
Lindsay Bedogni
Dove
Claudia Australia
Pourer
Joan Campbell 
Three Sea Eggs
Chris Sanders
Lidded crock
Val Charle
Stoppered Vessel
Maiju Altpere Woodhead
Beaker
Ljubov Seidl
High sided bowl
Carl McConnell
Two handled bowl
–