It is interesting to observe that Japan has about thirty potters that are considered National Treasures and as such their pieces can command a high price. A pottery piece in Japan can be valued as highly as a framed painting.  From a collecting perspective, any signed piece from any of the Japanese potters with a family lineage  is usually worthwhile. Pottery from the Edo period or from the famous pottery centers is also collectible.
The Japanese potter, Hamada Tomoo continues to evolve  his families techniques, using their legendary Mashiko kiln, in new directions with his original designs using traditional materials.
Hamada Tomoo  is the grandson of Hamada Shoji, a Japanese  "National Living Treasure" and the major figure of the mingei folk-art movement.
 Tawara vase – Tomoo Hamada
As stated by Japanese Art historian, Andrew Maske  :
"The world of traditional ceramics in Japan naturally places great emphasis on lineage. Lines of potters that began in the late sixteenth or early seventeenth century are now in their fourteenth or fifteenth generations.  A lineage of only three generations may seem insignificant by comparison, but  the Hamada family makes it clear that it is not the length of the line that is most important, but rather the quality of the work."  Hamada Tomoo's pottery utilize essentially the same materials as those of Hamada Shinsaku(his father) and Hamada Shoji (his grandfather ) – glazes like reddish brown kaki, brown tenmoku, cobalt blue, white rice straw ash, bluish-white namako, green seiji, black kurogusuri, creamy nuka, translucent namijiro, and runny-green wood ash, all used to cover a speckled tan clay dug and formulated right in Mashiko".
"Unlike his elders, however, Tomoo has become much more daring in the use of unconventional shapes, extensive application of overglaze enameled decorations, and surface textures. In particular, his tiered flasks  are very progressive, and unlike anything seen before in a mingei genre. It is clear that Tomoo has been looking beyond the works of his forebears, examining works from the early English Arts and Crafts movement, and even from art nouveau."
Shoji Hamada ceramic bottle
Mashiko Museum of Ceramic Art
 Shoji Hamada
Below are some pieces created by Hamada Tomoo reflecting quality and innovation :
Salt Glaze Bottle – Tomoo Hamada
 Tomoo Hamada plate
 Tomoo Hamada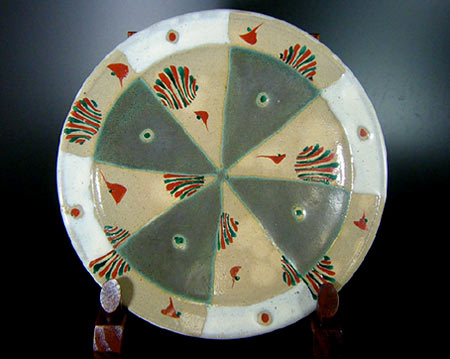 Mashiko woodfired plate – Tomoo Hamada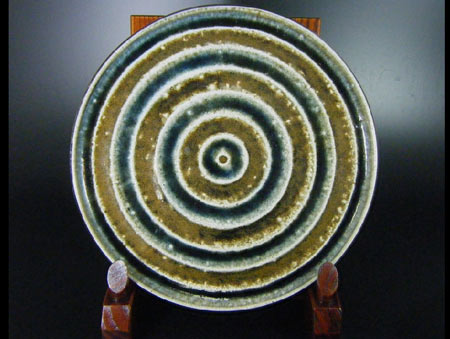 Mashiko Plate Tomoo Hamada
( Robert Yellin Gallery )
Tomoo-Hamada—Vase
Mashiko Guinomi Sake Cups
Tomoo Hamada
  Mashiko Guinomi Saki Cups
Hamada Tomoo Mashiko Henko jar
Two chawans – Tomoo Hamada
Blue bottle – Tomoo Hamada
 Tomoo Hamada Vase, Black glaze with akae decoration stoneware
Pucker-Gallery
 Tomoo Hamada Footed Bowl Salt glaze stoneware Pucker Gallery
Stoneware Vessel – Matsuzaki Ken
Tomoo Hamada
Large Plate, Kaki glaze with akae decoration – Tomoo Hamada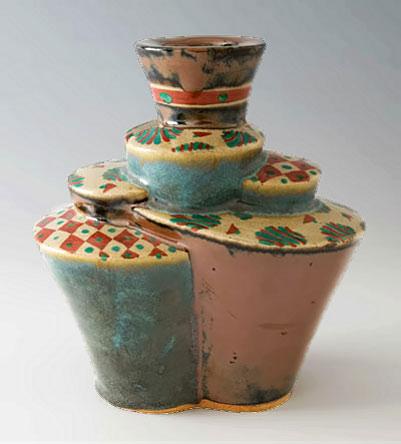 Tomoo Harada Japanese vase
White glaze vase with akae decoration Tomoo Hamada
Shoji Hamada :
Faceted vase and lidded jar- Shoji Hamada
Shoji Hamada
Hamada show –  Asahi Beer Oyamazaki Villa Museum Kyoto, Japan
Saimo_mx70 flickr
Hamada Shoji–salt glaze bottle
The Horio Mikio Collection
1952
Shoji Hamada teapot
Hamada Shoji ash glaze bowl with inlay and iron black painted decoration
1944
The Horio Mikio Collection Asian Art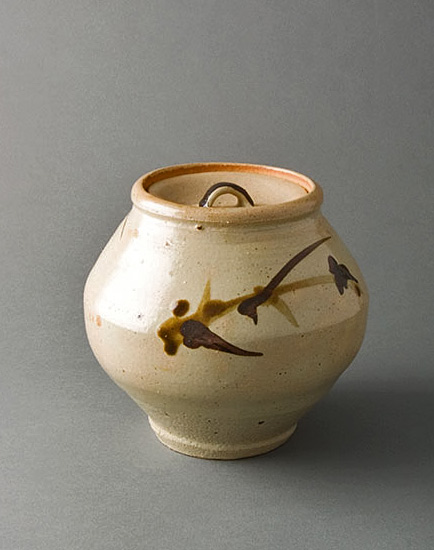 Stoneware covered jar, Tetsue brushwork  – Shoji Hamada
1945
Shoji Hamada
–