Ceramic platter – Anne James, UK
Art plates in abundance
One of the earliest Egyptian Gods, Khnum, was quite often depicted in their temple art as sitting at a potter's wheel, creating objects with Nile clay. The status of clay objects were elevated by this association, along with the reverence extended to the clay figurines of the Egyptian deities and the widespread use of ceramic vessels in their rituals and food offerings to their Gods. Ancient Egyptian art contains many images of gifts of food such as grapes, wine, sheaves of wheat, cakes, bread and meats being offered as a symbol of gratitude. Most of the ancient cultures performed ritual food offerings in their temp;es and at their harvest festivals. These days, the most popular clay product that receives any semblance of reverential attention would have to be the humble plate, mainly due to its functional purpose of delivering food to the table. Also, now the ante has been upped for the artistic presentation of cuisine, the ceramic dishes can be an integral feature in this display.
Natural forms sculpture project platter – Alice Ballard
There isn't a utilitarian consumer product with a longer history then the ceramic plate. It's a marvel of continuity, pragmatism and cultural lineage. Basically it's still made from clay, thrown on a wheel and baked in a kiln. Maybe as a subconscious sign of respect, this ceramic vehicle of sustenance is still favored over more modern materials like metal and plastic, despite its vulnerability to breakage. The predominantly round plate stands as a symbol of abundance and also still features as a medium of art.
During the renaissance, the introduction of more colours to the decorative palette, along with the richer glossy glazes of majolica, attracted more artists to using ceramics as a vehicle of art. Plate decoration was used as a statement of prestige and was custom made to display family emblems and important historical events. Homage to the mythical gods and creatures was also well represented in the ceramic plate arts, quite often created in similar quality and style to the famous renaissance artists, encouraged by the healthy commissions being offered from the elite classes.
Elaborate plate decoration had also been adopted by the Greeks and their tradition of plate breaking was originally born out of a desire to express equality with any poorer families that were invited to their events.
All tableware has been a popular medium for reinforcing different eras of style. Maybe through being a provider of sustenance on the table, the mind is more receptive to its presence and awareness of their decoration is heightened, enhanced by the fact it is right in front of you. This regular feature in our existence is deserving of fine quality and decoration and is still represented in the modern clay narrative. Here is a collection of contemporary art studio plates and platters.
Bowl, earthenware, underglaze slip painted
Iran, Nishapur, 10th century.
Burlap platter with gold stripe – Koromiko
Calendar Plate by Piero Fornasetti
1999
Raku and clay weave plate – Cardone Wharton
Celadon platter by Imaizumi Takeshi
Keiko Gallery
Ladder pattern bowl – Chris Baskin
Soda fired stoneware serving bowl, 14 inches diameter
Bizzare ware charger – Clarice Cliff
Twin handled platter – Dan Finnegan
'Black and White Charger #1'  – David Nelson
1989
Delores Fortuna platter
Porcelain platter – Ralph Bacerra
16.25 inches – 1970
Bacerra derived his aesthetic mix from a diverse group of influences; Japanese Imari-style decoration is the root but so are Optical Art, Edo Period Nabeshima, as well as M.C. Escher's interlocking imagery – liveauctioneers
Set of plates and bowl – Elephant Ceramics ( Michele Michael )
Bella donna majolica plate with representation of Mary Magdalene
1500-1550
Risd Museum
Dalya Yohai
Cubist plate by Martine Azuma
Vallauris France c1960
Sold by Travers Antiques
Ceramic plate with two nude female figures – Eric James Mellon
Vintage Royal Doulton House of Erte Fireflies plate
ShoponSherman-etsy
Patchwork raku plate  – Fire Art Pottery
Peter Voulkos plate
1956
Los Angeles Modern Auctions
Peter Voulkos stoneware charger
Guillermo Cuellar dinner plate, USA
Schaller Gallery
Handmade Ceramic Appetizer Plate with pressed burlap texture by Fringeand Fettle, Etsy
Large handbuilt earthenware indigo wash plate – Yuniko Studio
 Smoked & waxed porcelain platter – Heidi Loewen, Santa Fe
16 inches diameter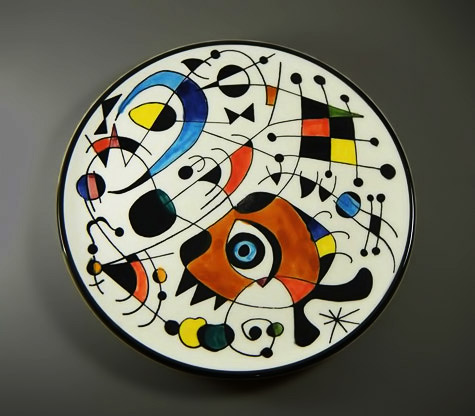 Joan Miro inspired hand painted ceramic trivet by Ceremar, made in Spain.
templeofvintage – etsy
Medium platter – John Glick
13 inches diameter
Sold by Schaller Gallery
Large stoneware dish – John Jelfs
Art Deco Yellow Black Dinner plate – Kato Kogei for Fujimori
Kenyon Hansen
'Kohiki 11' ( platter-) by Akira Satake
15 x 11 x 4 inches
Kyle Carpenter
Lisa Gluckin
ncclayclub.blogspot
Bernard Hesling Enamelled Platter
Tarlo and Graham, Melbourne
Large Platter — Warren MacKenzie
Makoto Kagoshima
Marcy Neiditz
Abstract square stoneware tray – Matthew Patton, Seattle
strictlyfunctionalpottery.net
Medium flared dish – Clementina van der Walt
Nancy Wickham Studio Plate
1947
Untitled, XL Plate – Richard Sperry
1986
Nevica Private Collection
Nick Joerling
mudfire.com
Oval platters by Japanese ceramic artist Yasushi Kuno.-via-ameblo
Set of aqua pebble plates – Kim Wallace
Contemporary platter by Daphne Hatcher – Pine Mills Pottery
Roger Capron,  France
Marcy Neiditz
Andrew Gilliatt
Red Lodge Clay Center
Robert Sperry
American Museum of Ceramic Art Pomona, California
www.ceramicmuseum.org
Handpainted Mid Century plate – Jacques Innocenti
Vallauris, 14inches diameter
Charger at Shoji Hamada's house
Kirsty Komuso flickr
Simon van der Ven
vandervenstudios-com
Handbuilt ceramic bowl via Naboo The shamen, pinterest
FullCircleInventions etsy
Sakuma Tataro
San Ildefonso Pueblo plate by Tony Da
Image courtesy of Leslie Hindman Auctioneers.
Shallow plate – Duncan Ross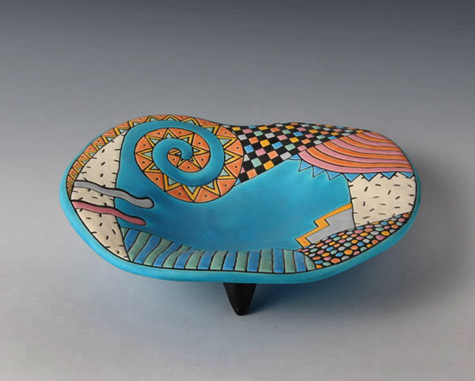 Shibata Masamitsu
Chris Baskin
'Native Family'  – Marc Bellaire
California, 1950's
Guillermo Cuellar – In 1981 he worked as an assistant to Warren MacKenzie, who was teaching in Caracas
Abstract dog motif plate – Guido Gambone, Italy
ca 1970
James Tower Owl Dish UK
York Art Gallery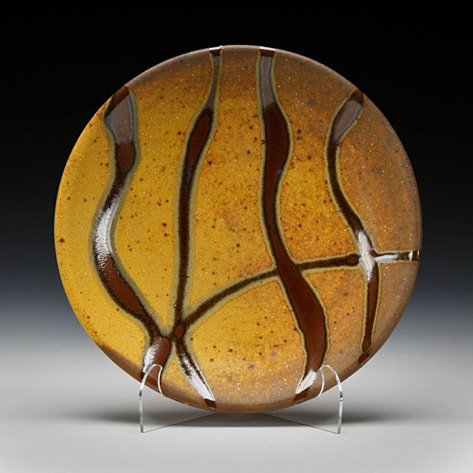 Dinner plate by Randy Johnston
Schaller Gallery
Ceramic platter by Kato Kogei for Fujimori, Japan
Tácito Fernandes modernist platter with incised geometrical pattern
Tamura Kouichi
–