Since its conception, Sevres has supported and encouraged the pursuit of innovation and creativity in the ceramic arts. From the 13th to 29th of May in 2016  the 5th Biennial for Contemporary Ceramics is featuring over 37 artists..
www.sel-sevres.org
47 Grand Rue, Sevres, France
Thierry Perraud
Valerie Hermans
Philippe Buraud—Terres sigillées
Michèle Levy Letessie
José Mariscal
Philippe Buraud
Marie Mora
Patrick Buté
Jean Paul Azaïs
Maria Koortenar
Bizen tokkuri bottle-Shibuta Toshi
Penguin conga  – Lise Zambelli
Gaëlle Jamet
Marie Laure Griffe
Delphine Dardare
Delphine Dardare
Corinne Joachim
Shibuta Toshiaki
Andoche Praudel
Christine Ladeveze
Sevres – City of Ceramics 
In 1738, the Manufacture de Vincennes was founded with the support of Louis XV and Madame de Pompadour, to offer competition with the manufactories at Chantilly and Meissen. In 1756, through the influence and patronage of Madame de Pompadour, it moved to Serves where it became the "Royal Porcelain Manufactory." The factory was under the control of the royal administration and focused on manufacturing luxury porcelain mainly for the royal family, the court, and the aristocracy. Madame de Pompadour encouraged artists of the time, including Francois Boucher and the French Neoclassical sculptor Augustin Pajou to become involved with the artistic direction of the business. In 1755 she commissioned the sculptor Maurice Falconet to do a portrait of her. (see below)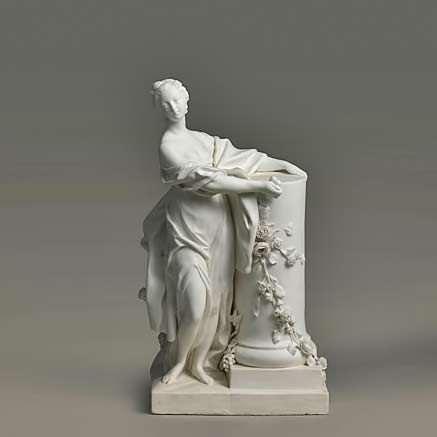 Madame de Pompadour – Etienne Maurice Falconet – 1755
Due to the upheavals of the French Revolution, its financial situation at the beginning of the nineteenth century was dire. As it had lost its status as a royal enterprise, it had also lost most of its clientele, and its funding reflected the perilous state of the French economy. Fortunately it gradually recovered ubder the guidance of Alexandre Brogniart and went on to become a National venture. Towards the end of the nineteenth century historicism lost its grip at Sèvres, and forms inspired by nature and often characterized by asymmetrical styles entered the creative narrative through the upheavals of Art Nouveau.
The Serves Manufactroy produced some of the most exquisitely designed and decorated porcelain ever made including dinner services, ornamental figurines and extravagantly decorated vases embellished with ornate relief designs. A long list of influential ceramicists worked with Serves over the decades to continue its reputation for excellence and ensure its longevity. Louis-Simon Boizot was director between 1774 and 1800; Alexandre Brogniart director between 1800 to 1847; Henri Victor Regnault director beginning in 1854 and Théodore Deck was the director of the manufactory from 1887. Jean Mayodon, Ettore Sottsass, Ernest Chaplet, Clement Massier, Viola Frey, Émile Decoeur and Henri Rapin are also some of the reputable ceramics that have been involved with Serves.
In 2012 it shifted from being a National enterprise to becoming a public organisation, its mission remaining in accordance with its origins of 1740, to produce ceramic works of art using artisanal techniques, including both reproductions of old models and contemporary creations. In addition it produces goods for state needs and commercial sale and being charged with promoting technological and artistic research in ceramics incorporating a wide embrace of diverse decorative styles. Below is a collection exemplifying the breadth and depth of Sevres innovation over many decades.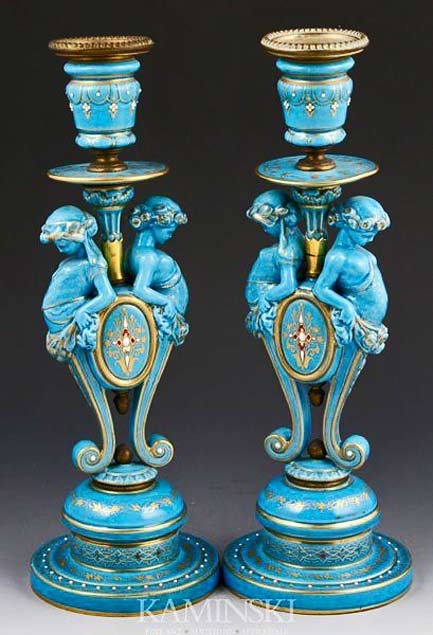 Sevres candle holders
Kaminski
Comedia dell'Arte – Jean Debarre
Danseuse à l'écharpe – Agathon Leonard, Sevres
(V&A Museum) 1898
Jordi Guardiola
R.Sivault and René Crevel
Height  50cm – 1934
Geometric decorated earthenware vase  —  Andre Plantard for Sevres
Snake and Egg teapot – Sevres
1833
Jean Mayodon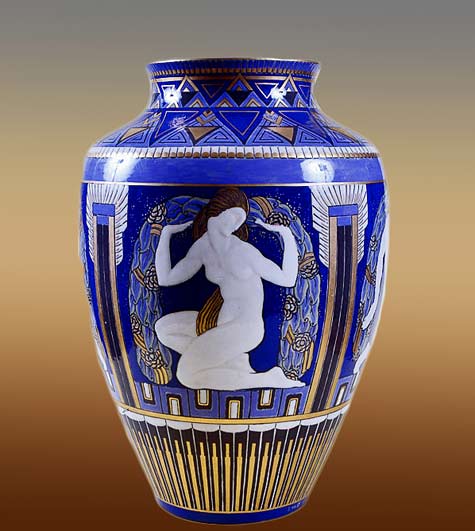 Art Deco vase – Sevres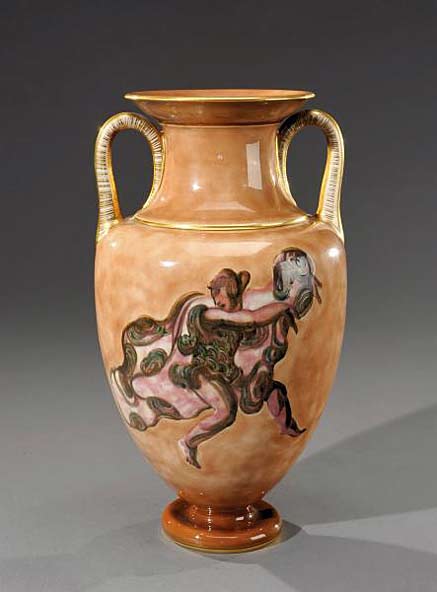 Jean Mayodon
Marcel Prunier figurine for Sevres
Pierre Lardin for Manufacture Nationale de Sevres
1924
Andre Plantard vase for Sevres
Cylindrical vase island scene – Cheriane
Paul Charmagne Jazz Age? porcelain vase – Sevres
Height 43 cm
Ornate covered Art Nouveau urn – Sevres
19th Century
Joseph Jordi Guardiola vase – Sevres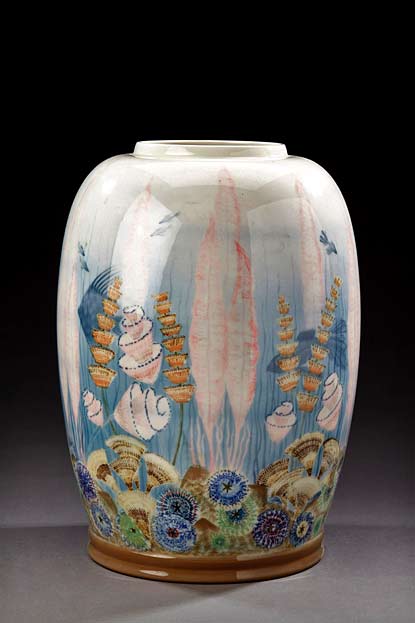 Aquatic theme vase – Marcel Prunier for Sevres
Orlandi vase – Sevres
1953
Pair of Minton 'Sevres' vases
MP Sevres Bisque Ware and Porcelain Figural Comport Stands
19th Century
StephensAntiques
Satyr and Pan vase – Paul Charmagne
`Vases Medici' – pair of gilt bronze mounted Sèvres soft paste porcelain vases
Southbys
Pinon Heuze design Art Deco gold leaf lidded vase
Andre Marcel and Genevieve Kiefer laces vase
Jacques Émile Ruhlmann designed porcelain Art Deco vase, Sevres
circa 1931
Galerie Plaisance
Andre Plantard porcelain vase
Mid Century Pierre Auguste Gaucher/Sevres vase
Height 37cm – 1966
'Mayodon 31' – by Pierre Auguste Gaucher
1960
Sèvres-Faience-Bud Vase
Stylized garden motif vase – Adrien Leduc
Height 50cm
Sèvres porcelain, Art Deco figural night light woman wearing an ermine trimmed coat
H -10 2.3 inches – circa 1930
Globular Art Deco vase – Sevres
Baluster vase with peacock motif – Sevres Museum
Elegant pitcher -Sevres
Green Aubert vase with sailing ship motifs
–