Turquoise Teapot – Mary Obodzi
Yuan Dynasty teapot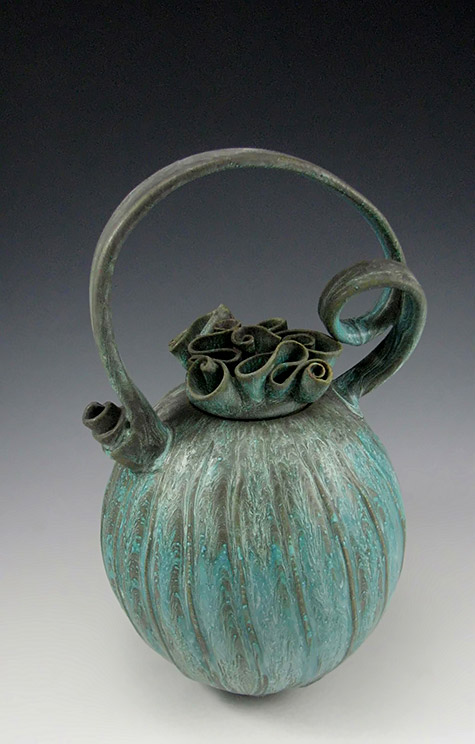 Ribbon Teapot – pietsch pottery
Chinese TEapot – Qing dynasty (1644–1911), Kangxi period (1662–1722)
Franz Porcelain – Van Gough Almond Flower teapot
Seth Rainville – teapot
Franz Porcelain Giraffe teapot
Porcelain Teapot by W.P. Hartgring for Rozenburg Pottery and Porcelain Factory
The Hague, 1903, Netherlands
Jim Connell Teapot
Sam Chung ceramic teapot
Carol Wedemeyer Teapot
15th century Phoenix of Chu Dau ceramic in Metropolitan Museum of Art, New York
Traditional Persian Teapot
Hennie Meyer Teapot
Rebecca Mazur (aka Zimmerman), Sandbag Teapot, 1998,
Access Ceramics  –  Rimas VisGirda  Teapot as Hat
'Frustrated Teapot Face Jug',  Raku Pottery folk art sculpture by Mitchell Grafton
Carol Wedemeyer
Ceramic artist Jiangrong
Off  The Wheel Pottery – Sgraffito plant motif teapot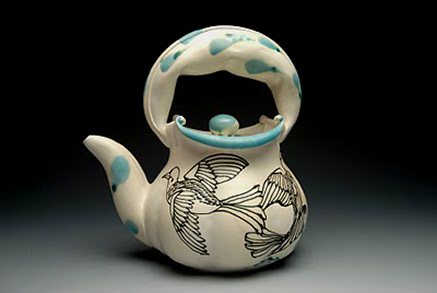 Julia Galloway Teapot
Belly Dancer Teapot  –   Karen Portaleo
Hi! I was scrolling through this beautiful collection and forums and saw my teapot! I made the Belly Dancer Teapot. It was sold through Ferrin Gallery around 2003. I'd love to be credited! I've taken a long break from clay work, and am scrolling through Pinterest for inspiration, as I'm wading back in. It has been an excellent reminder to me that this is my first love, and I'm thrilled to be reuniting with it. Thank you for including my piece amongst such lovely work!   (from a message I recieved from Karen)
Dolphins teapot by Jimmy Liu
Handpainted- cherry teapot
Jimmy Liu Teapot
Ardmore Teapot – South Africa
Look Ahead Teapot #8 by Barbara Frey
Mark Dally black, white and gold glaze teapot
Miel Margarita Paredes – Octopus teapot
This wonderfully animated copper teapot is purely decorative.
Stephen Robison and Katrhleen Guss – Peru Teapot
Tea Pot Sewing Machine Design
Multiple Figures Tea Pot by Michael Torre
Tea Pot by gonetopottexas
Michael Sherill teapot – USA
Alec Smith,-UK
Richard Bresnahan cane handle teapot.
…
–