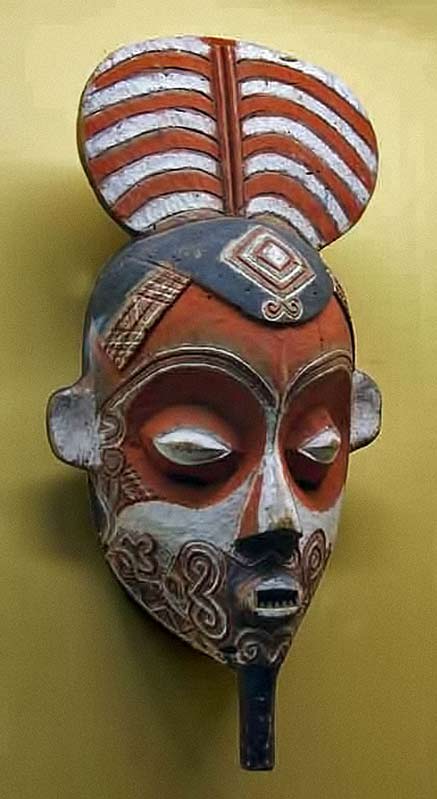 African painted clay mask, Luluwa – Royal Museum for Central Africa
Photo – Haguard Du Nord
Menagerie of mask mystique
During the first decades of the 20th century, a shift occurred from purely perceptual art to a more conceptual style fueled by a growing interest in the tribal cultures of Africa, Oceania and North America. The 'Primitivism' and 'Africanist' arts explored by Paul Gauguin just before the beginning of the century was also embraced by artists such as Modigliani, Matisse, Paul Klee, Max Ernst, Brancusi, Giacometti and Picasso. It gifted them with a visual narrative that propelled the movement away from naturalism and contributed to a pivotal thrust towards modern and contemporary work. The spread of Colonialism and exploration allowed the artists to become acquainted with exotic masks and sculptures that influenced their change in perception, especially with the evolution of Cubism.
The art of masks has been expressed for many different reasons. Masks have existed as a potent symbol for mystique, communication and power ranging from pure flights of fantasy in a masquerade ball or carnivale festival, depictions of particular characters in opera and theatre, Japanese Kabuki Kumadori masks, revelations of ancestral spirits in tribal ceremonies and use by  Shamans for conveying a deity spirit force.
Primitive tribal artists, through less cultivation of their intellect, perceived reality more directly through their subconscious and intuition. This was one of the reasons why their art was more schematic and minimilized as intuitive awareness needed less detail to understand an object. Their primitive imagery in some ways was actually sophisticated in its own right because it created the desired impact without a need for as much visual realism and complexity. This was used to great effect in the mask arts.
Aegean Goddess mask
The mask artists in most ancient cultures earned a respected status, not only because of their artisan skills but because of their ability to infuse "spirit" into the art piece. Masks were judged not only by their artistic appearance but for the power they projected. In Cameroon, mask carvers were held in high esteem and worked mostly for forts (local kings). The late fon (chief) of Babungo was himself a talented carver, who descended from a royal line of carvers.
Generally in Africa, the masks are held to be of great spiritual power, and it's considered taboo for anyone other than specially trained persons or chosen ones to wear or possess certain masks. These ceremonial masks are each thought to have a soul, or life force, and wearing these masks is thought to transform the wearer into the entity the mask represents.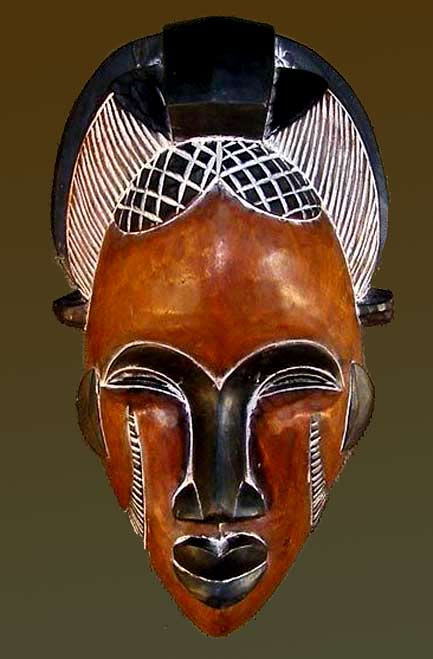 African Mask from the Tikar tribe of Cameroon
17inches high- Genuineafrica.com
The Baoulé, the Senoufo and the Dan tribes of Africa all believe their world is split into two domains: the human domain which is represented by the village and its people, and the spiritual domain, which is represented by the forest and its spirits and their art. When a dancer wears a mask he becomes the spirit of that mask depending on his skill as a 'medium'. A masked dancer will speak in the language of the spirits and his words are interpreted by a wise man. There are many different masks, each of which has a distinct use during rituals or festivals. Some masks play an important part in tribal rites while others are simply for entertainment at social gatherings. This is typical for many African tribes and other ancient cultures that used masks in their ceremonies.
In Mozambique the most powerful and important Chokwe mask is known as 'Chikunga'. It is only worn by chiefs and is used during investiture ceremonies of a chief and for performing sacrifices to the ancestors. During their Mukunda initiation, the youth spend several months in a special lodge where they are instructed in their anticipated roles as men. As part of their instruction, the boys are taught the history and traditions of the group and the secrets associated with the wearing and making of masks.
Incised African mask – Chokwe red and white
Masks were popular in early Greek theatre and preceded the introduction of acting with spoken lines. Like the African masks, they were also larger in scale and favoured a startling appearance and heightened expression running the full gamut of emotions, whether it be sadness, joy, pain or delight. They were also used as a vehicle to tap the hidden psyche and show larger than life abstract imagery from the subconscious. Just as meditation provides the ability to transcend the notion of limited self, the donning of a ceremonial mask also served as a vehicle for shifting self perception and embracing a higher spirit.
Picasso recognized the transformative power of art when he first witnessed Dan masks at a Paris ethnographic museum exhibition. He realized that the Dan artists were using the masks as a means to express their confrontation and conquering of their own inner fears. And in the process they opened up visionary channels of communication and revealed the hidden inner layers for others to witness. Masks weren't only a means to conceal the physical appearance but became a metaphor for the presence of a hidden consciousness.
Brancusi said, "what is real is not the external form but the essence of things. It is impossible for anyone to express anything essentially real by imitating its external surface". The tribal artists intrinsically grasped this concept.
African Wood Mask Hand Carved 'Dan Beauty'  Ghana
Herzstücke Mosaics Mask
Herz Stucke, Flickr
Sepik mask carving, Papua, New Guinea
Kimmy Cantrell abstract mask
Dan Mask, Ivory Coast
Bamana mask, Ivory Coast
Turquoise, Amazonite, Obsidian mask from Malinaltepec, Mexico
300-550 AD
Teotihuacan Exhibition
Bambara Mask  — Mali, Africa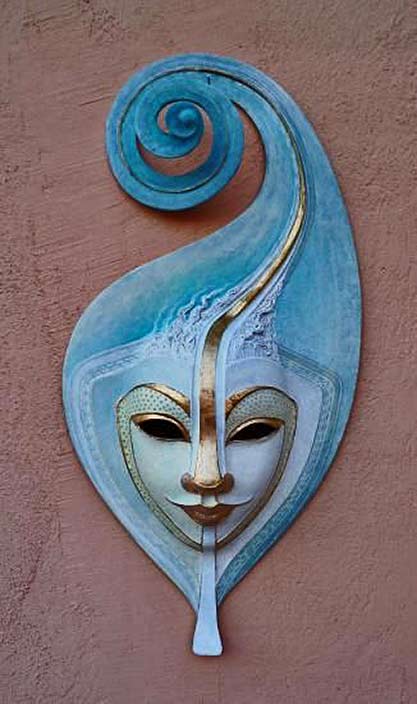 'Small wind' mask by Nives Cicin Sain
Carved wooden Baule Mask – Ivory Coast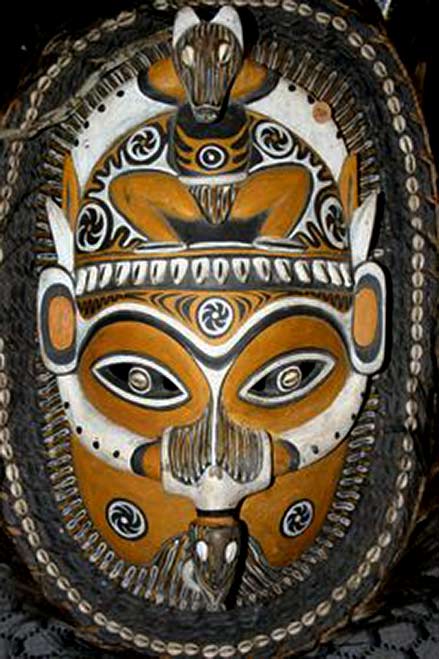 Sepik River mask by Billy Kiten , Papua New Guinea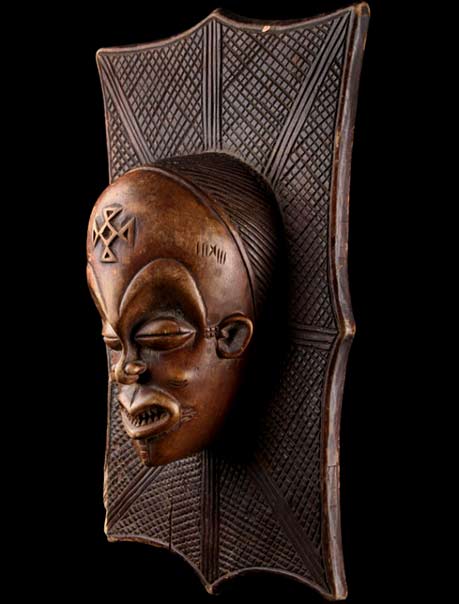 Congo Chokwe mask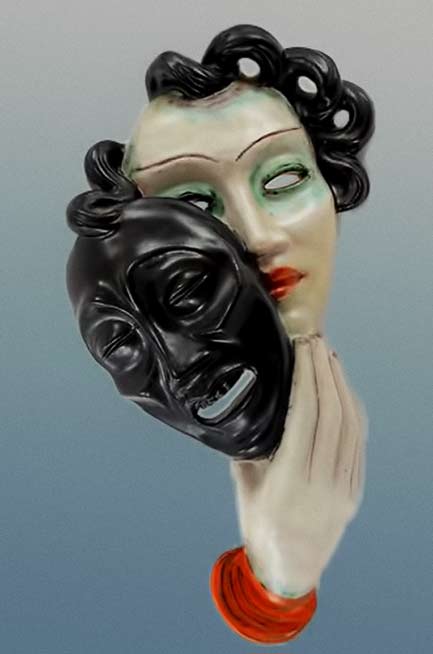 'Tragedy'  ceramic wall mask By Goldscheider Wien, Austria
Ivory Coast red mask
Carved wood Japanese smiling mask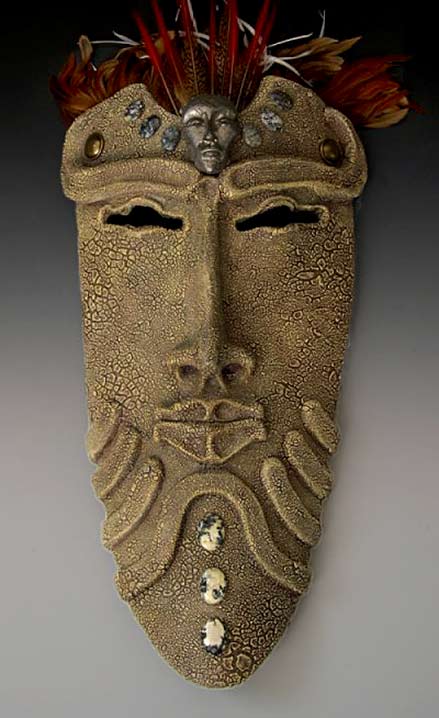 'White Crawl' mask – Daniel Hawkins
Art Nouveau Egyptian Revival Bronze and Terracotta Burial Mask
NYC Modern
Art Deco Inspired 'Tamara de Lempicka' Wall Mask from Echo Of Deco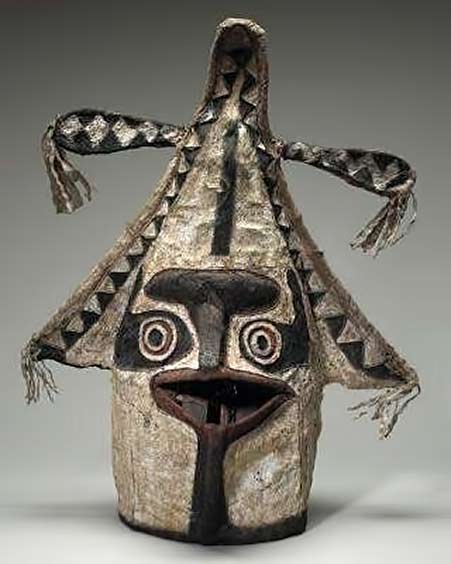 Eharo masks, Elema people, Orokolo Bay, Gulf province New Guinea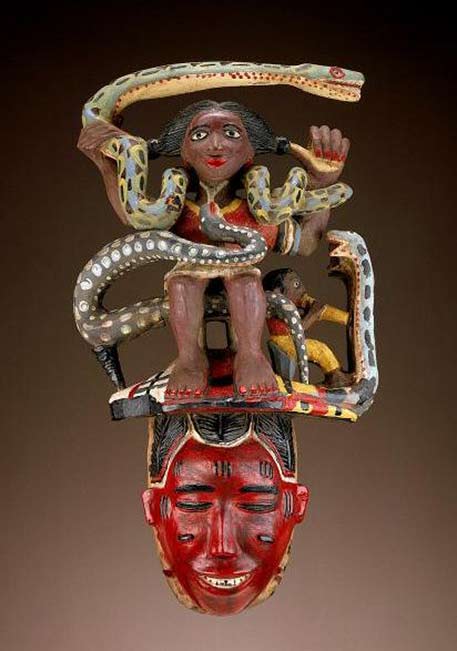 Water Spirit Mama Wati Face mask. Guro people. Ivory Coast
Mid-20th century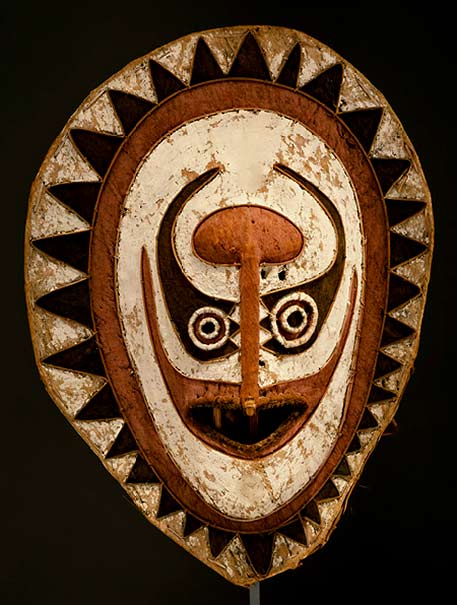 Elema Mask, Papua New Guinea
Elemental power mask – Laura Demm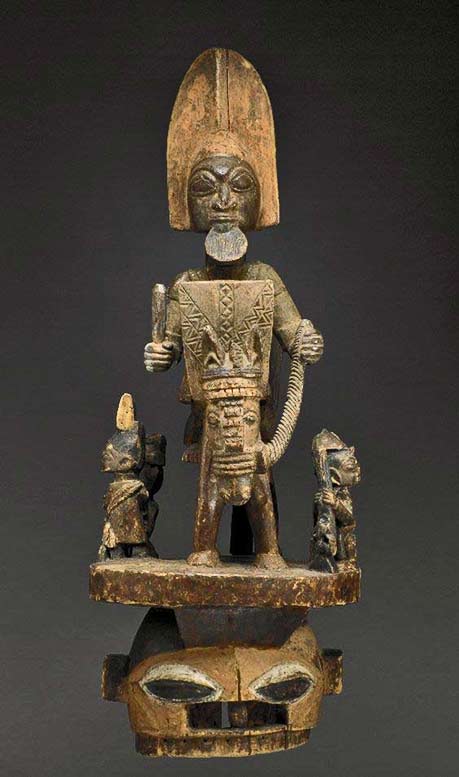 'Epa' mask from the Yoruba people of Nigeria
Fig Leafman ceramic Mask
Uturn-etsy
 Long Fang mask, Gabon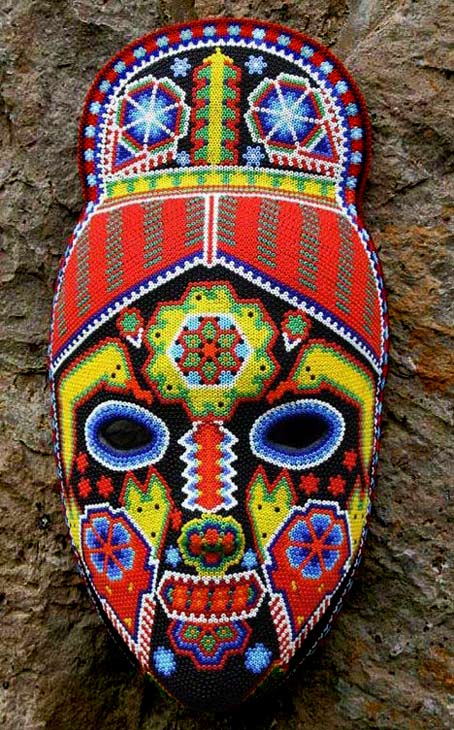 Higinio Hernandez Carrillo. Beaded mask, – 'Green Jicuri Flower'
Isis, Osiris and Nephthys. Scene from woman's mummy mask
Roman Period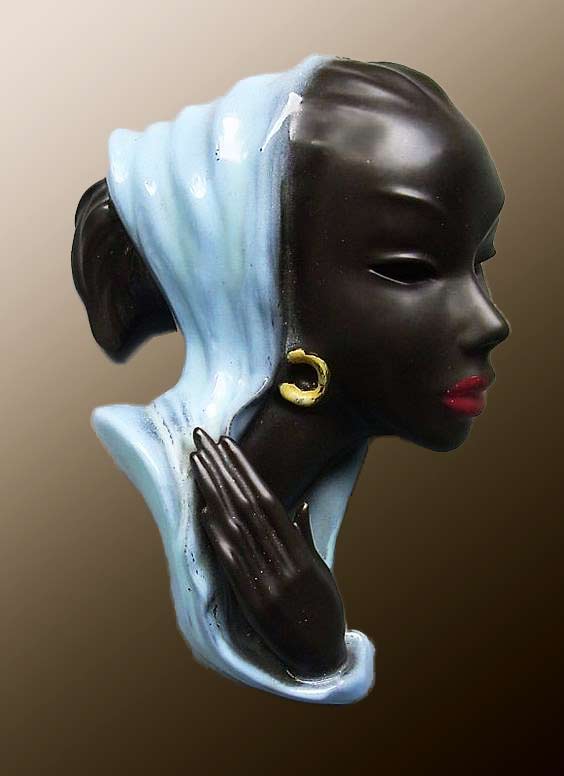 Ceramik Wandmaske Afrikanerin
1950's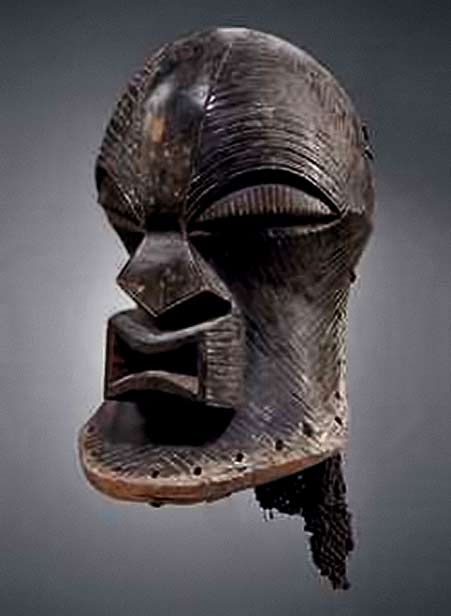 Kifwebe Songye mask
Mexican Folk Art Sun Moon mask by Felipe Perez Aygn
20 inches height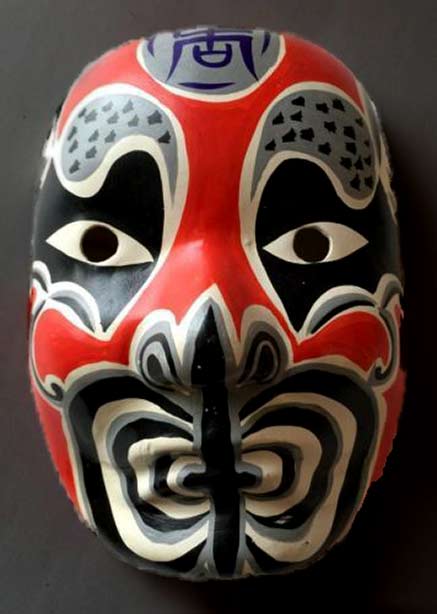 Japanese Folk Art Opera Mask
'Oracle Mask'  – Daniel Hawkins
Scott Jensen carved mask
Lulula ceremonial mask
African Congo Circa: 20 th Century AD
Mosaic on stone mask 'Na`vi  – Herzstücke Mosaics Mask
Herz Stücke Flickr
'Lustre Masks' – Beatrice-Wood
1991
Donna Schneier Fine Arts
'Lydia Mini' Raku Ceramic Mask – Epsilon Series – Yiannis Nanouris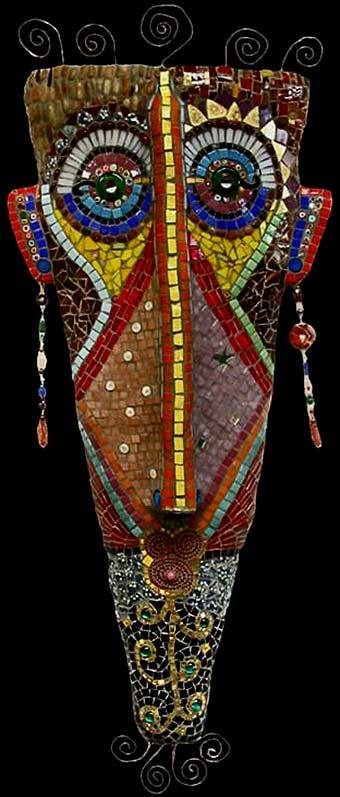 Ceramic mosaic 'Mask Lungo' by Irina Charny
'Magic Mask' by Elizabeth Catlett
Photo – Crispin Vasquez
Elongated mask – Boris Indrikov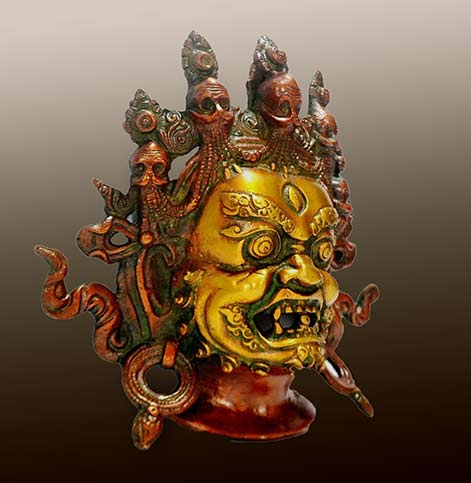 Tibetan Mahakala Buddha Wall Mask with octopus crown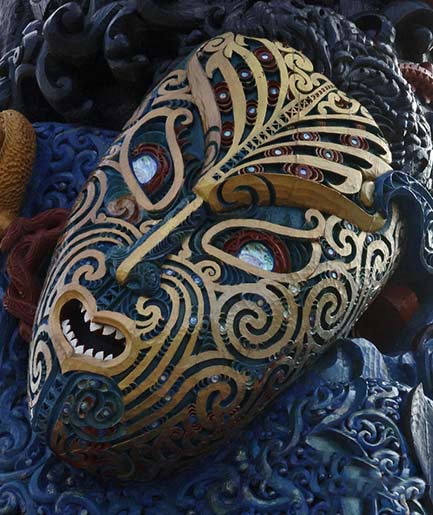 Hand carved NZ Maori mask by Bob Christopher
Part abstract mask – Boris Indrikov
 'Kpelié Makse' from the Senufo people, Ivory Coast
Beaded Ganesh mask, India
Mask of bearded man, 2nd century B.C
Mask from 'mblo' group of the Baule people
Janus mask from the Markha people of Mali
Mayan mask
African Mask by Roger Capron
1956
Mini Dan African mask_Cote D'IVoire,  Liberia
Momdernist Mask by Franz Hagenauer
Sepik River mask – Papua New Guinea
Neo Olmec mask – Daniel Hawkins
'Off-on-a-Tangent' — wall mask – Laurie Shaman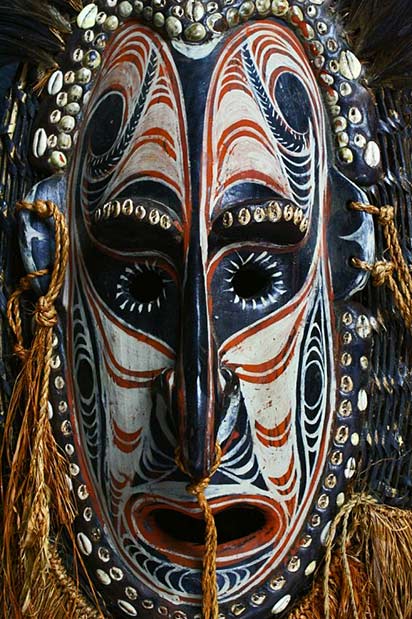 New Guinea Native Wood Mask
Likishi Mask, Kaoma, Zambia
 Photo by Phyllis Galembo
'Frog Mask' – Preston Singletary, Ed Archie and NoiseCat
Gustavsberg, Lisa Larson
Cthulhu raku fired mask
Senufo Kpeliye'e Double Mask
'Frog Moon' by artist Randy Stiglitz
'River Spirit' wall mask–Scott and Courtney Jensen
Coiled Cobra mask – Sri Lanka
Teke Mask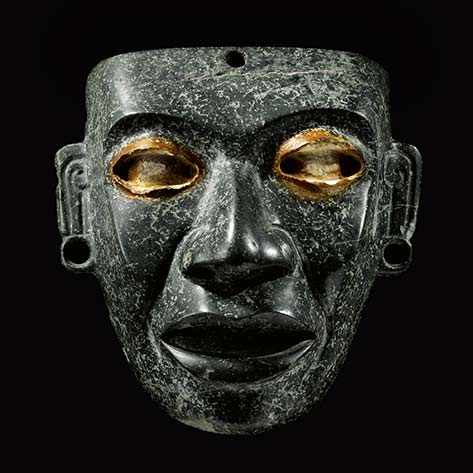 Teotihuacan greenstone mask
Chalk Ware Sarem Italy Lenci Lady
1950s
Vintage African carved mask
Sascha Brastoff mask
–