As futuristic as it seems, automated pottery is a distinct possibility , especially with complex builds, using a printer as a foundation for its development.
3D printers of every build tend to get geeks excited (maybe it's the inevitable Star Trekreplicator comparison), but Unfold Lab's 3D ceramic printer still fills us with a particular brand of awe. Rapid prototyping and three-dimensional printing have been around for some years, but Unfold Lab  has successfully built a DIY ceramic printer. The design is based off an open source project and prints wet clay from its nozzle, which can then be placed in a kiln and fired. The machine uses powder clay which is mixed with water and printed out using a syringe. To test their design Unfold wanted to print a ceramic vessel which would be difficult using traditional techniques. So they drafted a double walled vessel with fins connecting the two walls. The result was successful and they fired the vessel along with a number of other testing pieces that demonstrate the printers effectiveness.Unfold ( Netherlands) was founded in 2002 by Claire Warnier and Dries Verbruggen, after they graduated from the Design Academy Eindhoven as a platform for everything they did and would do. The Antwerp-based duo developed a strong multidisciplinary background in design, technology and art and often collaborates with a vast network of kindred spirits and specialists.
Unfold takes its name from a fascination for computation design methods and the surface of the human body, which led to a series of design projects called 'tribute to surface'. A computer program designed to Unfold simple forms was used on complex 3D models, such as a 3D scan of the human body. It generated new patterns and demanded new production methods. These projects are primarily research based, although the methods are implemented in assignments whenever suitable.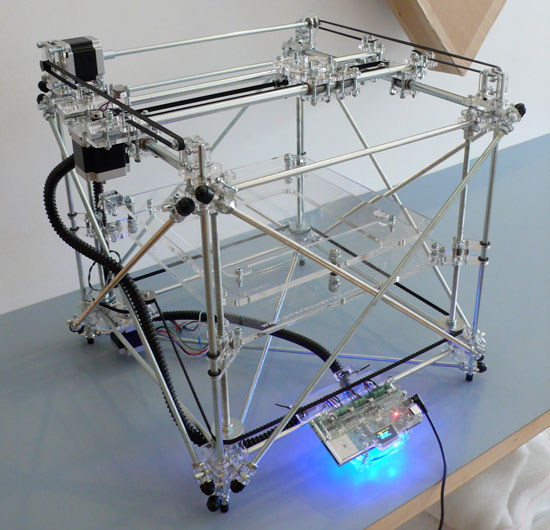 Alas, the 3D printer isn't coming to a ceramics studio near you anytime soon: it's very much a prototype. But it's a great illustration of what's possible when science and the arts team up.
see the Video on a newer post here
–