Black on white or vice versa has been used effectively with Eastern calligraphy in art to draw more attention to the the form of the strokes. As the letters quite often consist of simple strokes, the combination is stark and appealing. Early Greek pottery also featured a strong emphasis on using black figures over a lighter background. giving a silhouette effect.
Monochromatic imagery commands a different perception, especially if you're working without any shades in between. With black and white, the greater contrast makes a bolder statement, creates more depth and mystique, and makes the patterns and designs more dramatic. This can be compelling or conversely over-intensify the appearance. Black and white always produces textures that appear to have more depth and crisper lines by virtue of the wider dynamic range and greater contrast. The added resolution and detail that is possible adds a hyper-realism to the subject, this is evident in B & W photography.
Due to not having the option of using colour film in the beginning, both photography and movies progressed the genre of black and white to a captivating level. Since the late 1960's, few mainstream films have been shot entirely in black-and-white. In photography it also is less favored then in earlier eras, even though colour digital files can be converted to black and white relatively easily. I think that black and white ceramic arts are being more explored now then in the past. Pottery has always had a range of several colours to work with and never really went through a stage where black and white was used exclusively. With decorative ceramics, it is harder to utilize the shades of grey as easily as in the photo medium, so monochromatic combinations are more common in purely black and white decorative styles.
Kathy Victorino – black and white geometric ceramic vessel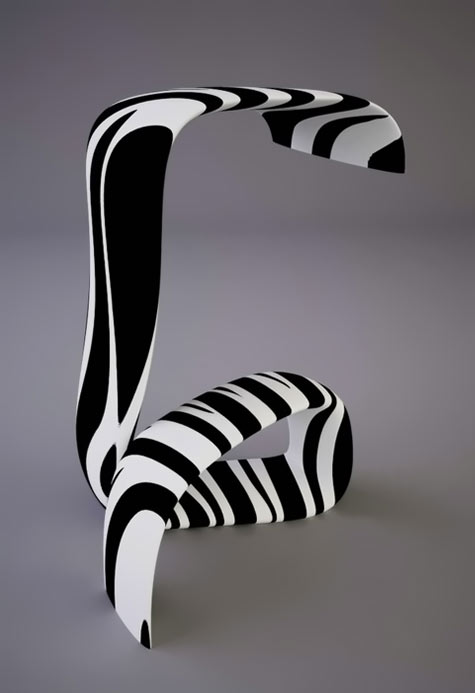 Black and white modernist bar stool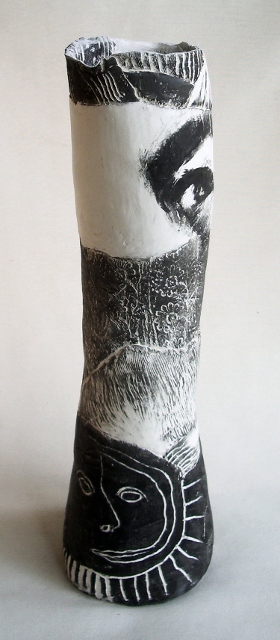 Black and white vase – Sally Hook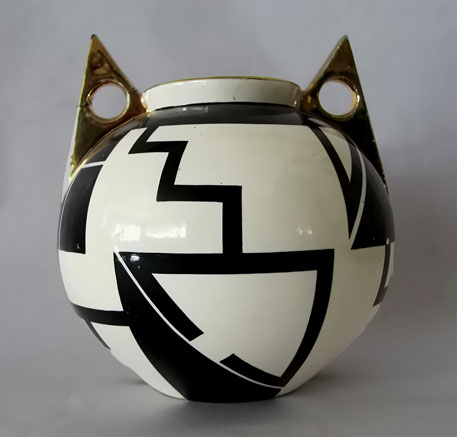 Molded earthenware Art Deco vase, decorated with spherical, geometrized black graphics.
Signed  Fructuoso –    1930's
Vintage Arabia Zebra, 1963 Finland Black and White Pottery – Domestikate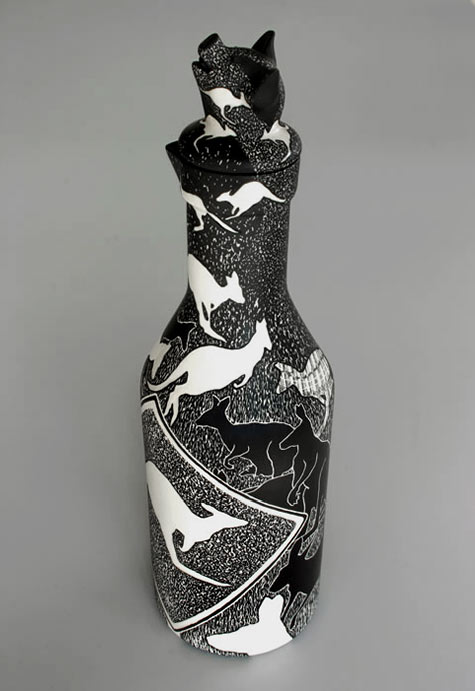 'Populate or Perish' – Pru Morrison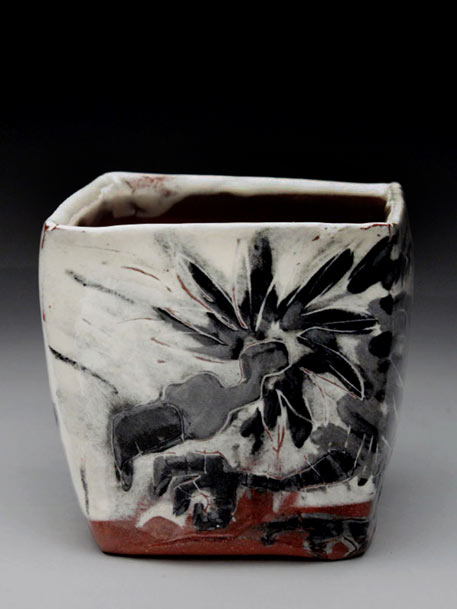 Square Tumbler with Buzzard – Adam Posnak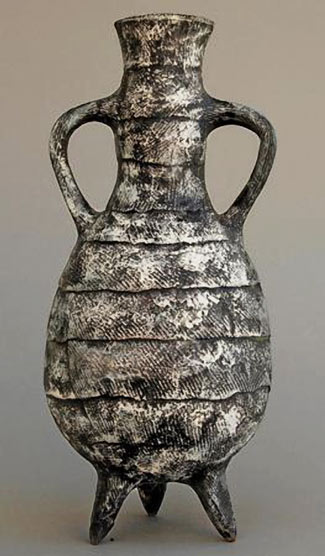 Handbuilt Tripod Ceramic Vessel with colored engobes and stains
Carol Eddy
Acoma Sgraffito Pottery Jar –  R Garcia
Junko Kitamura – Black/white bowl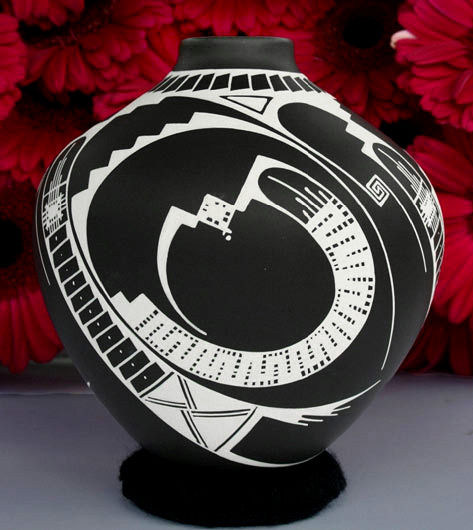 Maria Acosta
Maria is known for her flawless painting and unique figures on the bottom of her pots. She is a fixture in the Central barrio of Mata Ortiz with her many varied designs .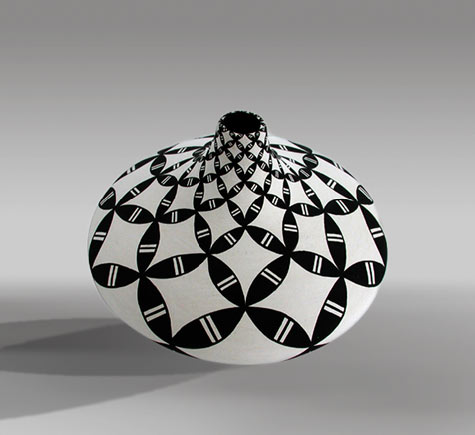 Dorothy Torivio  – Black-on-White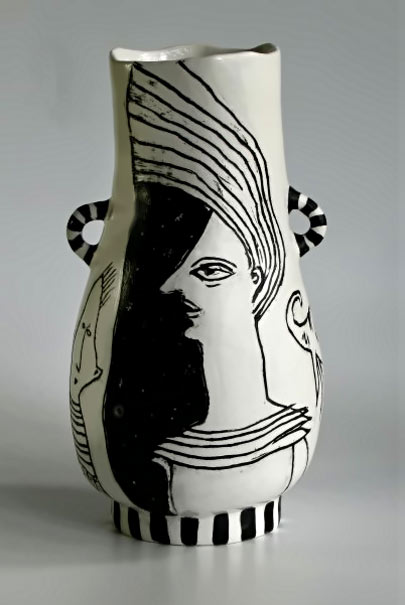 Sally Hook — twin handled black and white vase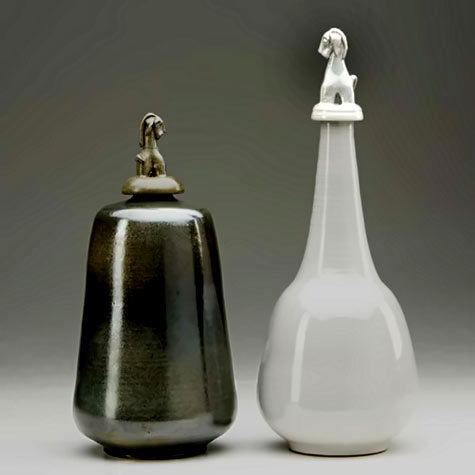 Black and White decanters  – Scheier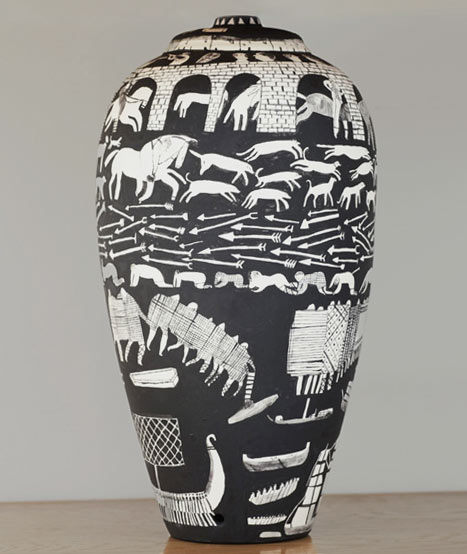 Laura Carrlin Ceramics – London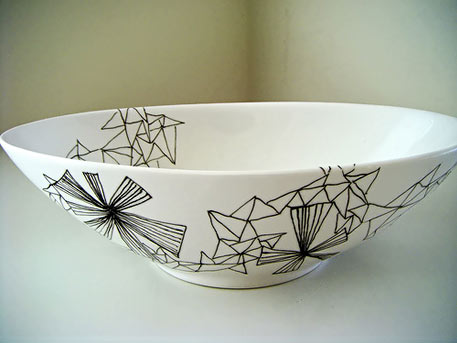 Sew Zinski ceramic bowl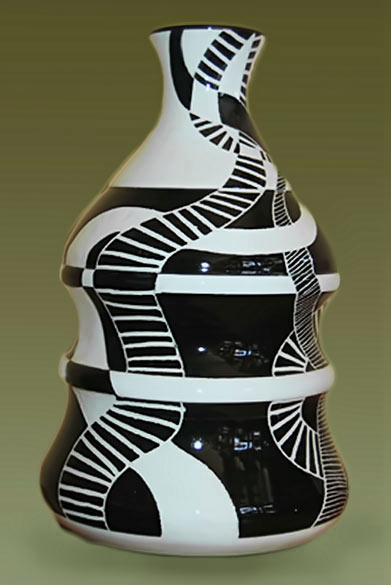 Savvas Pottery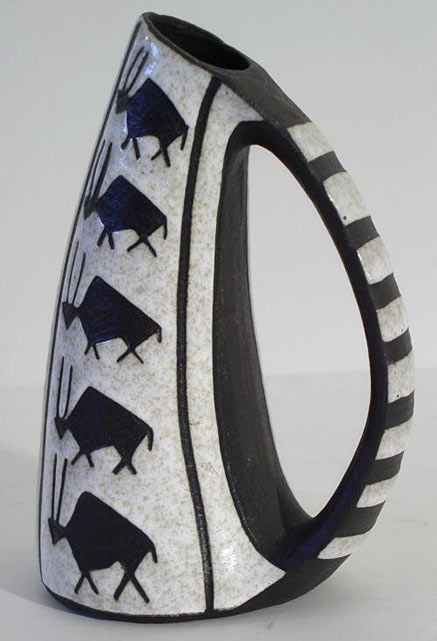 Marianne Starck for Michael Andersen (Denmark) sgraffito vase. Circa 1960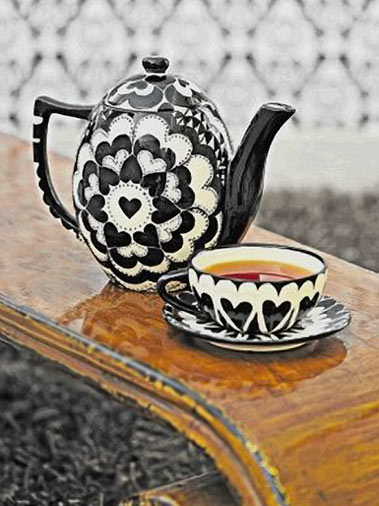 Nkhensani Nkosi –  " Tea Time Moments "
Gele
Rowena Gilbert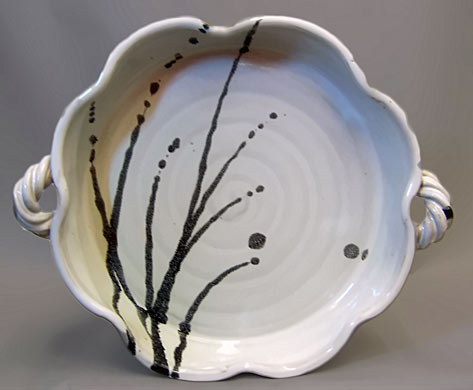 Miry Clay Pottery
Hubert Ceramics cubist slab teapot
Chulucanas Pottery
Jan Richardson – 'Spring' –square vase
Black n white Raku vase – Terry Ha
Staffordshire Tea Pot
Black and white ceramic vessels with incised surface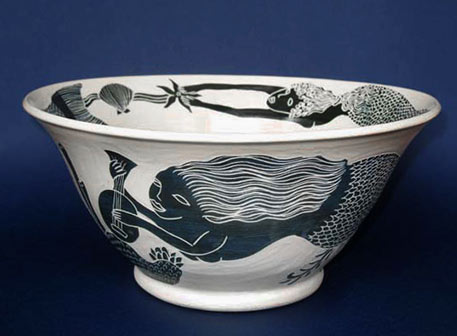 Mermaid Bowl Dark blue sgrafitto on white – Tessa Morgan
Tessa's signature work consists of a white clay body decorated in dark blue slip which is then dipped in a clear glaze.
Black and white surafce textured vessel
Dutch Vase – mid-century – Dries Holten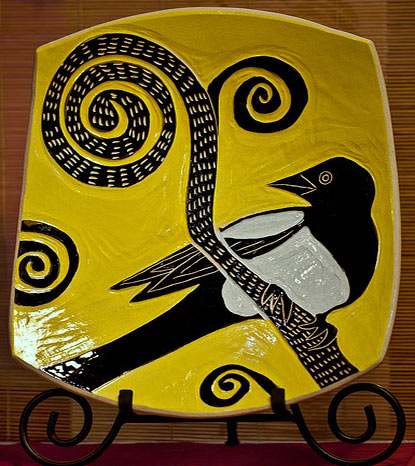 Julia Janeway magpie dish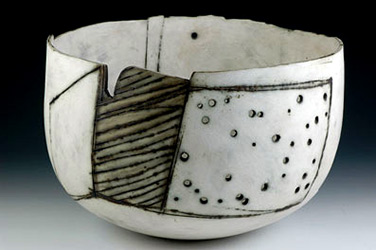 Gordon Baldwin Bowl
( Andrew Muir )
Atomic 1950's Sgraffito patterned dish by Lord David Queensberry for Crown Staffordshire China 1955
Acoma pottery canteen vessel with sgraffito decoration – R.Garcia
Seraphin Soudbiinine Stylized Fish In The Shape Of A Lyre
National Ceramics Museum Sevres – France
Mid Century Pitcher Carstens " Hawaii "  – 1957
Japanese Vase – Kondô Yutaka
Paisley Throne in black and white
Keith Campbell
Jjanna  Rebecca Lucario Acoma – black and white plate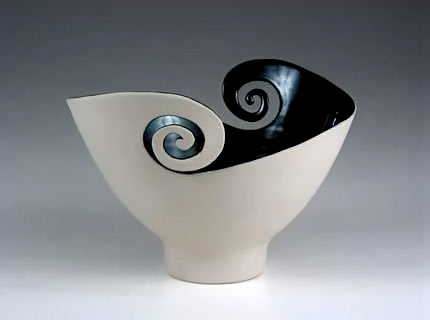 Swirl Bowl –  DiVanityDesigns
Update 10 june 2014
Wolfworks Studios abstract vase, black and white
Wolfworks Studios abstract vase
Yoshiro Ikeda contemporary Japanese pottery
Black and white face close up  – Diane Huminic-pinterest
Black and White face paint – via piccsy
Jun Kaneko Dango, 2001 Hand built glazed ceramic sculpture
83 inch height  x 30 x 16
Anita Reay magpie sculpture
Australia
Moody Girl ceramic bottle – Pauline Doyle
Using terra-cotta clay, I spray over the red clay with a white slip. After the slip drys a bit, I scratch back through the slip to see  the clay and produce a design on the form. Here you see two faces. Later, I shade with underglaze or coloured slip. This ancient process is known as sgraffito. – Pauline Doyle
PS Porcelain cup
Stig Lindberg dish for Gustavsberg
Jun Kaneko, Black and White Dango,
Large black and white squiggle bowl by Mark Dally
Chris Theiss – 'A Change Of  Direction' –  a teapot of challenging perspectives.
Whiteware, vitreous slip, sgraffito – Height 16 inches
Harris Deller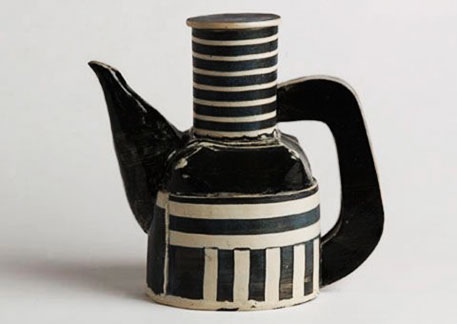 Laurie Goldstein
'Patchwork Bottle Form' by Ryan Thomas
Pierre Boncampain — vase vénus fond bleu
'Wildboar' – Sarah Farrelly
Ursula Commandeur
Gordon Baldwin-1996
Alistair Danhieux pottery, France
 Fine line hand painted Acoma Pueblo pottery – Corrine Chino
"Staged Kitchen Cup" – Angular sgraffito cup — Christopher Theiss
'Celestial Matter' by Ronnie Phillips
The Appalachian Center for Craft

Mid Century Ellis ceramic black and white pourer and salt and pepper shakers
Ans Vink paper mache clay paverol figures
–