A collection of unique ceramic pieces ranging from rarities to curiosities, with some classics, pieces of beauty and the occasional oddities. Selected for their unique originality, function. style and form. The first image at the top is a piece I recently chanced upon at a Chinese grocery store which they were selling as a plate warmer. Its width is 10 inches and has a depth of  2 1/4 inches while being hollow inside.. It had a spout on the right which was used for adding hot water and has the auspicious Ba Kua eight sides. They were also used for foot warmers and even suspended on a cord around the neck ( hence the holes in the lugs ) to warm the Tan Tien ( Sea Of  Chi ) which is at the navel region  It was on a clearance special for $5 and I didn't hesitate to acquire it.  Obviously not in great demand. The second piece below was at the other end of the scale. This sold at the Treasures of the Qing Court auction at Sotheby's for $1,797,670.
Chinese porcelain plate warmer
Rare underglaze blue, polychrome enamelled 'Magpie and Prunus'  Qianlong Moonflask
(1736 -1795) 
Grayson Perry : Revenge of the Alison Girls (2000)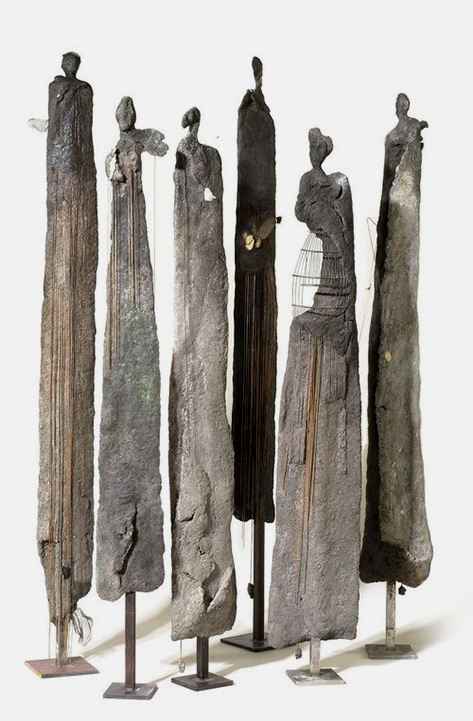 Yolande Biver
Margaret Boozer, "Black Pacific" (detail), 2011, Black stoneware and porcelain wall art
( Loam Clay Studio )
Contemporary vessel – Akira Satake
Sandy Godwin – ornate porcelain bowls, ZA
Anne-Currier geometrical ceramic sculpture – Frieze series III 
Alberto Giacometti sculpture
Photo  Thierry Bressy
( 500px.com )
Auguste Delaherche, French faceted vase – 1910
( risdmuseum )
Black juglet from Jeruselum
These " mini " jugs date back to the Iron Age II, ca. 1000–586 B.C.E. It hasn't yet been established why they were made in this diminutive size, but is has been assumed they were used for carrying precious perfume oils. They have been found mostly in tombs; so possibly they were burial gifts for the deceased.
kelleyscriptorium.blogspot.com
Boch Freres Keramis Vase by Charles Catteau
Canape Cactus by Maurizio Galante on display at the Triennale Milano
Chinese Wucai porcelain baluster jar covered with enameled mythical beasts and blue underglazed Buddhistic emblems.
Claudi Casanovas Deep form, 1990
 Galerie Besson
Ceramic bust – Erik Plöen,-Norway
( Craig Van Brulle )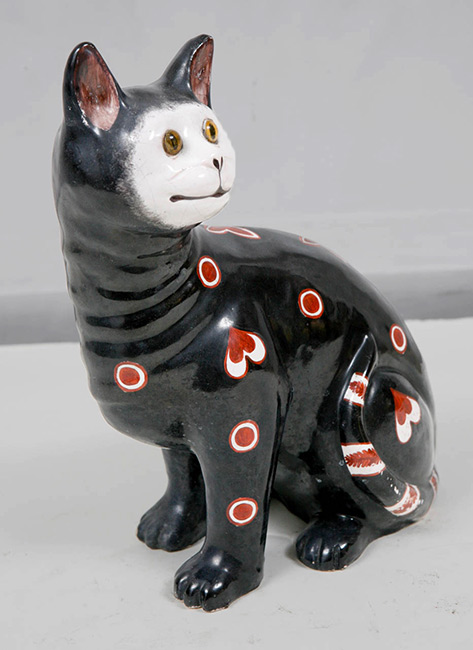 Emile Galle Faience Porcelain Cat
Nancy, France 19th Century
Villa Melrose Antiques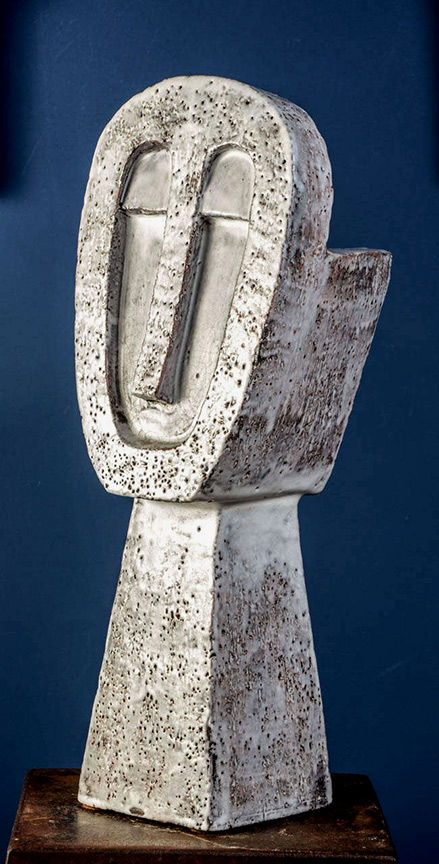 Francesca Guerrier Sculpture – 70's
Karry Gallery
This pair of pots is an example of  "famille verte" porcelain. They take the form of the Chinese characters "Fu" (Happiness) and "Shou" (Long Life).
Here, you can find thousands of artworks, from around the world and across the centuries. Get detailed information about the artworks, including conservation and exhibition histories. Download high quality digital images. Search, tag and create an online art collection. This project is supported in part by an award from the National Endowment for the Arts.
Greek Skyphos (drinking-cup),-6th-century-BCE
 ( met, NY )
Hagi Ware Table Screen, Japan, 18th/19th century, rectangular, one side depicting a samurai and
child standing amongst autumn grasses on the edge of an inlet, signed "nagato ogi"
on the base in underglaze blue, ht. 11 3/8, lg. 16 3/4 inches.
Hand Coil Pot- Claire Woolard-ClayWorks
Heifetz sculptural table lamp
Jan Jacque -Pit Fired wall plaques
Nymphenburg couture edition Julia Black  designed by Christian Lacroix
 Porzellan Manufaktur Nymphenburg, under the direction of Dr. Jörg Richtsfeld, is launching a limited edition of the world-famous Commedia Dell'Arte figurines produced by the rococo sculptor, Franz Anton Bustelli, in 1759/60. Sixteen internationally acclaimed fashion designers were invited to create "new clothes" as a new décor for their favourite figure in the Commedia Dell'Arte group
Stoneware Jar – Mamluk period-(1250–1517)
Joel Edwards Mid Century ceramic display
Common Ground at AMOCA
Payasa –  granite stone abstract garden sculpture – Anne Kampschulte
Leslie Avon Miller for koektrommel
Lynda Fraser –  'The Flying Trapeze'
 Dutch designer Jólan van der Wiel mixes a metal powder into his slip to make it magnetic. It is then placed onto a rotating surface and slowly built up using a nozzle, no moulds are needed.
Malcolm Greenwood vessel
Manjyot Ghataora –  carved, lidded Hindu art jar, India
Ceramic Fish Wall Decoration by Erwin Spuler-1959
Platter sets   –    Nikole Herriott
Photo Michael Graydon
 "Morning II" by Destiny Allison
Ping Dong – Port hacking Potters, Australia
Henan Jun porcelain pots design competition in Yuzhou City of Xuchang
Mid-Century Primavera Ceramic Vase
Paris, 1950's
 French Art Deco Ceramic Vase,- Robert Lallemant
1928
 Cobalt Blue Vase – Roy Lizama
Our Changing Seas: A Ceramic Coral Reef  by Courtney Mattison
Photo by Arthur Evans
Tang Museum
The Promise – Matteo Pugliese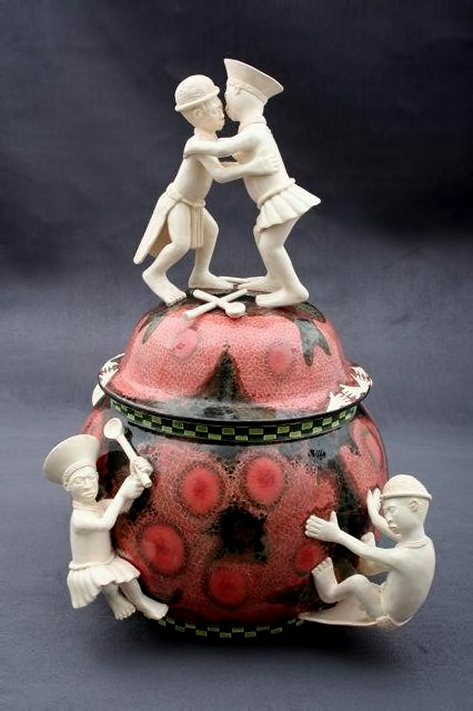 Ukwashela –The Proposal was sculpted by Petros Gumbi and painted by Mickey Chonco for Ardmore, South Africa
Depicting a traditional Zulu ceremony in which a man proposes to a woman and she accepts him by donning white beads. The figures dancing around the piece are symbolic of the couples coming of age as newlyweds. Other traditional symbols used are a wooden stick – induku, and a spoon –  ukhezo.
( Kalk Bay Modern )
Modernist Black a Moor Sculpture by Lorin Marsh, USA
circa 1970
( High Deco Style )
Carved double pink and white overlay-Beijing glass vase
viral-7  Jess Riva Cooper, Canada
Hennie Meyer – ceramic jug and bowl with weave pattern
( Afrikaner Gallery )
Paris artist Daniel Firman –  Elephant
Galerie Perrotins
Ursula Morley Price,–UK – stoneware vase with matte white glaze
–