'Glastonbury Hare' by Christopher Fry
Rabbit and hare blessings through the ages
The myth of the Moon Gazing Hare has a connection to ancient Pagan beliefs and beyond. They believed that seeing a moon gazing hare was an affirmation of femininity and would bring growth, re-birth, and abundance, new-beginnings and good fortune. The hare was sacred to the goddess Freya and to Ostara, goddess of springtime. This link with the goddess Ostara/Eostre led to the modern day Easter Bunny. At Easter we eat Hot-Cross Buns, the cross on the bun representing the four quarters of the moon while the Easter egg was regarded as a fertility symbol.
The Chinese also saw the rabbit as a sign of feminine luck and growth. I met a Vietnamese girl who related to me that on a full moon , it was traditional in Vietnam for women to go to the beach and absorb the light of the moon. They revered the bodhisattva goddess, Kuan Yin, who had a connection to the moon and the ocean and was regarded as a symbol of fertility, much the same as the rabbit.
'Alert Hare' – Joe Lawrence, via flickr
The ancient Persians believed that 'a rabbit that crosses your path is good luck.' They also used them as a talisman on their battle armour and on their pottery, as they were a carrier of great luck and were a symbol of generic beneficence. Chinese Taoist legend ascribes the hare as having a role in the alchemical process for Immortality. Algonquin Indians of North America believed that after death, their spirits traveled to a hare god known as Menabosho. The spiral symbol was also depicted with the rabbit for its association with the goddess, fertility, growth, rebirth and continual change. In the Spring, it was considered lucky to see rabbits running through the fields as they were associated with fertility and the return of flowers and other plants.
Eros, the god of love, is sometimes represented carrying a hare, and the hare was a favorite animal of Aphrodite, goddess of love and beauty. When a hare rested at the feet of the Virgin Mary, it was a symbol of triumph over desires of the flesh. The vision of a bright Full Moon granted love and courage to the blessed.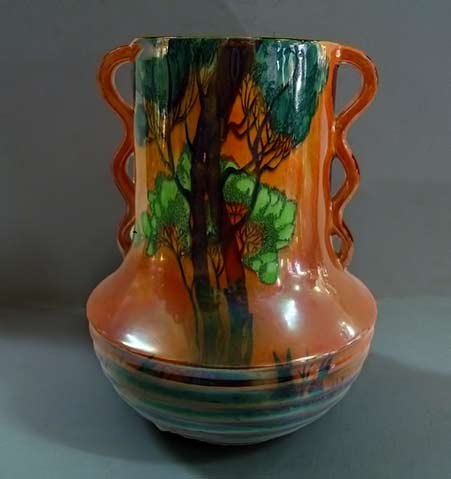 Art Deco Carlton Ware 'Rabbits At Dusk' vase
The rabbit, having shorter front legs, can run fastest uphill, enabling it to elude its pursuers along with its evasive skills. Its unique stride, where its back feet touch the ground before the front feet supported the belief of the luck of the "rabbits foot", especially the back ones. Plutarch (AD 46 – 120), claimed that with its speed and vigilance the rabbit was blessed with a "divine" gait.
In summation, the hare is a symbol of many things, all involving balance, creative potency, refinement, regeneration, fertility, and eternity. This manifests in the form of  inspiration, the Dawn, the Moon, rebirth, infinity, genius, sacred fire and the Egg. Buddhists and Hindus believed that the hare had the powers of resurrection, manifestation and rejuvenation, similar to the phoenix. The Egyptian hieroglyph for the verb "to be" or "being" was actually a hare crouched over a squiggly line of water.
"On the first day of the month when you wake up in the morning shout 'White Rabbit' and when you go to bed at night shout 'Black Rabbit' and you will have good luck." – ancient belief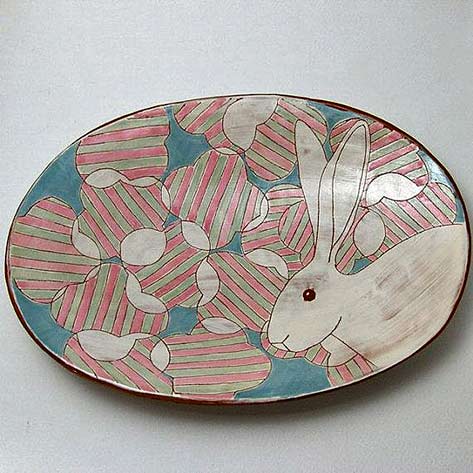 Adrienne Speer
Acoma Pueblo Hand Coiled Pottery Seed Pot – JM Shativa
Pueblo Direct
Brown hare – raku sculpture by Lesley D McKenzie, via Flickr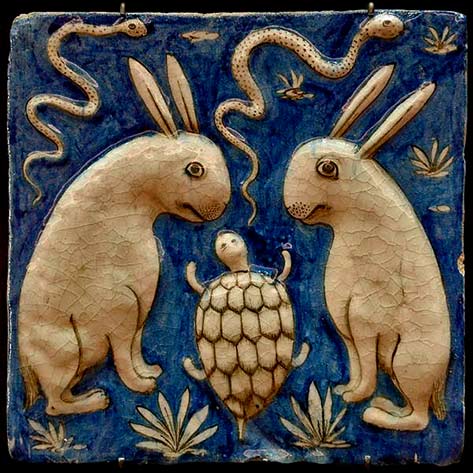 Ceramic panel – earthenware, molded and underglaze-painted decoration. Iran, 19th century.
From an illustration for Zakariya al-Qazwini's book, Marvels of Things Created and Miraculous Aspects of Things Existing (13th century).
Louvre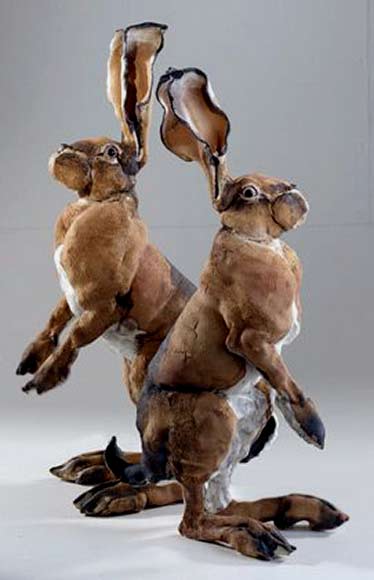 Elaine Peto
"A man who chases two rabbits catches neither." -Chinese Proverb.
Gin Durham— 'White Hare'   2015
Hatfield Gallery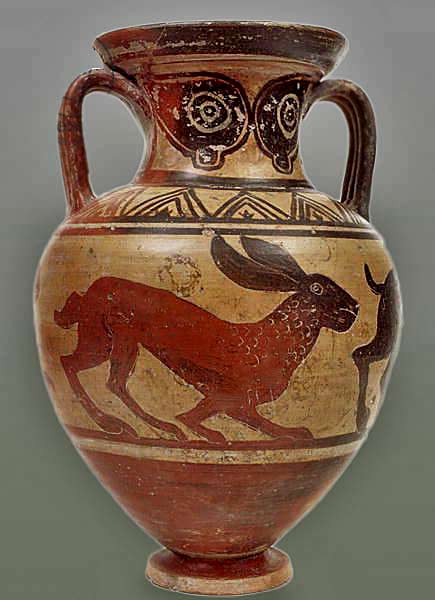 Etruscan Black figure amphora
c.500-BC
\
Firwel Crafts Moon Gazing Lunar Hare sculpture – reconstituted stone
'Bassano' flower vase with rabbit and cabbage (20th-century), L'Ancora manufacture, Veneto, Italy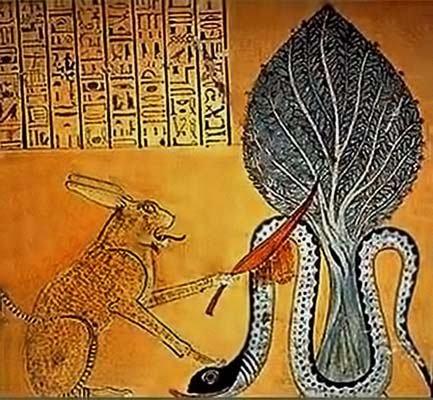 Egyptian wall art – Ra in the form of a feline/hare slaying the snake Apophis, Tomb of Inherkha, 1160 BC, Thebes.
The rabbit, being associated with moderation, resists temptation from the serpent.
Iranian Silk Road tray with the "Three Hares" luck symbol.
Three hares racing around in an endless circle. Displaying the riddle of each having two ears, yet there are only three ears in total as each ear is shared by two hares.( enlarge with click) This symbol has been seen on 13th century bells in monasteries in Germany and 15th century churches in England. Once again as a symbol of luck (the riddle connecting it to the Dragon*) and resistance to temptation. Also evidenced in elaborate ceiling paintings from the Sui and Tang dynasties (AD 581 to 907). This ubiquitous motif has connected civilisations across religion and time carrying a consistent theme.
*Dragon invocation typically involved a riddle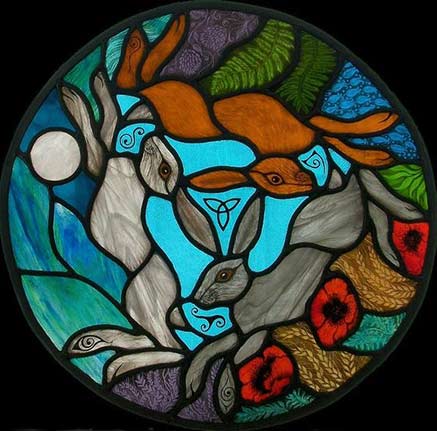 'Three Hares' stained glass panel – Angie Dibble
Ceramic Mayan whistle in the form of the moon goddess and her rabbit consort.
CE 600–800. Princeton University Art Museum.
Jenny Mendes
2011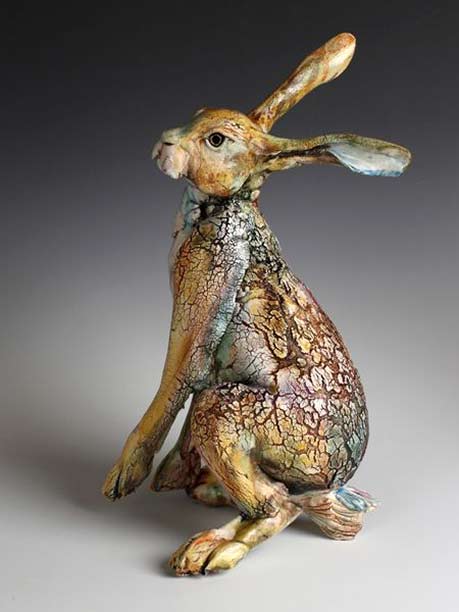 Raku Hare – Annie Peaker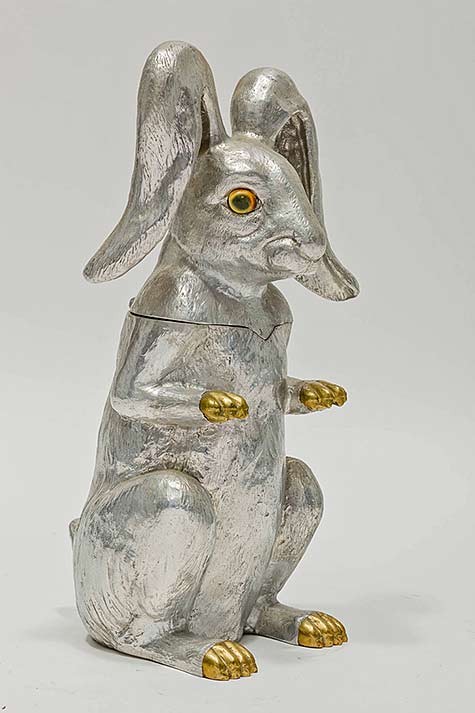 Arthur Court–Aluminum Bunny Wine Cooler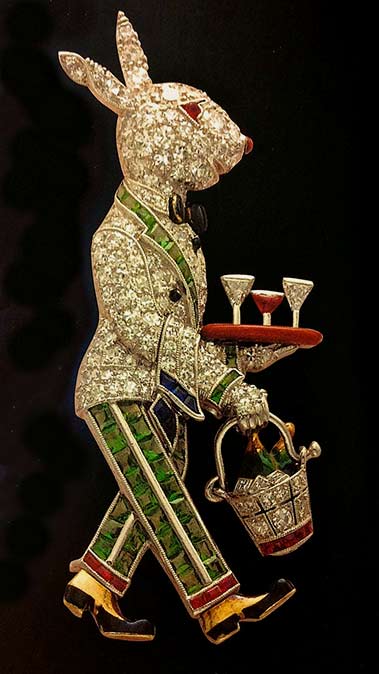 Art Deco rabbit waiter brooch – Raymond Yard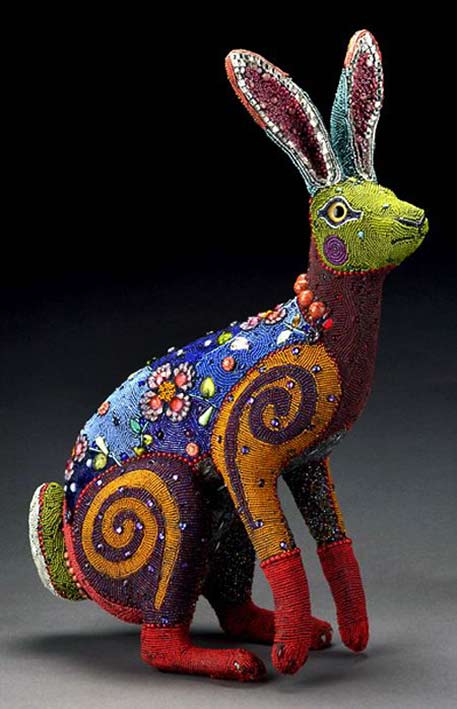 Beadwork and Mixed Media jackrabbit  – Betsy Youngquist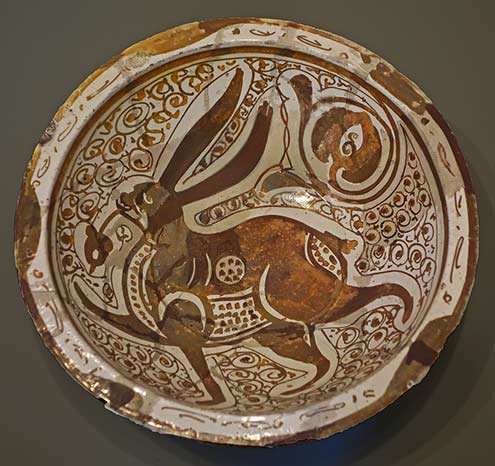 Egyptian hare motif bowl
Earthenware with overglaze luster painting,  Fatimid period, 11th century AD,
Cincinnati Art Museum
Raku Moon Gazing Hare by Paul Jenkins
Rabbit leaning on a mushroom
 Large  Ceramic Platter – Rabbits Moon and Stars by Ron Philbeck Pottery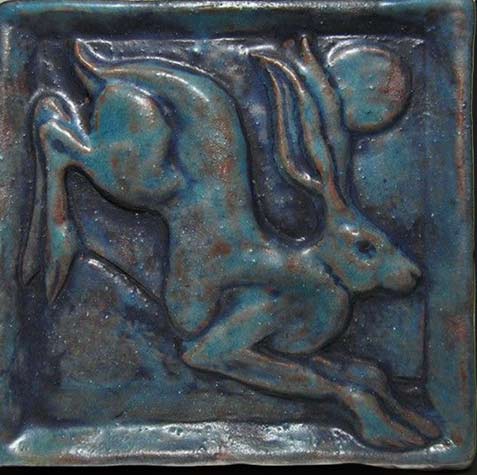 Deep turquoise leaping hare ceramic tile
Gianar etsy
Stylised crackle glaze rabbit, signed Lepoy
Raku Bunnies – Regina Chinow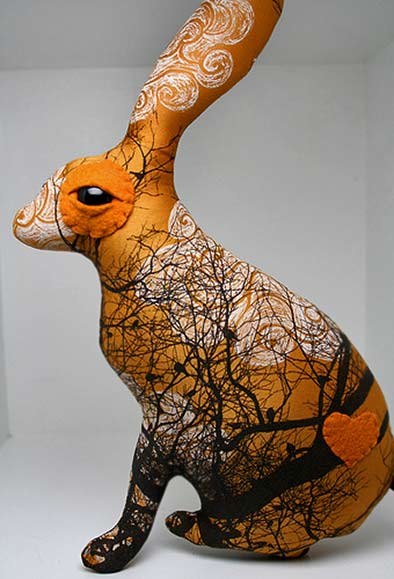 'Flock the Jack Rabbit' –  Look what I can do – Flickr
'Jackpot'  hare sculpture – Joshua Tobey
Bronze 'King of Jacks' – Joshua Tobey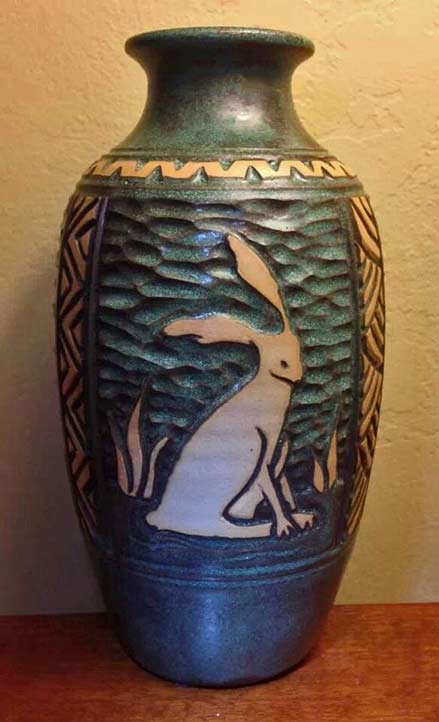 Sgraffito hare vase – Foxlo Pottery — Fox & Lois Garney
 'Hare Woman'  – Michael Flynn
Hares run at a speed of 37 body lengths per second – 60 kilometers/hour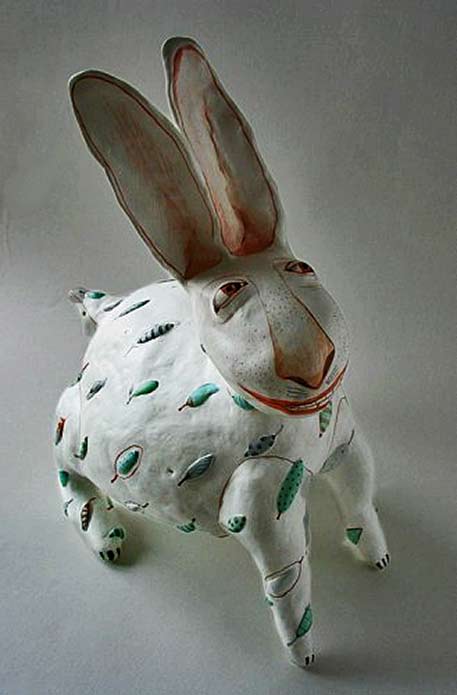 Eli Kaluga Innocent – Smiling Hare
Ceramic bunny box – Lisa Naples
Hare planter – Lisa Naples
Rabbit motif on maiolica dish, Florence 1450
Herend porcelain rabbit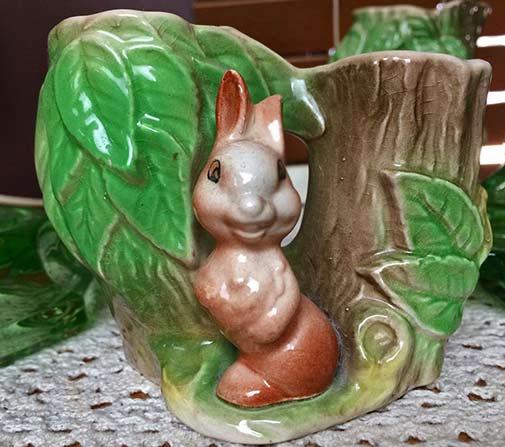 Hornsea Eastgate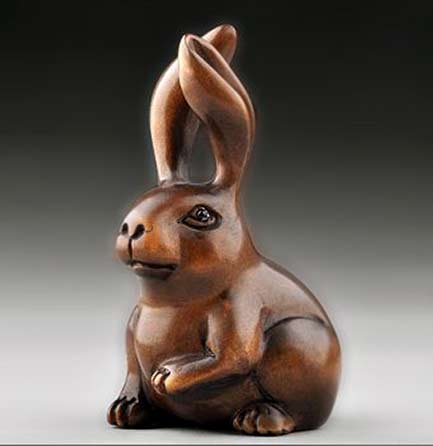 Netsuke Rabbit, Japan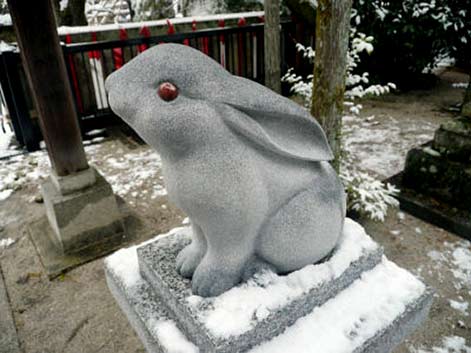 'Okazaki Shrine' (Rabbit Shrine), Kyoto 
'Okazaki Shrine' (Rabbit Shrine), Kyoto
'Study For A Silent Hare' – Beth Cavener
2007
3 Rabbit plate – Josse Davies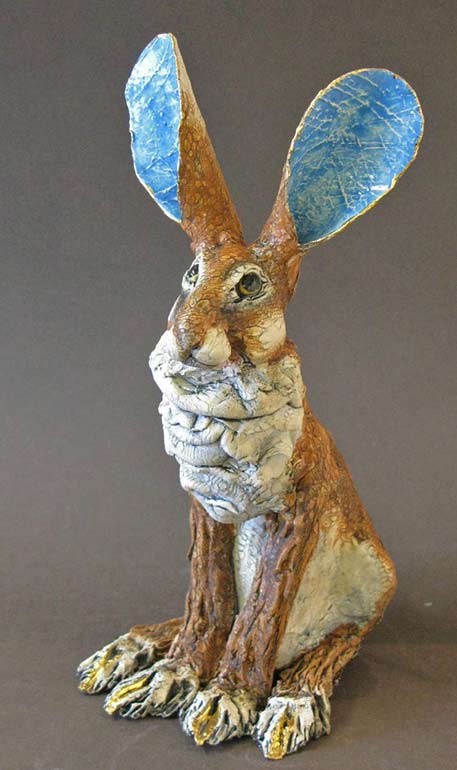 Gin Durham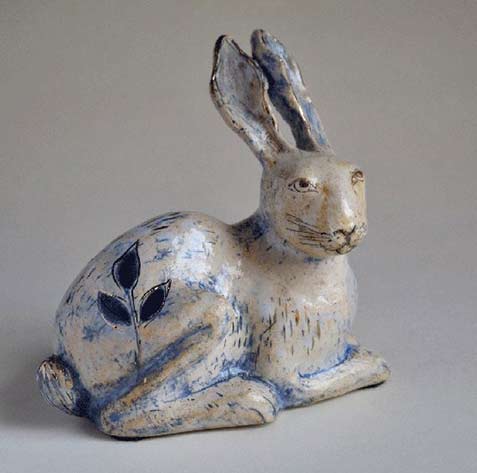 Polish-born, New York based sculptor, Margaret Wozniak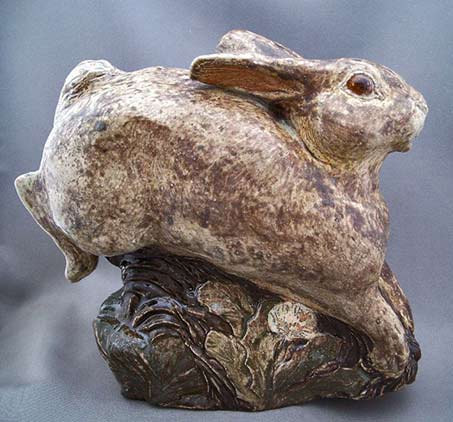 Morris Pottery
Netty van den Heuvel, Nl
White ceramic bunny in red rubber costume – Kare Design, Germany
Reclining Hare – Nick Mackman
Nicolas Ortiz – 'Estrada Rabbit'
Rare Foley ware 'Intarsio' rabbit decorated ginger jar and cover, designed by Frederick Rhead
English, circa 1900
Running Rabbit Plate by Diana Fayt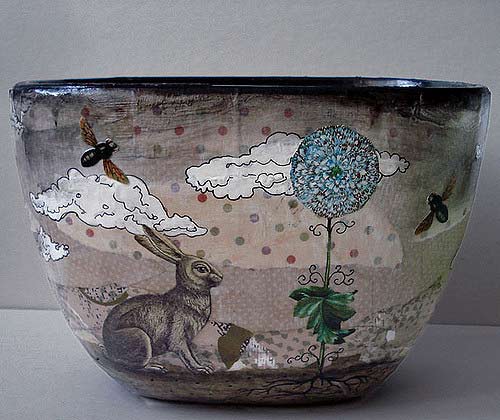 Rabbit Vase – Sarah Ogren
'Star Falls' by Toshio Ebine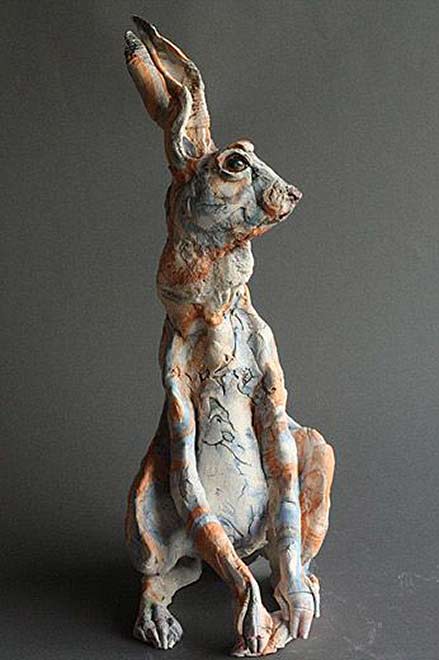 Gaynor Osinelli, Paul Priest — 2010
'The Rabbits' – Shaun Tan
 Royal Doulton Flambe Hare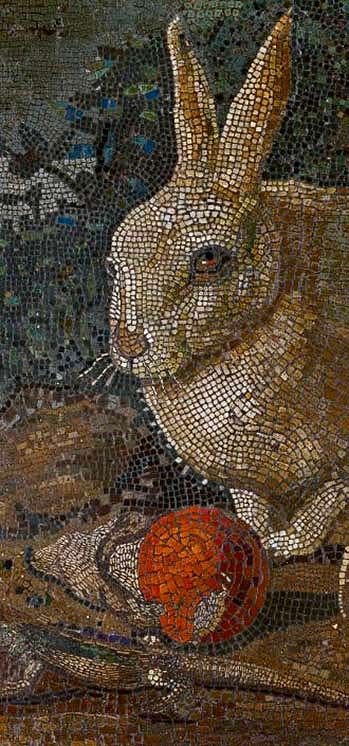 Tile mosaic with a rabbit, lizard and mushroom, 19th or early 20th century.
The Metropolitan Museum of Art. (artist unknown)
Green Tortoise and Hare sculpture – Barry Flannagan?
Broadway at 246th Street, NY
Two Yuan Dynasty stoneware jars
1271 – 1368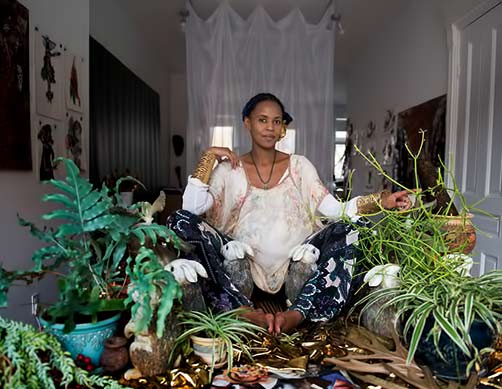 Kenyan artist Wangechi Mutu in her busy bunny garden
photo Kathryn Parker Almanas
Kenyan artist Wangechi Mutu in her busy bunny garden
'The Waning of the Honeymoon' – Mark Marshall Lambeth Vase
Bunny bookends – Westie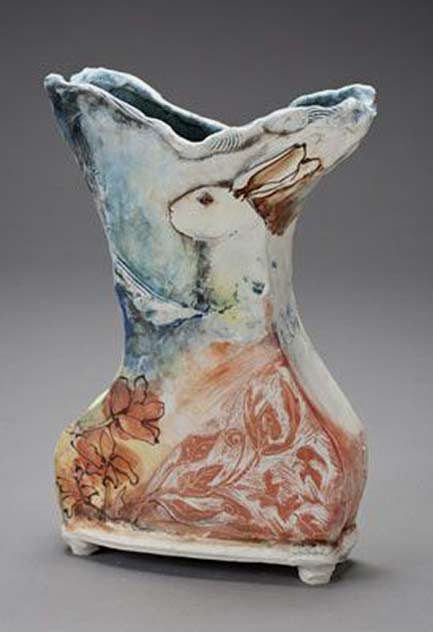 Laurie Sharman
–