Ann Sothern and circus acrobat on horse statue – 1939
Art Deco, Style Moderne meets Hollywood
The Exposition Internationale des Arts Décoratifs et Industriels Modernes, held in Paris in 1925, had a major impact on the launch of Art Deco, including its name, which was derived from Arts Décoratifs. Art Deco was aligned with both luxury and modernity; combining expensive materials and exquisite craftsmanship adapted to modernistic forms. The Théâtre des Champs-Élysées (1910-1913), by Auguste Perret was the first landmark Art Deco building completed in Paris. The Art Deco architectural style, although called Style Moderne in France, was not purely modernist but it had many features of modernism, including reinforced concrete, glass, steel, chrome, and like modernism, it rejected traditional historical models.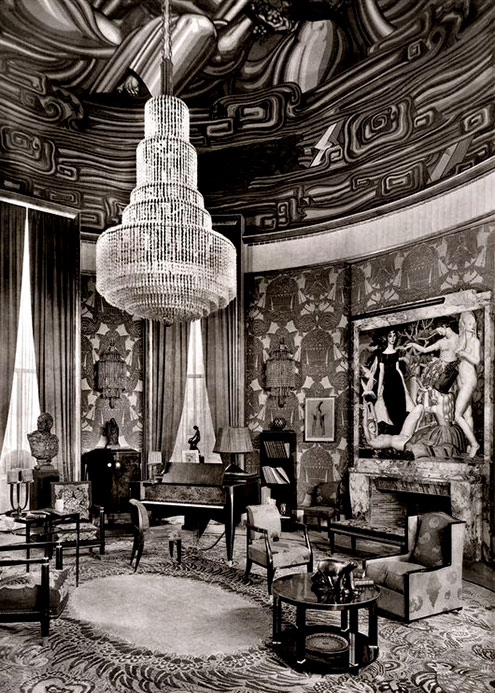 1925 interior of The Grand Salon of the Hôtel d'un Collectionneur at the Arts Decoratifs Expo – design by Emile Jacques Ruhlmann
Le Corbusier, a student of Augeste Perret, exhibited his purely modernist Esprit Nouveau pavilion at the 1925 Paris Exposition and the USSR had a pavilion featuring the flamboyant futurist style of Konstantin Melnikov. Hollywood designer Cedric Gibbons was also in attendance, and the event provoked an upheaval in movie set design. He brought back with him many of the room designs he had seen there and incorporated them into the MGM films he worked on. Gibbons's designs were idealized images of a life of luxury and style and the huge cinema audiences were mesmerized and ready to escape into this lavish reality of opulence, especially during WWII and the Depression. At the time this style was known as Art Moderne in the USA, but later became labelled as Art Deco. This radical style of future living was widely embraced and emulated in mainstream decor trends and interior designs.
The evolution of Art Deco was closely connected with the rise in status of decorative artists. This was also reinforced by the Paris department stores who recruited artists like Louis Vuitton, René Lalique, and Louis Cartier to design products in a modern style to compliment their fashion ranges.This was a major influence on the costume designs and chic aura created in Hollywood in the 20's and 30's. The screen sirens responded to their elegant and serene surroundings with smoldering, sultry, seductive personas filled with elusive mystique which further enhanced the desirability.
'The Wonder of Women' (1929) Art Direction by Cedric Gibbons. Demetre Chiparus figurine on the coffee table
The convergence of the many influences within Art Deco were on display. Futuristic, streamlined forms, angular geometric Cubist shapes and bold Fauvist colours combined with exotic designs that included Persian, Japanese, Egyptian, Mayan and African. The clean stylized lines and geometric details translated seamlessly into the black and white medium of the movies.
Cedric Gibbons had replaced the Russian designer Erte at MGM, who had struggled with translating his creative vision into practical set designs. Gibbon's architectural finesse and design innovation was tastefully complimented by amazing decorative objects and contributed to defining the visual aesthetic of this era, which is my main interest in this article. Glamorous elegance abounded with polished floors, mirrored surfaces, walnut panels, chrome highlights and art deco sculptures and light fixtures.
The studios employed some of the finest photographers at the time, who created images that did true justice to the stunning sets and actors, which is featured here. They vividly captured the essence of this charismatic era with a timeless beauty.
'Oiseau de_Feu' –  René Lalique
Dayton Art Institute
Una Merkel in the movie Private Lives – ScreenDeco
Orientalist statue by ?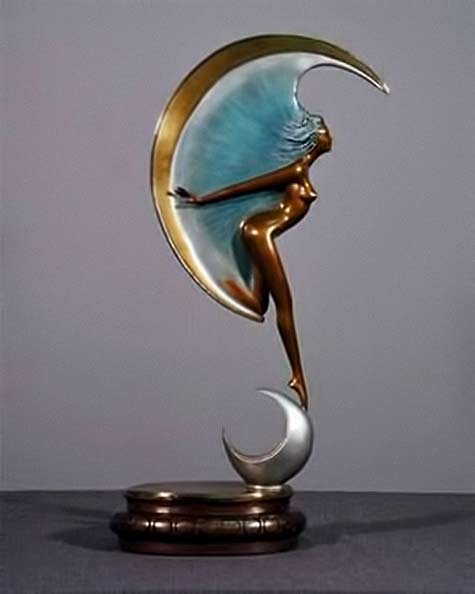 Art Deco 'La Luna' Sculpture – Angelo Basso
Alice Faye with black cat sculpture
1935
Robert Montgomery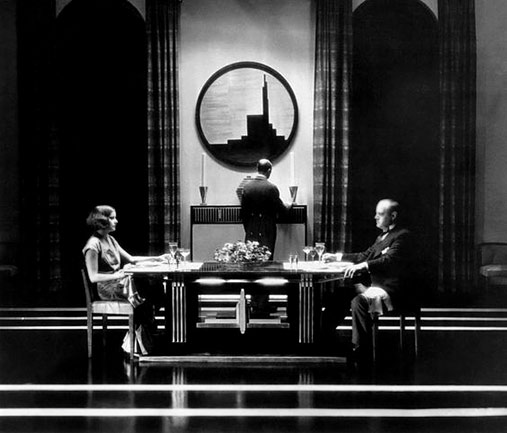 Cedric Gibbons art deco set design from 'The Kiss' (1929)
'Our Dancing Daughters' (1928)  —  Art director Cedric Gibbons used the typically strong geometric accents that were characteristic of Art Deco
Art Deco set– 'The Artist' –2011 — Art Deco recreation by set designer Robert Gould
Ann Harding
Mexican actress Dolores Del Rio who was married to Cedric Gibbons. She was known as the face of Art Deco.
Dolore's beauty wisdom:
"Take care of your inner beauty, your spiritual beauty, and that will reflect in your face. We have the face we created over the years. Every bad deed, every bad fault will show on your face. God can give us beauty and genes can give us our features, but whether that beauty remains or changes is determined by our thoughts and deeds." ~ Dolores del Rio
"Exercise, diet, beauty treatments– these things are all a complete waste of time because everyone must get older. If women were more sensible they would cease going to beauty parlors for facials and would instead lie down quietly in the peace of their bedrooms for the same length of time and arise more beautiful in face and more peaceful in spirit. The fact that I'm aging makes me a part of life, a part of the bigger scheme of existence… It is my mind, not my body, that I am trying to preserve, because it is through the mind that I can stay young." ~ Dolores del Rio, 1964
"The two most beautiful things in the world are the Taj Mahal and Dolores del Río." –George Bernard Shaw
Dolores del Rio in 'I Live For Love'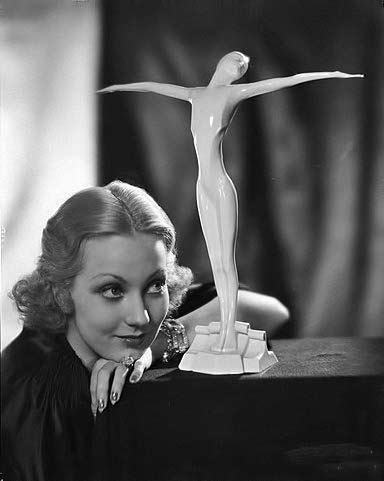 Ann Sothern
The art deco interior of a house which served as the set for the film 'Our Modern Maidens', with a sweeping staircase leading from the lounge area. Art direction Cedric Gibbons, MGM
Futuristic 'Things To Come' – 1936
Art deco tablelamp – Pierre le Faguays, signed Guerbe ( pseudonym)
Art Deco Paramount theater. Oakland
Egyptian Art Deco in Hollywood
Art Deco dancer –  Demetre Chiparus
'The Bride Of Frankenstein', 1935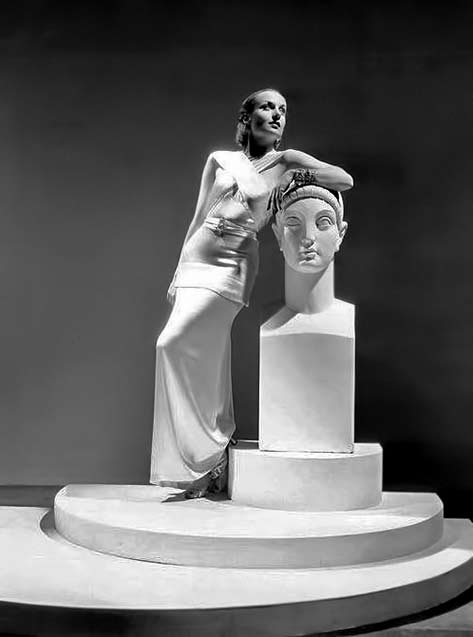 Carole Lombard publicity still for 'Rhumba', 1935
Spirit of the Centennial statue at Fair Park in Dallas, 1936.
Designed by Raoul Josett and Jose Martin. Carlo Ciampaglia designed the mural behind the statue.
'Chryselephantine Lady' –  Josef Lorenzl.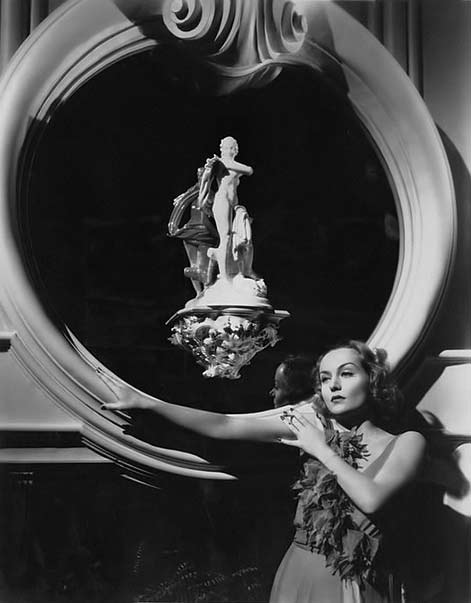 Carole Lombard
Carole Lombard
Grand Hotel, 1932
In the book Designing Dreams: Modern Architecture in the Movies, author Donald Albrecht writes, "Circles are prominent in every aspect of the Grand Hotel's design– an appropriate image for the spinning-wheel-of-fortune scenario. The circular motif appears in the hotel's round, multilevel atrium with open balconies, in the continually revolving doors, and in ornaments on balcony railings. It also appears in the round reception desk, which acts as a pivot for the curving shots that follow the movement of the film's characters, who travel across the black-and-white floor like pawns in a chess game. Movie plot and architecture have seldom been so closely harmonized."
Art deco fire screen with Art Nouveau floral motif -Rose Iron Works of Cleveland
1930
Claudette Colbert
Cleopatra – Claudette Colbert
Claudette Colbert in 'The Sign of the Cross'
Director Cecil B Demille.  1932
Corinne Griffith. 'Lilies of the Field' (1924)
Bronze sculpture figure – Erte
Elissa Landi and monumental sculptured fireplace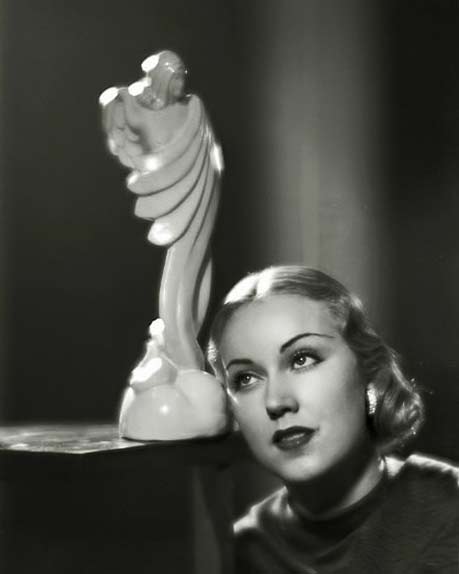 Fay Wray
Photo Ray Jones
'Flying Down To Rio' dance scene, 1933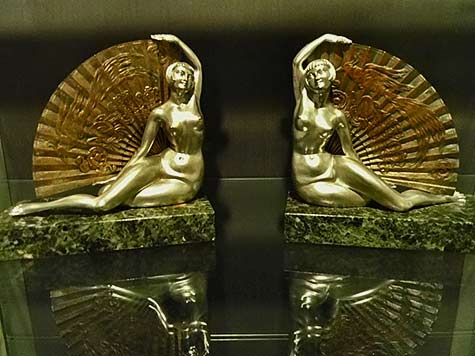 French Art Deco fan dancer bookends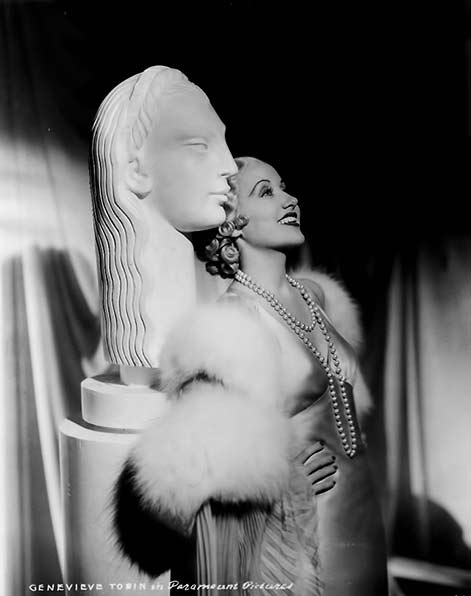 Genevieve Tobin and a white art deco bust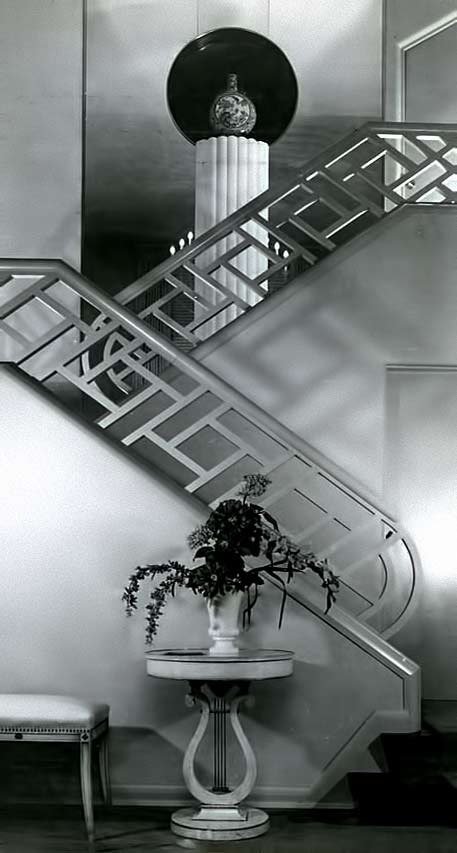 Impressive Art Deco staircase and vase pedestal
Genevieve Tobin
Giant piano set with 4 piano players and orchestra from the movie 'King of Jazz'
1930
Art Deco spherical vase with geometric cut glass design and ruby overlay trim – Continental (Czechoslovakia)
Greta Garbo – 'Mata Hari'
Grace Bradley under a Cubist Xmas tree
Helen Twelvetrees
Jean Harlow – Theo Vos art deco statue ( see below)
Art Deco white porcelain 'Ballerina' statue by Theo Vos for the German 'Hutschenreuther Porcelain'
height 37cm  c.1927
Museum of Art Nouveau and Art Deco, Salamanca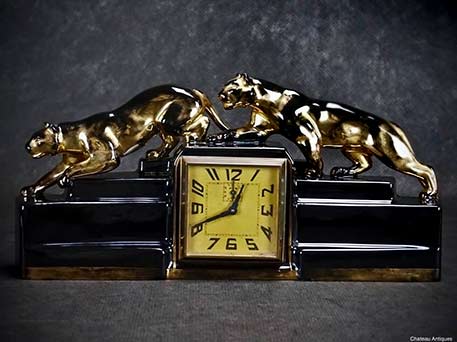 ODYV French Art Deco mantle clock with gold panthers
Chateau Antiques
Joan Bennett, 'She Couldn't Take It'
1935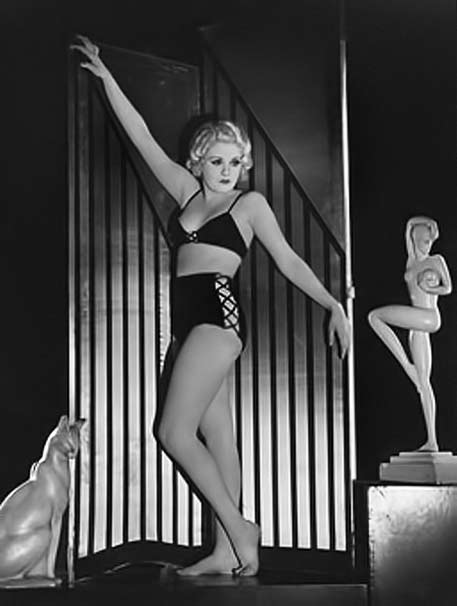 Joan Marsh
French Art Deco screen – A Soleau
Table—Jules Leleu   Chairs—Andre Arbus
Joan Marsh
Josephine Baker
Also see Josephine Captivates The Jazz Age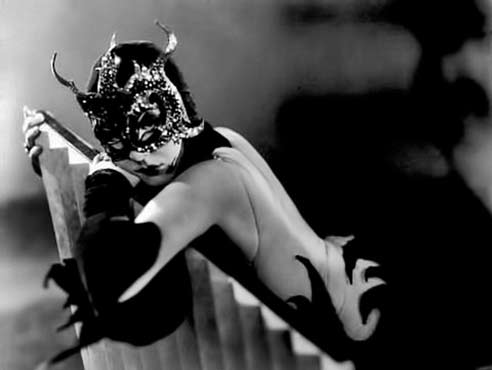 Kay Johnson in 'Madam Satan'
Aelita: 'Queen of Mars'
Russia 1924
Art Deco bronze and ivory figure – J Ulrich
Lois Moran
Photo George Hurrell, 1931
Carole Lombard
Loretta Young
Marguerite Chapman
Mark Stevens and Cathy Downs in 'The Dark Corner', 1946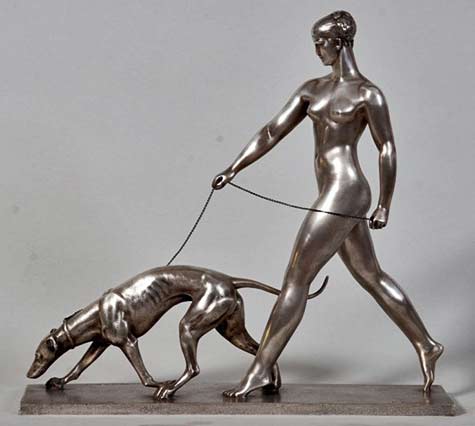 Raymond Léon Rivoire – 'Women with Hound'
France, 1920
Ruggero Alfredo Michahelles: 'La Quadriga', 1929,
Merna Kennedy with a stunning tall Cubist Deco statue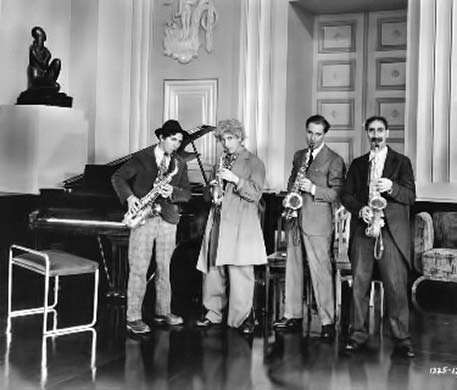 Marx Brothers saxophone quartet in 'Monkey Business'
Myrna Loy
Myrna Loy
'Night Owls' – Laurel & Hardy
1930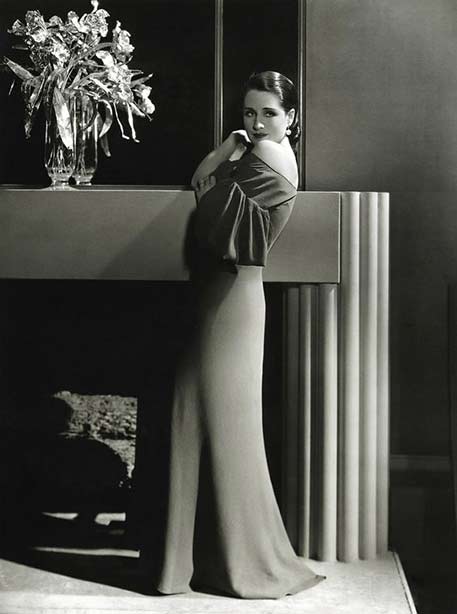 Norma Shearer in 'The Divorcèe' directed by Robert Z.Leonard
1930
Rene Buthaud – ovoid vase with a naked Europa riding a bull
Art Deco Jazz Age movie, 'Our Dancing Daughters', 1928
Our Modern Maidens, 1929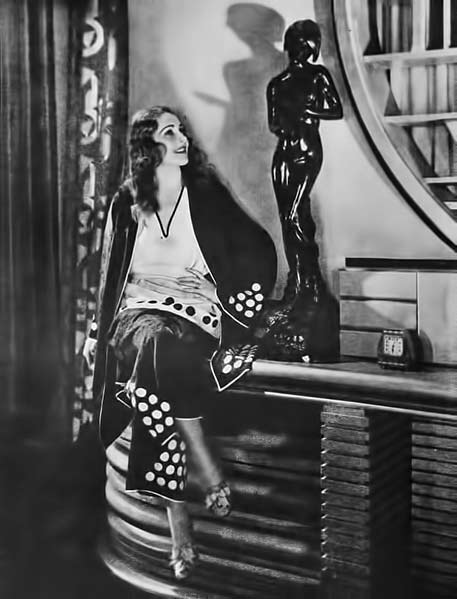 Rita Flynn
Ruth Taylor  in 'Gentlemen Prefer Blondes'
1928
Pâte de Verre, Figure designed by Marcel Bouraine for Gabriel Argy Rousseau
c.1920
Classic Art Deco fireplace – Jean Harlow in 'Platinum Blonde'
1931
'Speed' – Harriet Frishmuth
'The Hatchet Man'
1932
'The Sign of Cross' – Cecil B DeMille
1932
Max Le Verrier Art Deco bookends
Kay Francis-(1934)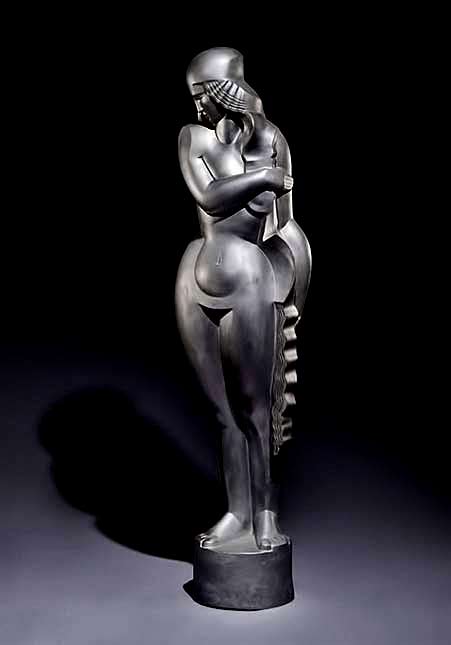 Jean and Joël Martel
–