T.A.C Colenbrander vase, Netherlands
1921
Elisabeth Schmidt-Pecht
Konstanz, Germany, 1900
 I added these first two vases because I consider them to have a highly innovative design relative to the date of their production.
Art of clay
Just as our Earth gifts a perpetual abundance of malleable clays and minerals that can be transformed into expressive forms, displaying a wide variety of natural colours and textures, ceramic artists keep discovering more creative possibilities for the malleable substance. The fact that clay vessels, as vehicles of consumption, are sourced from the same earth that our basic sustenance arrives from is a reassuring harmonic and maybe a reason of its enduring appeal.
Clay provides a natural, decorative medium that is a receptive, three-dimensional canvas, that readily absorbs paint, is durable and responds readily to manipulation and shaping. Over the ages the use of pinch pots, wheel throwing, coil construction, slab building and moulding have been stalwarts of clay production methods and are still used to craft functional and decorative wares. A tactile odyssey of various surface finishes is rendered possible by the available materials and firing processes, delivering an array of surfaces ranging from coarse textures arising from glazes that are frothy, bubbling, foaming, fissured and jagged to smooth, even and flat surfaces.
Using further enhancement after manipulation of form with techniques like incision, glazing, reduction firing, carving, slips and engobes leads to endless possibilities. It is to be expected that ceramicists quite often draw inspiration from nature and explore the inherent natural colours and textures in clays and create forms that look organic.
Here we examine some recent contemporary innovations in the ceramic arts and also look at some classic antique and vintage pieces.
This post will feature ongoing updates loaded from the top.
Zuni Indian Pottery Hand-Coiled-Frog Seed Pot by Marcus Homer
Gourd art Whitney Peckman
Venaktum West German Pottery
Mikhail Fomiryakov 'Waterfall' Vase
2000
Helen Martino vase
Elizabeth Fritsch, 'Quantum Pocket II'
1992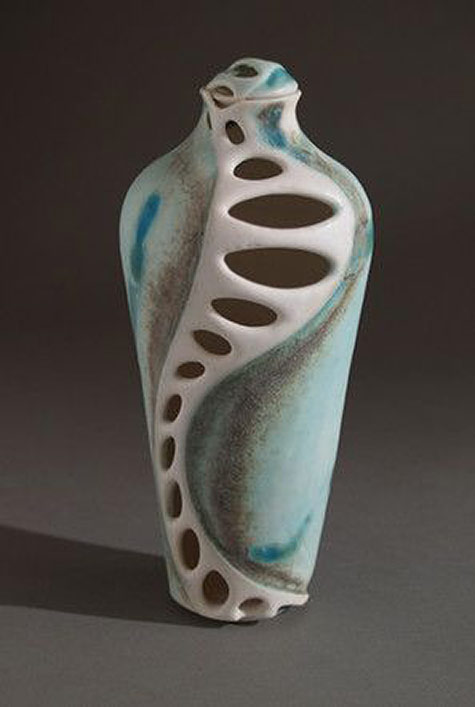 Sculptured vase – Clare Wakefield, England
Derutamajolica-etsy — 'Virgins Klimt' hand painted ceramic
Peter Fitzgerald — 'Bemused'  carved sculpture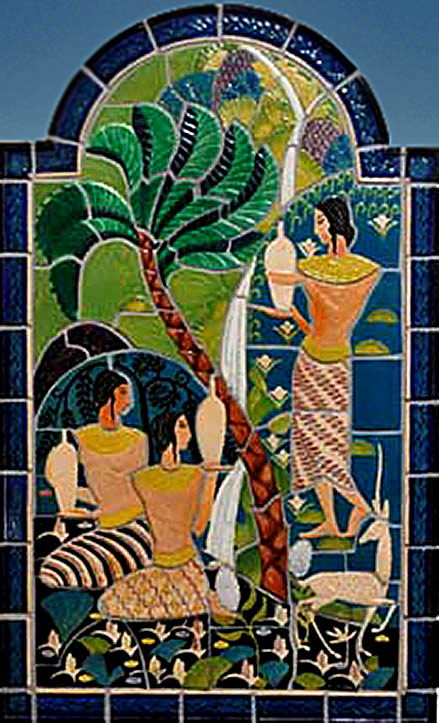 Recently restored  'Egyptian Maidens' ceramic mural by Elsa Vick Shaw, a Cowan artist
1930
Betty Woodman
Bettty Woodman was one of the first females to blaze a trail into the male dominated world of pottery in the 50's. She developed her craft making dinner sets and decorative crockery, but from the 1950's onwards, she moved into the realm of sculpture. Her unrestrained, spontaneous and vibrant pieces now occupy museums and art galleries globally. At the age of 85, Woodman is still creating work in her studios in Chelsea in New York and a farmhouse in Tuscany. Her ideas appear while she is making rather than while sitting, thinking and planning. The more she creates, the "more I am inspired and the more one thing leads to another. I'm not interested in repeating myself."
'House of the South' – Betty Woodman
Glazed earthenware, epoxy resin, – 1996 – MET

'Vases and Girls' – Betty Woodman
2010
'Tea Ceremony – 4 Parts', 1984, glazed earthenware, epoxy resin, lacquer, paint, – Betty Woodman
David Kordansky Gallery
'Roman Fresco Pleasures and Places' – Betty Woodman
2010,  American Academy in Rome, Rome, Italy
'Rose et Noir Pillow Pitcher'  —  Betty Woodman
glazed earthenware, epoxy resin, lacquer, paint
Betty Woodman  —  His/Hers Vases River Viewing Studio Screen, 2004,
glazed earthenware, epoxy resin, lacquer, paint, 29 x 72 x 9 inches
 'Piattaia', Betty Woodman
2014, glazed earthenware, epoxy resin, lacquer, paint, canvas, wood, 65 x 60 x 12 inches
'The Portuguese in Japan' by Betty Woodman
2000
'Tanzania', Betty Woodman, 2014
Glazed earthenware, epoxy resin, lacquer, paint, cement, 34.5 inches
'Tanzania', Betty Woodman, 2014  (alternate view)
Glazed earthenware, epoxy resin, lacquer, paint, cement, 34.5 inches
Matthews 'rock glazed' ceramics represents the personal development of an understanding and a bond with the landscapes of Britain, illustrating the ceramic qualities of the rocks and deposits around the country. His aim is to create another way of looking at the land on which we live by making ceramic pieces that are entirely created from rocks and minerals that he has collected from individual locations. Each piece is an illustration of the ceramic and geological character of that place.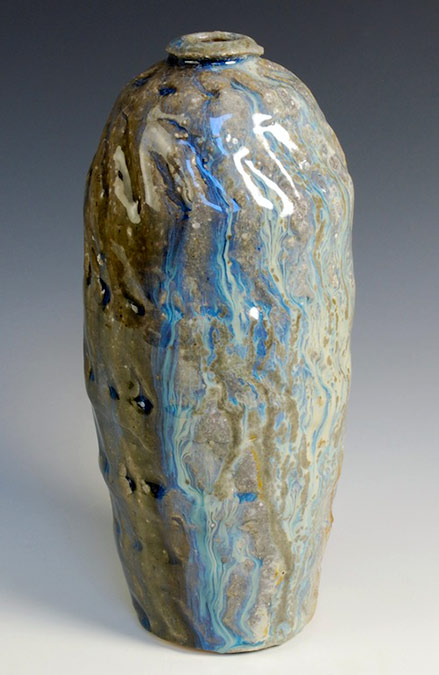 Matthew Blakely – tall 'Rain Jar'
Matthew Blakely – 'Fractured Jar'
Matthew Blakely ceramic globe vase with white sideway drip glaze
Matthew Blakely
Matthew Blakely  —  Globe vase
Wouter Hoste, Belgium
Wouter Hoster – 'Meteorite 3′ – Meteorite Series 2017
Wouter Hoste Ceramics – 'Meteorites Arrival'  lamp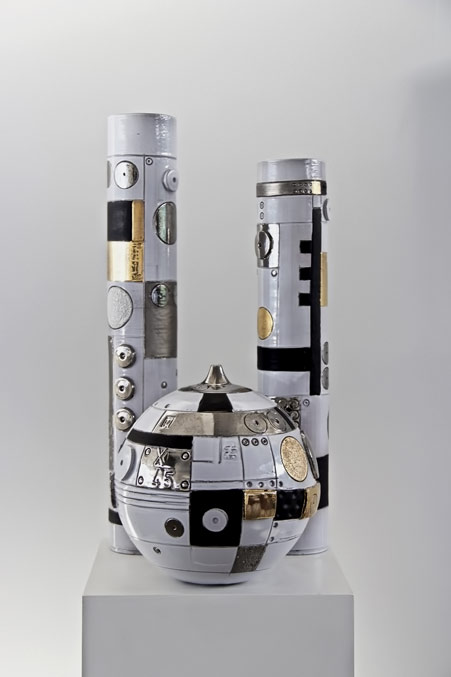 Wouter Hoste -'Nostromo Series'
With Gold and Palladium luster details.
Nostromo setting – 'Nostromo 15 Lamp'. With Gold and Palladium luster details.
Wouter Hoste Ceramics – Lunar Metal Moon sculpture
Mougin, France — vase art deco craquelé
Nature inspired clay sculptures and ceramic art by Babette Harvey
Nature inspired clay sculptures and ceramic art by Babette Harvey
Mariko Okubo — 'Prayer'
2014
'Reminisence'  —- Mariko Okubo
2017
Mariko Okubo – 'Flower Base'
Paul Scott is a Cumbrian based conceptual artist who remodels discarded ceramic shards to create new iterations. Some are recreated with the ancient Japanese kintsugi tradition of using gold and lacquer to rejoin the pieces or he just combines broken pieces to refresh the context and artistic presentation. His rescued pieces, from a combination of Chinese Willows and other blue transferwares, makes them again appear to be beautiful, functional, and intriguing. He has been Professor of Ceramics at Oslo National Academy of the Arts (KHiO) since 2011.
Mended ceramic plate aesthetic – Paul Scott
Cumbrain Blue(s), 'Fukushima No 5′  —  Paul Scott
2015
Attached ceramic shards on plate – Paul Scott
Cumbrian Blues Collaged Ceramics by Paul Scott
Cumbrian Blues Collaged Ceramics by Paul Scott
 Jomon era ancient pottery vase
Phosphatic glaze splashed brown stoneware jar and cover
TANG DYNASTY (618-907) –  Christie's
Abstract Sculpture by Lena Arice Lucas – coil built – constructed clay, steel, acrylic
Acadia 3D printed turquoise sculpture with serpent surface
Adam Silverman footed squat jar
Adero Willard twin Siamese conjoined  abstract vase
Adero Willard contemporary ceramic vase
A Minton attributed majolica two-handled vase
circa 1859.
Art deco Squirrels vase by charles CATTEAU for BOCH KERAMIS
1923 on Etsy
Orange and black raku pottery vase – Philippe Buraud
la Porte du soleil, France
'Blackbirds in our Trees' large jar –  Rebecca A. Grant
Bodenvase Scheurich 546-52 fat lava Keramik Vase
60's
Bowl with sgraffito or brushed decoration over slip, by Edwin and Mary Scheier
Skinner
Greek warriors in battle – Burial Pottery
Detroit Institute of Art
Clay idols for temple offerings
Dümler & Breiden, vintage  vase
Germany
Village elder in the Philippines responsible for upholding cultural traditions
Filipino artisans village selfie
Emile Decoeur Art Nouveau vase
Czech Art Deco Nu au Vase,  photo František Drtikol
ca.1920
Funerary portrait of a woman from Palmyra, Syria.
200–250 A.D
Ceramic abstract tile – artist unknown?
Leza Marie McVey, Vessel ca 1949
Water-Etched porcelain Cup, Jim Gottuso
Marcello Fantoni – Mid Century modernist lion vase
Mary Kenny
'Mirage Lake' – Wayne Higby
Wayne Higby 'Temple's Gate Pass' – glazed earthenware, raku-fired
1988, Smithsonian American Art Museum
Naked Raku tumblers – Jane Murray Smith
Raku polar bear by Jane Murray Smith
Height 14 inches, Dragonfly Pottery
Aldo Londi Bitossi pottery bird for Raymor –  Mid Century Modern
Italy.
Naked Raku—Slip-Glaze—Kris Paul
I specialize in thrown and hand built fine porcelain that has been burnished to a soft polished surface that is fired in a naked raku firing. The firing process is a dance between the porcelain and the carbon atmosphere and it is not until they emerge from the reduction chamber that I know how the surface will appear. There are distinct subtleties within each individual piece that emerge through the process of manipulating the clay.
Pete Linforth
Pierre Boncompain ceramic vessel with reclining nude female figure drawing
Ricky Maldonado
Seth Rainville plate with couple
Rainville's work delves into two distinct categories… "Rainville-ware" is a functional line of ceramics devoted to the art of entertaining, while his signature "Ink-ware" allows Seth the freedom to explore his desire to be a storyteller.
Seth Rainville
Tania Mallet in pottery studio in Tourettes Sur Loup, South of France
Photo – Vernier, Vogue July 1960
Paris apartment (currently on the market) with wall decoration of 100 tiny ceramic pots
Expand with click
Terracotta reclining figure sculpture – Chacmool
Toltec, Tzintzuntzan, Michoacin-1200AD
Camille Tharaud porcelaine de Limoges, France
Camilla Ward
Hand painted owl dish by Nan Hamilton
Grotell Maija green Vase-1942 – Cranbrook Museum
Half Glaze Stoneware
'Winter Gives Way'   —  Ken Eastman — slab sculpture
Tim Andrews
 Norbert Botella sculpture
Deruta 16th Century, Large dish with running plant-border
'Rico the Cheetah'—Ceramic Wall Decor
Historic, Contemporary Ohio Pottery Vase At Zanesville Museum Of Art
Linda Styles ceramics,  uk
Mirta Morigi Contemporary Ceramic green glaze bowl
Adam Posnak ceramic cup—The Clay Studio
Carol Wedemeyer arabesque pottery jars
Roger Herman vase @Rich Liu TELLES FINE ART
Bitossi Ceramiche Vase by Aldo Londi
Limited Edition, 2016
Sergei Isupov—Mechanical Dummy ceramic teapot
Tapio Wirkkala – white Pollo Vase
Stoneware jar produced in the Belgian factory Cérabelga
Height 20cm
Young Jae Lee celadon ceramic jar
Karin Gulbran
–