Three Mid Century vases
50's italian Murano glass
Vintage Italian Bitossi ceramic chartreuse lidded jar and vase
Manhattan vintage mecca
The End of History  is a uique store in Manhattan that is mainly dedicated to decorative glass and ceramic wares displaying over 10,000 pieces. It boasts the largest single showroom of ceramic and glass pieces in the world. Their specialty is vintage Mid-Century art pieces from the 50's and 60's sourced from  America and most of Europe including Swedish Gustavsberg, Italy's Murano Glass, Denmark's Soholm and Saxbo and German Rosenthal. There are also original glass and ceramics from the 20's t0 40's and it's easy to see why it has become favourite for prop stylist's and professional decorators.. A dazzling array of style and colour pervades the displays. Owner Stephen Saunders has been runnng the store for 15 years and has amassed an impressive collection that is worthy of a museum.
He sends pickers to antique markets across the country and overseas because they have become so popular; and he believes his shop has really contributed to that. He claims " I am allowing people to rediscover things. I buy things that I love and re-present them as the luxury goods they once were. Everything goes through a period in which it's unfashionable, but now that it has come back for the second time, it's here to stay.' As the store name suggests and being 2012 and all that, if we're going under…lets go down in style.
" Ankara " – Seide for Carstens West German pottery factory, from 1964.
A turquoise porcelain hand carved vase.
Designed by Karl Leutner in 1954 for Heirich as part of their Gemmo line.
 The trademark indigo  blue of  Yves Klein. Germany
Designed by Kaarina Aho  for a company called Arabia, Finland, 1960's
  Modernist Italian Ceramic wall plaques –  1950s
Murano
Handcarved Swedish Vase – Per Liliengren
Danish Saxbo -an avacado celedon
A giant clam – the pearl is the size of a baseball !
Royal Haeger – 22 inches in height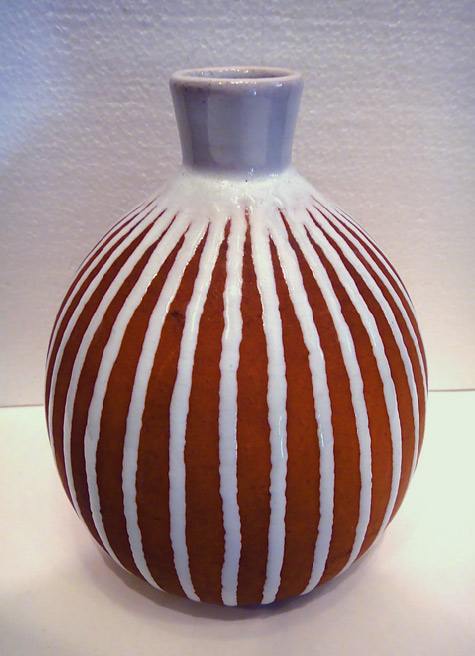 Ronbo vase – Denmark
Karlsruhe Majolica, Germany
Gunnar Nylund for Rörstrand, Sweden, 1950's
"Carbon Crystalline" glazing with pitted gunmetal.
Swedish artisan Claes Theil in the early 80s.
"Kokos"  ( coconut ) Designed by Hjördis Oldfors for Upsala-Ekeby , Sweden  50's
1960's Danish ceramic vase.
Fluted Vase – Barbini, Murano – 1950s.
A Mid-Century Modern Murano Egg Sculpture,12″ tall
 Lava glaze vessels by Siegfried Gramann for Töpferhof Gramann Römhild Studio, Germany
Produced in Japan for Schmid Porcelain and designed by lauded American modernist LaGardo Tackett in 1958.
Arthur Andersson for Wallakra, Sweden
Speckled Taupe and Teal Vase  – Scheurich Keramik, West Germany, 1950s
 Stig Lindberg bowl for Gustavsberg, Sweden
 Spherical crackle white vase Doyle Lane
 Arne Bang Denmark 30's – 40's
Barbini bowl -circa 1950s, Murano, Italy.
Modernist salt cellars, Meko – Denmark ( enamel on silver base )
End Of History store display
50's porcelain with Art Deco styling , Heinrich – Germany
Transmutation glaze – Michael Andersen & Sons around 1940
All above photos by Daniel Petix
The End of History Blogspot here : http://theendofhistoryshop.blogspot.com.au
( many more images of glass and ceramics with a very informative commentary )
–