The French Art Deco of Jean Dunand
Jazz Age Art Deco lacquered metal vase – Jean Dunand, 1925
Met, NY
Jean Dunand was born in Switzerland in 1877. He trained as a sculptor at the École des Arts Industriels de Genève from 1891-1896. This was followed in 1897 by an apprenticeship at the studio of the Burgundian Art Nouveau sculptor, Jean-Auguste Dampt, who introduced him to the notion of design production for interior decoration and furnishing. In 1904/1905, Dunand shifted his focus from sculpture to the ancient craft of dinanderie, a late medieval metal craft using copper, brass and bronze, which originated in Belgium.
Around 1912 Dunand began his creative foray into lacquer work, sharing his intimate knowledge of the art of dinanderie with Japanese artist Seizo Sugawara, who in return taught him the closely-guarded secrets of the traditional Japanese technique of urushi – surface lacquering.
During 1925, Jean Dunand began to experiment with the technique of incorporating minute bits of eggshell fragments, from hen, duck and partridge eggs, to tremendous effect, into his lacquered designs. He championed the revival of the ancient oriental craft of coquille d'oeuf, the applying of eggshell to lacquered works. His original technique was utilized in the manufacture of enameled vases, trays, multi-paneled side screens and wall panels.
Dunand skillfully combined the artistry of Oriental lacquer work with European decorative designs and his approach to lacquering metal and wood was ideal for presenting the clean angles and sharp geometric lines of the streamlined Art Deco, along with creating the vivid colours and intense contrasts essential in the Cubist/Deco styles.
 Art Deco ovoid vase with eggshell shards and lacquer decoration – Jean Dunand
 Dunand often collaborated with other designers and artists, including Wiener Werkstatte and Séraphin Soudbinine. Other notable French painters, sculptors, and illustrators who supplied pictorial programs for screens and decorative panels that Dunand rendered in lacquer were Georges Barbier, Jean Goulden, Paul Jouve, Jean Lambert-Rucki, Gustav Miklos, and François-Louis Schmied.
During his lifetime his artistic achievements were recognized and he exhibited regularly at the Salons de la Société Nationale des Beaux-Arts as well as at the Salon d'Automne. From 1904 the Museé des Arts Décoratifs in Paris purchased his work and is now found in museums worldwide. Jean Dunand became an influential designer and visionary for French Art Deco, and his artistic virtuosity and craftsmanship was exquisite. He successfully embraced the shift from traditional ornamental styles to modernist designs that were bold and less complex, while integrating Africanist, Futurist, Cubist details and innovative materials.
 Lacquered Art Deco vase with geometric lines – Jean Dunand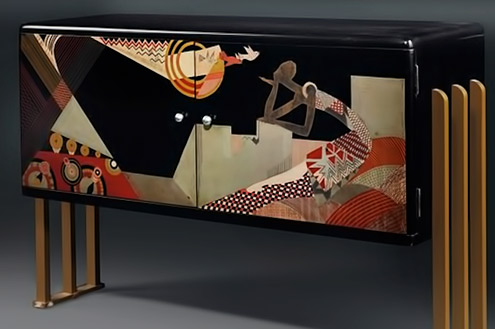 French Art Deco lacquered radio cabinet with abstract decoration – Jean Dunand
1930
Loft Concept
 Ovoid lacquered vase by Jean Dunand
Kelly Gallery
 Oblong Egyptian Revival checkered red lacquered brassware and black mother of pearl, with a bronze tripod base.
Jean Dunand
 Pair of enamel lacquered Art Deco vases – Jean Dunand
 Art Deco Paravent "Lac Bleu" by Jean Dunand 1928
 Deux Vases Monumentaux- Jean Dunand
1925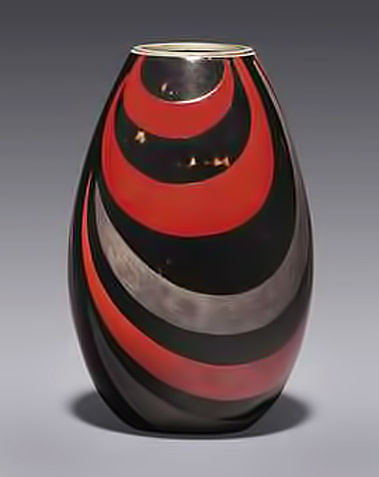 Lacquered metal Jazz Age vase – Jean Dunand
1926
 Handpainted sea life decoration on a black lacquer vase – Jean Dunand
 Anne Hauck Art Deco
 Pianissimo and Fortissimo – black lacquer screen with eggshell, gold and mother of pearl inlay
Séraphin Soudbinine & Jean Dunand – 1925 /1926
  French Art Deco lacquered metal vase – Jean Dunand
1925
 Black lacquer drum table, eggshell highlights – Jean Dunand
 Geometric patterned vase – Jean Dunand
circa 1925
Black lacquer metal vase, eggshell patterns – Jean Dunand
 Red/black lacquer vase – Jean Dunand
1925
 Félix Marcilhac's Paris apartment
  Jean Dunand cabinet (1921) and Ozzip Zadkine´s 'Jeune Fille á la Colombe' (1928) gold plated statue. Painting by Gustave Miklos 'Figures et Chien' (1921).
Photograph by Jerome Galland
 Red lacquer metal vase by Jean Dunand
1925
Screen of Jean Dunand, and a toad piano by Poul Henningsen
Art Deco black, red, gilt and eggshell lacquer book binding by Jean Dunand
France, circa 1923
Art Deco footed vase with eggshell highlights – Jean Dunand
 Africanist panel – Jean Dunand
Illuminated triptych psyché designed for Madame Agnès-  Jean Dunand
Lacquered wood inlaid with ivory, mother of pearl and eggshell, mirrored glass, brass, painted wood
Paris,-1926
 Gold, black and red Art Deco vase – Jean Dunand
  Small footed vase, Jean Dunand
circa 1920
Gazelles –  Laquered Wood Panel by Jean Dunand
1929
MsBlueSky on Flickr
 Jean Dunand – Large vase with Art Deco geometric lines
Galerie Michel Giraud – Phillips
Art Deco vase with eggshell and red and black lacquer
Jean Dunand
'Prière', a unique lacquered and carved wood and eggshell sculpture by Jean Dunand and Jean Lambert-Rucki representing a kneeling woman, praying
1927
 Art deco cabinet – Jean Dunand
 Lacquered bronze vessel with tortoise shell pattern – Jean Dunand
 YSL's Art Deco style room from the 1970s displaying the monumental vases by Jean Dunand
 Vase pair – Jean Dunand
 Jean Dunand — 'Les Sports' wall panel
 Vase 'Laqué à Motifs Géométriques'  by Jean Dunand
Lacquered porcelain vase, 1915
 Yves Saint Laurent in his Art Deco room
–