Alfred Barr cubism and abstract art timeline chart (click to expand)
Early 20th century art movements
The timeline illustration above highlights a concentration of art movements and genres occurring over a few decades around the turn of the 20th century.  This chart was created by Alfred Barr, the first director from the Museum of Modern Art, NY for the 1936 exhibition Cubism and Abstract Art. Africanism, Orientalism and Aestheticism also fits into this period.
Artists during this remarkable era had an uncanny ability to conceive original designs and conceptualize movements that possessed radical innovations relative to the more staid and ornate excesses that had preceded them. Many of the artists encompassed numerous art mediums to define their styles and had a grandiose flair for expressing their art through various campaigns that included fashion, theater, advertising, interior decor and bold public promotion. From the outset they exuded a passionate belief in their artistic cause and an avid desire to share it. Manifestos, charters and collectives were formed to reinforce their beliefs.
The Italian futurists used public meetings to challenge and cajole fellow artists to abandon their attachment to classical styles and embrace new technology and avant-garde trends like cubism. The Russian constructivists shunned the easel arts as too bourgeois and promoted their movement with confrontational posters and radical set designs and costume in their theater and movies. The fauvists and the likes of Sonia Delaunay with her Orphism movement also adopted mediums that included ceramics, fashion, textile manufacturing and theater to define their style to great effect. The fauvists ignored ridicule from the critics and pushed forward with their agenda of vivid colours and lively brushstrokes.
As much as I would love to explore all the different genres for this post , I'm mainly concentrating on the ones that had a wide spread of mediums representing their unique styles.
'The Muses' – Maurice Denise
While attending the Academie Julian, Maurice Denise met fellow painters Pierre Bonnard and Paul Serusier. They, along with others like Paul Gaugin, established the avant-garde Nabi art form in 1890. Nabi in Hebrew means Prophet. These gentlemen found this to be the perfect description to what they knew would be the beginnings of a new expression. Though the men parted ways by 1900, the Nabi art form would remain and even influence future artists, which include the likes of Henri Matisse. Besides being a pioneer of the Les Nabi's movement, his view of life helped lead to other art forms such as Abstract, Fauvism, and Cubism. He was also a member of the Symbolist Movement and Denis was among the first artists to insist on the flatness of the picture plane—one of the great starting points for modernism, as practiced in the visual arts. In 1898, he produced a theory of creation that found the source for art in the character of the painter: "That which creates a work of art is the power and the will of the artist." Denis said that he was against academic art because it sacrificed emotion to convention and artifice, and was against realism because it was prose and he wanted music Above all he wanted beauty, which was an attribute of divinity.[7]
Aestheticism
The seeds of Aestheticism had begun in the 1860's when a group of artists which included William Morris and Dante Gabriel Rossetti decided to reform the design standards of the age and shed the pompous opulence. They seeked a new expression of beauty to counteract the materialism and uninspiring art of the Victorian era. Aesthetic painters such as Whistler, Leighton, Watts, Albert Moore and Burne-Jones focused more on a pure beauty with enhanced mood, form and exquisite colour harmonies. This influenced the decorative arts and promoted a wider interest and market for the decoration of houses, with more integrated themes in interior design attracting attention.
The increasing popularity of Aesthetic taste included furniture design, ceramics, domestic metalwork and textiles with artists such as Walter Crane, Aubrey Beardsley and Christopher Dresser gaining prominence. Exotic Eastern influences, reflecting opening trade, included Japanese, Chinese, and Islamic influences and characterised the eclectic styles of the Aesthetic movement dedicated to heightened beauty. Art pieces were created simply for their inherent beauty and didn't need to be justified with any functional need or message.
This "cult of beauty" led to the creation of 'artistic' furniture and more sophisticated decoration. During this era, artists' houses and their extravagant lifestyles became the object of public fascination and provoked an upheaval in the architecture and interior decoration of houses to satisfy the desire for beauty in everyday life.
Theodore Deck, France
c.1900
Peacock vase – Edward Lycett
1886-90
Royal Worcester moon vase by Christopher Dresser
1878
Large baluster vase – De Morgan
Worcester 'Aesthetic Movement' Monumental Vase and Feathers decoration
1880's
Two birds earthenware harger – John Bennett
1877
Art Nouveau cyclamen vase – Oputa Millet
( France ) 1875 circa
Cubism
The Cubists challenged conventional forms of artistic representation, such as perspective, which had been the rule since the Renaissance. Pioneered by Pablo Picasso and Georges Braques at the beginning of the 20th century, it was a radical style that revolutionized modern art and introduced a new approach in perception that matched the rapidly emerging modern age. The abstract styles of Paul Cezanne and Africanist sculptures were also an initial influence.
'Woman on the Balcony' – Carlo Carra
(1912)
Alexander Archipenko 'Medrano II'
1913
Alexander Archipenko – 'Nature Morte' 
Antoine Pevsner –  'Torso'-  Plastic and copper
1924-26, France
'Woman with Mandolin'  – Picasso
1909
Art Deco style plate with cubist decoration – Schaffhauser Keramik  by Kaiser
1950's
Alexander Acarchipenko – 'Two Women'
'Day and Night' – Salvador Dali
Art Bronze, Inc, California
Cubist nude female wall panel – Harris Strong
Constructivism  &  Suprematism
Constructivism originated in Russia at the beginning of 1919, and had an ongoing influence on art movements of the 20th century. A central figure in Russian Constructivism, Alexander Rodchenko, rejected the established artistic conventions of self-expression and aesthetics, dedicating himself with revolutionary fervour to bringing art to the masses. His wife Varvara Stepanova was also a major constructivist artist and designer in her own right who took to fashion to create simple and functional, yet aesthetically pleasing quotidian objects for the general public.
Driven by the ideal of new design, the Constructivists created cubist/abstract paintings, concerned with the placement and movement of objects in space and emphasizing dynamic diagonal compositions, favouring the colours of red and black for their radical art. Their prime objective was to bring "Art into Life" with the goal "to unite purely artistic forms with utilitarian intentions."
Soviet constructivist poster
"The Machine tool depots of the factories and plants await you. Let's get industry moving."
Vadim Mellor costume design
Russian fashion photographers Andrey Yakovlev and Lili Aleeva constructivist inspired fashion shoot
 Silhouette of Factory Chimneys plate, Nina Zander
1919
Alexandra Exter – costume design for female character in La Dama Duende phantom lady
The Mcnay
Suprematism clock teapot
Imperial Porcelain Factory, St. Petersburg
Kazimir Malevich Suprematist tea set – painted by Nikolai Suetin
Alexandra Exter costume design for Oscar Wilde's Salome
1917
Russki teaset
Alexandra Exter or Aleksandra Ekster, costume design. Her work, at first, were influenced by the geometric style of Cezanne , then by the cubism .
1924. Collection Lobanov-Rostovsky.
Nikolai Suetin painted tea service
1924
Alexander Rodchenko Costume Design for We
A. A. Bakhrushin State Central Theatre Museum
1919-1920
Aelita constructivist set design, 1924
Alexander Belcova
Constructivist outfit – Varvara Stepanova
 'Dancing Figures on a White Background' – Varvara Stepanova
Futurism
The 1910 "Manifesto of the Futurist Painters", was created by—Gino Severini, Giacomo Balla, Carlo Carrà, Umberto Boccioni and Luigi Russolo after they had aligned with original futurist Filippo Tommaso Marinetti. Not renown for mincing their words it stated –
We are tired of the laziness of artists, who, ever since the sixteenth century, have endlessly exploited the glories of the ancient Romans. In the land where traditional aesthetics reigned supreme, new flights of artistic inspiration will emerge and dazzle the world with their brilliance.
We will fight with all our might the fanatical, senseless and snobbish religion of the past, a religion encouraged by the vicious existence of museums. We rebel against that spineless worshiping of old canvases, old statues and old bric-a-brac, against everything which is filthy and worm-ridden and corroded by time. We consider the habitual contempt for everything which is young, new and burning with life to be unjust and even criminal….
Their reactionary position was born out of a desire to pursue their art without restriction and unjust criticism and was probably needed to embrace the innovations of the new century and break the artistic stupor from the past. It's hard to gauge how much influence the futurist cause had on the postwar explosion of modernist art in Italy, but I feel their input was influential.
Futurist tea service – Nicola Diulgheroff
Ceramic plate – Roman Suta
1924-28
Giuseppe Mazzotti, Italy
Sigismunds Vidbergs, plate «Aviation», 1926
Riga's Porcelain Art. 1925–1940 – Museum of Decorative Arts and Design in Riga
'Senza Titola'  – Giulio D'Anna
1928
Nicola Diulgheroff  – 'La Madre'  (The Mother)
1930
Modern and Contemporary Art   Cambi Auction House
Tullio Crali –  'Airplanes on the metropolis'
1926
Harmonic Inspirations
'Back to the Futurist' – Mark Kostabi
1991
Cubo futurism – 'Globe' –   Krotkov Vassily
2012
Bauhaus modernism
The Bauhaus school in Germany was the first institution in Europe dedicated to realizing the achievements of the new arts for the purposes of human existence. It promoted radically simplified forms using rationality and functionality, and the idea that mass-production was reconcilable with the individual artistic spirit. It was conceived with the aim to create a "total" work of art where all arts including architecture, crafts and fine arts were merged. The Bauhaus style went on to become one of the most influential currents in Modernist design and Architecture.
The architect Walter Gropius, founder and director of the Bauhaus, was among the pioneers in the fight against entrenched historical forms. "Today's scientific and technological advances will not become assimilated into general culture as long as humankind still lives under medieval conditions. The machine is still a foreign object in the houses of today; the documents of technological culture are still relegated to books atop fancy carved desks, radio music by the fireplace. The age demands a style, a common denominator for its visible phenomena."  It was in operation from 1919 to 1933.
Walter Gropius modernist chair
Oskar Schlemmer Bauhaus das Triadische Ballet, 1922
The Triadic Ballet was a widely performed avant-garde artistic dance and while Schlemmer was at the Bauhaus from 1921 to 1929, the ballet toured, helping to spread the ethos of the Bauhaus.
Bauhaus Schlemmer ballet figures
Oskar Schlemmer, Spiral costume
Wassily Kandinsky inspired costume – Julie Lavefve-ss-2012
Oskar Schlemmer–Triadic Ballet
Fauvism
The early innovators of the Fauvist movement were Henri Matisse and André Derain, whose works emphasized painterly, spontaneous brush strokes and strident colors, while their subject matter had a high degree of simplification and abstraction. Fertile, bold colors were favoured over the representational or realistic values retained by Impressionism. Fauvism was not a formal movement with a manifesto of rules and regulations but instead involved the instinctive coming together of artists who wished to express themselves freely with simplified drawing and expressive brushwork. Symbolist artist Gustave Moreau's broad-mindedness, originality and affirmation of the expressive potency of pure color was inspirational for his students who included Henri Matisse who claimed, "He did not set us on the right roads, but off the roads. He disturbed our complacency."
After viewing the boldly colored canvases of Henri Matisse, André Derain, Albert Marquet, Maurice de Vlaminck, Kees van Dongen, Charles Camoin, and Jean Puy at the Salon d'Automne of 1905, the critic Louis Vauxcelles disparaged the painters as "fauves" (wild beasts), which was the source of the movement name. The pictures gained considerable condemnation in the press—"A pot of paint has been flung in the face of the public" wrote the critic Camille Mauclair. The fauvists weren't deterred by the condemnation and continued with their mission.
Another aesthetic influence for the early Fauvists was African sculpture, of which Vlaminck, Derain and Matisse were early collectors. The ceramic artist André Metthey was one of the first at this time to create pottery with fauvist imagery.
'The Moment Of Truth' – Paul Gauguin
1892
André Metthey / Maurice de Vlaminck Fauves vase
André Derain, 1907
Maurice de Vlaminck
Andre Derrain – lidded vase with motif vegetal avec person
Andre Metthey vase
1907 – 1909, Paris
'The Aloes in Bloom', Cassis, Henri Charles Manguin (1874-1949), considered one of the founding fathers of Fauvism.
André Derain – 'Danseuse'
Portrait No.1 – Joan Miro
Vase to baigneuses (bathers) by Raoul Dufy
Early 20th Century French Fauvist style vase, by possibly Edouard Cazaux
'Woman with Flowered Hat' – Kees Van Dogen
1915-18
Baigneuses dans un Paysage (Bathers in a Landscape) – Andre Derain
Fauvist Ceramic Exhibition
Shiodome Museum
Orphism or Orphic Cubism
Sonia Delaunay, who founded Orphism in 1911 with her husband Robert Delaunay, made costumes for ballet, theater, book illustrations, mosaics, stained glass, ceramics and textile design. The pair also devised another style known as simultaneism, which occurs when one design or element, when placed next to another, affects both pieces. Robert Delaunay's background as a Fauvist artist was an obvious influence on their Orphism, which was characterized by the use of bright colors and geometric shapes.
lla Malomane, one of Sonia Delaunay's descendants, relaunched Sonia Delaunay's fashion designs
Spring/Summer, 2014,
Sonia Delaunay design for Limoges
Designed by Salvatore Ferragamo, Italy
Robert Delaunay –  'Rythme N1′ – oil on canvas
In Homage to Bleriot, the artist celebrated the new dynamism of the new industrial age by painting vibrating discs of color that simulate plane propellers in motion.
1938
'Boule Colonials (French-Line)' –  Stephane Gisclade
1920's
'90 Days One Dream' by Kristian Schuller
2011
De Stijl, Mondrian-ism
Mondrian vase
Christopher Kane design
West German Mid Century vase  "Bay Keramik" design Bodo Mans, decor "Reims".
Orientalism
Romans Suta
1925
Moderne – ism
Carlton ware moderne trio
Surrealism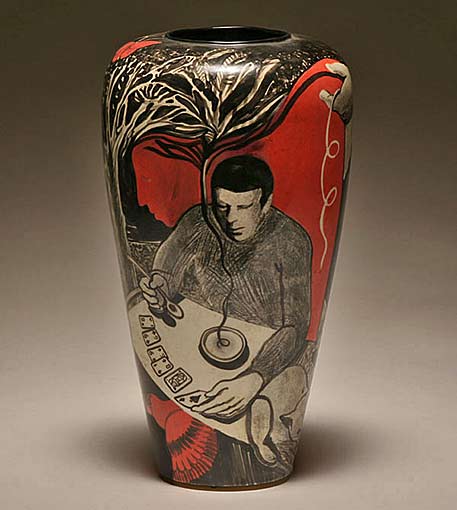 Doris Vlasek Hails, 'Solitaire'
Woman, Old Man, and Flower by Max Ernst
'Moonmad' – Max Ernst
1944
French Lucien Lelong, 1935
–