Susan Musi's most recent work is "Spirited Vessals" (see above).      
" Vessals/boats represent a journey in life. In some cultures the vessal/boat is to travel between the earthly and the spiritual world, between life and death. This image may also represent exploration, of the self, of the natural world…. physical, spiritual…  I am also exploring the shape itself."
Susan Musialowski is both a ceramic artist and a painter, and works from the Odyssey Center for the Ceramic Arts in the River Arts District in Asheville, NC and from a   summer studio in Big Bay, MI, located in the upper peninsula of Michigan. The impressionistic,textural quality of her ceramics are clearly influenced by her observations of the natural world.
Her statement : All of my claywork is handbuilt and one of a kind, using a variety of surface finishes, including ceramic stains and washes/glazes, smoke fired,  or painted, or a combination.  The clay at times includes paper, or other texturing material. Paintings are acrylic on cradled hardboard or birch wood panels.
The following piece is from Susan's  " Totem and Landscapes " series –
Standing Still
" A soul of their own "….. series
Pure Of Heart
A Song To Sing
Seeking Peace
Earth Forms :
Fire and Ice
Awanata
Awanata
Figures :
Les Fleurs ( to Georgia )
Fluer ( pink )
fluer (Rosy Pink )
Other Works :
 Mountain Spring series
Circle of Life series
Circle of Life ( wall piece )
Wisteria ( mountain spring )
Susan Musi
…..It was a cloudy day
Rhythm of Life paintings series
Fragile
Totem No.4
Low fire white clay, painted surface, stacked "stones".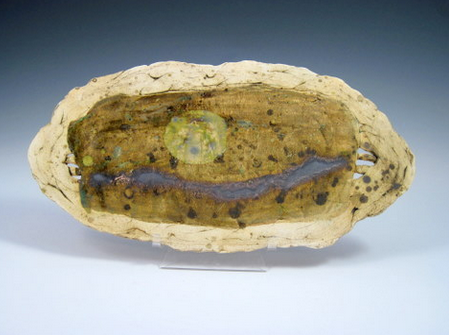 The Sun Sweeps Across The Earth
In Time
( " In and out of time " series )
Spring Thaw
 More on Susan Musi here
–