The advent of  Halogen ceiling downlights, dimmers, ultra minimalism, recessionism and plain dullism seems to have reduced the prevalence of lighting employing ceramic bases. And flatscreen TV's have removed any chance of a return of the TV lamp. It's a pity because the presence of the overhead light shade usually enhanced and highlighted the textures and features of the lamp base to great effect. Maybe the outlandish, kitschy 50's and 60's ceramic lamps have had their moment, although demand by collectors is unwavering. However modernist, abstract designs never seem to date and the retro outlets and channels are still delivering wonderful pieces.
I have also included a few TV lamps thanks to the wonderful collection at TVLamps.net. These evolved from the earlier radio lamps and peaked in popularity around the 50's and 60's. I have included my TV lamp at the bottom of the post, which also fell victim to the installation of a flatscreen TV. I acquired this lustrous Mid-century drip glaze lamp from my local Thrift Shop.
Pair of Green Ceramic Lamps
Carved white ceramic lamp 1960's
( Talisman – London  )
Pair of Black and White Pinstripe Murano Glass Lamps set on Lucite Bases – 1970s
( Talisman – London  )
Art Deco Lamp
( Classiques En Furniture )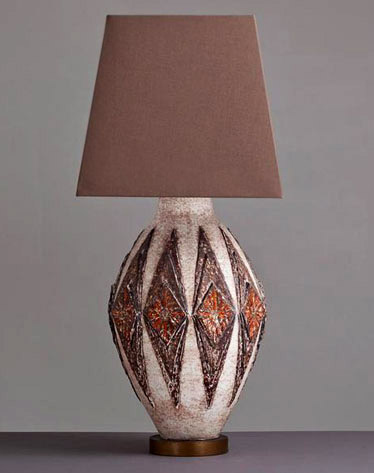 Mid-century ceramic table lamp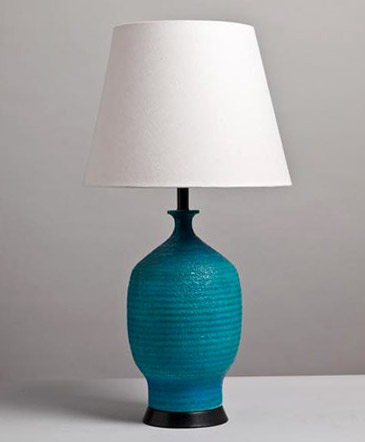 Single Turquoise Ribbed Ceramic Lamp
Barsony Ceramics lamp
( Black-Afro – – Flickr )
Large Bitossi green lamp
Carl Halier for Royal Copenhagen
and Triangle Studio
Ceramic Cat TV Lamp Sun Window
( TvLamps.net)
Earthenware lamp base with painted underglaze decoration – Gambone,Italy
( Freeforms USA )
F.A.I.P  figurine TV Lamp
Haeger woman deer lamp
Keystone Lamp –  Jim and Shirl Parmentier
Monumental Italian Pottery lamp – Alessio Tasca
( liveauctioneers )
Kron "Dancing Couple" TV lamp
( TvLamps.net)
Large figural Art Nouveau Lamp
Lee Ann Red Lamp
Lise Vintage Lighting
Maddux of California Retro Cockatoo TV Lamp
( TvLamps.net)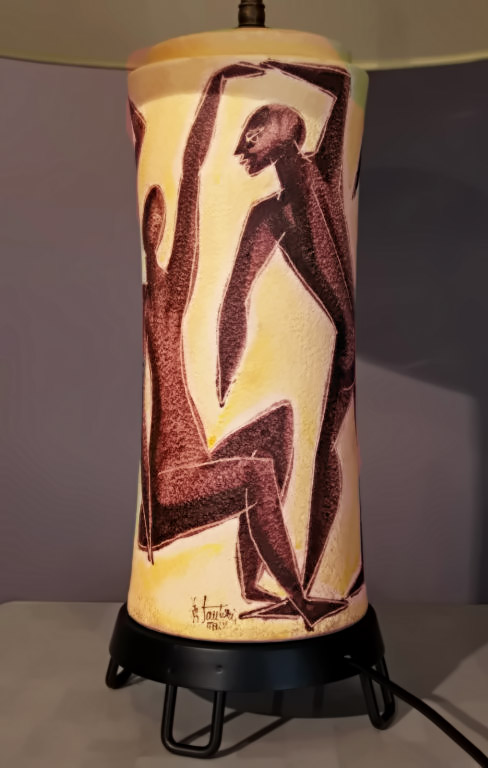 Marcello Fantoni Italian Ceramic lamp
1950's Danish Modern ceramic lamp
Mid Century Table Lamp
( BrooklynStVintage )
Miramar Abstract Kitty lamp
( TVLamps.net )
Moorcroft Lamp   Anna Lily
Raymor Ceramic Lamp
Retro Pottery Lamp
Bernard Rooke  ( UK ) – Stoneware lamp
( Freeforms USA )
Ceramic Table Lamp Woven Pattern – Jim and Shirl Parmentier
Royal Haeger ? Fish Lamp
( Tinkers Moon- Flickr )
Toulon ceramic vase
( vaughan designs)
Vim O Lite lamp
Vintage Turquoise Ballerina Lamp
Wilshire House Italian Ceramic
Monumental 'Fat Lava' Swedish Ceramic Glazed Lamp
 Italian Retro Pottery Lamp 1950's
The internal globe emits light from all the windows.
( beetle2001cybergreen – Flickr )
Mid-Century Modern Yellow Lamp
( Lise Vintage Shop – Etsy )
[divider type="plain" width="thirdwidth" align="aligncenter"]
Italian Blue and White Striped Ceramic Lamp 1960s
( Talisman – London )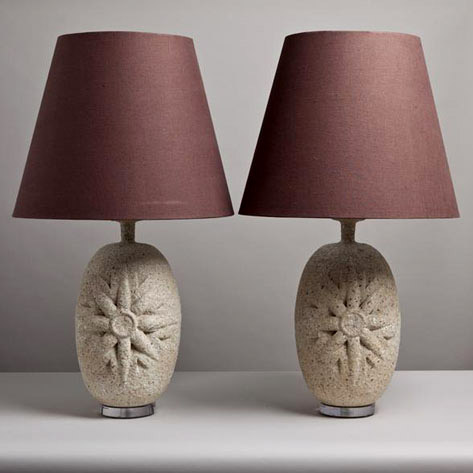 Large Pair of Textured Ceramic Table Lamps
( Talisman – London )
Tripod Japanese ceramic lamp
( Black-Afro – – Flickr )
MARGAUX Art Deco Table Lamp
( Adelaide Restoration Centre )
Black Yellow Barsony lamp and figurine
( Black-Afro – – Flickr )
Large lamp in blue ceramic, opalescent luster glaze
( Lise Vintage Shop – Etsy )
Rare Art Deco Frankart Clock with backlight
( Kaletr esty )
Jacques Adnet desk lamp
Marcello Fantoni Ceramic Table lamp
Poissons Rene Lalique lamp
Suzanne Ramie glazed ceramic table lamp
Pair of Mustard Glazed Table Lamps  – 1950's
Ceramic and metal Table Lamp
French Bronze Lamp
Modernist French Lamp by Roger Capron
Martz table lamp with sgraffito decoration
Petite French Ceramic Lamp – 60's
Suzanne Ramie Glazed Ceramic Lamp
Art Deco Dancer Lamp
Elisabeth Joulia Table lamp
Tulip Tea Cannister Lamp
Antique chalkware statue base, lace and beaded shade
Art Deco Flamingo Lamp
Chale Citrine crystals lamp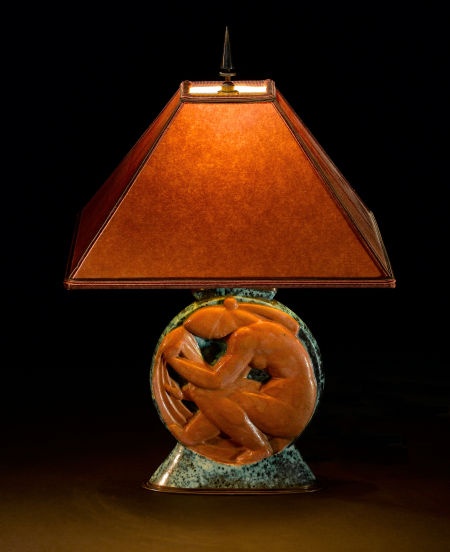 ÉDOUARD CAZAUX A Glazed Ceramic And Metal Table Lamp, circa 1935
Swingtime Lamp
Created by  Philadelphia based artist and industrial designer Frederic Weinberg in the 50's
( Midcenturia.com  )
Marcel Fantoni Lamp
Square Section Crackle-ware Lamps
( Windsor House Antiques }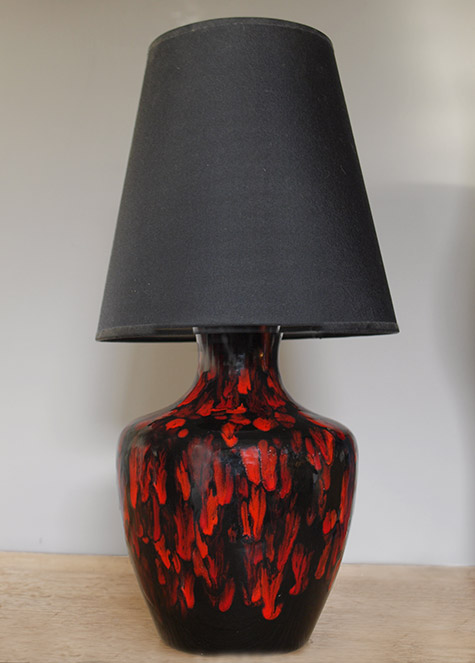 West German Mid Century drip glaze lamp
…
–