Maiolica Vase  ( NGV  )
The tin glazed pottery made in Italy during the Renaissance era was known as Maiolica. It is recognized as one of the most appealing styles of pottery ever produced. Over a period of 1oo years from 1440 to 1540 some of the best Maiolica was created, the early designs being originally influenced by the pottery imported into Southern Italy from Islamic North Africa. Maiolica was first developed around 1370 in the Italian regions of Tuscany and Umbria and usually depicted either historical scenes or legendary themes.
Maiolica ceramics underwent two key processes. After the first firing, the bisque is dipped into a bath of fast drying liquid glaze. When dry, the glazed piece is ready to be hand painted. A final firing at 1690 F making the glaze interact with the metal oxides used by the painter to create the deep and brilliant translucent colors specific to majolica.
TheMaiolica Renaissance ceramics were created with a refined , white opaque  glaze which occurred due to the presence of tin oxide ,causing a fine white ash. A second glaze in some instances was applied ( called coperta ) that led to a more brilliant shine. The coperta glaze was composed of lead oxide combined with sand, potash and salt. Painting Maiolica was a difficult exercise requiring great skill  as the surface in its pre-fired condition readily absorbed the pigments, and didn't allow any fixing once applied. The rapid absorption led to the brilliant colors being preserved .
Wine Cistern, ca. 1562
Initially the Maijolica was used for traditional ceramic applications like bowls, jugs, serving vessels and plates along with floor and ceiling tiles. Later , they also emerged as a means of pure artistic expression. This was undoubtedly an exceptional era of ceramic production and a high level of both artistic and technical excellence was attained.  Some of the principal centers of ceramic production in Italy still produce Maiolica to this day. The pottery of Maiolica derived its name from the medieval Italian word for Majorca, an island on the route for ships bringing Hispano Moresque wares from Valencia in Spain. These were the ceramic pottery created by the Moors using the influential techniques of glazing with an opaque white tin- glaze and painting with metallic lusters.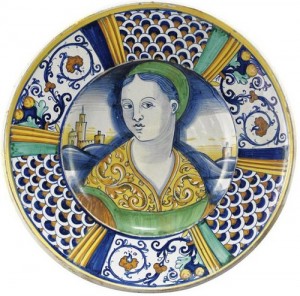 Perseus, Andromeda and the sea monster.
Italian (Urbino), Renaissance,  1524
Maiolica Dish, Urbino  1542  Ashmolean Museum
Ceramic majolica pitcher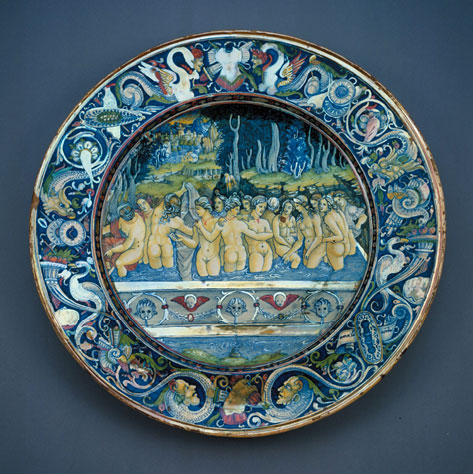 Women Bathing
Attributed to Francesco Xanto Avelli da Rovigo (c. 1486 – c. 1542)
Ewer  ca. 1520
( The Met )
Roundel with mock Triumph of Love, ca. 1510–20
Perhaps Castel Durante or elsewhere in the Marches
Tin-glazed earthenware (maiolica) ( The Met )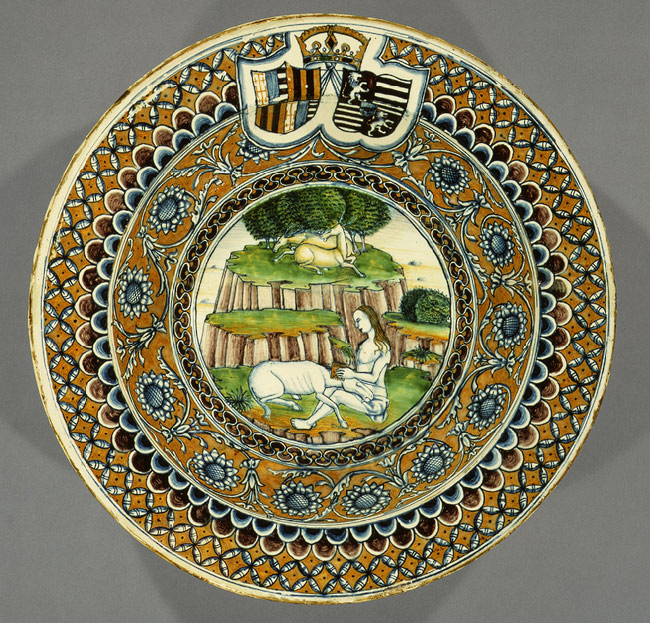 Dish with an allegory of Chastity and the arms of Matthias Corvinus and Beatrice of Aragon, 1476–ca. 1490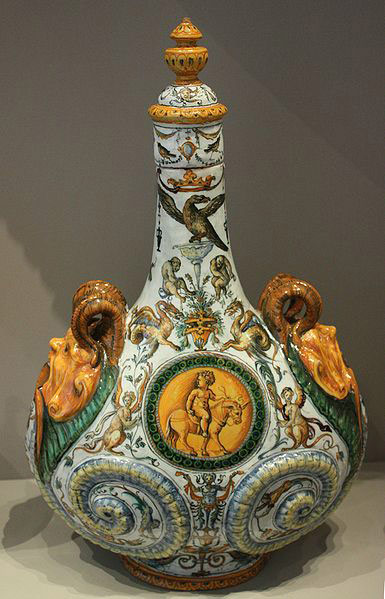 Pilgrim Bottle   1560 – 1570
The Fontana workshop in Urbino. The medallion in the centre imitates a Roman cameo.
Fontana Workshop, Inkstand – 1550-1560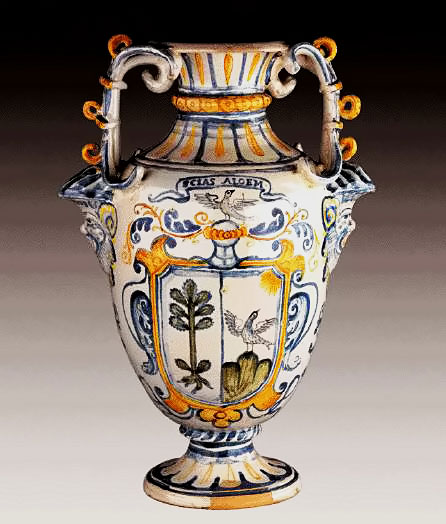 Majolica Anfora
Castel Durante 1528 Painted by Giorgio Andreoli – Aurora (Lehman Collection)
Dish depicting St. Francis receiving the stigmata, made in the workshop of Maestro Giorgio Andreoli, Gubbio, dated 1518 and 1519,
tin-glazed earthenware with lustre decoration
1518
Dish Depicting Saint Margaret
Workshop of Maestro Giorgio Andreoli Gubbio
1527
More posts: