Vallauris ceramics invariably have a distinctive look, whether it be the the iridescent Art Nouveau wares from Massier, the vivacious, colourful, highly textured glazes or the expressive mid-century, modernist hand painted pieces that typically characterise the region's pottery.  The adventurous glazes of Vallauris were applied to both conventional forms and the more radical sculptural designs.
 Gilbert Valentin – matt black glaze  with red enamel pitcher
( Rago )
Evolution of Vallauris pottery 
Located in a region in south-eastern France, Vallauris is nestled among low coastal hills and with its rich supply of clay, has been a pottery-making centre since Roman times. Originally the suppliers catered for the local market with culinary and garden wares and some exports. Following the arrival of the railways in 1873, production and distribution opened up and the region soon had around 50 producers.
The Massier family, a dynasty of potters dating back to before the French Revolution played a key role in the expansion of pottery innovation in Vallauris. Clément Massier began working with his father Jaques in 1856. After his father hired Gaetano Gandolfi, an Italian master-potter, Clement began training with him and pioneered several techniques and metallic glazes including their signature iridescent luster glazed pottery. Subsequently, production turned from utilitarian pottery to more individual artistic creations. He was also joined by his brother Delphin and cousin Jérôme, who soon formed the core of the producers at Massier. Jean Gerbino worked in the early twentieth century at Massier and was installed as a craftsman from 1930. Cedric Massier is the latest and sole practitioner of the family art in Vallauris.
Other traditional pottery production companies in Vallauris were Guige, Saltalamacchia, Gaunet Brothers and Foucard-Jourdan who produced domestic pots in 'terres vernissés', using traditional designs and techniques.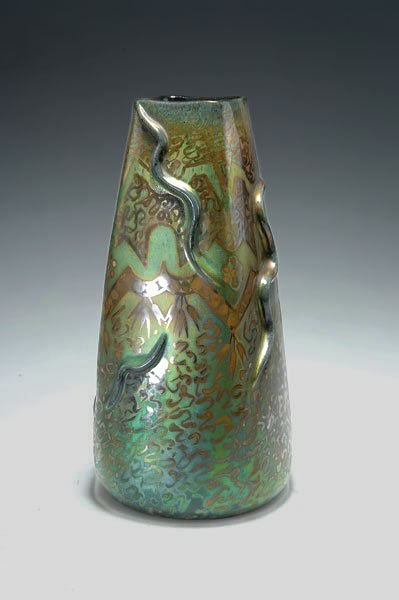 Jerome Massier iridescent glazed vase
( Liveauctioneers )
Clement Massier Art Nouveau vase
Delphin Massier Vallauris Majolica Pitcher ( 19.5 inches )
Vallauris post war pottery revival. 
In 1938 Suzanne and Georges Ramie founded the pottery workshop Madura in Vallauris. They produced traditional pure forms of the Provence highlighted with enamels. From the late 40's, an influx of potters from different parts of the country gravitated to Vallauris, drawn by the attractive conditions of a small, old, picturesque, pottery town in the South of France with availability of material, a qualified work force, workshops, quality of life, and a cheaper cost of living.
Picasso arrived at the Madoura studio in 1946 to experiment with painted, sculptural ceramics. Also that year Roger Capron moved to Vallauris, where he founded a ceramics workshop known as 'l`Atelier Callis'. Along with Picasso he contributed to the renaissance of ceramics in Vallauris. Other famous artists such as Marc Chagall, Edouard Pignon, Anton Prinner, Victor Brauner, also were introduced to ceramics at Vallauris. The location, once  known as the " city of 100 potters entered  another"golden age" where it flourished again in the 50's, 60's and 70's. The rich artistic fabric was further supported by ceramic artists such as Jean Derval, Roger Collet, Georges Jouve, Charles Voltz, Jacques Blin, Gilbert Portanier , Robert Picault, Marius Bessone, André Baud, Jacques Innocenti, Alexander Kostanda , Albert Thiry and Gilbert Valentin .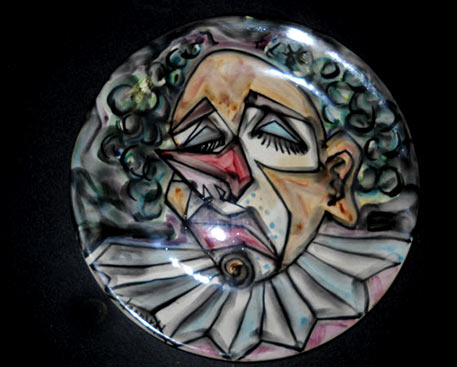 Hand painted clown face plate – Vallauris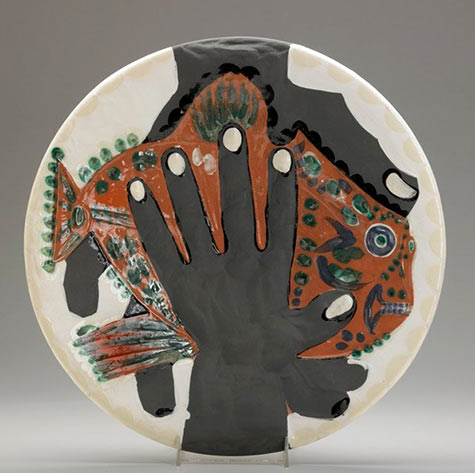 Picasso Charger – Madoura
…
Vallauris had become a centre for the production of decorative ceramics and the influence of Picasso and Jean Cocteau had manifested itself in hand-thrown pots, decorated with freely painted figurative motifs.
In 1952, Roger Capron purchased an abandoned pottery in Vallauris and opened a small ceramics factory, with 15 workers. By 1957 he had established a considerable international reputation. In 1980 his factory employed 120 people and during that same decade he reverted to making one-off pieces which were shown internationally.
The potters in Vallauris catered, in the main, for a popular tourist market and only, to a much lesser extent, for a more discriminating public of art-minded collectors. However artistically ambitious works at affordable prices were produced both in artist potters studios as well as in workshops and factories. Vallauris currentlly has a Kitsch Museum which displays thousands of ceramic items that reflect the creative output from the 50's to the 70's where audacious art was made for the tourist market by anonymous ceramicists expressing their flamboyance.. Poodles, cicadas,  domestic or exotic animals and other quirky creations populated  a colourful universe. These were usually released under the " Made In Vallauris " label.
Large Vallauris mosaic pattern vase – Jean Gerbrino
(  xupes art and antiques )
Marius Bessone lava glaze lamp base
Jean Cocteau  ( 1889-1963 )    Trois faces aux triangles  
Impressionist Modern Art Auction
( Christie' s )
Jean De Lespinasse –  mid century cat motif rectangular dish
Grandjean Jourdan
French Vintage Vallauris Handpainted 3D Cicada Art Pottery Vase
Vallauris ceramic jug
Jean Gerbino  Vallauris vase
Slip cast earthenware free form vase, decorated with 'Écume de mer' glaze ( sea foam ).
Vallauris 1960
Poreclain Vase – Vallauris
Charles Voltz  Vallauris vase
Andre Baud vase
Vallauris. France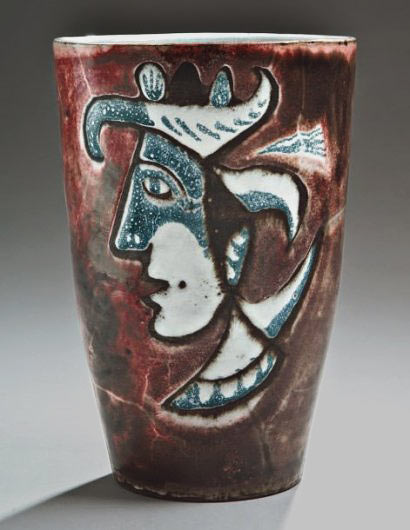 Jean Derval  – 1925
 ( drouot.com )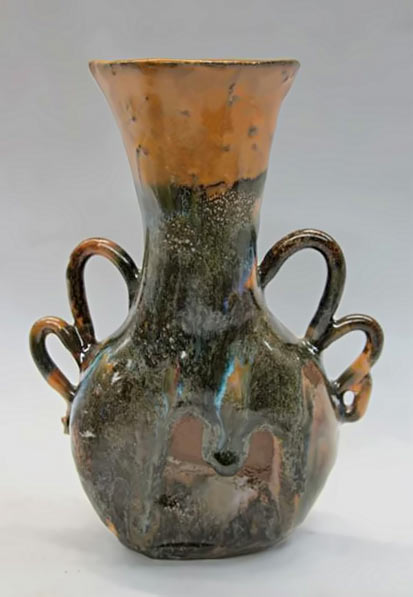 Vallauris French antique, loop handled, drip glaze vase.
Mark Chagall – King David hand painted plate
( jane kaha )
Vase with bird motifs signed Vallauris
Marius Bessone vase – Vallauris
(  tout vendre.fr )
Vallauris ceramic lidded vessel
Vallauris vase designed by Auguste Lucchesi
Dragonfly man – Roger Capron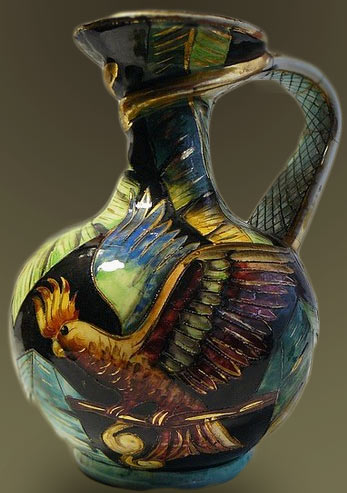 Vallauris vase decorated with parrots
Twin handled black  Vallauris vase with white abstract piping
Roger Capron  geometric modernist vase
Rue Centrale Vallauris
Jacques Blin
Polychrome kitschy modernist vase signed Vallauris
Petite Chocolatière – Charles Voltz
Vallauris
Vallauris art deco vase
( newdekorart )
'Le Cavalier' pitcher – Pablo Picasso
1950
Alexandre Kostanda
Traditional form with drip glaze
Alexandre Kostanda
'Meditation' ceramic bust – Roger Capron
 Vallauris Pitcher modern shape
Jaques Innocenti coffee set
Modernist sea foam glaze, free form vase signed Vallauris
( Collectors weekly.com )
Musee Jean Cocteau – Menton, France
Roger Capron – Vallauris
 ( Exposition "Biot reçoit Vallauris" )
 Vallauris lava textured glaze vase
Large ceramic modernist platter – Vallauris
Floral decorated vase, Vallauris
Faïence Vase by Jacques Innocenti
Vallauris  1950's
 Roger Capron, Vallauris
Georges Jouve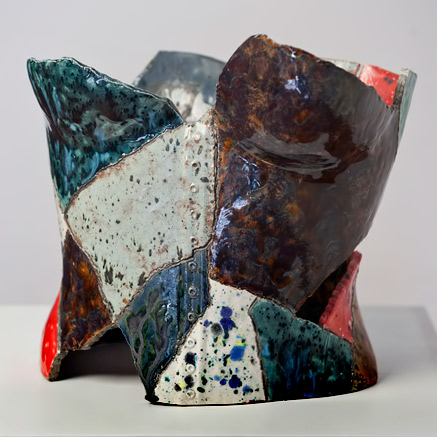 Manuela Cervantes abstract vase, Vallauris, France
Clement Massier iridescent glaze planter
ψ
 Sources cited – ceramicsconversations.blogspot.com.au
www.vallauris.org/
www.vallauris-golfe-juan.fr
–