Picasso – 'Taureau' terracotta charger plate. 1957
Since his childhood in Spain, Pablo Picasso was an avid fan of bullfighting. He was captivated by the intense interaction between the bull and the matador, the flashy machismo and the theatrical drama. He used the Banderilleros (bullfighters} and bulls as subject matter in numerous paintings, sculpture and ceramic art, displaying his exceptional virtuosity.
Pablo Picasso –  linocut Toros, The Matador
Vallauris, 1958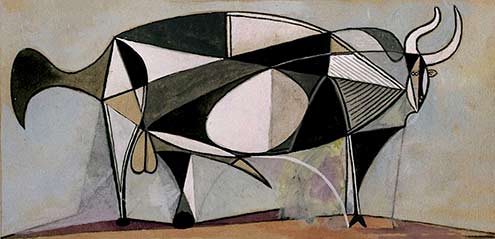 Pablo Picasso painting 'Taureau'
1945
'Les vendangeurs' (The Grape Harvesters)
A linocut of a reclining  woman and a Picador
Pablo Picasso, 1959
'Mostra Picasso', MIC Faenza
Pablo Picasso — ceramic Centaure jug
Pablo Picasso 'Matador'
Featured at the Picasso Century, NGV, see below
Corrida –  The death of a woman bullfighter
1933
Bull, Skull, Fruit, Pitcher — Pablo Picasso
Dominique Pouchain vintage bull sculpture
France
Terracotta twin handled vase with pastel decor — Pablo Picasso
Tri Legged bird jug
Picasso Bull statue, NY
Pablo Picasso zoomorphe vase  'La Tarasque'
1954
Picasso  — 'Woman with Mandolin', 1909
Hermitage, St. Petersburg
Pablo Picasso ceramic sculptures
MIC Faenza, Italy
Bull vessel – Pablo Picasso
LAMA
Pablo Picasso — 'Le Carmen des Carmen'
1964
Picasso – bull lithograph
Picasso – Madoura Matador charger
Museo Buitrago Ceramic with Bulls Head by Picasso
Model make-up inspired by a Picasso painting
'Buste de matador' — Pablo Picasso
1970
Stage Costume by Pablo Picasso for Parade, 1917
The Corrida by Pablo Picasso
The Matador bronze sculpture by Rintoul Booth
The Belarussian-born widow of Fernand Léger, Nadia Khodossevitch, donated many works from their private collection to the Soviet goverment in 1955 and this Picasso piece ended up at the Taskent Museum in Uzbekistan.
French MCM bull pitcher/jug
Vintage Jimenez Ceramics, California Pottery Bull and Matador
Vintage Spanish Matador Ceramic Figurine Bull Fighter
Pablo Picasso – 'Cavalier et cheval'
Pablo Picasso — 'Gros oiseau corrida',
1953
Pablo Picasso — Bust of a Woman with Hat
MutualArt
 Pablo Picasso Matador and a Bull Ceramics Plate
1955  — Chairish
Pablo Picasso — 'Les Banderilles'
1962
Picasso Matado
Blessing With A Bull A Gift For Pablo Picasso
'Before The Thrust' – Pablo Picasso
Brutalist Sculpture of Matador and Bull
MCM Vintage
Bull head rhyton pottery, Crete
1500-1450_BC
Vintage Matador Bull painted figurines
Elvira Parisi etsy
Le matador et femme Е loiseau – Pablo Picasso
Museo Picasso Malaga Collection belongs to the extensive series of sheet metal sculptures that Pablo Picasso made in the early 1960s
'Knight in Armor'  Madoura ceramic charger – Pablo Picasso
1951
Picasso terracotta bull
10 June to 20 October,2022
'The Picasso Century' charts the remarkable career of Pablo Picasso in dialogue with the many artists, poets and intellectuals with whom he intercepted and interacted throughout the 20th century. Exclusively developed for the NGV by the Centre Pompidou and the Musée national Picasso-Paris, the exhibition features close to 90 works by Picasso alongside over 100 works by more than 50 of his contemporaries. Extraordinarily productive until the age of  91, Picasso bestrode the modernist era like a colossus.
'Three figuress under a tree' – Picasso Century Exhibition
'Bather with beach ball' – Pablo Picasso
'Reclining Woman' – Picasso
photo by Kate Shanasy
'A very happy picture' by Dorothea Tanning
1947
Crying Woman umbrella
NGV
'Invisible Lion Horse Sleeping Woman' – Salvador Dali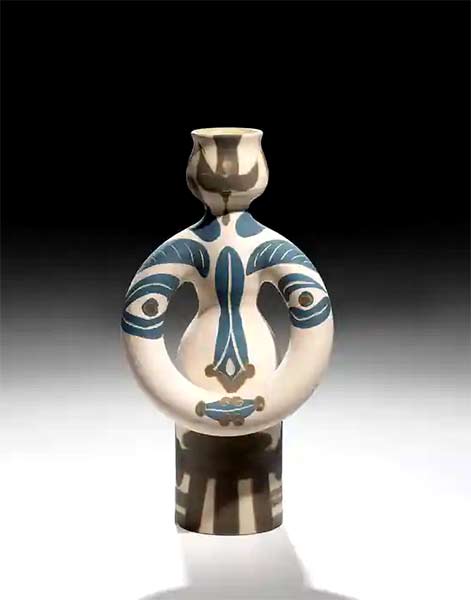 Madoura Pottery Vallauris Picasso Woman lamp vase
1955
Picasso –  Vase de fleurs et compotier' (Vase of flowers and fruit dish)
The Kiss (Le Baiser) – Pablo Picasso
1929
Pablo Picasso's 'Portrait of a woman' (Portrait de femme)
1938
Picasso and Françoise Gilot in 1951
Picasso Century Exhibition
"La Baie de Cannes" –Picasso
Buste De Femme — Pabhlo Picasso
Wifredo Lam painting  'SANS TITRE'
1942
***