At the turn-of-the-century, no fashionable Victorian dinner table would have been without a decorative centrepiece. These included fine silverware and glass displays, which sometimes incorporated figurines, bowls and candle holders or even porcelain figurative sculptures and vases with flowers. As the elaborate dinner rituals became more simplified, the centrepiece, at least on a domestic level, gradually disappeared. Sometimes they reappeared for special occasions, but more often then not, the monumental pieces were there to serve as a functional item such as a punch bowl or fruit bowl. The mid-century ceramic centrepieces maintained the monumental dimensions with the typical modernist/sculptural flair, but still remained generally functional. Now they appear more on a side board , or with minimalist décor trends, they get banished altogether.
Some great ceramic designs have manifested from the creation of a centrepiece, as the larger size has provided more scope to work with.
Art Nouveau centrepiece
( South Perth Antiques and Collectables )
Mid-Century Modern Biomorphic bowl – Sheldon Gants -1950's
( Modernaire – etsy )
Canyon Infinity Bowl – Paul Willsea glass centrepiece
Phillip Maberry and Scott Walker  – Maloney Fine Art, LA
Mid-Century Embossed Oval Bowl – Maurice of California
Decorated with highly glazed shades of green on the inside and a brushed gold on the outside.
measures 19 1/2″ long and 8 1/2″ wide
 Art Nouveau Centerpiece with three red owls
by Ipsen ceramic works in Denmark, 1920's
( Renaissance Man – 1stdibs )
Mid-Century hand decorated ceramic bowl by Danish artist Mette Doller on a form by Erik Ivarsson for the Swedish company Andersson & Johansson
Edwin Scheier Large bowl
( Rago Modern Auctions )
Spirit Tripod Bowl – Potter's Mark
16 inches in length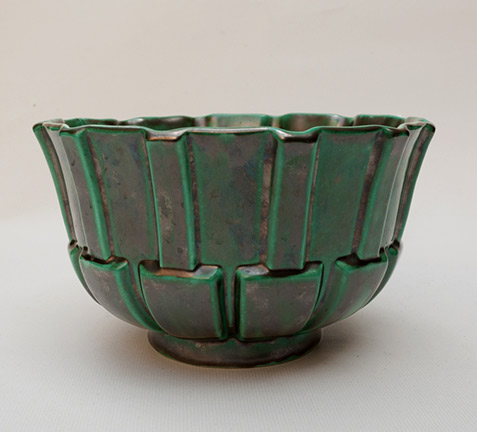 Swedish Art Deco bowl  –  glazed ceramic footed bowl –  Upsala Ekeby
(  1stdibs )
 Stoneware blooms in organic waves of hand-textured blue glaze.
Crate and Barrel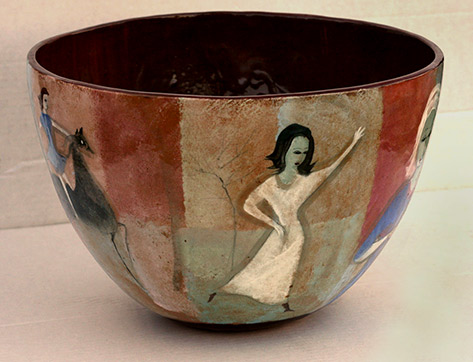 Monumental Polia Pillin Ceramic Punch Bowl
Height is 10 5/8 inches and the width is 15 3/4 inches
Large Amphora compote
Large Amphora vase
Swedish art deco hand decorated bowl with lustre glaze by Josef Ekberg for Gustavsberg.
1930
( B4 20th century design – 1stdibs )
Ceramic sculptural centrepiece bowl dating from the late 19th, early 20th century with three elephants.
Axel Salto Large Centrepiece – Denmark
Centerpiece  Persian turquoise glazed bowl and gold glazed winged lion base by Leon Volkma for  Durant Kilns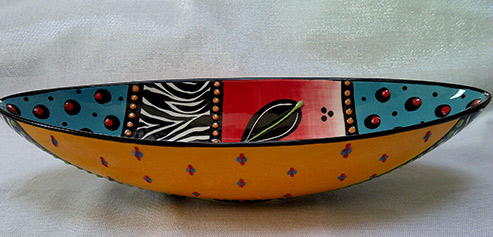 Ceramic boat bowl rainbow
( Aura Decor Designs )
Ceramic Hand Painted Guerro Bowl – Mexico
CHEIER Charger depicting a fertility scene in dark brown and beige matte glaze
 Pottery charger – Eric Olson for Common Ground
Coppa  – Fausto Melotti
1951
Modernist centrepiece  – Jean Derval (1925-2010.)
France
30cm diameter
 George Jones Majolica centrepiece bowl which features Neptune holding a shell above his head.
( madelenaantiques.com )
Free Form Vessel – Cristina Salusti
1stdibs
French 1940's Elephant Centerpiece by Cazaux
 Oscar Rodolfo Mendoza – Fruit Of  The  Maya Decorative Bowl Centerpiece
( Novica )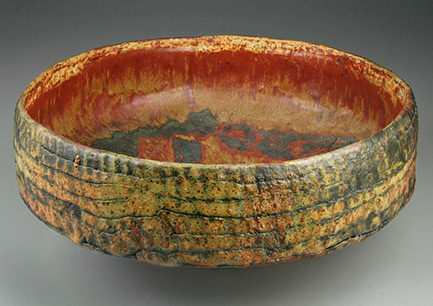 Monumental Hand Built Ruth Duckworth Ceramic Footed Bowl
Large bowl by Max Idlas -Rennes, France
42 inch diameter
( Vallauris.org )
Pierrefonds Stoneware Dish with a beautiful crystalline blue glaze.
1928
Large Majolica centre bowl
Mid-century centrepiece – California Originals
( cherryRevolver – etsy )
Mid-Century Console Bowl
Massive Guido Gambone Ceramic bowl
Big Robert Kingsmill charger
Jazz Bowl – Viktor Schreckengost for Cowan Pottery, 1930
The Jazz Bowl is considered one of the earliest examples of the Art Deco style made in America. It was produced by Cowan Pottery as a large punch bowl for a New York client who turned out to be Eleanor Roosevelt.
To achieve the desired effect, Viktor Schreckengost developed a novel technique. First he covered the bowl with black engobe—watery clay mixed with glaze. He then scratched out the design, in a pattern of black and white; fired it; then covered the whole bowl with a glaze of "Egyptian Blue"—a sort of radiant turquoise, similar to that of some beads found in Tutankhamen's tomb. He then fired it again. The result was richly decorative, since the irregular scratching of the design created a kind of glow, almost like stained glass. And the Egyptian Blue evoked a feeling he was trying to capture—his recollection of the strange blue light of New York at night.
Read more: http://blogs.smithsonianmag.com/art/2011/11/an-art-deco-masterpiece-for-eleanor-roosevelt/#ixzz2j5w5w8eX
Barney Reid, USA
Dimensions: 15.5″ X 9″ X 5″ high
( objectsusa.com )
Cowan Pottery Pterodactyl Centrepiece
Wedgewood Fairyland Lustre Compote
Mid-Century Modern Kroywen
Large Bowl – Nela Ceramics
Edouard Cazaux centrepiece
 Bernhard Bloch, Eichwald und Hohenstein –  Centrepiece with putto
Mid-century fruit bowl
–