While all the ceramic factories in the Boleslawiec area of Poland produce beautiful pieces, the master ceramic artists employed by Ceramika Artystyczna produce exquisite designs and extraordinarily high quality pottery especially the "Unikat" or "Signature" pieces, which are signed by the individual artists and usually limited edition. Ceramika Artystyczna has won numerous awards for artistic design and quality. This particular pottery is made of whiter, denser clay and incorporates more intricate designs and shapes. Polish pottery from Ceramika Artystyczna is high-fired at temperatures exceeding 2450° Fahrenheit, resulting in an ultra-smooth hard glaze  The quality of Ceramika Artystyczna's glazing is unsurpassed.
Ceramika Bowl
This piece was handmade by the Zaklady company in Boleslawiec, Poland.
This  hand decorated coffee mug is from the factory of Ceramika Artystyczna. It is signed by the artist K. Deptuka.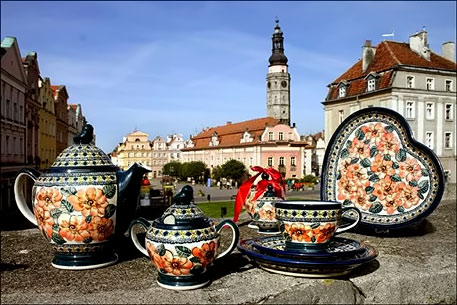 Polish pottery Boleslawiec