Art from the 60's
Ceramic bottle figure – Valentine and Andrée Schlegel Vilar
1960
Mid Century style painting – Tim Biskup – 'Vision 1′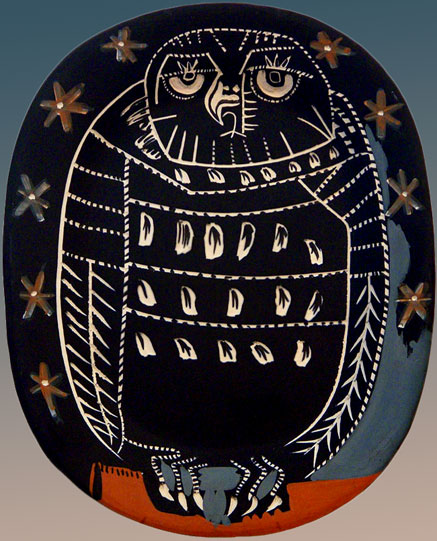 Mid Century Madoura Owl Platter – Pablo Picasso
Emaux des Glaciers lava glaze jug- Cyclope Pottery
Annecy, 60's
Emergence of the remarkable 60's decade
The collective awakening of a desire for a higher consciouses arrived in the Sixties and resulted in a wildly ambitious decade. The Beatles led the charge for universal love and saturated the airwaves, provoking a symbiosis that was going to hug worldly predation into submission. Exotic stimulants and Eastern techniques to expand consciousness were busting the conservative shackles, prying open dormant corners that were primed to release an idealistic vision. New Age was the rage where organics, vegetarianism and yoga were among the many shifts in lifestyle habits. Nirvana banana smoothies were a popular dietary supplement and love beads were adorned along with all kinds of Eastern jewellry decoration. The newly created Rolling Stone magazine was gushing lyrical over all the new music styles while Robert Crumb was zapping the counter culture world with his incisive, larger, then life interpretation of the liberated hippie life in his comics. The spread of environmentalism was greatly influenced by the 60's back-to-nature movement, which arose from both a hippie rejection of consumerism, materialism and corporate greed.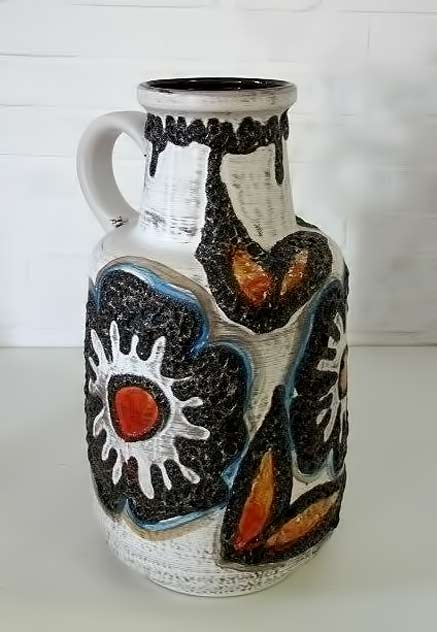 Large Mid-century  German fat lava floor vase
Sixties
Bob Dylan
Music pushed the agenda  …..  'it's very faraway, takes about half a day, if you travel by dragonfly' – Hendrix lyrics that typified the ideal that it was going to be a trippy utopia filled with universal peace. Dylan's 'Times are a Changin'' was sowing the seeds of the message in 1964 to nourish the growth of the protest movement. Joni Mitchell was spreading a soul searching mix of innocence and vulnerability, 'We are stardust, We are golden, And we've got to get ourselves, Back to the garden'. Free spirit abandon was being inspired from a myriad of musical forces. Ravi Shankar's ragas introduced frantic tabla rhythms and mysterious worlds while John Mclaughlin and Miles Davis pushed the boundaries of contemporary jazz with their innovative fusions.
During the 1960's the world was in the grip of far reaching political and social upheavals.The literature from Hunter S Thompson and Carlos Castanada captured the political and cosmic challenges respectively while being pervaded with mind expanding journeys of chaos and awe. In the art world, design was also being expanded into more adventurous modernist styles with the sculptures of Roger Capron and Peter Voulkos, architecture of le Corbusier, mass produced modernism of the furniture designs of Ray Eames and the ceramics of Marcello Fantoni and Guido Gambone.
The emergence of a collective belief in the potential of a universal consciousness was on a scale that was unprecedented and even though the summer of idealistic love dispersed once the fragrant haze of smoke had dissolved, fashion, music and art had undergone a remarkable upheaval.
White peace dove vase – Robert and Jean Cloutier, 1960's
Christof Ines
Tim Biskup Mid -Century inspired painting
Piesche and Reif mid century vases
1960's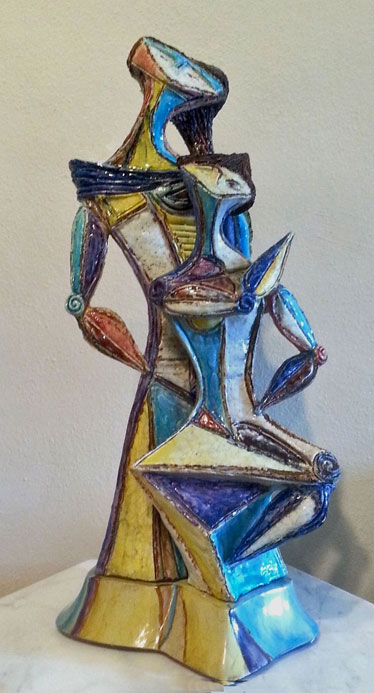 'Gossiping Ladies' cubist figurine – Marcello Fantoni
Modernamada.com
Hand blown art glass vase – Audrey Handler
1973
Stig Lindberg
60's
Object LA
Large mosaic Buddha – Niki de Phalle Saint
Yorkshire Sculpture Park
Oiseau 'Bird' sculpture – Georges Jouve
Mid-Century
Vallauris drip glaze vessel
60's
Geometric pattern vase – Hans Theo Baumann for Rosenthal
1960
Three lobed, three necked, coil built vase – F.Carlton Ball
1965
Guido Gambone, Italy
60's
Carl Gray Witkop – horsehair meditation vase
VW combi van teapot
Mid century lava glaze vase with decorative piping
Ivy Hill
www.ivyhill.com
Clyde Burt
1960's
Liz Quackenbush –  'Electric Ladyland'
Mug with psychedelic female motif
Zentangle pattern vessel  Designer Liner Gallery
'Elegy III', Bronze  sculpture – Barbara Hepworth
1966
Elio Schiavon Sgraffito Ceramic vase
Early 1960's, Italy
60's Murano Glass Vase – Dino Martens
'Ideo Blue Mask' by Mats Jonasson
Crystal mask sculpture with an exotic blue and purple abstract face composition. The Ideo face has been etched and hand painted on the rear of a lead crystal block.
Crystal-Fox Gallery
Italian Mid-century Modern volcanic glaze pottery pitcher by Italo Casini
Psychedelic 1960's Porsche Cookie Jar
Jimi Hendrix, Monterey
Discogs.com
Karen McPhail
Roger Capron
Relief sculpture by Kenneth-Dierck for Primavera
1965
Megan Bogonovich
Ceramic Sky Pot by Jerry Rothman
1961
Maurice Grossman
Megan Bogonovich ceramic beads
Mr. Natural figure – R.Crumb Zap Comix character
Ovoid 'Moon Flask' – John Lewis
1974
Large white lava glaze bowl – Clyde Burt
60's
'Oriente Vase' by Dino Martens for Aureliano Toso
Sixties
2011
porcelain, vintage decals
18″ x 12″ x 4″
'Warrior Urn' – Robert Sperry
USA, 1960
Roman Khalilov sculpture
Black and white pregnant pitcher/vase – Rosenthal
1961
Ruysen Flores Venancino
Sergio Asti jug
Milan – 1967
Au Go Go – Tower Brown Cosmic Trip – 2011
'The Beat Goes On'  mosaic – Angela Ibbs
Large bowl – Beatrice Wood
1967
Gabriel Fourmaintraux
60's
Ceramic Walrus Sculpture – Arabia Finland Art Porcelain-MCM design Taisto Kaasinen
1960's
TwoGuysAndADog – etsy
Sixties ceramic love mug
Sixties fashion with Hammond organ groove – Jimmy Smith and Dr. John 
The hammond organ was one of the defining sounds of the groovy side of the  60's and was used  in advertising and movies to reflect the swinging mood of the era

Joni Mitchell – 'Amelia' 
From the album 'Hejira'
'Love 4 1 another'
Prince, Larry Graham, Graham Central Station
From Larry Graham's 'GCS 2000 album', produced at Prince's Paisley Studios featuring Prince on guitar, keyboards and support vocals and rapping on the bridge.
'Spanish Castle Magic'
Jimi Hendrix – 
From the 1967 album "Axis Bold As Love"

Jimi Hendrix – Spainish Castle Magic by luminessence7
–