Jameson's mamba snake by Mattias Klum , Cameroon
National Geographic
Ancient clay beaker with snake motif ca. 4000 BCE; excavated at Susa, Mesopotamia.
Louvre
Snakebite in the garden
Like many people, I have found the snake to be a mysterious, exotic and unnerving creature to witness. My first serpent encounter was at the age of 7 when I leapt into a sandy pit, only to leap straight out again as a snake was using it for sun baking. A few years later at a mountain retreat I jumped off a stone embankment landing next to what I thought was a car tyre, which then suddenly slithered off into the long grass displaying its large girth, black snake skin and length of around 20 feet. My third close encounter happened in India when a snake appeared from a rice field and slid past, brushing the feet of my outstretched legs as I was coming out of a meditation on the veranda. After three fortunately benign snake episodes the next one was different. After emptying the grass catcher while mowing the lawn 7 months ago, I was surprised to see my finger was bleeding. Upon inspection I noticed the twin prong marks about 3/4 inch apart. I knew immediately it was a snake bite and came inside to have a cup of tea and think about my plan of action.
"A lifetime is like a flash of lighting in the sky, rushing by, like a torrent down a steep mountain." ~ Gautama Buddha. Contemplation of the transience of lifetimes aside, I was already feeling a trippy light headedness and was in some sort of transcendent zone, maybe provoked by the adrenaline. After washing the wound, I discovered this should be avoided as it makes it harder to identify the venom. Also apparently, it's not a good idea to ingest anything as this can draw the venom to the stomach. Part of a snakes stealth weaponry is you don't really feel the bite as it happens, which was my experience. I also didn't identify the snake and I chose to relax rather then exert energy looking for it as minimizing blood circulation is also beneficial. I got a Japanese salted umeboshi plum and put it on the bite. This works similar to a charcoal and clay poultice in the the yang of the plum draws out the yin venom. The venom incidentally had a odor like nothing else I had encountered.
My intuitive instinct was to relax rather then rush off to the hospital, so I just chilled on the sofa without dozing off. Calmness is imperative for a body trying to deal with a venom hit. The onset of a headache is a bad sign, as it indicates that the liver is struggling with the detox, but thankfully this didn't happen. The only negative that came from this experience was I felt like I had concussion the next day and had been subjected to some sort of brain format, where I struggled to recall passwords and other details. I think the venom was of the neurotoxic type as my nerves became hypersensitive for months but I now feel fully recovered. Unless you live close to a medical facility, I don't recommend this course of action because basically, I took a huge risk.
Snakes are a symbol of healing and primal energy. In art, the Naginis (female serpent spirits) are regarded as figures of beauty. In many Hindu societies, snakes are worshiped as guardians of the home; and it is said that when a snake enters your life, there will be a new birth of creativity and wisdom. I can't claim I feel wiser or more creative, but I never believe things just happen for no particular reason.
Art of serpents and other reptiles
Bas Relief  'Mowgli Le Livre De Le Jungle'  —  Raymond Delamarre
-1927-
Astrid Tshidibu – Photographer Meiji Nguyen
Aboriginal Snake — thatmusic
deviantART
Veruschka —  photo by Michel Comte
Cretan helmet with the image of Hermes and Caducea coiled snakes
7th century BCE.
'Lord Krishna Dancing on Serpent Kaliya' – Bronze Statue from Swamimalai, India
'Tree Serpent Flame Fairyland' Vase by Wedgwood
1stDibs
Eight sided Chinese porcelain box with snake lid handle
German Art Deco snake charmer, porcelain figurine
Moche stirrup-spout bottle with snake, Peru, 2nd–3rd C.
Metropolitan Museum of Art, NYC.
Dramatic Mario Boschi Gold 'Medusa' Diamond Enamel Snake Pin
Olivia Dominguez Snake ceramic Olla
Charlie Egalie Tjapaltjarri painting – 'Snake Dreaming'
1992
Sedona bronze sculpture 'Caduceus' kundalini  – James Muir, USA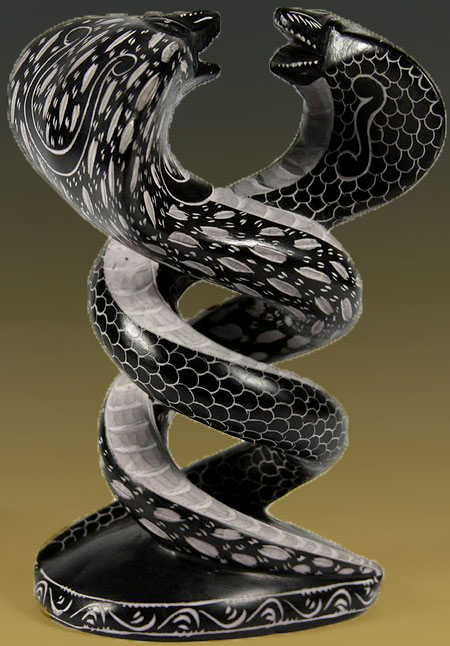 Black marble  'Entwined Serpent' sculpture from Mahabalipuram, India
Hertwig Katzhutte art deco porcelain lady figurine, ecstatic snake dancer
Thancoupie, Gloria Fletcher, 'Thomon (The Water Snake) and Guiree (The Flying Fox)' 
Joel Fine Art
Anang artist, Mami Wata water deity figure
Africa
Art Deco cobra recliner
1930's
Pastor Mack Wolford – Full Gospel Apostolic House of the Lord Jesus, one of the few remaining small Appalachian Pentecostal sects. He died at a later date from a snake bite.
Bernard Palissy — photo by Paul Starosta
Beth Ozarow— 'Snake Man' clay figure
Artful Home
Moving snake in the jungle – photo by Quentin Martinez, Borneo
The Hindu God Vishnu standing on a Naga – Bronze Statue
 'The Chameleon'  Photo: Christian Ziegler, World Press Photo.
Chinese Baluster Vase with celadon crackle Glaze Finish High Relief Dragons
Directly carved sculpture on a block of Préhite representing iguanas – Édouard Marcel Sandoz
Washington Ledesma's ceramic vase
'Femme au Serpent' by Lithuanian born French artist Jacques Lipchitz
Bronze, dark brown patina, 24 in.
5 foot wild Goanna paying a visit
The 'Gundestrup cauldron' is a richly decorated silver vessel, thought to date from between 200 BC and 300 AD
'Head of Manasa', the serpent goddess, Eastern India, Gupta period, early 6th century, Terracotta.
Herend water pitcher with lizard handle, Hungry
Iguana sculpture
 Robert Wogensky Aubusson Mid Century Atomic Tapestry –  'Serpent d'Etoile'
France, 1965
 Jean Dunand serpent panel
France
Jessica Wulandari Suarsa- photo-John Marshall
Australia
Frederic Leighton 'Athlete Wrestling with a Python' 
Tate Britain
Carlos Loya  – Lizard Bowl Cazuela
Mata Ortiz Pottery
Matthew Patton  – Shino Wiggle plate
Migrating Aussie snake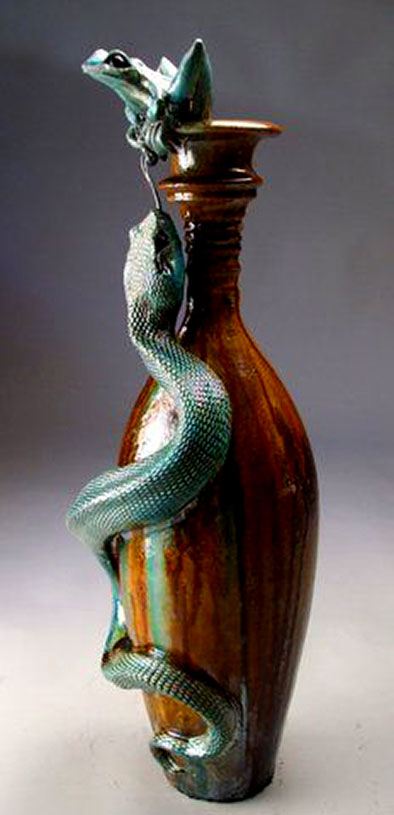 Vase with snake and frog relief – Mitchell Grafton
Figure of Nagini, Ramappa Temple, Palampet,
Andhra Pradesh, India
Pale blue dragon handled vase  C H Brannam Ltd
1897
Rudolph Tegner  – 'Hercules and the Hydra'
Rudolph Tegners Museum, Dronningmølle, Denmark
Satsuma Plate, round, with three dragons in low relief surrounding
Japan, 20th century,
Art Deco female holding serpent sculpture – Signed Isdrebrad
'Celestial Serpent' —  South Australian aerial landscape digital  art by post author
'Snake Charmer' bronze statue by Charles Arthur Bourgeois
Butchoff Antiques – London
 'Lying Lizard 'porcelain figurine – Herend,
Two lizard vase by Nancy Yturriaga Adams
The Croc Hunter – Steve and Bindi Irwin
Minoan Snake Goddess  —  painting by John Duncan
The temple of Vitthala carved wall relief art, Hampi,- Jean Pierre Dalbéra
India
Tjapaltjarri, Clifford Possum, 'Goanna Dreaming' painting
Three Mothers bathstone sculpture
Tjapaltjarri, Clifford Possum,- 'Snake Dreaming'
Yaritji Jack- serpent vase
Tjapaltjarri, Clifford Possum – 'Two Snakes at Alinittiti'
Australia,  1972
Zuni Pueblo Hand Made Lizard Bowl
Gabriele Pfister collection – French ceramic relief snake on pot
Emily Ulrich – 2017 ceramic snake sculpture
Snake Vase Masterpiece by Julia Zsolnay
Naga serpent multi-head sculpture
Live snake in wild – Field Naturalists Club of Victoria photo
Elegia del Barro
Feathered Serpent exhibition by Alessandra Foletti – 10th  to 24th April , 2018
Cultural  center and Art Gallery of Banco Atlantida, Tegucigalpa, Honduras
The Plumed (or Feathered) Serpent is a Mesoamerican god and myth. Among the Aztecs and Toltecs this divinity went by the name of Quetzalcoatl and to the Maya he was known as Kukulcan.
The Feathered serpent is regarded as the god of winds and rain and is associated with thunder, storms and waterways. The zigzag and meandering lines of the serpent or snake are symbolic of water and the feathers represent the ability of the feathered serpent to fly. The Feathered serpent symbol represents life and the renewal of life, just like water. He was also considered the patron god of priests and merchants and considered the god of learning, science, agriculture, crafts and the arts.
Quetzalcoatl wears around his neck the wind breastplate (ehecailacocozcatl), with the spirally voluted wind jewel made of a conch shell.
Serpienteem Plumada — Allesandra Foletti
Honduras
Male feathered snake — Alessandra Foletti
'Cosmic feathered snake' – Alessandra Foletti
–