Sth. Korean Designer Hun-Chung Lee :
After receiving his BFA and MFA in ceramic sculpture from Hongik University in Seoul, Lee came to the United States to obtain a second MFA in sculpture from the San Francisco Art Institute, staying on as a teaching assistant for a year after graduation. He is currently pursuing a PhD in Architecture in Korea. His work has been exhibited widely throughout Korea and in the United States.
In his magnificent, unique ceramic stools and objects, the seemingly chaotic pattern of glaze belies Lee's careful, painterly control of palette that emerges upon closer observation. In Lee's hands, the solid ceramics — as with other materials — take on a soft, almost cloud-like character.
Through exceptionally skilled handwork and applied layers of patina, Hun-Chung Lee transforms materials often considered cold — such as concrete and steel — into architecturally graceful, soft-edged sculptural furniture.
Bench by Hun-Chung Lee
Chairs by Hun-Chung Lee
About the artist:
Lee's interests in the historic precedents of Korean decorative arts and cultural heritage encourage him to celebrate the natural poetry of his materials in a way rarely seen in Western design. Many of the high-fired ceramics in the exhibition feature a celadon glaze originally developed during the 15th century. Lee also uses a traditional, hand-built kiln and relishes the unpredictable nature of the glazes over the course of the several days of immersing, pouring and firing that it takes to produce each piece. He presents the collection of works as a collaboration with and homage to nature. His delicate colors and simple forms are intended to suggest the natural beauty of the Korean landscape throughout the changing seasons. A recurring theme in this new collection is harmony — the harmony of colors and the harmony of seemingly disparate materials in his benches and storage units. In these pieces Lee coaxes concrete and steel into shapes that are softer than seems possible from such traditionally hard materials. His stools, chairs, and tables are hand-sculpted from ceramic and concrete then painted with layers of glaze to create a multihued surface embellishment, giving the heavy material an ethereal luster.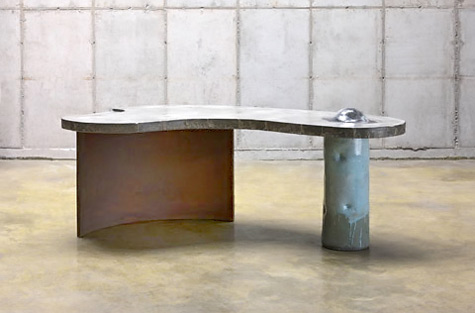 "Organic Lined Concrete Desk," concrete, glazed ceramic and natural rusted steel.
Low table in concrete and ceramic.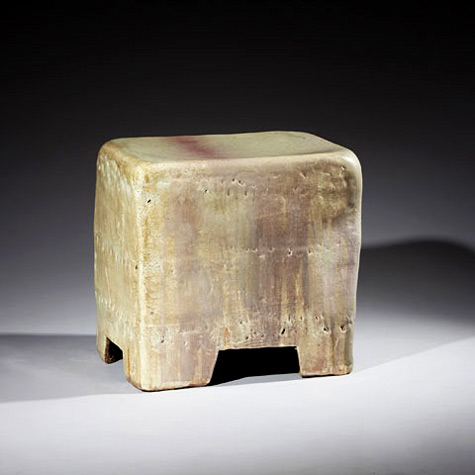 Ceramic stool in a pale colored glaze with a red band
"Silver Brushed Ceramic Stool in Sky Blue," glazed ceramic.
"Skyblue Garden" vessel in glazed ceramic.
∞
An extract from an essay by Yun-chung Lee :
" Whenever I saw a sculptor's work resembling a lump of clay or a bowl, I used to try to find out the artist's intention. In the past when I created a piece I used to try to convey the meaning and the function of the project to spectators. However, there came a point in time, I don't remember exactly, when I began to see a sculptor's work without the need to understand the artist's intention. Presently, I try to escape from the pattern of  [planning and following the plan], in my work because I have come to realize that forcing spectators to understand the artist's intention and forcing artists to explain the work is a sort of intellectual violence, which blocks the flow of emotion in my heart. When I am freed from the obsession of the result of my creation, my freedom can give light to the memories in my heart so that I can re-live a spiritual journey."
" For me, the world is like a swift current, while the inside of my body is a calm pond. "
∞
"Concrete Day Bed with ceramic Pillow and Jar," concrete and glazed .
"Small Beige Square Ceramic Box with a Lid in Plum Flower Motif," glazed ceramic.
Ceramic Stools
Ceramic and concrete Bench
Low ceramic stool with pale blue glaze.
–