40th Anniversary of Clay Studio Three in Saskatoon, Canada
An exhibition is currently running up to the 11th of July, 2015 which features the work of past and present Clay Studio Three artist's work. Included are current Clay Studio Three members : Thelma Howard, Lorraine Sutter, Elaine Friesen, Eli Fernandez, Shirley Carriere, Nancy Grummett, Tina Morton, Ron and Rusty Kurenda, Paula Cooley, Judy Tryon, Martin Tagseth, Connie Brewer, and Gail Sherwin who will all have current works on display.
Location: Affinity Gallery
Saskatchewan Craft Council Bldg.
813 Broadway Avenue,
Saskatoon – Saskatchewan, Canada
Clay Studio Three – Saskatoon, Canada
Since 1975 Clay Studio Three has been an active collective of Saskatchewan ceramic artists. It began as a working studio for three local potters. Driven forward by Olive Kalapaca, Joan Ashenhurst and Marlene Zora, the group welcomed new members. Over the years it has brought a lot of Saskatoon and potters from surrounding areas into the public eye. They are also dedicated to the community where many of the potters contribute pieces to charity auctions which range from ones which support good food programs to ones which raise money for refugees newly arrived in Saskatchewan.
There are currently 15 potters who contribute their works to the collection. The store is managed, staffed and stocked by local potters. At Clay Studio Three you will find both functional and decorative items varying from dinner wares to the metallic coloured raku pieces and the mysteries of pit-fired vessels.
Examples of pottery from the CS3 artists :
Eli Fernandez
Judy Tryon
Lorraine Stutter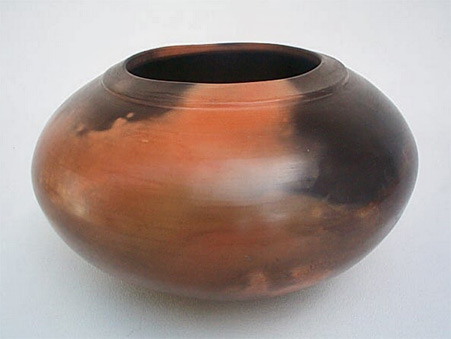 Raku vessel – Eli Fernandez
Lorraine Strutter
Lorraine Strutter's history with clay started in 1975 after attending a local hand building class in Esterhazy, SK. A move to Saskatoon in 1981 brought her in contact with the Saskatoon Potters Guild, where she taught classes for many years. Holding a Ceramics Diploma from SIAST Woodland Campus, Prince Albert, she is also a member of the Saskatchewan Craft Council and Sask Terra. A member of Clay Studio Three Pottery Shop since 1985, Lorraine has helped bring the shop to its present status as the premier pottery shop in Saskatoon. Lorraine likes to alternate between hand building, throwing and combinations of the two. Her production work is medium fired, but she uses the lower firing range for the slip resist and horse hair pieces. Workshops, seminars and membership in many pottery organizations have provided her with the enjoyable opportunity to experience gas, wood, and salt firings.
Contemporary ceramic plates, bowl and tumbler – Paula Cooley
2014
Lidded vessel – Nancy Grummett
Paula Cooley
Paula Cooley
Clay Studio Three pottery shop
Thelma Howard  – vase
Elaine Friesen – 'Winter Garden'
2015 – Cone 6  oxidation
Eleanor Fernandez
2014
Eleanor Fernandez
2015
Paula Cooley  'Glint'
2015
Stoneware, slip, found metal, epoxy; handbuilt, salt fired to cone 10
Judy Tryon 'Loops'
2015
Slab built and wheel thrown stoneware, glazes, slips. Fired to cone 10 reduction
Saskatoon potters making raku pottery
Judy Tryon
2015
A native of Ontario, Judy Tryon began her pottery career in Saskatoon, taking recreational classes in the early 1970's. By the end of that decade, having taken continuing education, she was teaching pottery classes for the City of Saskatoon. In 1994, she opened her own teaching studio, JT Pottery. Judy also conducts workshops throughout the province and in schools. Since 1984, Judy has produced several lines of hand built and wheel thrown functional ware, as well as "one of kind" work, including raku, salt, and smoke fired pottery. Her work is marketed through galleries, retail outlets, and craft shows. She has recently begun creating architectural ceramics commissioned for homes and businesses. Active in the Saskatchewan Craft Council and Sask Terra, Judy has exhibited nationally and internationally. She is the recipient of several awards and her work can be seen in 'The Ceramic Spectrum 2nd Edition" by Robin Hopper and in "500 Teapots: Contemporary Explorations of Timeless Design" by Kathy Triplett.
Martin Tagseth
Martin Tagseth is an internationally renowned potter who fires primarily with wood. He has built a number of kilns throughout Canada and the US. He has taught ceramics in universities in China, Canada, and the USA.
Paula Cooley
Paula Cooley is a full time clay artist, working and living with her husband and three children, in Saskatoon, Saskatchewan. She completed her diploma in Ceramics from the Saskatchewan Institute of Applied Science and Technology, Woodland Campus, Prince Albert, in 1999  and is currently pursuing her B.F.A at the University of Saskatchewan. Paula sells her work through several retail outlets in Saskatoon and Regina and at juried craft markets such as Bazaart, SunDog Craft Faire, and Wintergreen. She is currently working on an artist in residence program at The Banff Centre.
Ron and Rusty Karenda raku bottle
Inspired by the exquisite pottery they saw while on a 6 month European holiday, Rusty Kurenda went on to take throwing classes during the winter of 1972 and attended the Summer School of the Arts, Ft. San in summer of 1973. She opened Prairie Pottery in January of 1974, and Ron joined her within a few months and he began to learn the pottery arts. The Kurenda's operated their shop in downtown Saskatoon for 35 years where they represented about 50 pottery artists. Now semi­ retired, Ron & Rusty are proud to be part of the Clay Studio Three artists' co­operative. Over the past several decades they have attended workshops and seminars by many internationally known artists including Joe Fafard, Carlton Ball, Daniel Rhodes, Robin Hopper, Sue Hopper, Bill Shinn, John Chalke, and others. Together, the Kurenda's take pride in creating lovely functional pieces which are a joy to own, a pleasure to use and a tasteful gift to give others.
Nancy Grummett – 'My Old Blanket'
2015
Nancy Grummett grew up in Saskatoon. Formerly a professional photographer, she started to study pottery in 1995. She studied with Judy Tryon for a number of years. It began at first as a hobby, while she was taking other classes at the University of Saskatchewan. She used it as a stress relief, but it soon became a serious vocation. A functional artist arose as the creative aspects of her life reasserted themselves in clay, fabric and paint. In 1998 she became a full time potter. In 2000 she was invited to join Clay Studio Three, where a further interest in functional ware developed. She continues to develop her creative talents in her use of other media as well. The work she does in other media is donated to charity art auctions to benefit various organizations in and around Saskatoon.
'Red Dish' – Connie Brewer
2015  – Width 12 inches
Elaine Friesen 'Salt & Pepper'
2015 – Cone 6 oxidation
 Gail Sherwin 'Raku Lidded Vessel'
2013
Height 8 inches Width 5 inches
Wheel thrown stoneware, clear Raku glaze, Raku fired
Gail Sherwin started potting in 2000 with the Saskatoon Potters guild. She continued taking classes from Judy Tryon for a number of years. Gail, a retired RN, is a member of the Saskatoon Potters Guild. She is very much an outdoors person who is very fond of not only pottery, but gardening and golf as well.
  Matina Morton 'Prairie Flask'
2014
Height 10 inches Width 6 inches-Stoneware wood fired
Tina Morton was born and raised in Saskatoon. She spent her summers growing up at Waskesiu Lake where her love of the outdoors flourished. As a young person Tina spent time working in different media; stained glass, willow basket weaving, bent willow furniture making, and she took her first pottery classes at age16. She started taking pottery classes at the Saskatoon Potter's guild in 2008. Her pieces are diverse, as she does both throwing and hand building. She is a working member of the Saskatoon Potters guild. Her work is influenced by her love of the outdoors and her willingness to experiment with the media. She has taken many workshops where she has learned the different aspects of pottery. She became a member of Clay Studio Three Pottery shop in 2011.
Betty Gibbon 'Albus'
2002
Height 20 inches Width 12 inches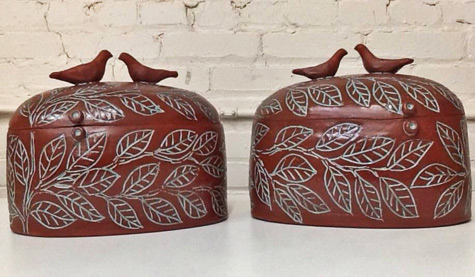 Eli Fernandez
Eli Fernandez took her first beginner pottery class in 2000. Since then she has attended more classes and workshops in her pursuit of learning about the art and craft of clay. She's happiest when she's making functional' pots. She continues to explore the concept of' functional pottery' that also incorporates excellence in quality and esthetics. She's a juried member of the Saskatchewan Craft Council, a working member of the Saskatoon Potters Guild.
Cathy Mumford    'Japanese Sunrise'
2015
Height 6 inches diameter 15 inches
Conni Brewer 'La Senorita'
2015
Height 17 inches Width 12 inch
Doug Cheney 'Sienna Azuro'
2015
Medium fire stoneware oxides and glaze
Georgia Horsley 'A Few Minor Adjustments'
2009 – Height 15 inches diameter 8 inches
 Ilsa Skarsgard sgraffito dish
Sprayed glazes, wax resist. Oxidation cone 10.
Height 4 inches diameter 12 inches
Nancy Grummett  – 'Woman Broken'
Joan Ashenhurst bowl  – 'Over the Edge'
2013
Height 4 inches x 32 inches in diameter Stoneware, oxides under clear glaze
Lorraine Sutter 'Napkin Anyone'
2015
Height 10 inches Width 6 inches
Lorraine Sutter 'Jar'
2015
Height 10 inches Width 7 inches
Thelma Howard – 'Shades of Nature'
2014
Height 6 inches Hand built extended pinched porcelain, copper sulfate, borax Fired in barbecue with sawdust
Thelma Howard has had a long and happy relationship with clay. She is well known for her hand built forms that seem to call out to be picked up and touched. A pottery class in 1959 started Thelma's journey in clay. She pursued a career in adult education, and upon retirement began taking classes in the SIAST Ceramics Program. A respected member of the Saskatoon Potters Guild, she takes her inspiration from nature. The harmony of pottery and nature is reflected her Raku and primitive pieces.An adventurer at heart she can just as easily be found paddling on a remote river as pulling pots from a red hot Raku kiln.
Matina Morton   'Beachcomber'
2013
Height 11 inches Width 15 inches
 Paula Cooley –  'Tipple Tray'
2015
Wheel Thrown Porcelain, cone 10 reduction Handbuilt tray cone 6 reduction
Shirley Carriere  –  'Finagled Stack'
2014
Height 10 inches Width 6 inches
Shirley Carriere joined Clay Studio Three Pottery Shop in the fall of 2005. She brought with her a wealth of experience working with the general public and compassion from her years as a nurse. Her experiences in pottery started in 2000 with classes at the Saskatoon Potters Guild where her appreciation for the art took hold. She has been on the board of the Guild and spent many hours helping to further the understanding and appreciation of pottery in others. Shirley has an attention to detail brought about by her everyday work, as well as her other handwork. She is also an accomplished fabric artist.
Tina Morton lidded ceramic vessel
Paula Cooley
'Mocha Diffusion Storage Jar'  –  Ron and Rusty Karenda
Paula Cooley – tumbler and mugs
–