Hedi Schoop and Sascha Brastoff  flamboyance :
During WW2 and immediately after, foreign imports into the  USA had been cut off, resulting in the flourishing of domestic art pottery firms. This was further supported by the postwar building boom, especially in states like California. The demand for decorative and functional pottery wares was high, especially from the new homes being furnished. The shared sacrifices of the war were gone and the ceramic products reflected the new optimism with free flowing styles, fun, kitsch and heart warming designs. A lot of the decorative figurines expressed motion, from walking to dancing and other movements, capturing the mood shift.. TV's were also selling in huge numbers so sales of ceramic TV lamps also flourished. Two influential ceramic artists from this time are featured below.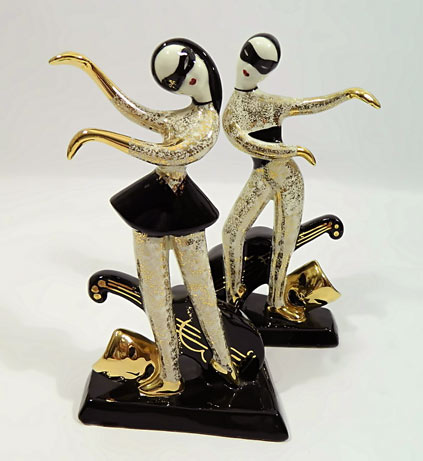 Vintage Hedi Schoop harlequin dancers
Hedi Schoop
One of the designers at the forefront of this era of Mid Century ceramic design was Hedi Koop. Having fled Europe in 1933 with her composer husband ( Friedrich Hollander ),  she resettled in California and in 1940 opened up a pottery studio in Hollywood, focusing on the popular figurines along with planters, ashtrays, lamps, bowls and vases. She had studied sculpture, architecture, painting, and fashion design at several European art institutions including Kunstgewerbeschule in Vienna and Reimann Institute in Berlin. Her innovative California pottery designs were style defining  at this time and widely imitated. If a Schoop figure proved popular with consumers, an entire line of accompanying décor objects were created.  At the height of her success,  "Hedi Schoop Art Creations" produced over 30,000 giftware items per year, and employed over fifty workers. She designed and modelled almost every piece in her line. Her figurines are the most sought after as a collectible.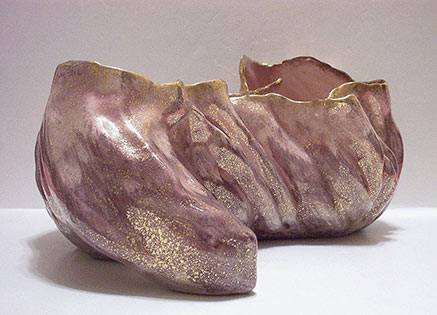 Heid Schoop
Vintage ceramic bowl/planter by Hedi Schoop has sparkling gold trim over rose pink, and has incredible detailed texture. Shaped in a winding S-curve, the piece looks different from any angle when displayed in the round. Dates to circa 1950s, I think, based on the generous application of gold and the color.
( Elle Jay – Etsy  )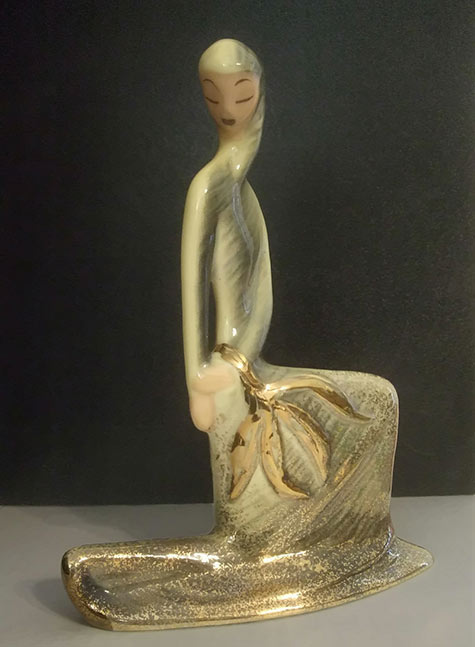 Phantasy Dancer – Hedi Schoop
Vintage Hedi Schoop Poodle ashtray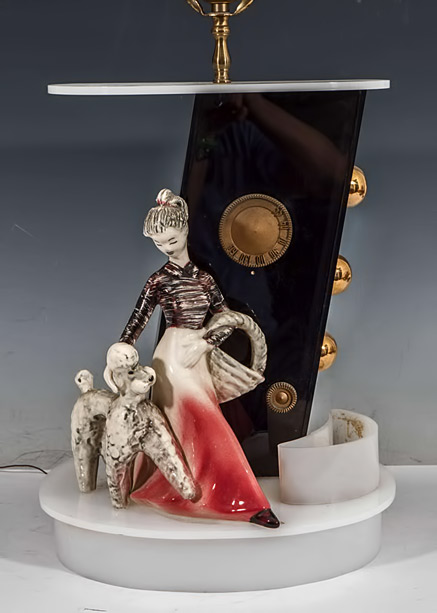 'Poodle Lady' Lamp and Radio by Hedi Schoop
37 inches height
SHOWPLACE ANTIQUE + DESIGN CENTER – 1st Dibs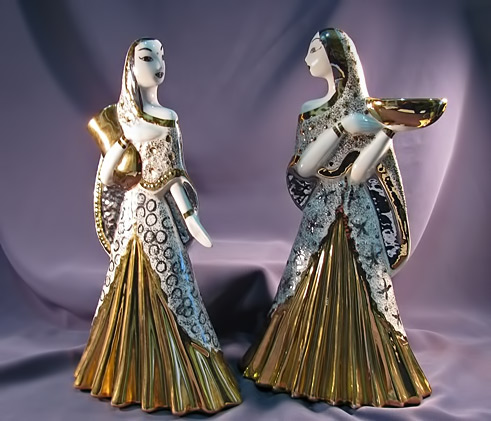 Two Eastern Ladies figurines – Hedi Schoop California Vintage
josephsgems-ebay
Mid-century Hedi Schoop figurine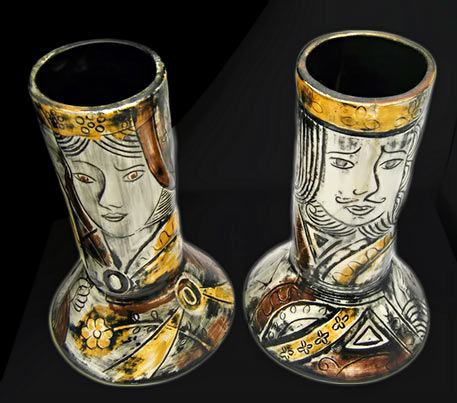 Hedi Schoop ceramic King Queen pair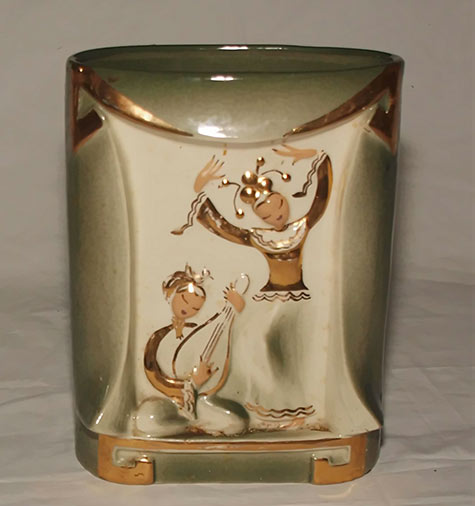 Figurines, dancer with mandolin player  – Hedi Schoop
Hedi Schoop vase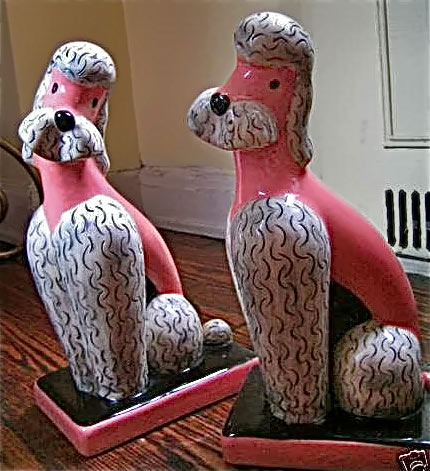 A pair of poodles – Hedi Schoop
( hepcat restorations )
Hedi Schoop modernist cat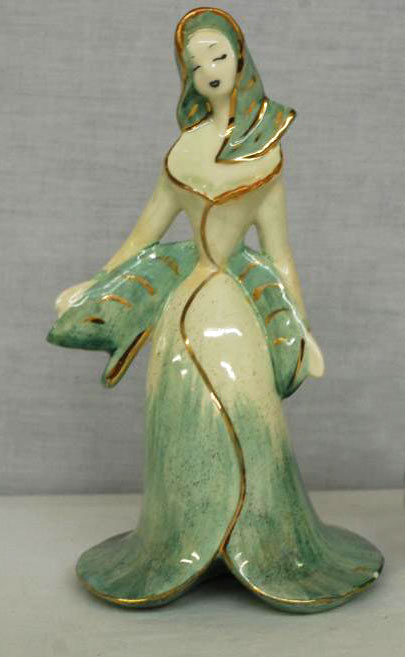 Hedi Schoop figurine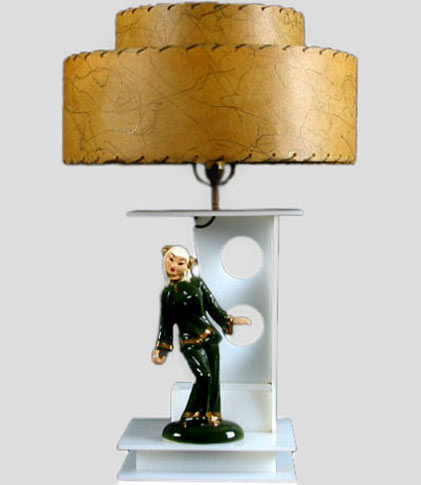 TV Lamp – Hedi Schoop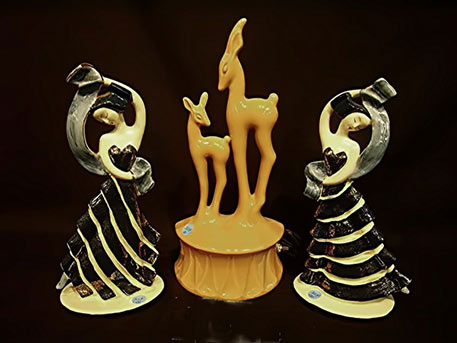 Two Hedi Schoop Dancer Figurines.In the middle is a ceramic deer TV lamp by Krim
Hedi Schoop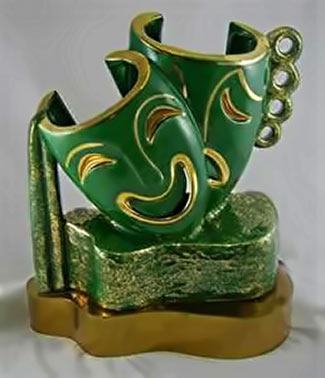 Comedy Tragedy TV lamp – Heidi Schoop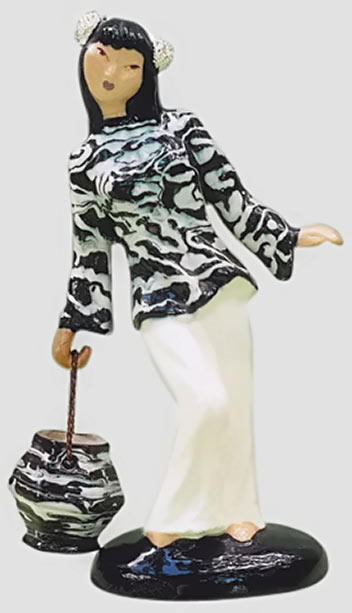 Hedi Schoop lady figurine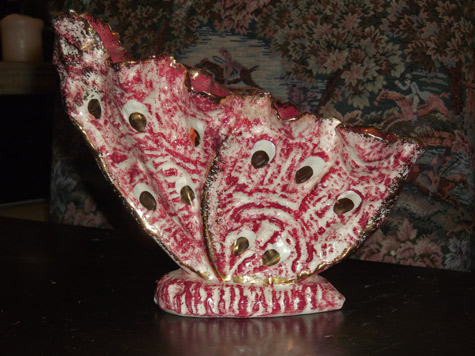 Folded and footed pink and white vase – Hedi Schoop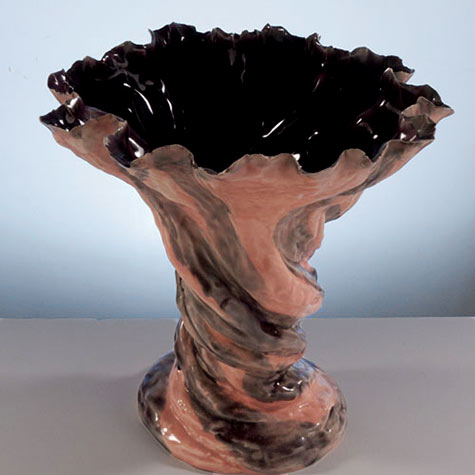 Salmon Pink Swirl Vase  – Hedi Schoop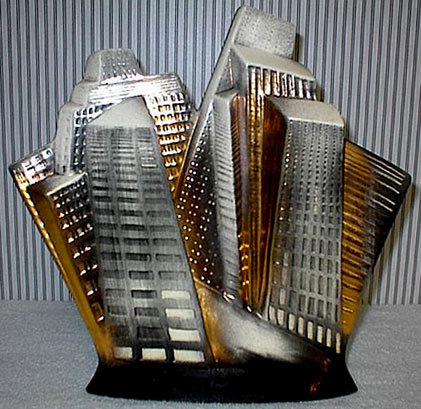 Skyscrapers TV Lamp – Hedi Schoop
( hepcat restorations )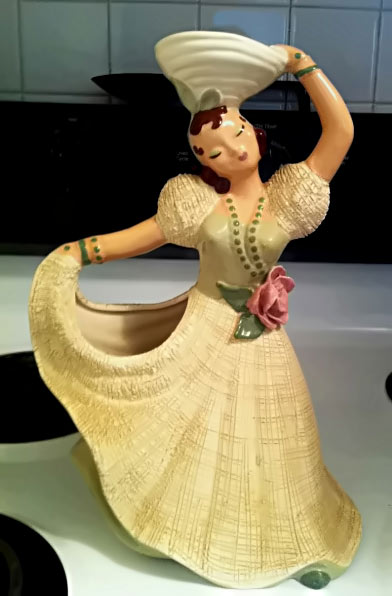 Hedi Schoop dancing figurine planter
 Hedi Schoop did work with her sister Trudi  in European dance and cabaret before she left Germany for America  in 1933
Cat face wall plaque/plate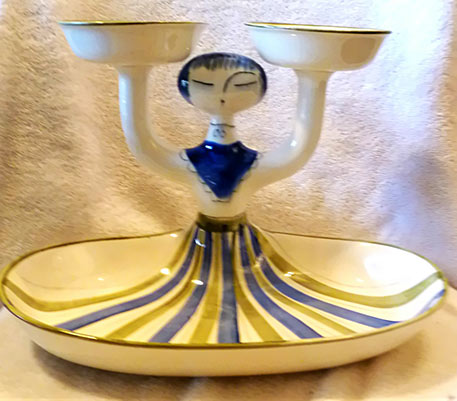 Hedi Schoop 1960s Pottery Chip, Bread Platter and Dip Sauce Bowls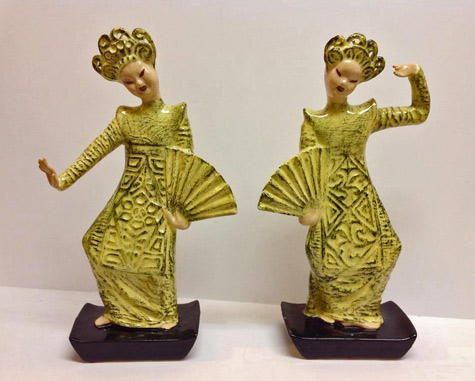 Thai Fan Dancers – Hedi Schoop
macade9 – ebay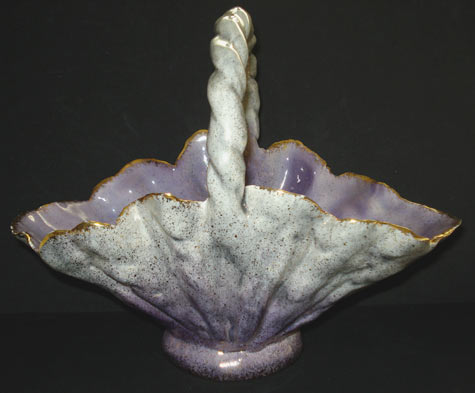 Vintage Hedi Schoop Basket
  Iridescent Glaze Geisha Girl figurine
Angel kneeling on green leaf dish with gold trim – Hedi Schoop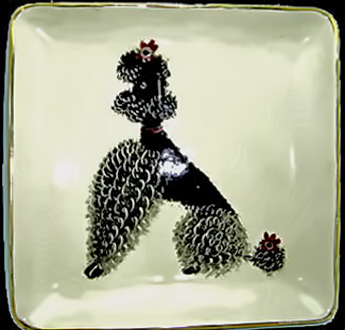 Seated black poodle dish – Hedi Schoop
Vintage jug/vase – Hedi Schoop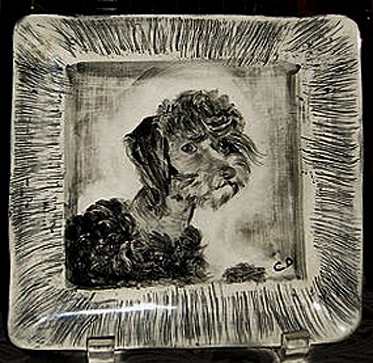 Hedi Schoop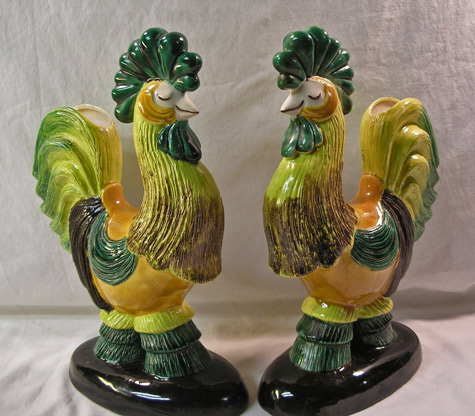 Pair of Rooster Vases – Hedi Schoop, Hollywood
Sascha Brastoff
Sascha Brastoff was also a successful  Los Angeles ceramic designer at this time, who had a flair for promotion, mixing freely with Hollywood stars and celebrities. His bold, colourful  and flamboyant creations fitted perfectly into this postwar era of  adventurous ceramic design. Sascha began creating ceramics in New York  in the early 40's.  After a stint in the Air Force followed by working as a costume designer with Fox Studios in Hollywood, he set up a ceramics plant in West Los Angeles called Sascha Brastoff Product's Incorporated with the backing of Winthorpe B. Rockefeller. In the mid 1960″s other art pottery makers such as Stangl and Royal Haeger were licensed to use Sascha's name trademark. These items usually have a thick black cursive SB signature near the maker's mark. His unique pieces, many displaying a modernist flair, have become a favourite with collectors.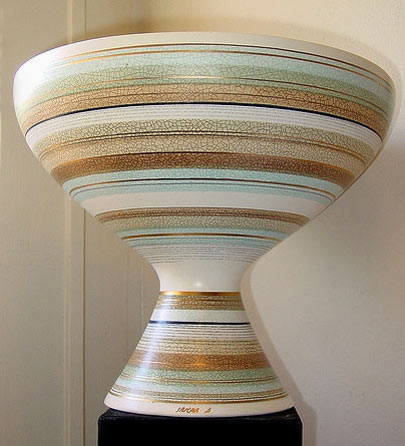 Large Bowl – Sascha Bastoff
( Haegernerd – Flikr )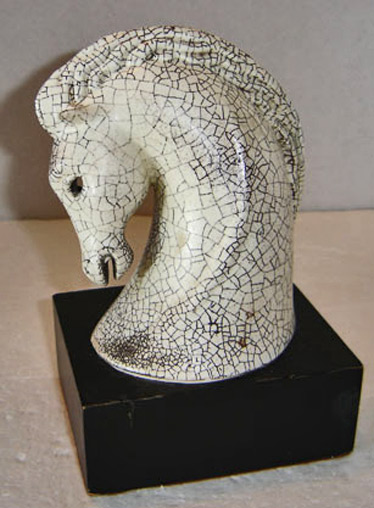 Sascha Brastoff horse bust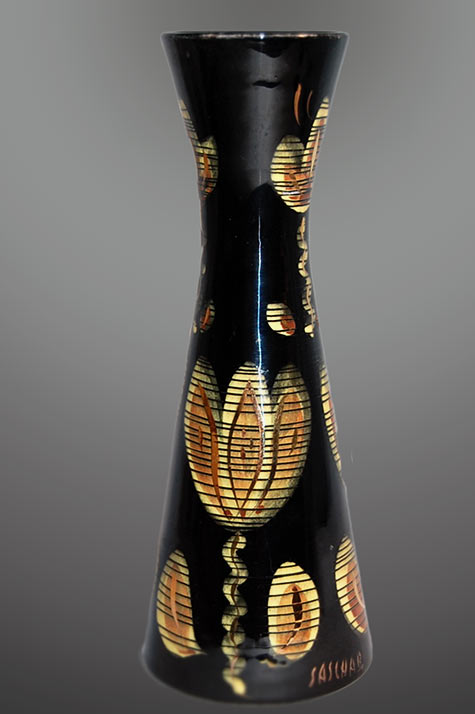 Modernist vase – Sascha Brastoff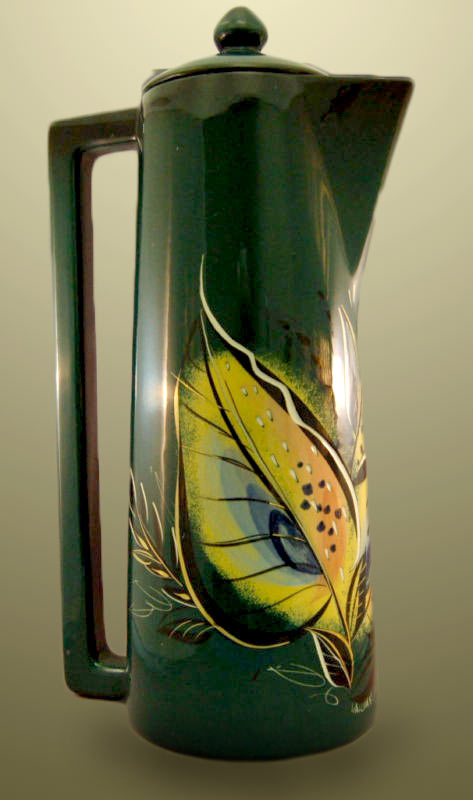 Sascha Brastoff Coffee Pot
Sascha Brastoff  'Ballet' hand painted charger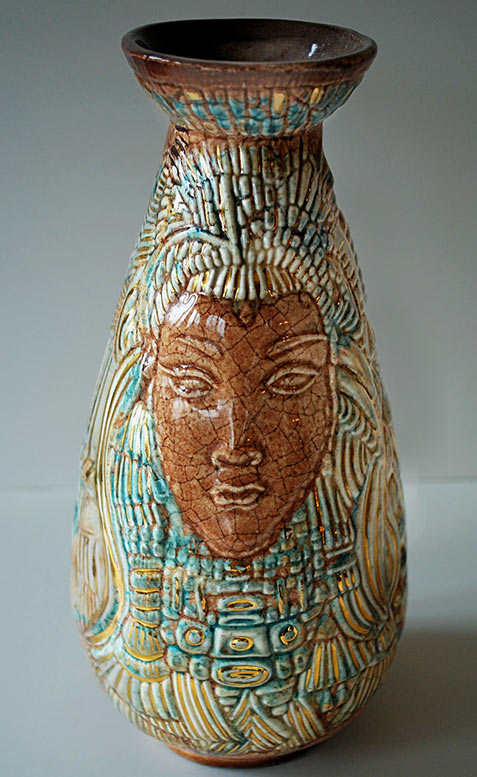 Mid-century carved mosaic vase – Sascha Brastoff
Photo – Samantha Stolberg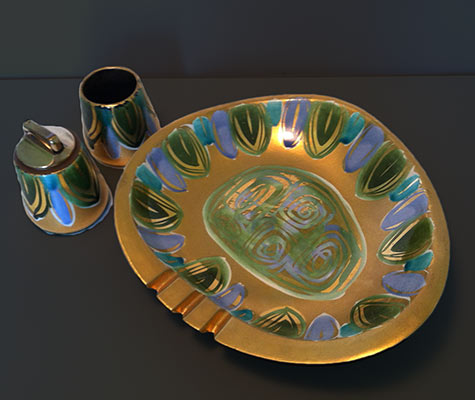 Sascha Brastoff enamel ashtray, lighter and cigarette holder set
'Rooftops' – tall lidded pitcher
Sascha Brastoff  addvert
Sascha Brastoff aabstractplate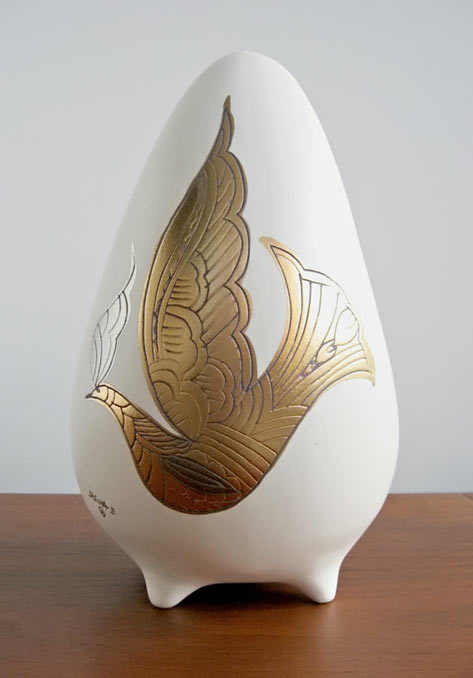 Sascha Brastoff ceramic art sculpture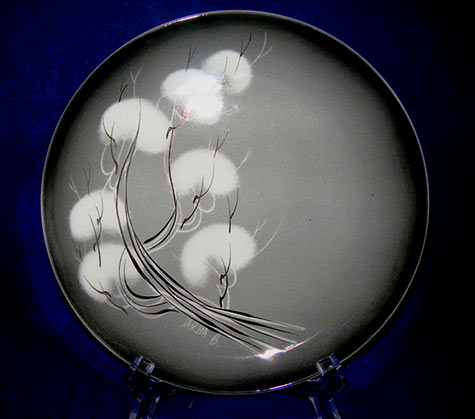 Sascha Brastoff 'Smoke Tree Black Gray' plate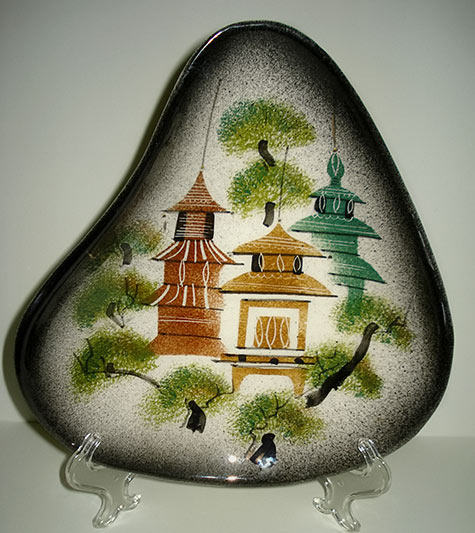 Pagoda's decorative plate -Sascha Brastoff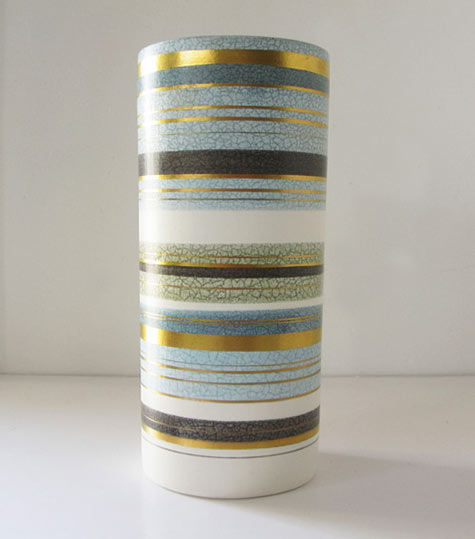 Sascha Brastoff abstract series vase
Sascha Brastoff  – red black ashtray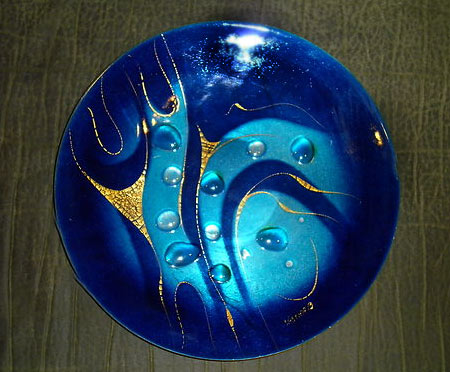 Vintage modernist wall plate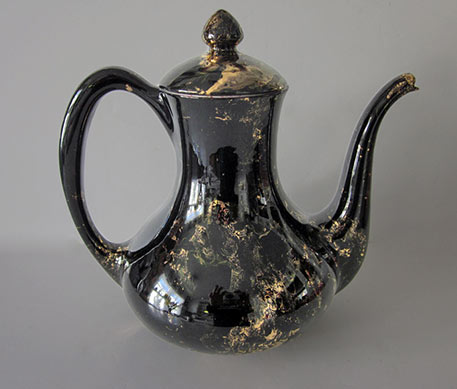 Blackgold surf ballet- ceramic coffee pot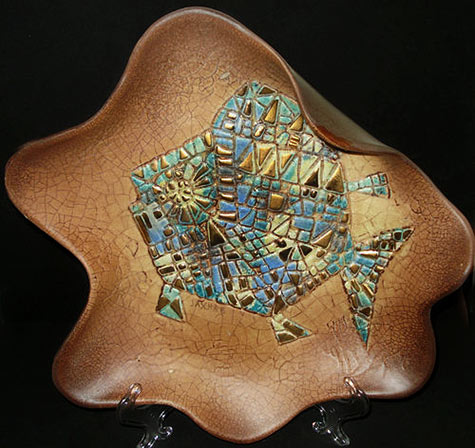 Mid-century abstract fish mosaic platter – Sascha Barstoff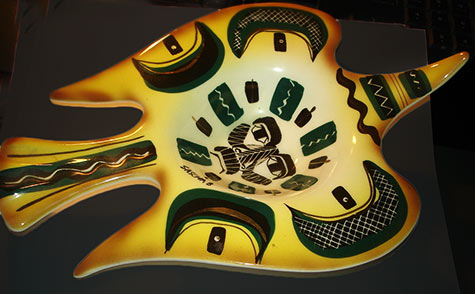 Aztec bird shaped bowl – Sascha Brastoff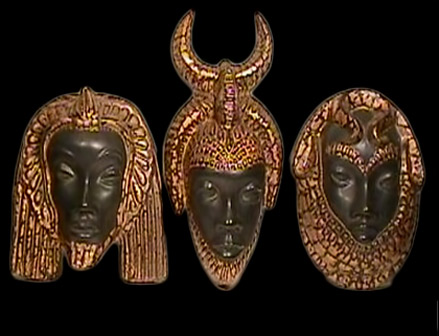 Three African wall masks – Sascha Brastoff
Sascha Brastoff wall decoration from Forbidden Planet movie set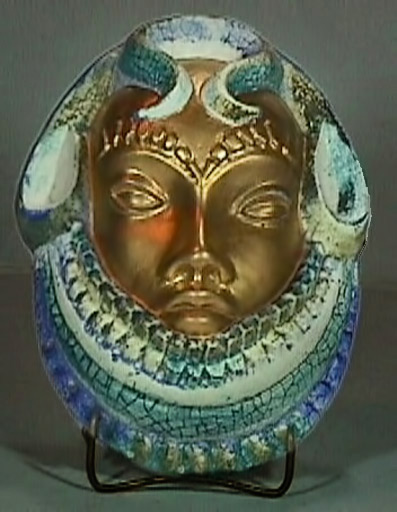 African ceramic gold mask – Sascha Brastoff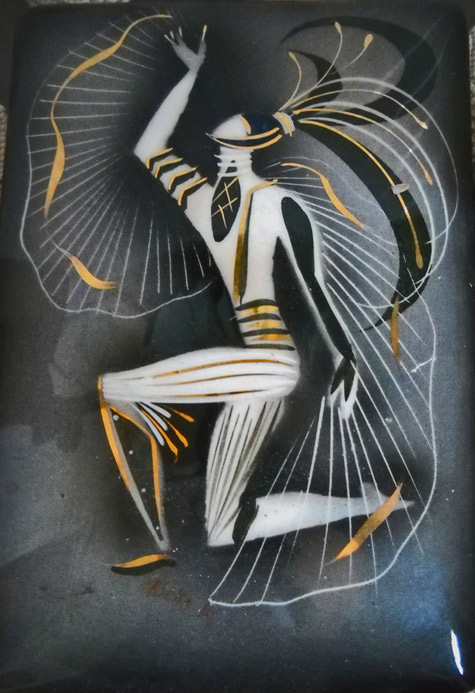 Aztec platter – Sascha Brastoff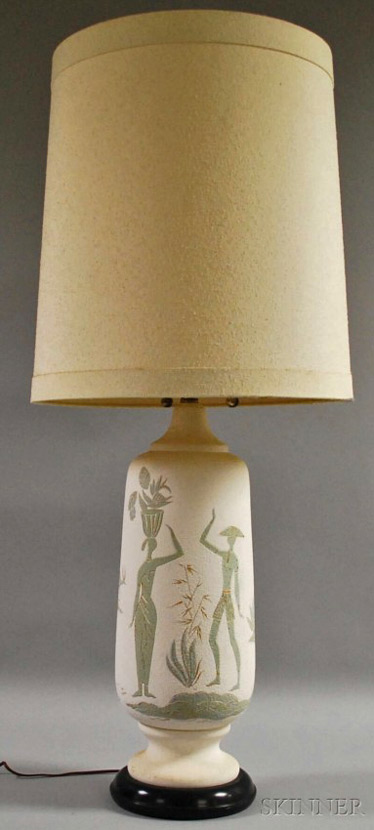 Table lamp – Sascha Brastoff
Sascha Brastoff red village plaque/dish
Free Form Atomic, Amoeba ashtray – Sascha Brastoff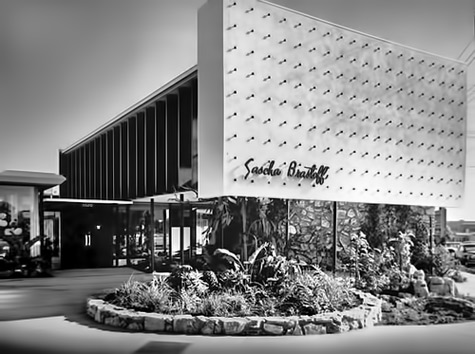 Sascha Brastoff Hollywood Pottery Factory
More Californian pottery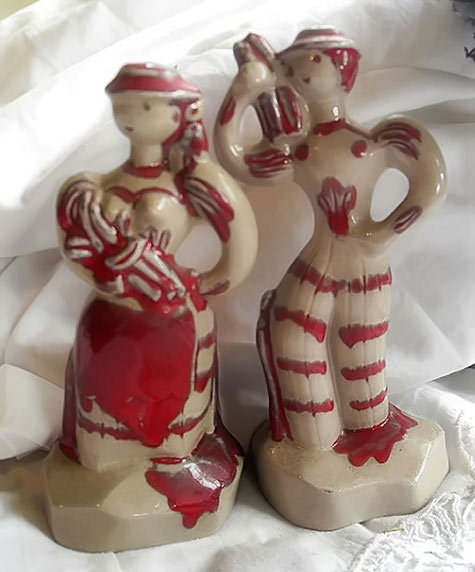 Mid-Century salt and pepper shakers – Cleminson Pottery of California
Vintage 1950s Marc Bellaire Still Life California Pottery Cocktail Decanter Set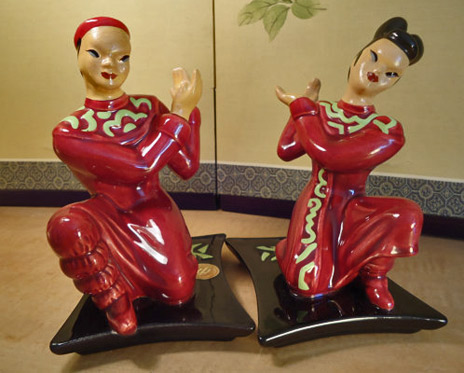 Yona Asian Pair
etsy- VintageRevivalStudio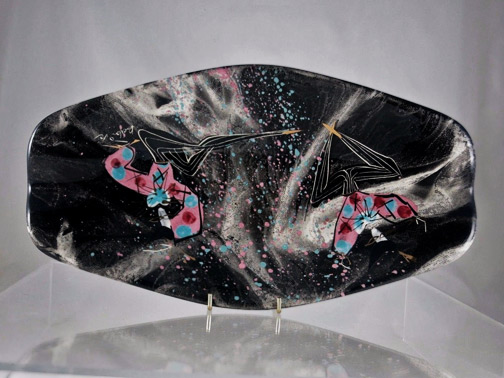 Marc Bellaire Mardi Gras Harlequins Dish
Coffee Pot – Mid Century Modern Marc Bellaire California Art Pottery
1950's
vintage914 ebay
A decorative wall plaque/plate by Marc Bellaire who was a protege of Sascha Brastoff, who eventually became a  competitor.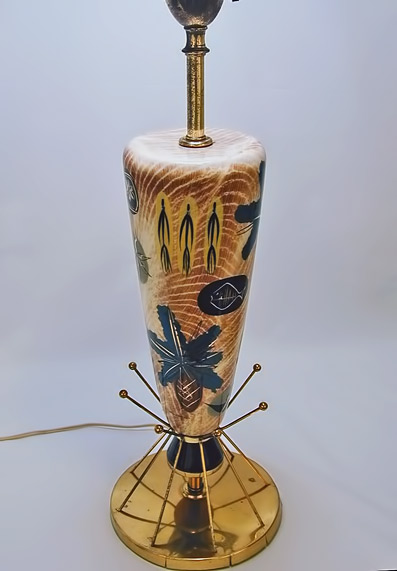 Marc Bellaire Signed Mid-Century California Atomic Lamp
 ebay – michipeggy
Marc Bellaire 'Jamaica' Line Console Bowl
A fabulous showgirl head vase from this era designed by Kathi Urbach
Sources cited :
myantiquemall.com
http://www.collectorsweekly.com    Who Killed American Kitsch? by Ben Marks
midcenturyliving.blogspot.com.au/
–