Red ceramics, conceptual architecture and wabi sabi.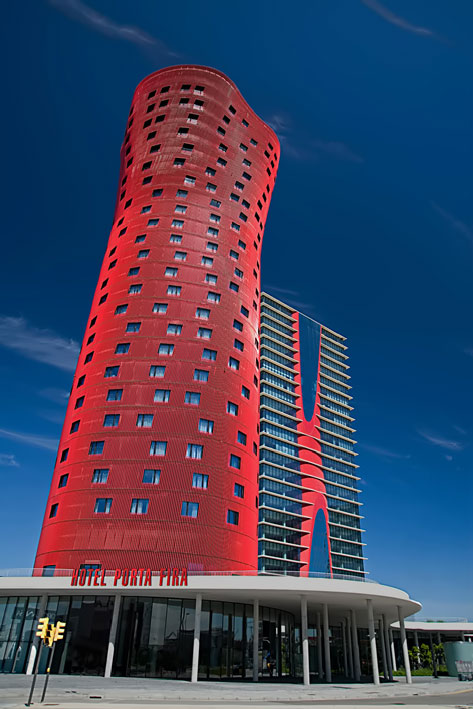 Japanese architect Toyo Ito and b720 Arquitectos of Spain created this intriguing hotel and it upholds Barcelona's reputation for innovative architecture. Brash, audacious, distinctive, colourful, even whimsical are typical descriptive terms for the Barcelona style and this tower is no exception. Hotel Porta Fira actually consists of two towers connected by an aterium, the second tower being a symmetrical rectangular shape and was deliberately chosen to create a dialogue with the  main tower, a distorted cylinder, expanding towards the top and clad in red metal panels.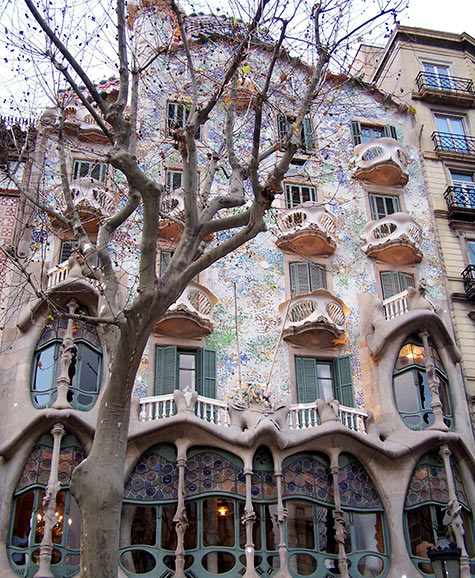 Barcelona architscture, Art Nouveau Casa Catllo building in Barcelona by the architect Antoni Gaudi.
 The red tower  is designed to turn on itself, shifting  its perception as it is surrounded. I'm sure Toyo Ito had some Wabi Sabi * in mind when he considered the shape ( no to be confused with the Japanese condiment Wasabi ) There are definitely several dynamics at play with the design, but for me the minimalist entrance is somewhat bland and in stark contrast to the imaginative flair of the top half of the building, creating a dynamic in itself.  I immediately saw a George E. Ohr crease inspired, cylindrical vase. This motivated me to explore the visual triggers that  could have led to this choice of abstract and contemporary architectural style, keeping in mind these evaluations are  generally unfathomable and futile , but I had fun trying.
Vintage West German Pottery  Fat Lava Scheurich Vase Inka Orange Glaze
Canada Art Pottery-speckled-vase
aleksandra88 – Ukraine
This vase was created by an Italian architect named Scarpa Occhi.
La Chapelle de Cap-Malheureux – Mauritius
Wemyss Ware pottery vase, decorated with hand painted roses & foliage.
( Ruby Lane )
Carlton Ware Vase circa 1925
Inverted mushroom shape with an elongated neck decorated in the cubist butterfly pattern.
Art deco theatre with Josephine Baker and Louis Armstrong wall panels.
 Garden Of Delights – Photographer: Steven Meisel
Fire in the sky – Caros Ionut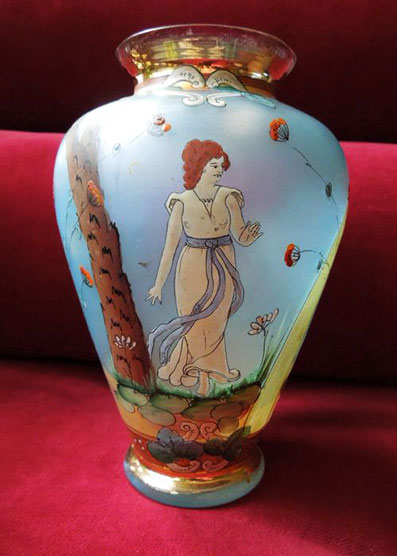 Hand-Painted Art Nouveau Glass Vase Circa 1900-1910
( Ruby Lane )
Mid Century red ceramic vessel
Red Glass Gourd Vase by Tony Jojola –  Isleta Pueblo
( Wrights Indian Art )
The Waratah Vase – Marian Munday, 1912 – Australia
Ottawa, Canada
Oriental Art Deco
French Garden Pot
Zsolnay Pitcher
Crimson Casey – taken with Olympus E3
Russia Frosted Glass Art Vase
Sculpture created from 1000's of Crayola crayons by Herb Williams
Woofy's created by Gabriel Nigro for Normann, Copenhagen
Art Deco orange vase
1969 USA My House
David Lachapelle
Photo – Jason Wu
Linda Dalton Handbuilt Vase with ferns
Japanese garden in red
Red asymmetrical wavy vase
Shanghai Sculpture
Scheurich Ceramic Floor Vase  1960s
Clement Massier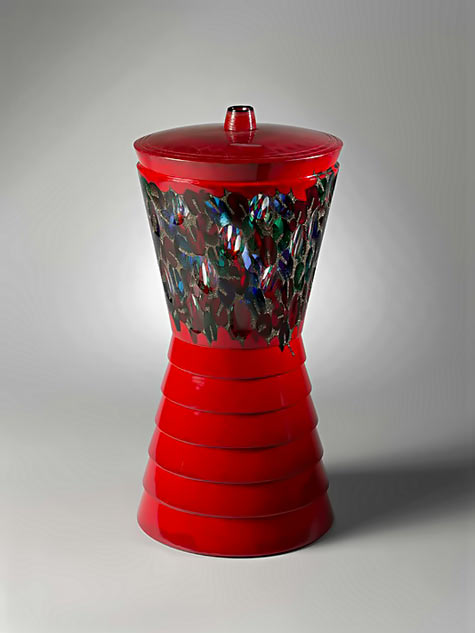 Over 30 years ago Yoichi Ohiria went to Venice and worked with the craftsmen from Murano and learnt the secret techniques of the Venetian masters opening up glass blowing to singular artists working in their own studios. Ohira's Japanese sense of simplicity in shape combined with these ancient Italian surface techniques has significantly altered the perception of contemporary studio glass.
 See more at Murano glass HERE
–
*Wabi Sabi  —  A Japanese term based on Zen/Taoist concepts,  where  a style is developed that doesn't  have geometric symmetry or perfection of balance, in order to maintain a greater dynamic, based on the belief that a perfected form upon completion has more inertia. Perfection is more easily duplicated.
–
" I See Red " – Split Enz
If you have no interest in madcap art-rock from the 70's, skip this video.
–