Above is the  impressive entrance to a museum titled  " small palace ", which only becomes small when compared to the monumental Grand Palais, which it stands opposite to. The Petit Palais is located close to the Champs Elysees and houses the Museum of Fine Arts of the City of Paris, and was built for the Universal Exhibition of 1900. The  architect Charles Girault based its design on the forms of a trapezoid and it has an internal garden, with ponds edged with sweeping mosaics and columns.
Aside from the remarkable collections on view inside , the building itself is worthy of a visit The Petit Palais holds a significant collection of nineteenth century French art and one of the largest collection of icons from France. Ancient Greece, Rome and the Renaissance. It has on display a unique collection of art from the Eastern Christian church donated by Roger Cabal. Troubadour, Romantic and Symbolist art along with contemporary works are also present. I put together a collection of mainly decorative pieces from both the permanent collection on display and the archives.
Walter Almeric – Helianthus
Petit Palais, Paris
Paris Petit Palais
Capucines  Art Nouveau vase  – Eugene Michel, 1895
Poems De Cristal Exhibition, 2012
 Petit Palais, Paris
Emile Decoeur, pitcher – France
1904 – Petit Palais, Paris
The Resigned  – Joseph Mougin, Nancy and Ernest Wittmann
1911 © Magali Porcel Petit Palais
 Adalebrt Szabo – Art Nouveau fireplace screen
The Woman with Monkey – Camille Alaphilippe
Sandstone and bronze
1914- height 184 cm
Amazon – Henry Cros
Petit Palais, Paris
Paris Petit Palais- interior
Greek cratere -Dionysus Heracles in the Garden of Hesperides.
360BC
Bearded mask – Petit Palais Musee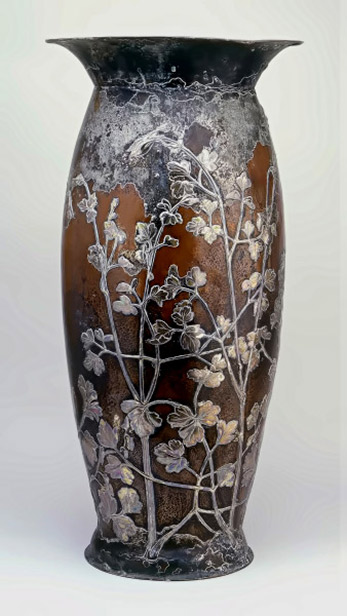 Birthwort vase- Circa 1909
Petit Palais, Paris
Decor De Orchide   Emile Galle
1898
Petit Palais, Paris
Carafe –François Decorchemont,
1912
Celadon Vase-37cm height
Petit Palais, Paris
Georges Despret – Jeumont. Bust of a faun, c. 1900.
Petit Palais, Paris
Di Merlino – Dianne and the nympths
Petit Palais, Paris
Emile Diffloth
1918
Compotier – Felix Bracquemond  1866
Ginkgo vase – Francois Dercorchemont, 1913
Petit Palais, Paris
Drip glaze vase – Jean Carriès,- 1892
Petit Palais, Paris
Deruta Assiette creuse – 1537
Adrien Dalpayrat (1844-1910)
Ceramic spherical art nouveau twin handled vessel. This piece is from the Musée de l île de France
Musee Petit Palias
Vase "Les Métaux" -Henry Cros
Photo Roger Viollet
Lidded Japanese Imari  bowl 1902
Petit Palais, Paris
The Planter of the Titans 
The vase has been attributed to Albert Carrier-Belleuse and the base of four  Atlanteans and their Michelangelesque poses attributed to  Auguste Rodin
Petit Palais, Paris
Le Festin de Didon et d'Enée – 1530
© Phillipe Ladet Petit Palais  Photo – RogerViollet
 Madame Pascal Blanchard at a party (1903) – George Desvallières
Petit Palais, Paris
Muller Frères – pitcher
Petit Palais, Paris
A Pierre Adrien Dalpayrat vase which was presented at the Universal Exhibition of 1900.
( http://chemindetables.over-blog.com/ )
Penelope – Antoine Bourdelle
Petit Palais
Perfume bottle and cap – Maurice Marinot
1920
Petit Palais Art Nouveau staircase
Ugolin statue by Jean Baptiste Carpeaux
Petit Palais mosaic courtyard – Paris, France
Judgment of Paris – Pierre Adrien Dalpayrat
Glazed stoneware design for Limoges
Petit Palais
Pine Cone goblet – Rene Lalique
Petit Palais
 Portrait of Miss Sarah Bernhardt ( looking nonchalant ) – Georges Henri Clarin
1876 – Petit Palais
Reliquary of the True Cross – Circa 1170-1180
Petit Palais
Fame  – River Theodore Louis Auguste, Toulouse
Petit Palais
Immortality  – Georges Henri Lemaire
Lapis lazuli, agate, jasper, opal and gold – Paris 1900 Collection
1905 – Petit Palais
The Hurdy Gurdy – ceramic figurine
Louis Comfort Tiffany ceramic bowl
Henri Vallombrosa ceramic bottle with white craquelure glaze.
Petit Palais
Jules Dalou  – Triumph of the Revolution
Petit Palais
Musee Petit Palais advertising banner for Jean Louis Forain exhibition 2011
Jacob Petit  – Mameluke Mantel clock
The porcelain figure of the Mameluke horseman was inspired by a work by Debucourt,The Retreating Mameluke.
Petit Palais
Albert Louis Dammouse 1927
The son of porcelain painter at the Sèvres factory, Albert Dammouse trained at the Ecole Nationale des Arts Décoratifs and the Ecole Nationale des Beaux-Arts.
Musee Petite, Paris
Gubbio, the workshop of master George Andreoli, Plate with 'silvia beautiful', 1531
Emile Gallé, Petit Palais—Vase with lilies and daisies
Pendant-Cascade  – Georges Fouquet & Alphonse Mucha & Charles Desrosiers
Petit Palais – C.1900
Large Hispano Moresque bowl two women in profile on either side of a tree of life
(First half of the 16th century)
Oinochoe with a trefoil shaped mouth-(Circa-500-475-BC)
Plate– Philippe Ladet — Petit Palais archive
Italian Venice pitcher – 1500
Giovanni Baronzio, detail of an angel Rimini school, before 1363. Avignon, Petit Palais
Saint Martin of Tours
'L'Ascension' – Gustave Dore
1879
The following art was featured in the recent exhibition – Paris 1900: the city of entertainment
'Parisian woman in the Place de la Concorde' by Jean Beraud  1890
'Nature'  — Alphonse Mucha
1899-1900
Crystalline glaze Art Nouveau vessel with lid – Sevres, Paris
Sevres vase
Sevres vase with red and yellow tulips
Or  Max Laeuger  (see comments below)
André Fernand Thesmar – Mistletoe Cup
1891
All archive photos by Roger Violett
©  Petit Palais'
See the  Petit Palais website here 
–