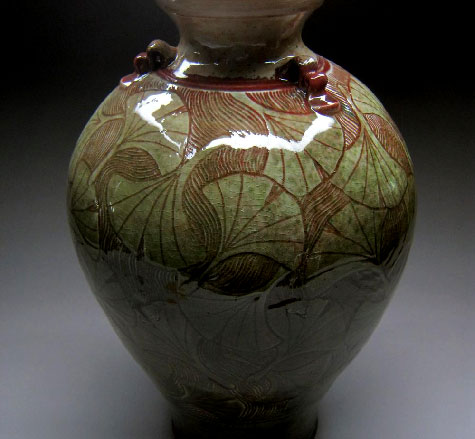 Large vase with carved ginkgo leaf-design – Michele Hastings and Jeff Brown
North Carolina is blessed with a rich pottery tradition stretching back over 100 years, with some potters being 6th generational. Producing pottery that was robust, utilitarian and wood fired with unique styles attracted buyers and collectors to this location in the past. The access to fine quality clays, the rural beauty and a vibrant community spirit attracted potters to the region. During the 70's, there was a revival of the local traditional pottery and since then there has been continual growth up until now leading to the enterprise of over 100 active potters concentrated around the main centers of Seagrove and the Catawaba River Valley along with other galleries and family studios throughout NC.
The traditional quirky face jugs, snake decor wares and stoneware functional pottery have now expanded to a wider spectrum of the pottery arts representing numerous techniques including their alkaline ash glazing, wood firing, salt glazes mixed with decorative styles influenced by pottery cultures from around the globe.
The creative talent of NC  will be on display at their premier event in Fall at Seagrove, where over 50 local potters can be easily accessed at the Annual Celebration of Seagrove Potters Festival (11th)  running from November 16-18, 2018.
This is being held at the historic  Luck's Cannery, 798 NC Hwy 705 in Seagrove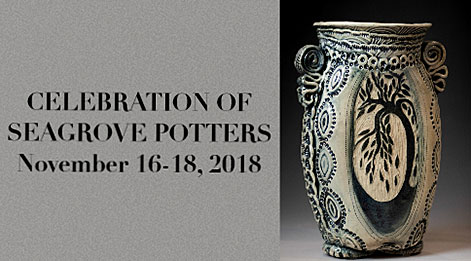 Below are some of the potters who will be present at this event and others who also have galleries and studios in the area.
Ovoid vase – Ben Owen Pottery
Gourd Vase in Spotted Blue Micro Crystal glaze  –  Ben Owen
10 inches tall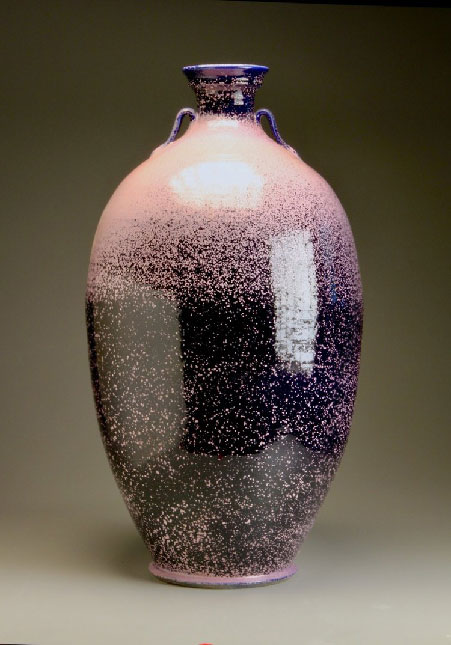 NP MiSe Vase in Nebular Purple—Ben Owen
36inches tall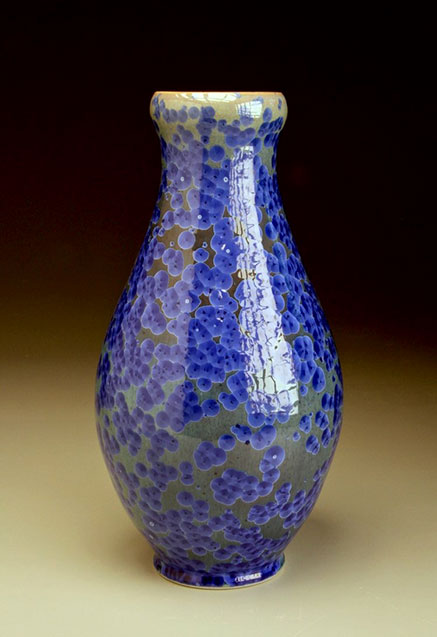 Ben Owen Gourd Vase in Blue Micro Crystal glaze
14 inches tall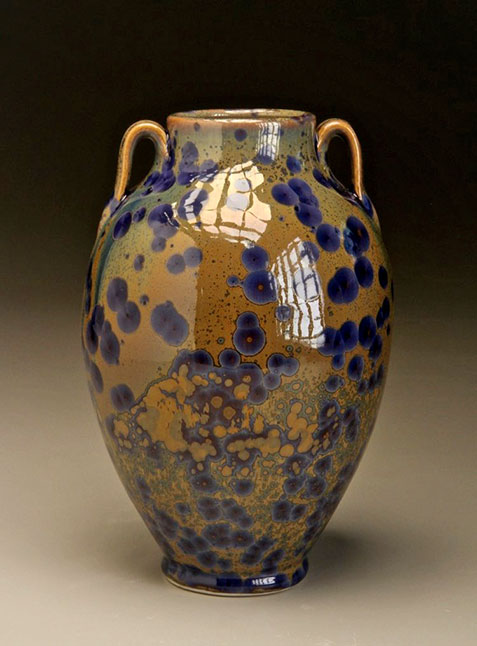 Tang Vase in Spotted Blue Micro Crystal Glaze – Ben Owen
9″ tall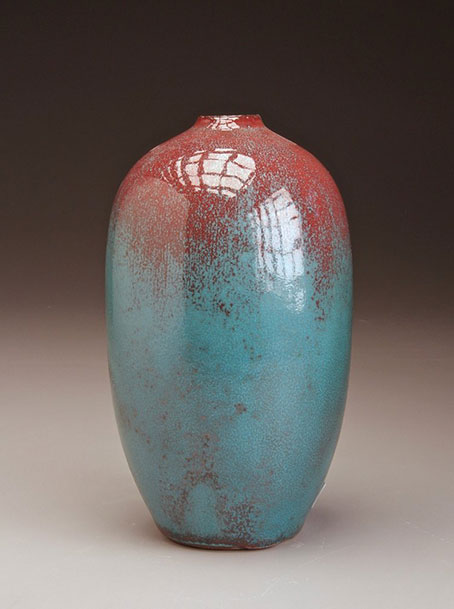 Ben Owen Pottery–CB Egg Vase in Chinese Blue
9″ tall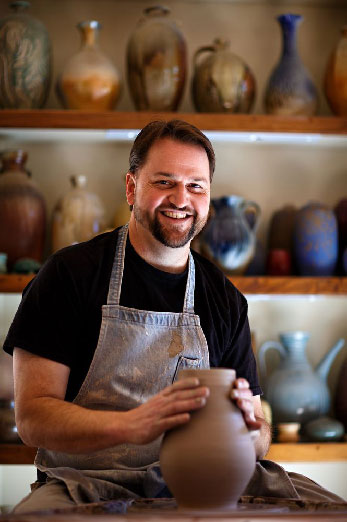 Ben Owen – 5th generation NC potter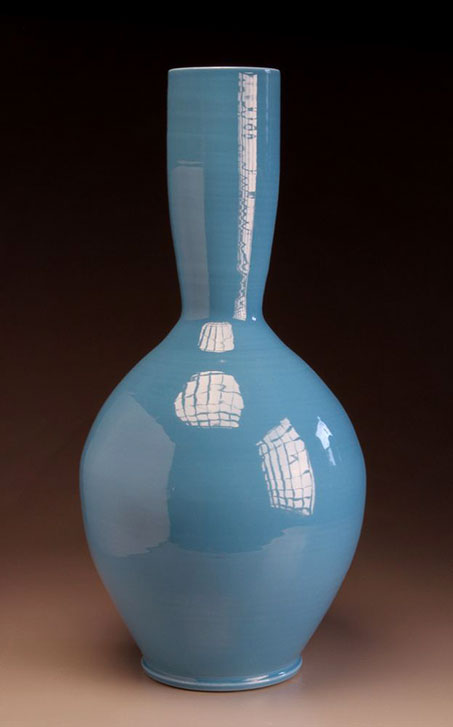 Long neck vase  —  Ben Owen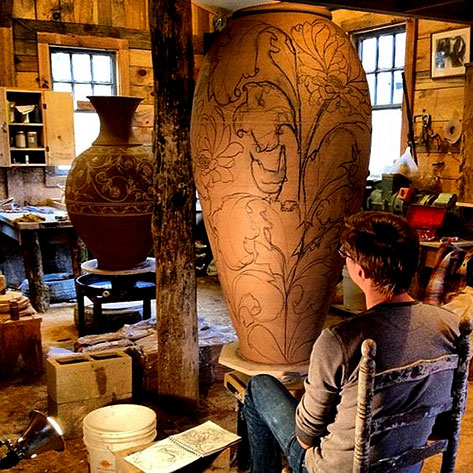 Alex, great-great-grandson of Matisse, is a potter working in wood-fired clay outside of Asheville, NC, at East Fork Pottery
Wood fired pottery mug – Alex Matisse
Pottery stall in Asherville, NC
(fab large folded vase on left)
'Bird in the Rain' –Oval Ceramic Bowl —Cathy Kiffney Studio, NC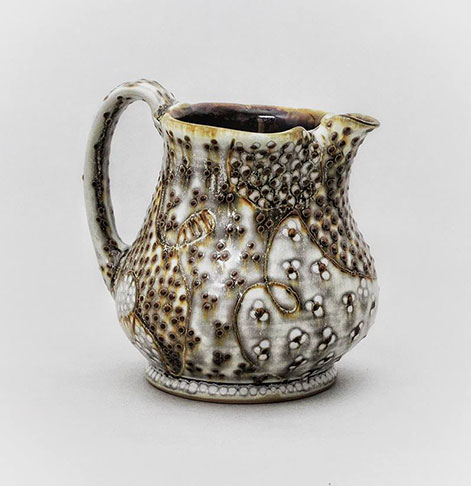 Jug with handle —  Bruce Gholson, Samantha Henneke — Bulldog Pottery,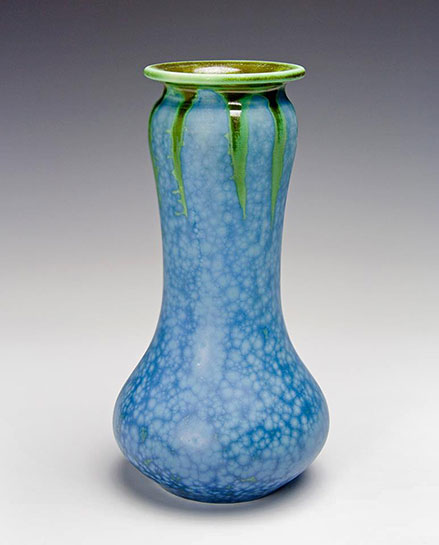 Blue hue and matte crystalline glaze with emerald rim – Bulldog Pottery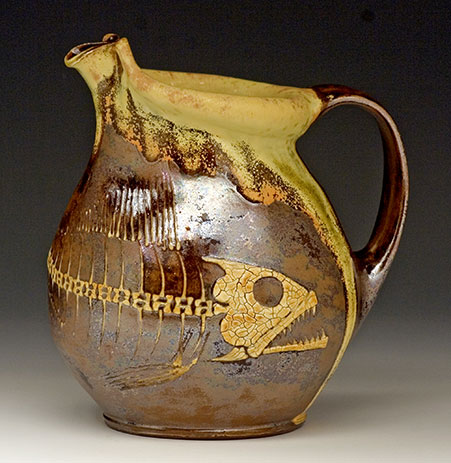 Bruce Gholson – Fossil Fish Pitcher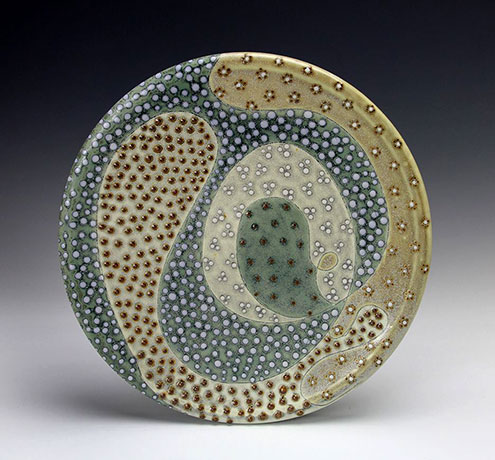 Dotted Patterns on a plate made by Samantha Henneke
Bryan Pulliam Altered Bowl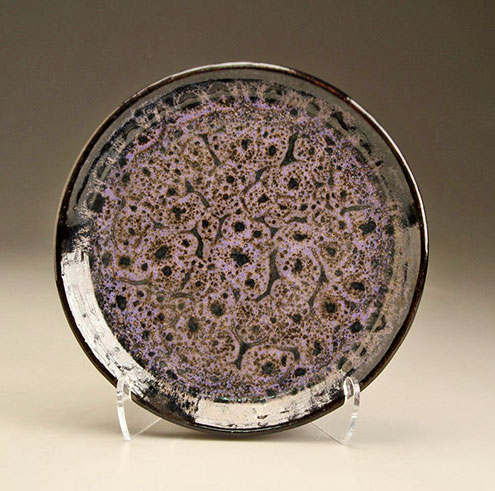 Bryan Pulliam Platter in Cosmic Purple glaze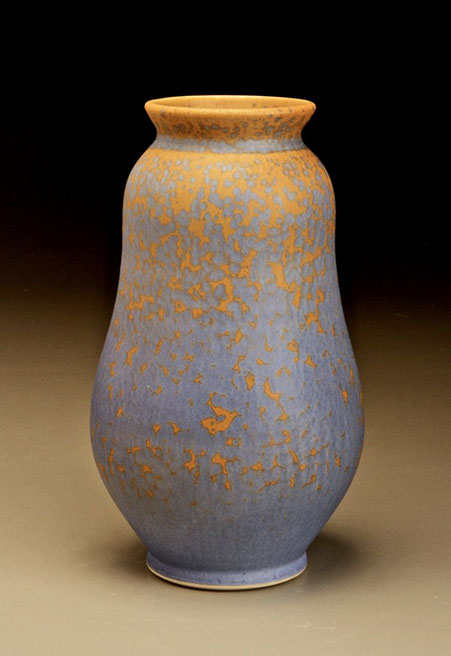 Ben Owen Gourd Flower Vase in Blue Stardust
9 inches tall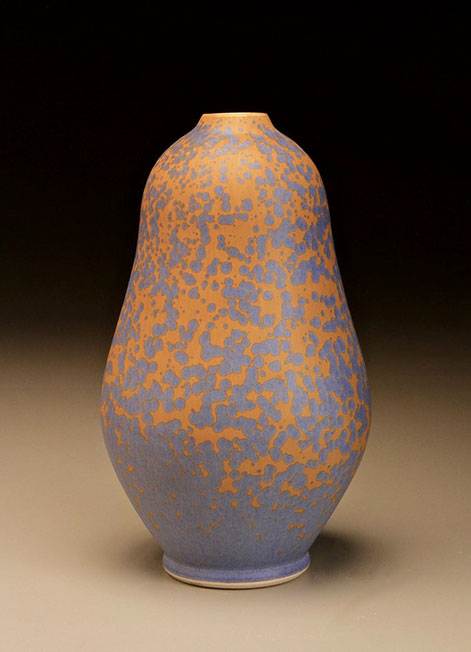 Ben Owen Gourd Flower Vase in Blue Stardust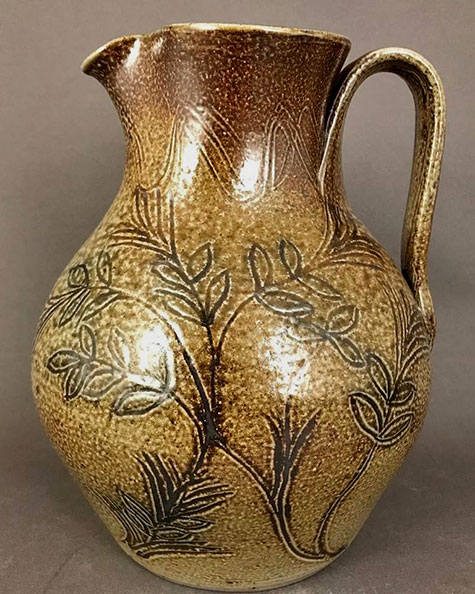 Wood Fired Salt Glaze Pitcher with Incised Decoration by Vernon Owens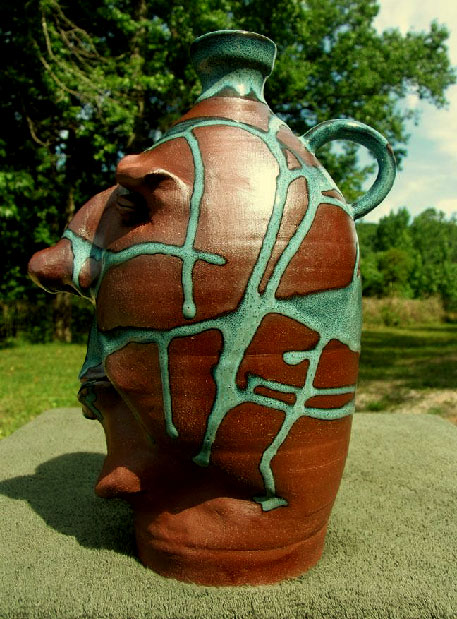 Folk art face jug – Monika Van Hine
Caldwell Hohl Artworks abstract vessel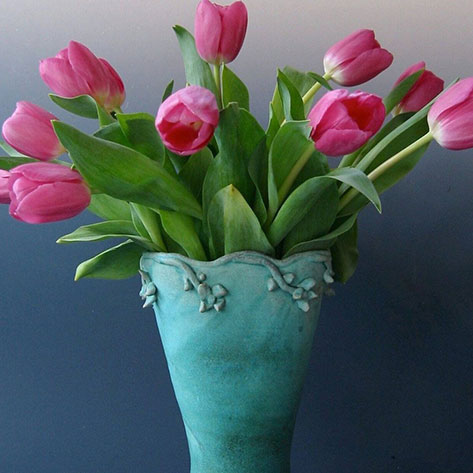 Charlene Murphy turquoise vase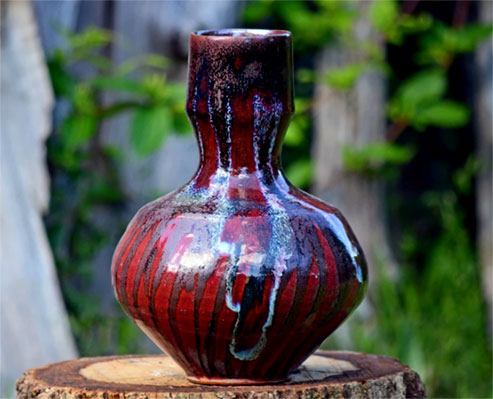 Copper Red Vase–Joseph Sand Pottery, N. Carolina
Daniel Johnson pottery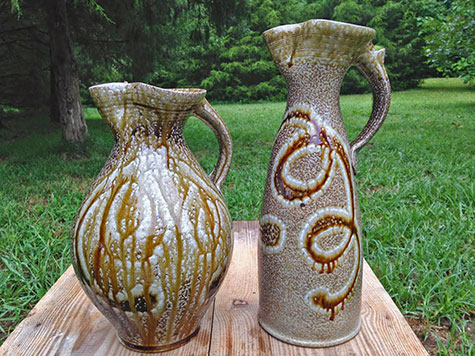 Daniel Johnson ceramic pitchers
Large pottery vessel by Daniel Johnson Pottery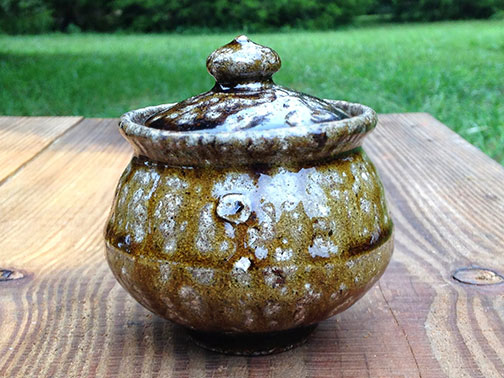 Lidded stew pot – Kate Johnson
Sgrafitto pot carving – Kate Johnson
Large urn – Daniel Johnson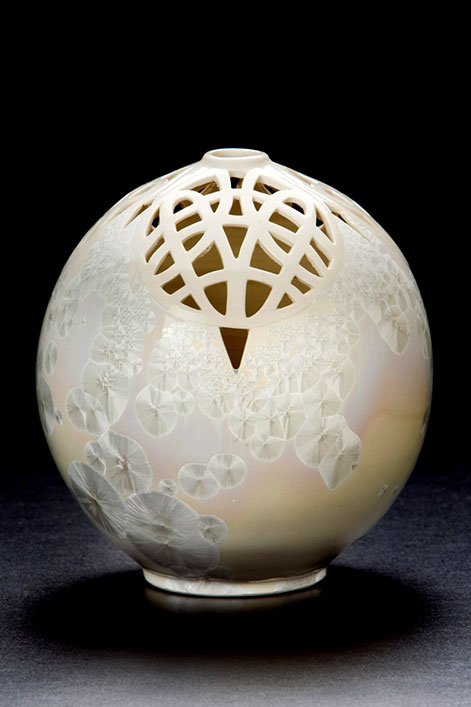 Frank Neef – 'White Globe' vessel with crystalline glaze
Elegant crystalline Vase by Frank Neef
Fred Neef vessel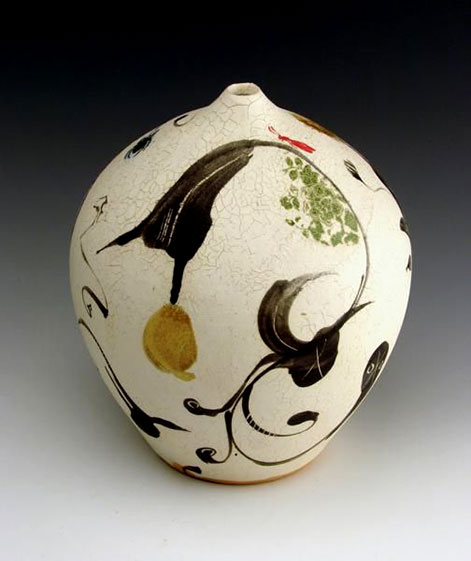 Fred Johnston ceramic vessel with bird decorations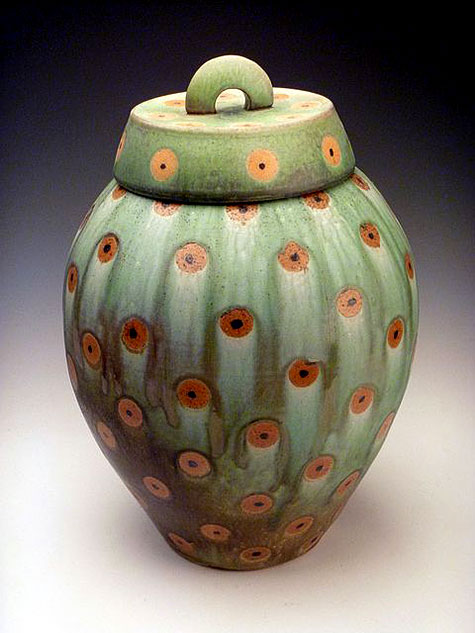 Lidded jar with Guinea Hen motif' by Fred Johnston
Johnston & Gentithes Pottery —  Three tiered lidded box form
Fred Johnson pot  —  Johnston & Gentithes Pottery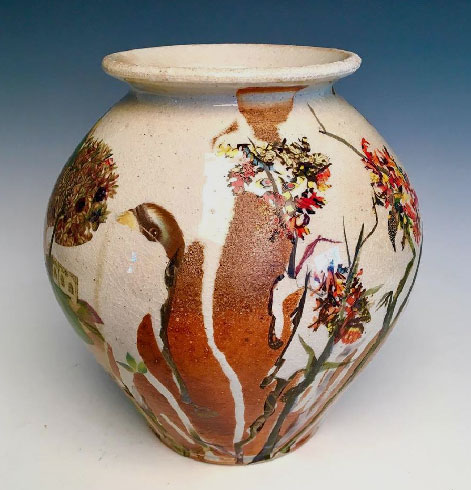 Bird and botanical decorated ceramic vessel  —  Johnston & Gentithes Pottery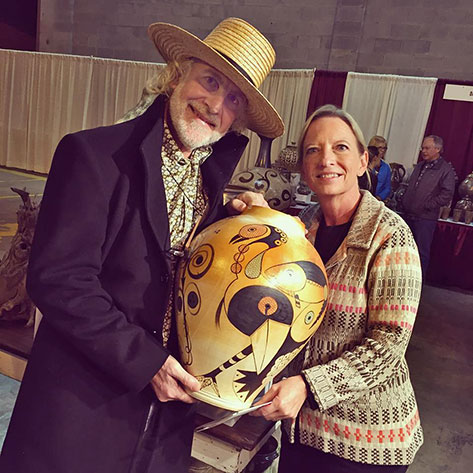 Fred Johnson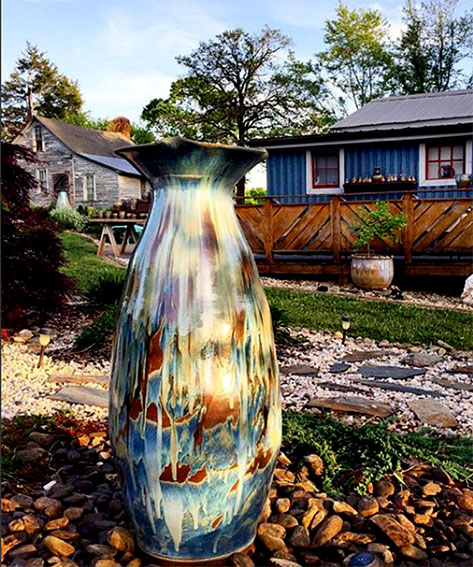 Joseph Sand vase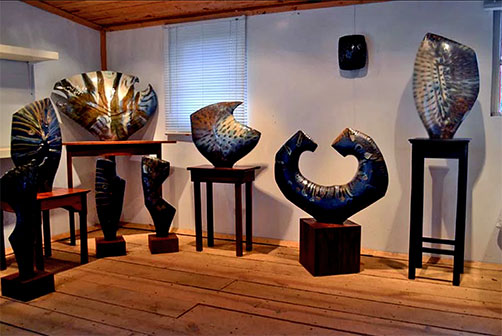 Joseph Sand Pottery – Large Slab built side fired ceramic sculptures
Waterfall glaze ceramic sculpture —  Joseph Sand POttery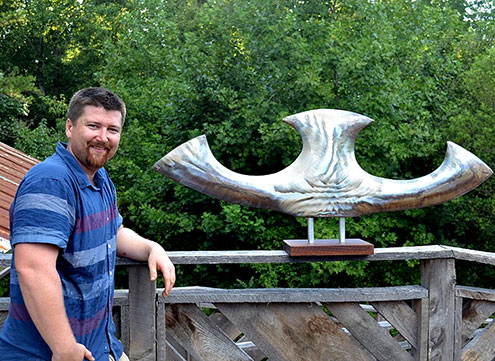 Joseph Sand  with his bold abstract sculpture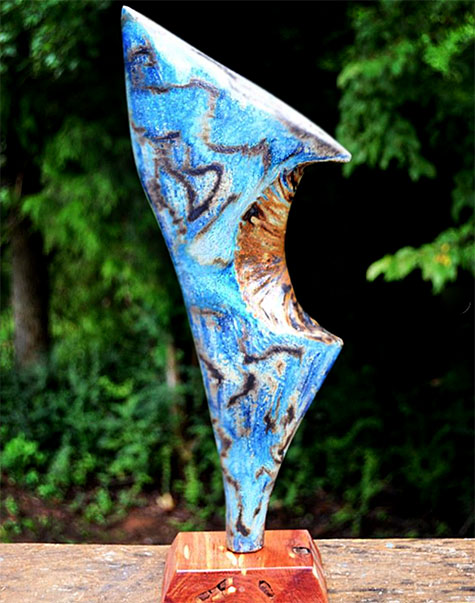 Turquoise sculpture  —  Joseph Sand
Big blue mug by Joseph Sand
Side fired ceramic sculpture — Joseph Sand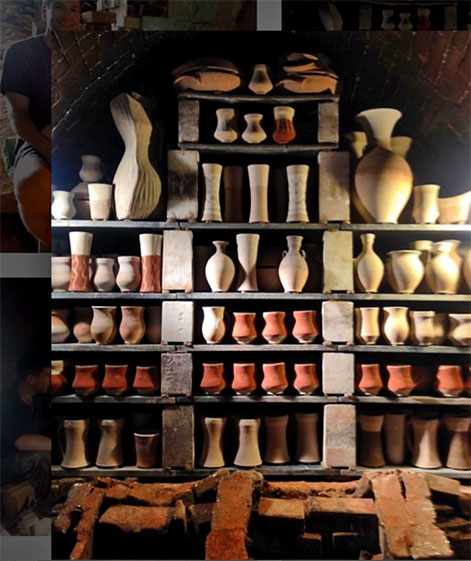 Joseph Sand loaded kiln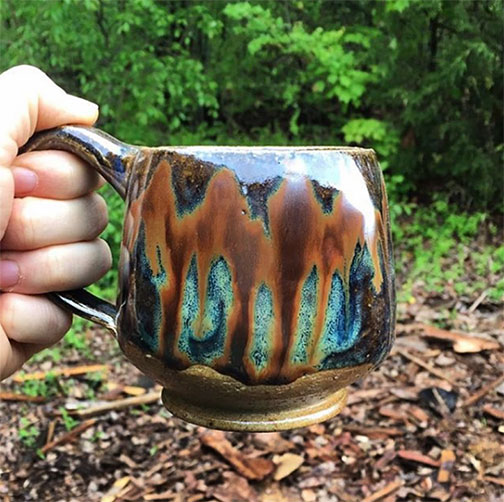 Joseph Sand ceramic mug
Joseph Sand ribbed turquoise vase
Joseph Sand outdoor ceramic sculpture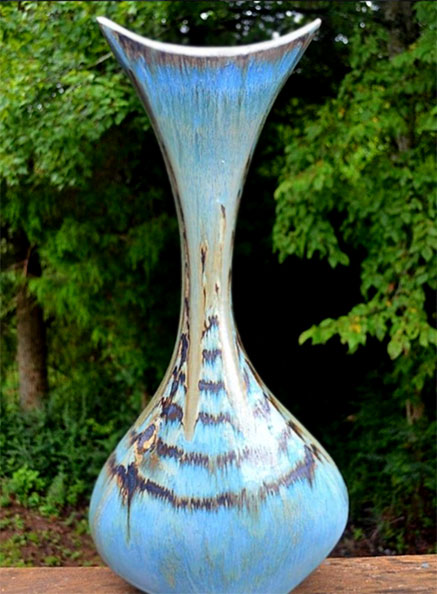 Josepth Sand drip glaze sculptural vase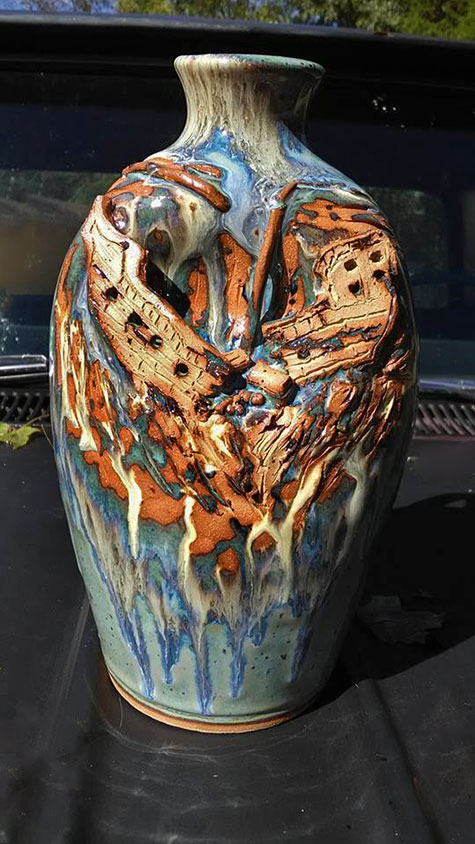 Keith Martindale Pottery vase with trompe l'oeil perspective
Keith Martindale Pottery vase with illusionist decoration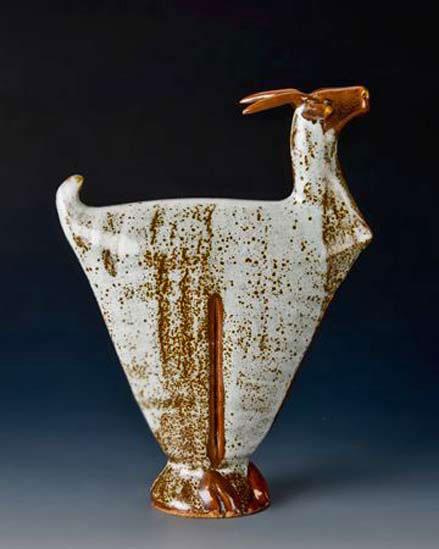 Ken Sedberry ceramic rooster, NC
Michael Kline — crackle glaze, fern leaf  platter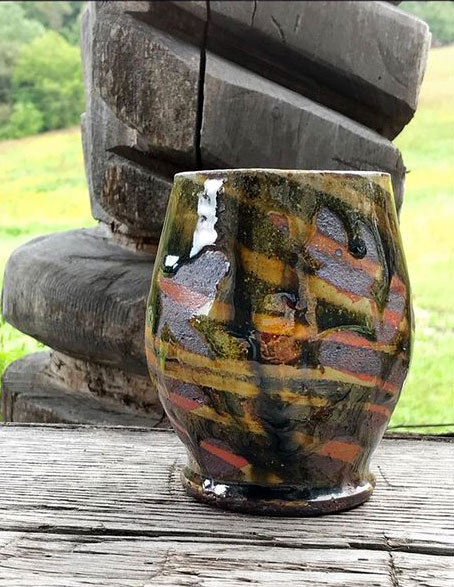 Kline Pottery–side fired footed mug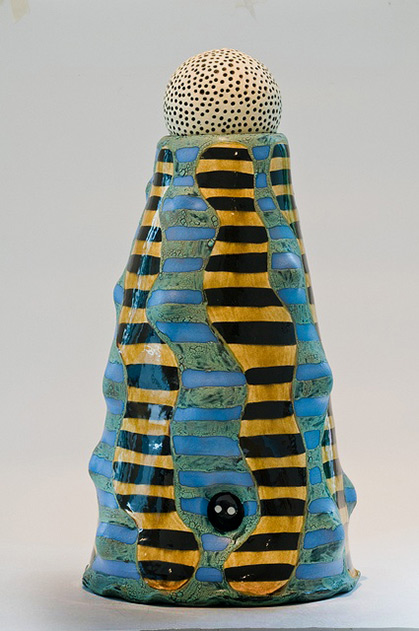 Ronan Kyle Peterson – 'Hidden Critter Hornet's Hill Jar' by Green Hill Center for NC Art
'Bottle' — hakeme slip and clear glaze, wood fired–Bandana Pottery
Schaller Gallery
Kohiki slip and clear glaze footed cup –  Bandana Pottery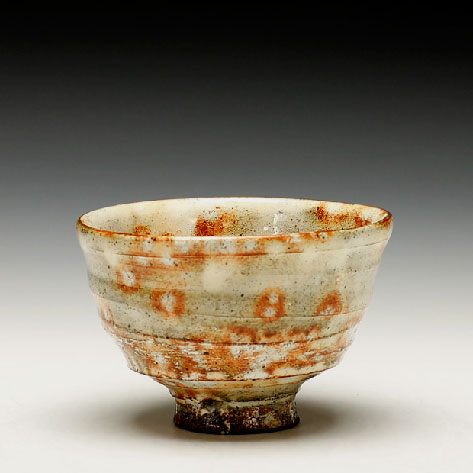 Kohiki slip and clear glaze Soup Bowl —  Bandana Pottery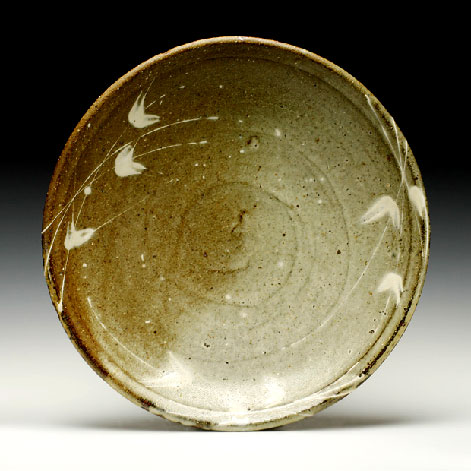 Large round platter — Wood fired stoneware with nuka glaze — Bandana Pottery
Bandana Pottery Yunomi White slip with clear and green glaze
Schaller Gallery
Bandana Pottery Yunomi Hakame slip with clear glaze
schallergaller. com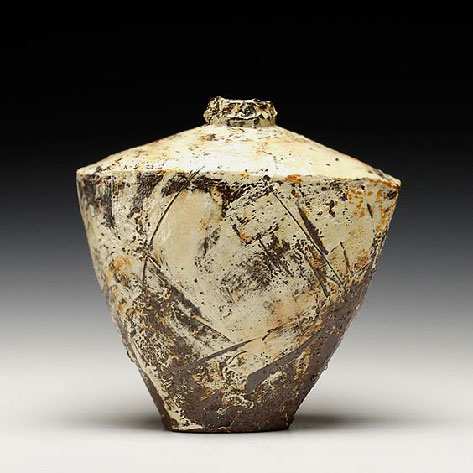 Bandana Pottery Spade Bottle Hakame slip and clear glaze
David Stuempfle  Large pottery vessels
Lori Clodfelter — footed sgraffito landscape vase
Lori Clodfelter — footed sgraffito planters
Blue and white sgraffito pitcher and tumblers — Lori Clodfelter
Lori Clodfelter — sgrafitto planter and lidded jar
Sgraffito lidded jar  —  Lori Clodfelter
Petite red glaze tea pot — Lufkin Pottery
Large-tree-vase with handles –Michael Mahan —  'From The Ground Up' pottery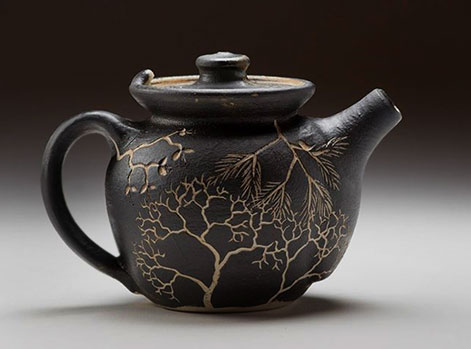 From the Ground Up ceramic tea pot– Michael Mahan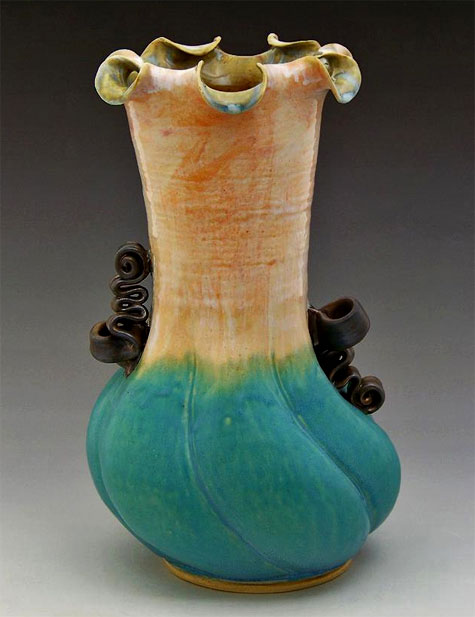 Pottery vase  —  Maggie Jones Turtle Island Pottery, NC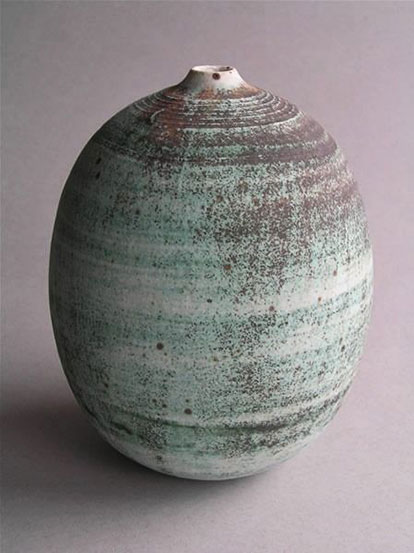 Matthew Bayman ovoid pot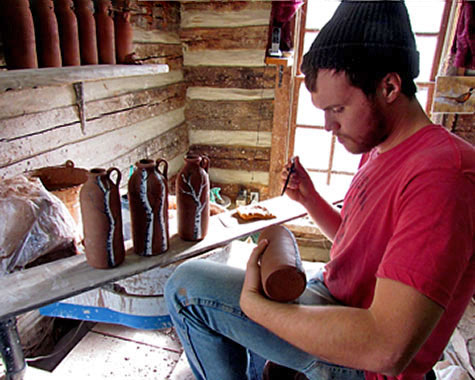 Levi Working at Michael Mahan studio, Seagrove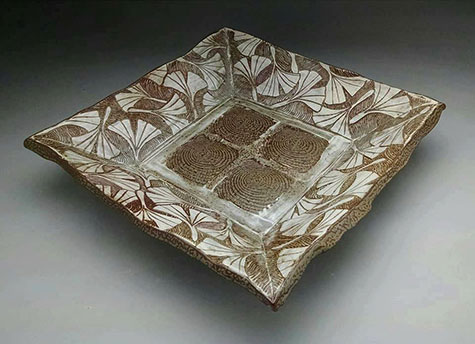 Michèle Hastings, Phillip Pollet and Jeff Brown ceramic platter
North Carolina Pottery Tulip Vase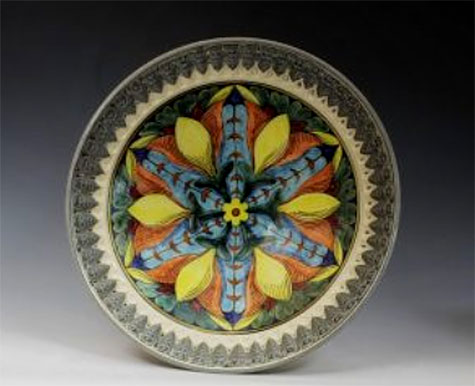 Platter by Zeke Mccanless & Eck Mccanless
Small Red Raku Bottle Form — Darrin Darazsdi
Turquoise Splash Raku Vase — Darrin Darazsdi
Sculpture By Erin Younge & Anne Partna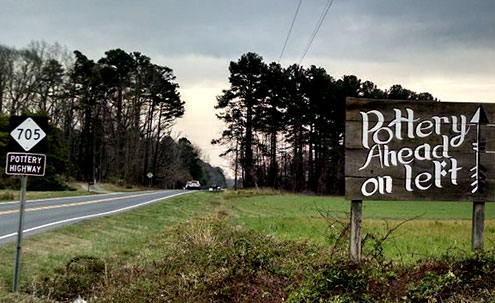 Seagrove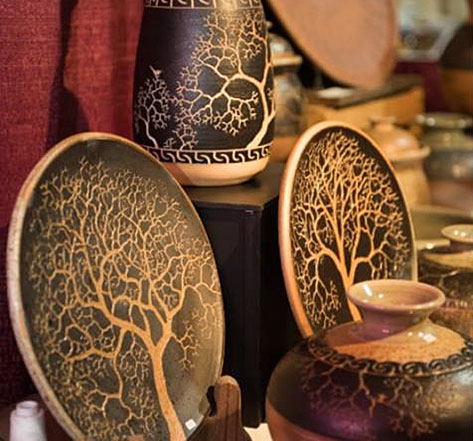 Smith Pottery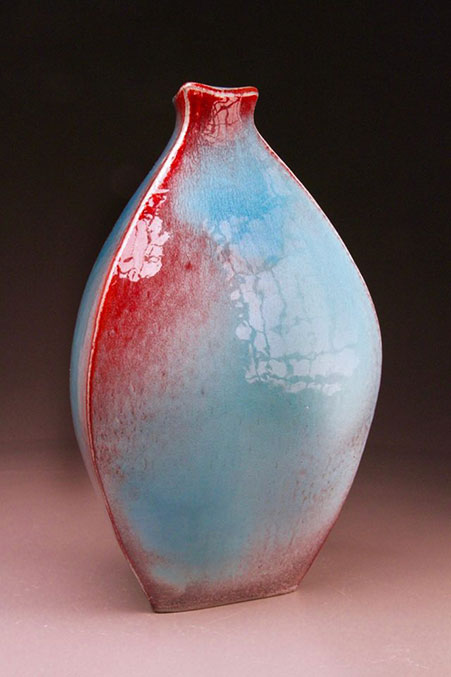 Takuro Shibata and Ben Owen III, Ben Owen Pottery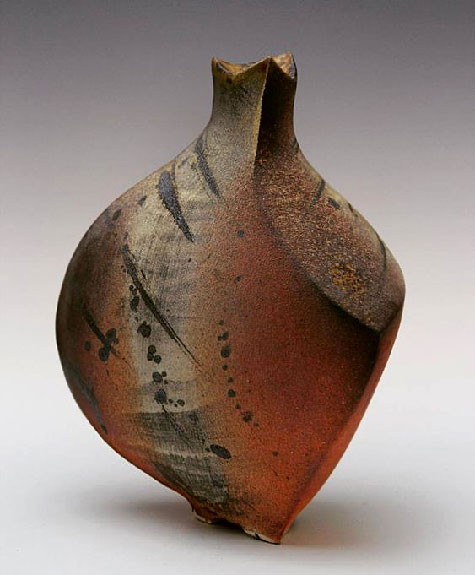 Takuro Shibata–-raku ceramic vessel
Windsong Pottery—rainbow glaze vase with twin handles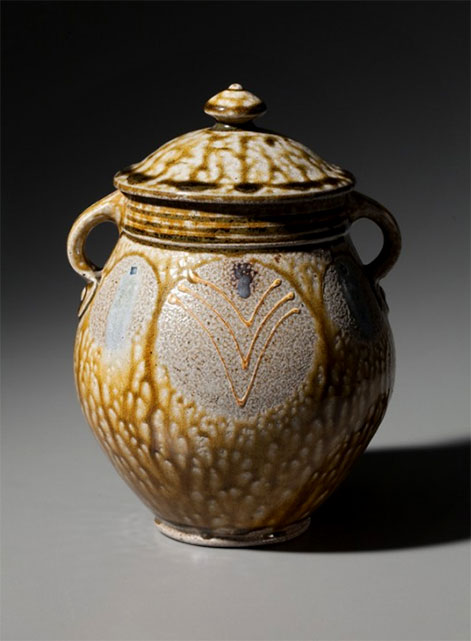 Mark Hewitt large lidded pottery jar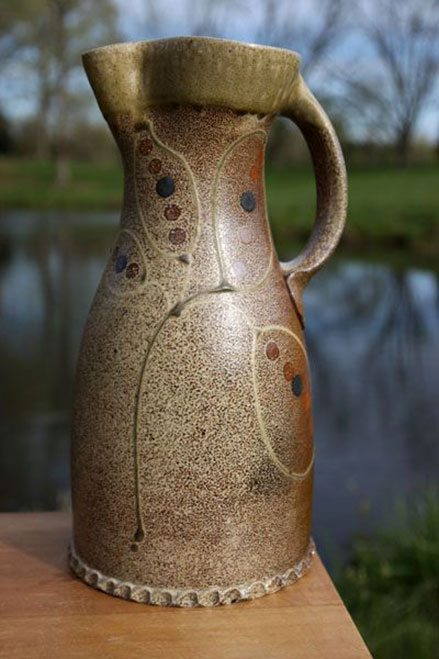 Large pitcher – Mark Hewitt
Mark Hewitt ovoid vessel with mottled texture surface, 2018
photo by Jason Dowdle Craft Photographer
'Shadow' — Ceramic floral ornament — Michael Sherill
Heron Wall Hanging — Smith Pottery
–