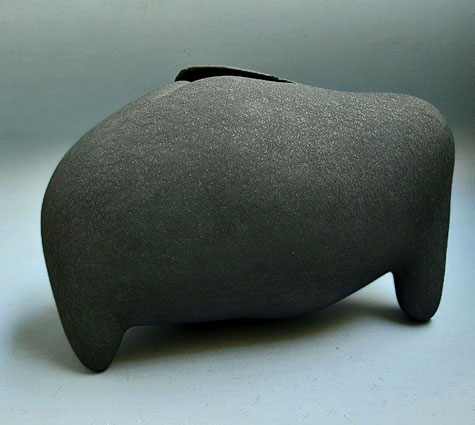 Takiguchi Kazuo ceramic sculpture
The concept of aesthetics in Japan is seen as an integral part of daily life, especially since the dominant religion of Shinto is a celebration of the innate beauty of landscapes and emphasizes the wholeness of nature. Shin is related to kami which includes the 'essence' of the inanimate and animate, including rocks, rivers, trees, animals and people.
The inclusion of Tao and Zen Buddhist philosophies into Shinto contributed to an understanding of the subtle balance that permeates nature and its appreciation became fundamental to the aesthetic ideals of the 'arts' and other cultural elements. According to the Japanese philosopher Kitaro Nishida, the essence of Oriental wisdom is driven by fact that one craves for harmony in experience and also for unity. Much of what the West admires in Japanese art today can be traced to Zen influences on Japanese architecture, poetry, ceramics, painting, calligraphy, cuisine, gardening, the tea ceremony, flower arrangement, and other crafts.
This was expressed in the Japanese arts, for example in calligraphy, where the brush line became sweeping and fluid — spontaneous rather than predictable, irregular rather than regular. In landscape painting, emptiness became a crucial ingredient and space itself was brought to life with a few strokes of the brush. Japanese haiku ( poetry) embraced silence and simplicity to evoke mood and sensation while Ikebana flower arrangement achieved beauty with a solitary spray of blossoms and emphasis on space instead of a complex arrangement and combination of colours favored by Western floral artists.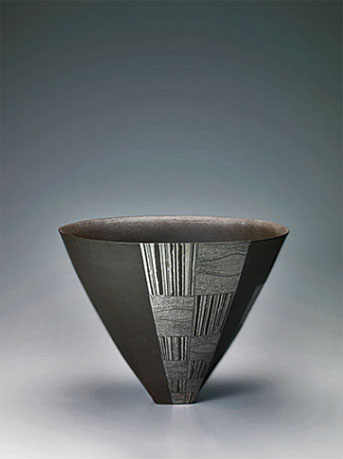 Yukiko Asakura flower vessel
The aesthetic concept of Shibui originated around 1370 and was used to describe an appearance or experience of intrinsically fine quality, tempered with economy of form, line, and effort, that created a timeless tranquility. Shibui objects appear to be simple overall but they include subtle details, such as textural design that balances simplicity with complexity. This is one instance among many where Shibusa treads a fine line between contrasting aesthetic elements, such as elegant and rough, a distressed uneven finish with smooth or spontaneous and restrained. The polarities all allude to the presence of the Taoist/Zen middle path, with its inherent stillness, detachment and serenity. Quietude represents one of the elements of Shibui along with the dynamic of moving towards non-dualism and the resolution of opposites. Shibui, represents a recognition or 'felt sense' of evolving perfection that is reinforced by the presence of opposites. Japanese potters, musicians, painters, bonsai and other artists often aspire to integrate 'Shibui-like' qualities into their art.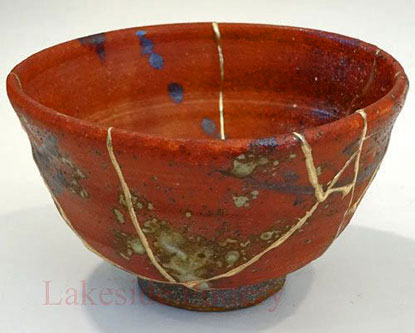 Kintsukuroi bowl
Wabi Sabi also contains the aesthetic of evolution of perfection where imperfections are accepted for the potential dynamic of still having to attain completeness. Kintsukuroi, the use of gold to repair broken pottery, is a recognition of this feature. Weathered, aged pieces contain the dynamic of new turning old, that evokes wabi sabi, as do irregular shaped pieces, possessing the potency of attaining symmetry.
Another aesthetic concept is Ensō, which means "circle". It symbolizes the Absolute, enlightenment, strength, the Universe, and the Void. Some Zen Buddhist calligraphists believe that the character of the artist is fully exposed in how she or he draws an ensō.. Some artists will practice drawing an ensō daily, as a kind of spiritual exercise.
Gazing upon a horizon after a boat has sailed from view is used to describe the subtle aesthetic principal of "yugen" where the visual is more hidden than overt. Circumstances and objects that provoke the imagination and the subtle can be connected to yugen. A deep awareness of an elegant and profound beauty is associated with yugen and what is distinctive about Zen aestheticism is its emphasis on enlightenment through contemplation of beauty in nature and art.
Simplicity, balance and refined elegance in Japanese art acts as a metaphor for the depth and beauty inherent in the natural surroundings. Even the Samurai recognized the disciplines and sense of balance exhibited in the arts and emulated some of their principals, which is why it is known as martial 'arts'. Japanese art is deeply established in the traditions and lifestyle of Japan and the strength and structure of their culture will ensure it future longevity. Of all the artistic disciplines in Japan, the ceramics arts is probably the most elevated, having an important role in the presentation of their cuisines , ikebana floral displays, tea ceremony and interior decor.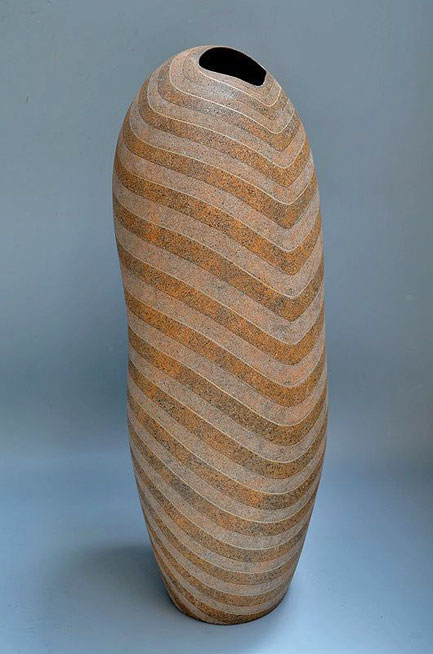 Contemporary vase – Usui Kazunari
20″ tall
Sold by Modern Japanese Ceramics, Kyoto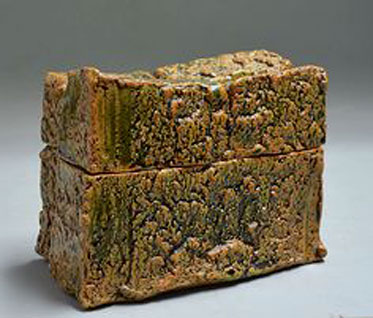 Oribe Koro Incense Burner — Kato Kuniya
Kato Toyohisa purple shino vase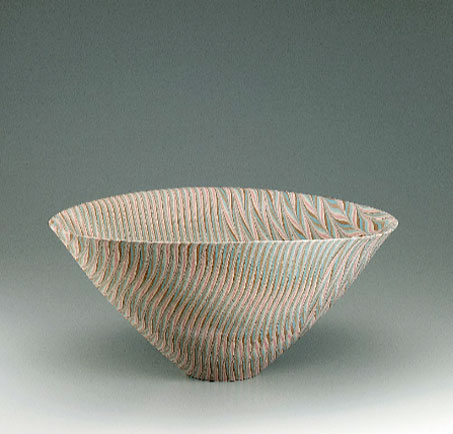 Ceramic bowl – Zogan decoration – Matumura Matumura
'Zogan' (damascening or inlaying) technique, is carving into the surface of the pottery, then inlaying clay of other colors into the carved-out areas to make a design. After inlaying the clay, a glaze is applied and then it's ghost-fired.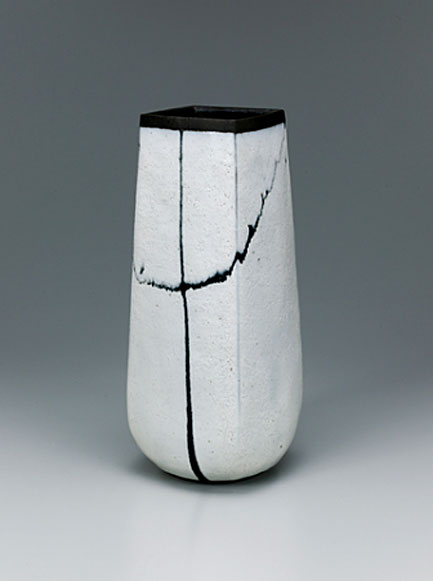 Ryo Suzuki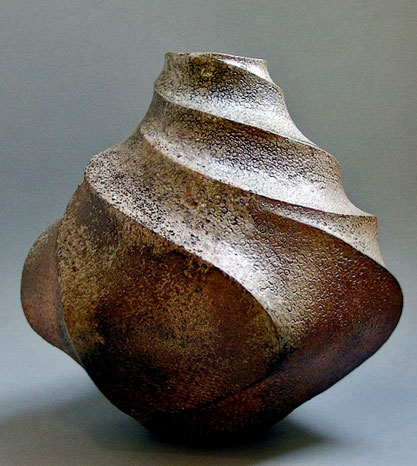 Tokoname Tsubo Vase – Konishi Yohei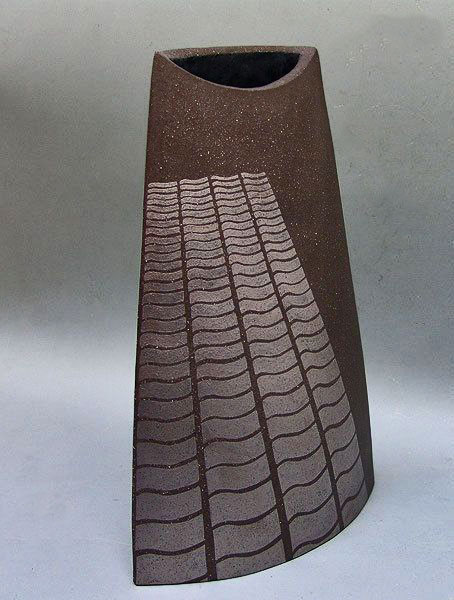 Contemporary vase – Hiraga Taeko A
Slab molded bottle with clear celadon gosu underglaze – Kawai Kanjiro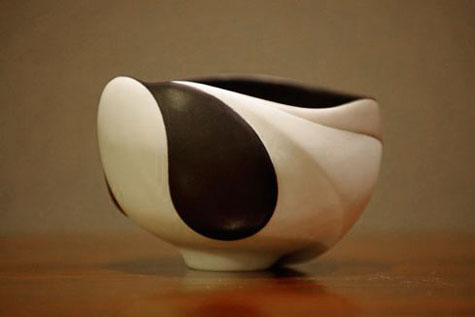 Footed black and white bowl – Yuri Takemura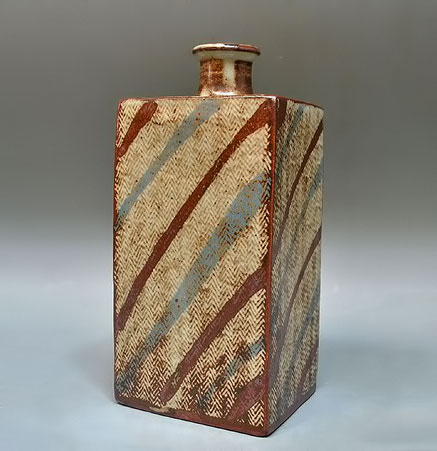 Mashiko Bottle Vase — Shimaoka Tatsuzo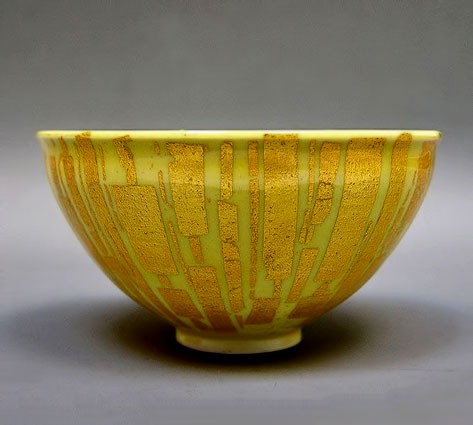 Chawan Tea Bowl by Ono Hakuko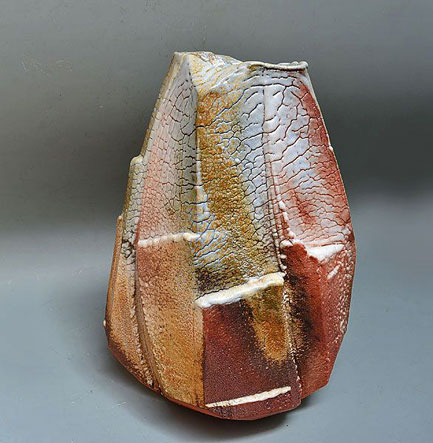 Faceted shino vase – Hayashi Shotaro – White Shino glaze clings like ice and thick snow to the crenellated precipices of this sculptural vase.
height 15 inches
Modern Japanese Ceramics Gallery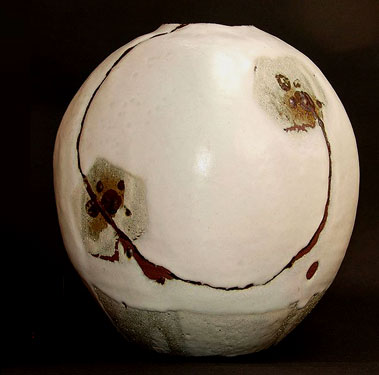 Shimizu Yasutaka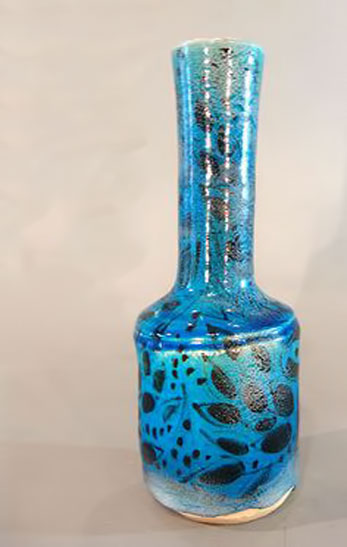 Tato Takuo vase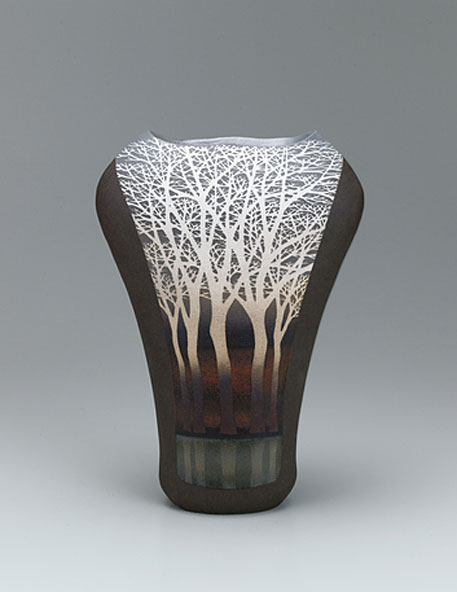 Vase with white tree zogan inlay design – Moriyoshi Saeki
The zogan (damascening or inlaying) technique, is where the surface of the pottery is carved, and then clay of other colors is inlaid into the carved-out areas to make a design. After inlaying the clay, a glaze is applied the it is ghost fired.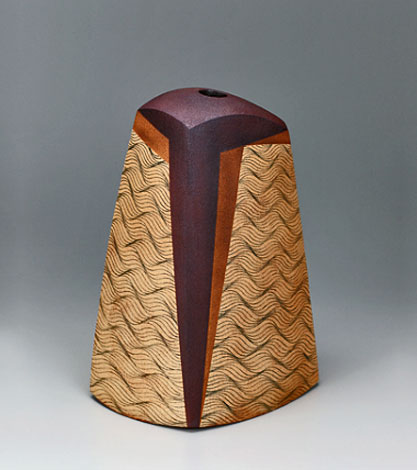 Contemporary Japanese vase – Atsuyuki Ueda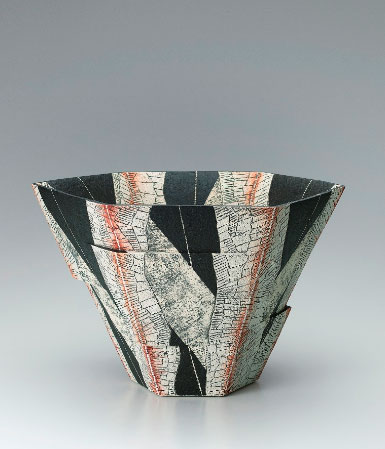 Hayato Sawada faceted vessel
Gallery Japan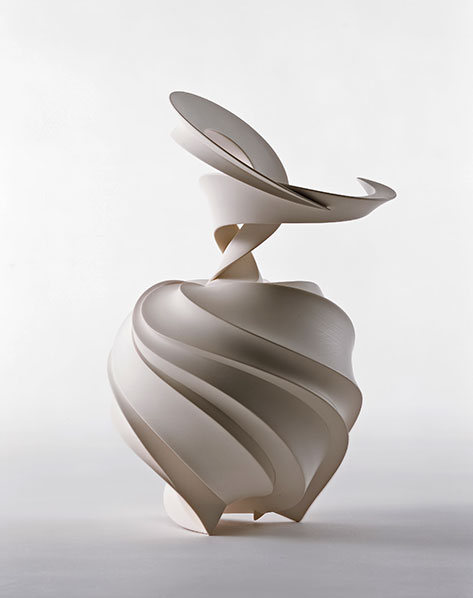 Porcelain lidded vessel – Takashi Ikura
21st Century Museum of Contemporary Art, Kanazawa
Photo: SAIKI Taku
Contemporary ceramic vessel – Ki Kakuseki
japanpotterynet.com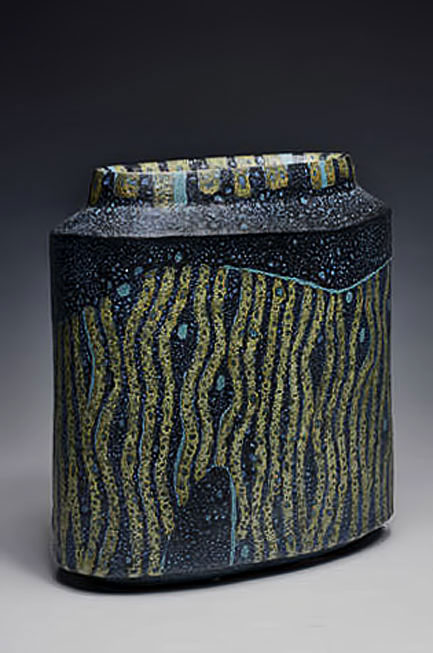 Morino Taimei
William Bayer Collection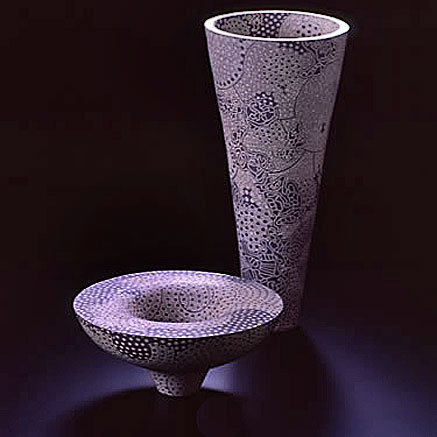 Junko Kitamura
Ceramic Arts and Perception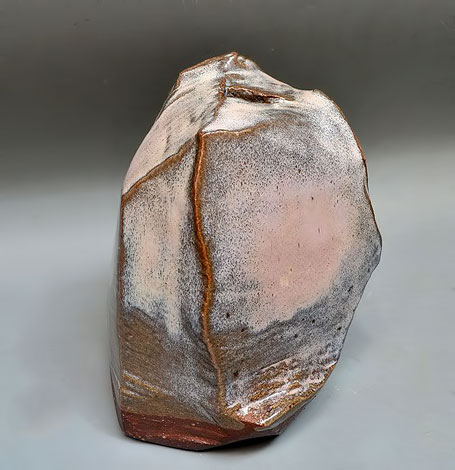 Kaneta Masanao
Kakurezaki Ryuichi – Mimitsuki fresh water container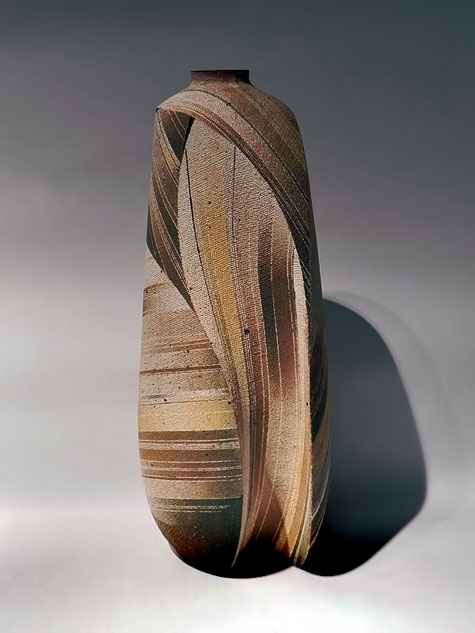 Kato Ichiro Exhibition — Kaki Tsuto gallery
Kawamoto Taro sculptural vase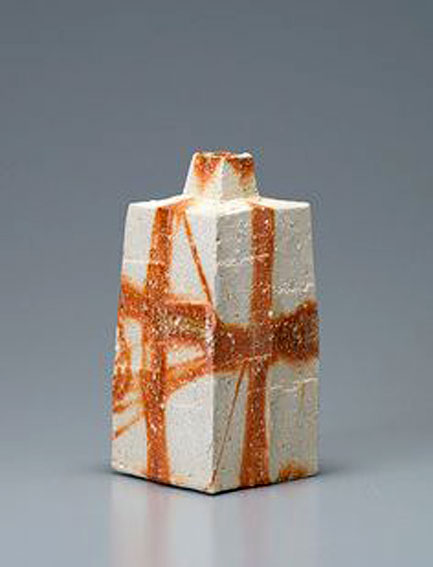 Ken Matsuzaki, Square vase, hidasuki technique.
Bizen stoneware, has the characteristic reddish hidasuki or "fire-marked" pattern. Bizen stoneware is produced from a unique clay that can only be mined from the Bizen area of Okayama Prefecture, Japan. The clay has an unusually high Fe content compared with the traditional porcelain clay and prior to firing, the Bizen works are wrapped in rice straw that was used originally as a separator to prevent adhesion. The hidasuki pattern only appears where the rice straw has been in direct contact with the clay and potassium from the straw is thought to be the catalyst.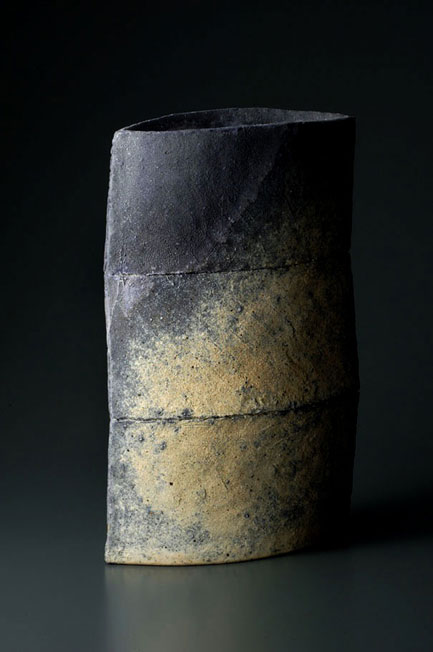 Ken Mihara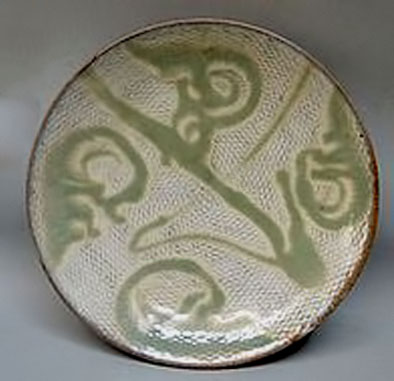 Shimaoka Tatsuzo jomon platter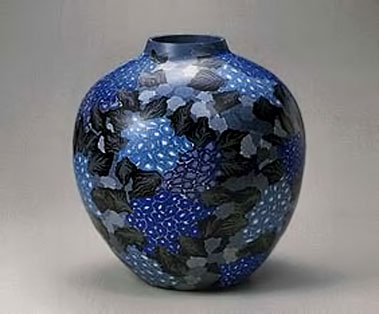 Marbled jar – hydrangea design – Matsui Kosei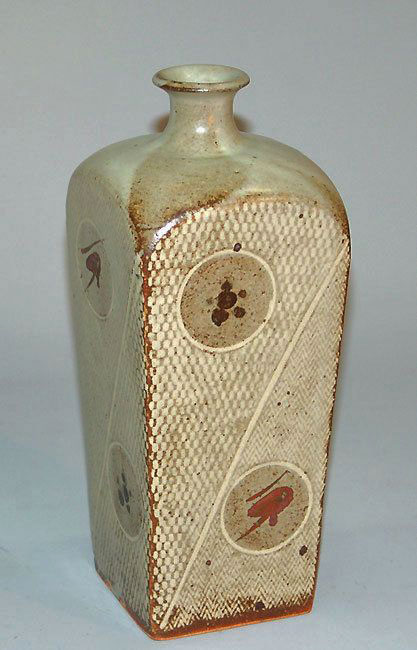 Large Mashiko vase – Shimaoka Tatsuzo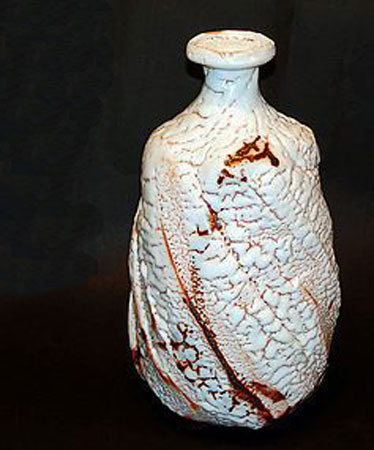 Large white Shino Tsubo by Hayashi Shotaro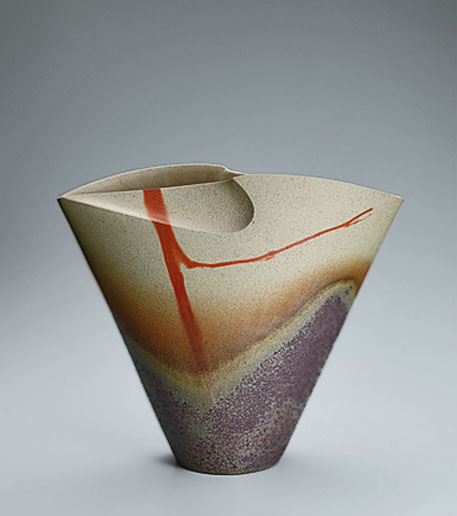 Bizen vase with fire marks and kiln mutation effect – Kazuya Hashimoto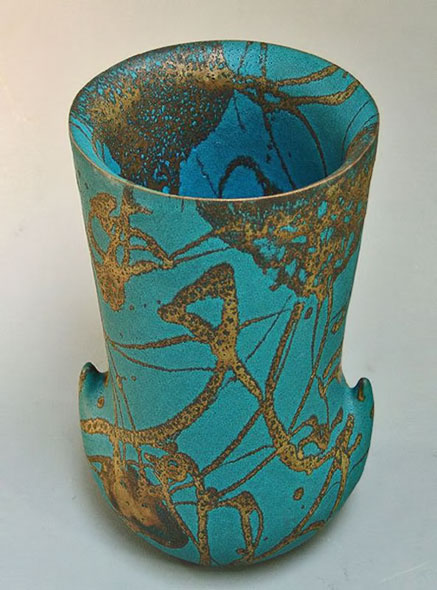 Large turquoise and gold sculptural vessel by Morino Taimei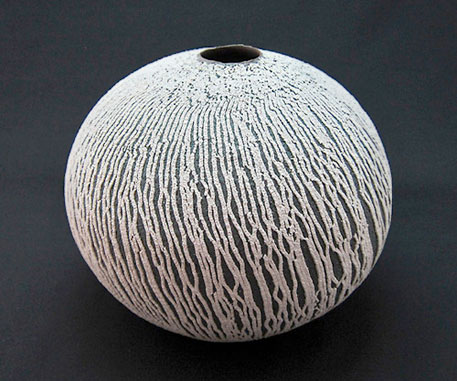 Mitsui Kosei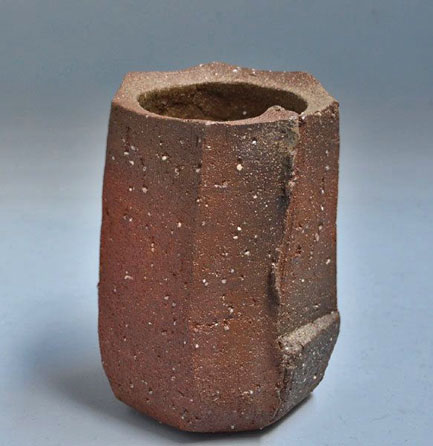 Mentori Shigaraki Vase by Koyama Yasuhisa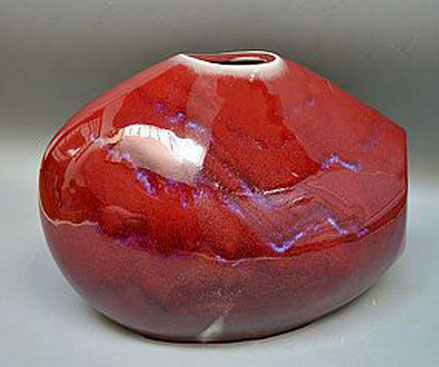 Yamazaki Akira
Faceted bowl with Iroe decoration in engraving  overglaze enamel  gold and silver. Hokuto Ito
'Iroe'
Iroe (literally color painting in Japanese) is a technique in which a transparent glaze is applied and the piece glost-fired, then paint is applied over the glaze and the piece is fired again at a low temperature of approximately 800 degrees Celsius. It is also called uwae, or over-painting. The paint used in traditional iroe is known as wa-enogu (Japanese-style paint), and color choices include red, blue, yellow, green and purple. It is also possible to use yo-enogu (Western-style paint).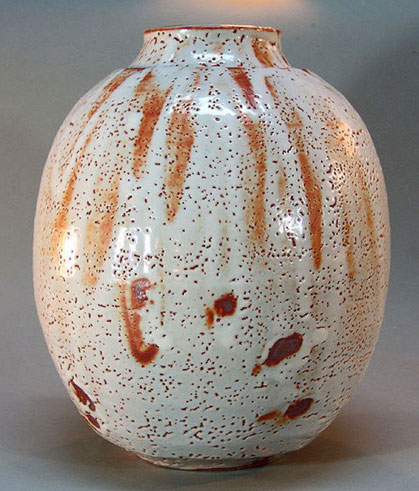 Ando Hidetake ovoid vase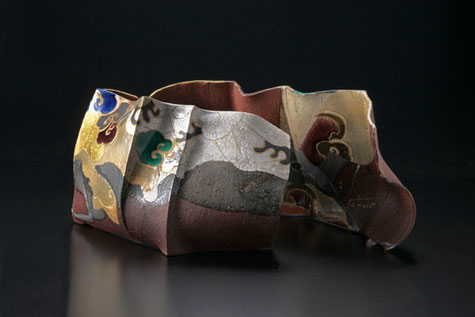 'Dragon Cloud' – Two piece kutani stoneware sculpture – Nakamura Takuo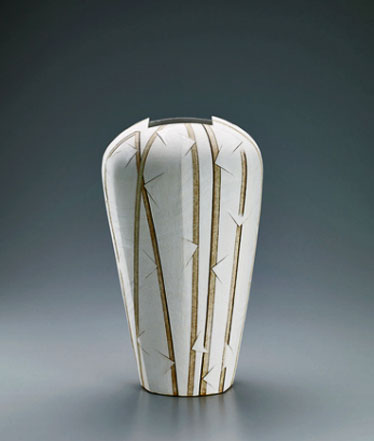 Jar of irregular shape with colored slip decoration – Ryuji Miyahara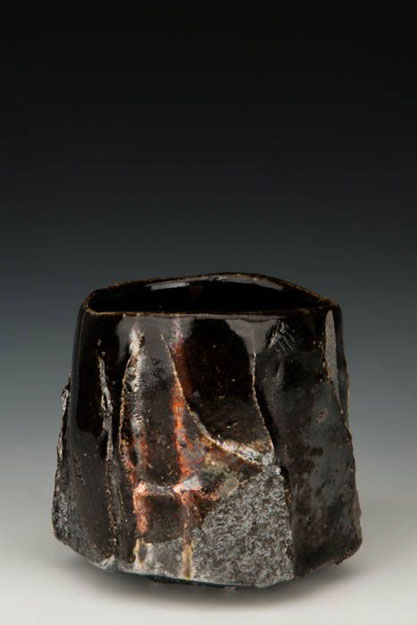 Akira Satake – ceramic cup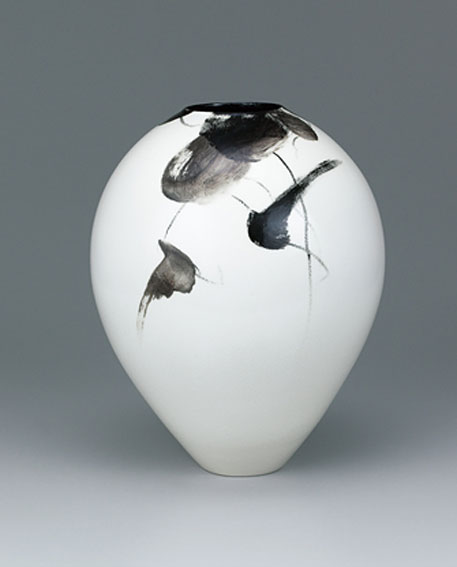 Bird decoration vase –  Kazu Yoneda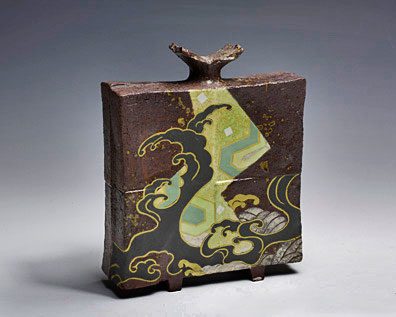 Nakamura Takuo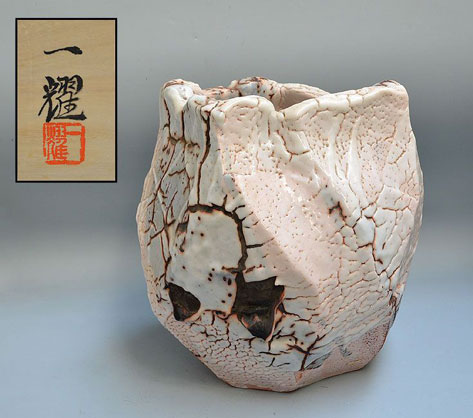 Nakashima Ichiyo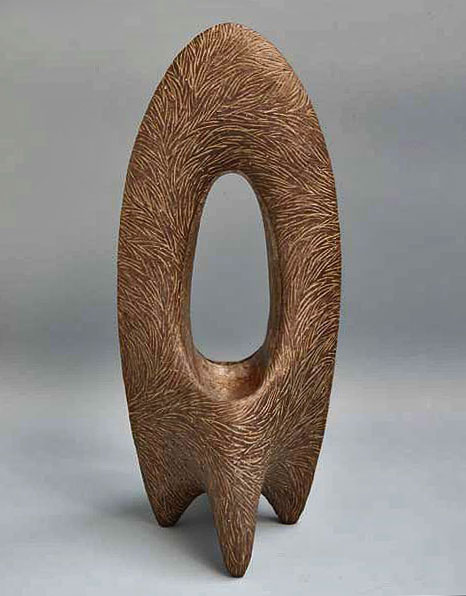 Okumura Hiromi – sculptural ceramic form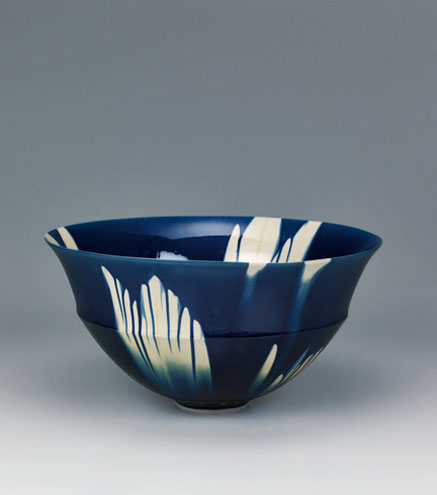 '1307' indigo bowl—Kiyokazu Kato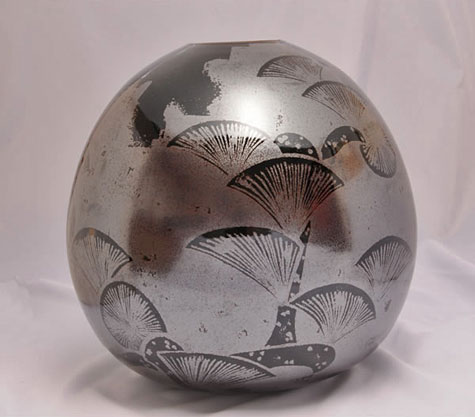 Porcelain Tenmoku Jar  — Taku Nonaka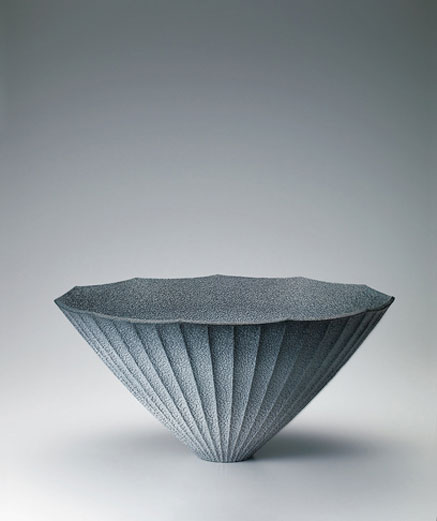 Elegant blue shino vase -Hiroshi Sakai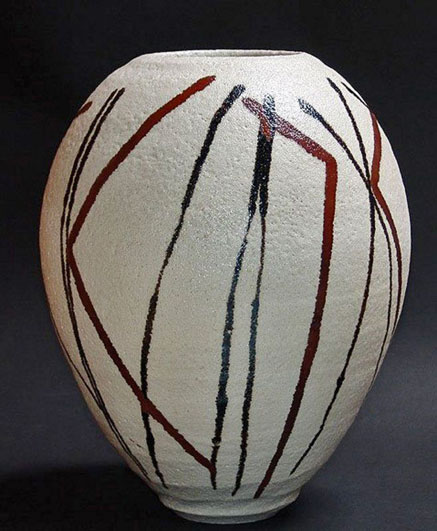 Huge pottery vessel, mottled surface – Shimizu Uich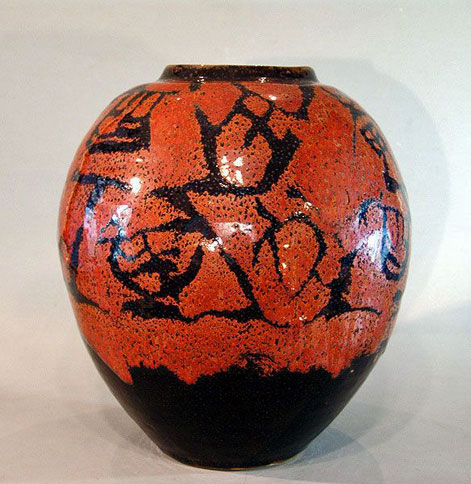 Shimizu Yasutaka tsubo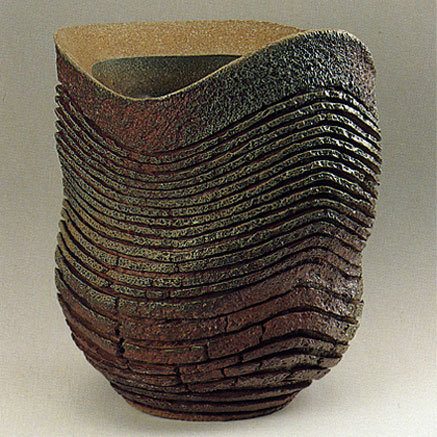 Tsumiage Kaki (Flower Vase) – Yamamoto Izuru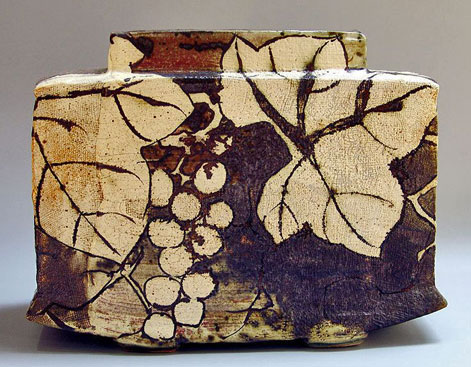 Miyake Yoji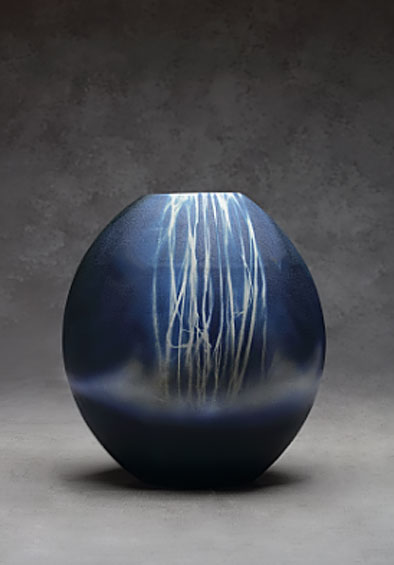 Kazuhide Uchida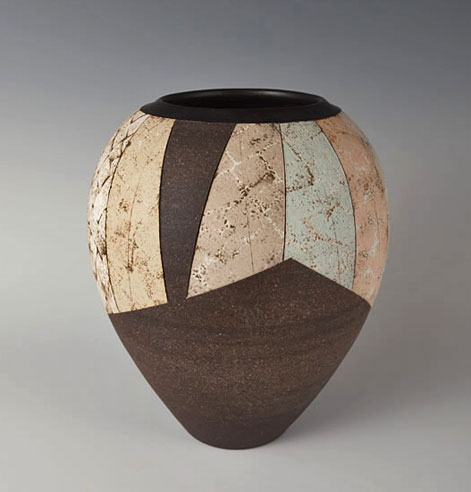 Sadeiji tsubo – Hiroshi Kikuchi
japanpotterynet.com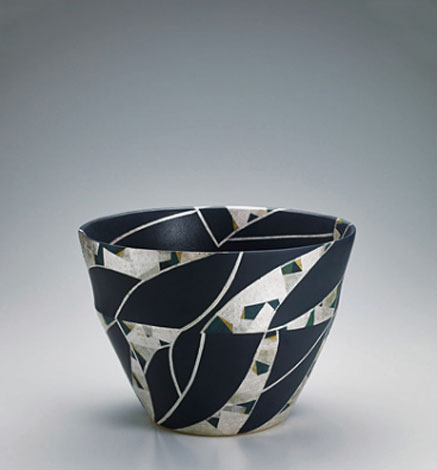 'Flowing shadow' – Yoshie Kitahama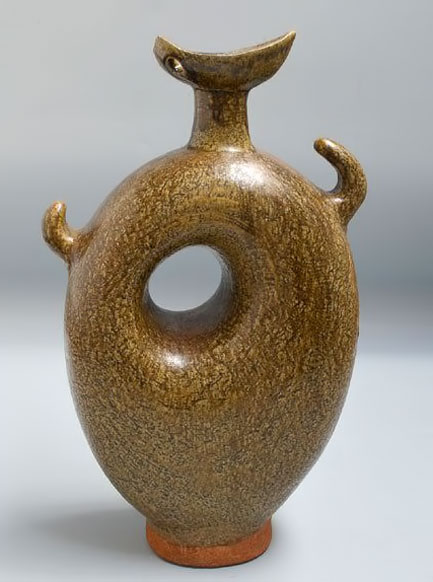 Vintage vessel – Takiguchi Kazen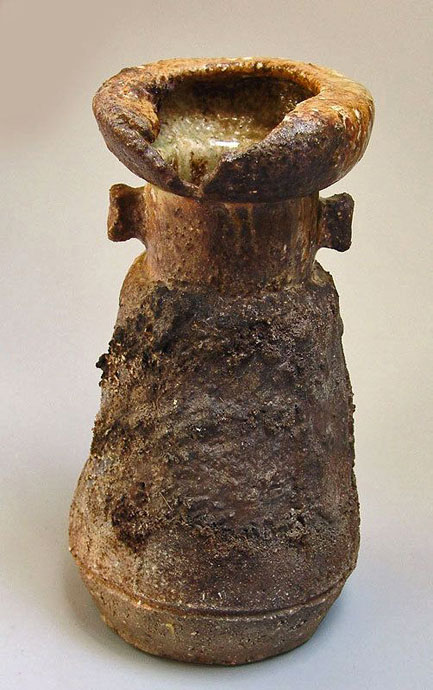 Wood fired vase – Tani Seiuemon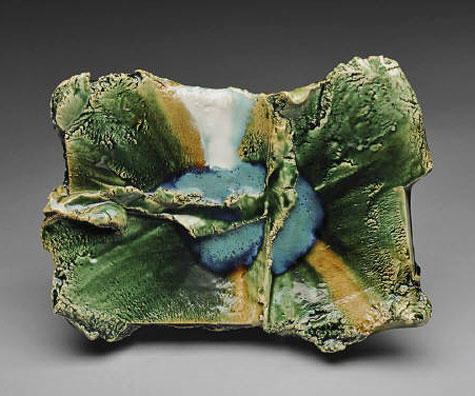 Oribe Plate – Shigemasa Higashida
Shigaraki Vase by Ueda Mitsuharu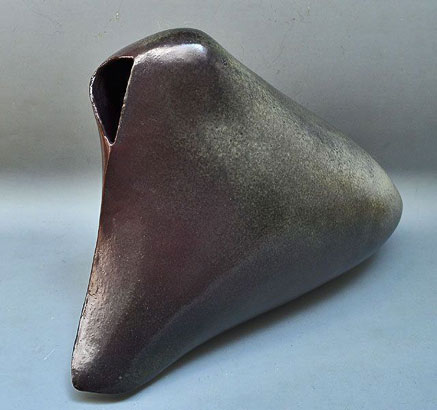 Takiguchi Kazuo
Tomoo Hamada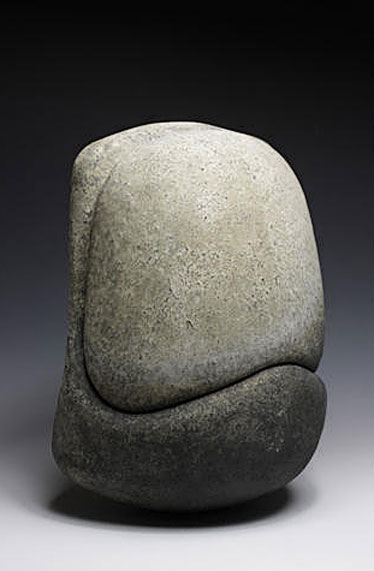 Gomi Kenji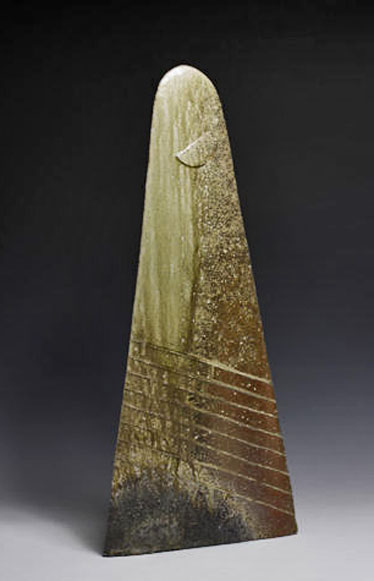 Kato Takahiko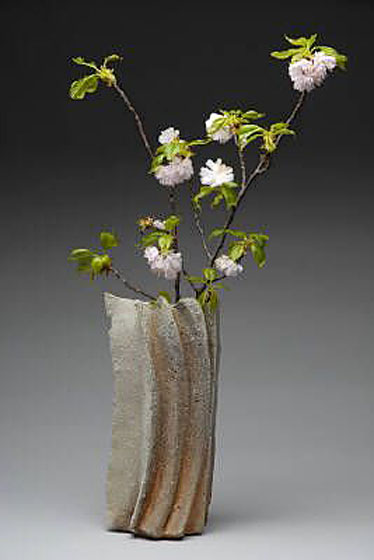 Yasuhisa Kohyama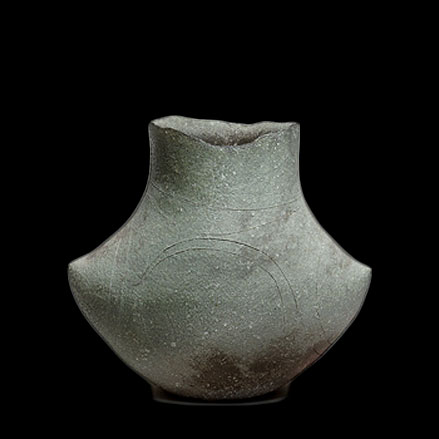 Yasuhisa Kohyama
Japan Art Galerie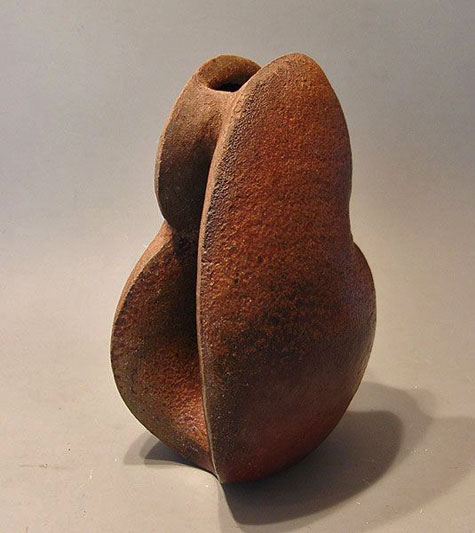 Kawabata Fumio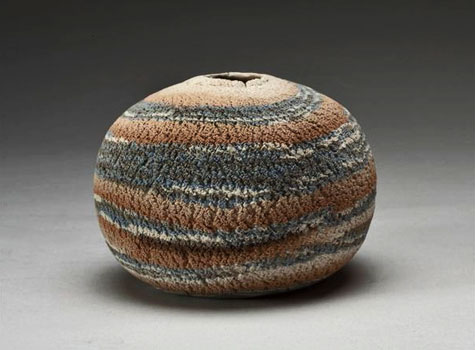 Matsui Kosei – Stoneware with layers of colored clay
Alain A Truong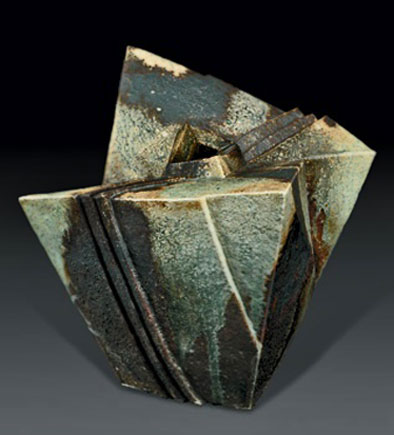 Yoshitaka Hasu
–