Symbols of fortune in the ceramic arts
Kiyomizu  longevity tea bowl –   the bowl has the rounded shape of a tortoise shell and flying crane decoration. Both symbols of longevity.
As the New year starts to gain momentum, its always good to ponder health, prosperity and happiness for the coming year. Many of the ancient cultures had art displaying symbols and sacred objects designed to attract these qualities. Elixirs, amulets, charms, fountains conferring perpetual youth, philosophers stones and countless other procedures were pursued in the name of attaining immortality and longevity. Mystics and immortals that had attained illumination and lived long lives were also revered and remembered through the arts. In China this reached a peak during the Ming and Qing dynasties where motifs and stories relating to a long life became fundamental themes in the decorative arts. This is still prevalent in the Eastern arts, and it has been an excellent means to preserve some of the ancient doctrines and wisdom. The more distant epochs are harder to fathom, but ancient mysteries are still being unraveled. A large diversity of flora and animals also appeared in abundance throughout Eastern cultures, in paintings, garments, statues, ceramics and in furniture carvings. They are regarded as the harbingers of good luck, wealth, and happiness.
Barcelona ceramic phoenix facade – the mythological bird that rises from its own ashes to renewed youth and life.
Unlike the phoenix of the West, the Chinese phoenix does not have the connotation of a bird rising from ashes. The Chinese phoenix symbolizes joy and peace.
Photo by  Arnim Schulz on flickr
Qing porcelain gift box set in the shape of the Bagua, used on auspicious occasions and the Chinese New Year for presenting sweets and delicacies.
Bird Of Paradise pitcher – Carlton Ware
 This bird is associated with the phoenix. In new Guinea, they believe these birds come from a terrestrial paradise, and call them " bolon diuata " ( birds of god )
 One of the Eight Immortals – Zhang Guolao
He was a master in the arts of alchemy, herbs and qigong and was a real historical figure.
 Jade Dragon Tortoise – symbols of luck and longevity
Yuan Dynasty porcelain vase
Tigers were used for the decoration of amulets and ceramics because they are powerful animals, symbolize heroism, and are believed to be able to eat evil spirits, or at least cause them to flee.
Pair of early 20th century Chinese ceramic Fu Dogs
Statues of guardian lions, known in the West as Fu Dogs, have traditionally stood in front of Chinese Imperial palaces and temples. They were believed to have powerful mythical protective benefits.
 Meiping Cloisonne Lotus Vase, China
The spring flowers of magnolias and peonies, are both symbols of wealth. The lotus is the flower of summer's purity; the chrysanthemum represents the longevity of autumn.  Bamboo is a winter plant, symbolic of long life and peace. The chrysanthemum, which blooms late and has to face the winter, symbolizes people who maintain their virtue despite adversity and temptation.
 Shousan Buddha
 Spinach Jade Foo Lion
 Prosperity Vase – Pierre Bounaud
Chinese symbols for good fortune, happiness, longevity, spirit,
love, and endurance grace the vessel to channel positive energies.
potterybypierre.blogspot
Vase with an immortal seated on a lotus blossom, floating among the waves and a large dragon
 Teapot decorated with Shou symbols, peaches and bats.
Carved figure of a deity riding a crane while holding a peach branch and coins
 Italian twin handled herb jar with a rabbit motif and oak leaves.
1430-1460
RISD Museum
The rabbit is a symbol for luck in both the East and the West. In the East the rabbit represented yin feminine luck, while the dragon was yang masculine luck.
 Samurai vessel with flying crane
 Lotus koro incense burner with flying crane motif
Ceramic sculpture of a  giant tortoise – Julian Jardine
The tortoise (gui 龟) indicates strength and endurance, has a long life-span and is, therefore, an instirnsic symbol for longevity.
 Eight immortals in a dragon boat
 This phoenix stoneware ewer was among the 240,000 Vietnamese trade ceramics and artifacts recovered from the Cu Lao Cham shipwreck
National Museum of Vietnamese History, Hanoi.
 Porcelain  Imari Vase with Carp and Sakura Trees
The carp is  a symbol for an abundance of children because it produces many eggs.
A pair of carp symbolizes a harmonious marriage
Porcelain Lobed Dish with Peach of Immortality –  Japanese Imari
Tao Hua Yuan by Tao Yuan-ming (translated by Rick Davis and David Steelman)
During the Jin Dynasty, a fisherman from Wuling, while following a stream  came across a huge grove of blossoming peach trees. It lined both banks for several hundred paces and included not a single other kind of tree. Petals of the dazzling and fragrant blossoms were falling everywhere in profusion. The peach trees stopped at the stream's source, where the fisherman came to a mountain with a small opening through which it seemed he could see light. This led him to the mystical kingdom of Shambala. This is how the peach got its reputation.
 Japanese Karajishi Shishi Fu Lion – Okimono
 Meiji Hirado Fuji Mountain—Dragon in clouds tripod Vase
 Leys jar with peanut plant, Ming dynasty (1368–1644)
The taoists regarded the peanut as a longevity food. Preferably unroasted.
Korean Goryeo dynasty celadon jar with flying cranes
Five Colored and Blue Underglaze Decoration Porcelain Square Flat Vase With Sea Dragon Pattern
 Ming Dynasty -JiaJing Reign
 Netsuke persimmon fruit
Asian Art Museum, San Francisco, CA
 Kiyomizu ware crane and tortoise longevity pair of teacups
Kraak Porcelain – 1570-1645
  In the centre of the dish is an attractive decoration of a flying Chinese bee and a Cicada (insect) perched on a rock in a marshy landscape with flowering peonies and rocks. On the interior wall are four medallions decorated with sunflowers. Also present are the following auspicious symbols –
The 'Artemisia' leaf considered to be a symbol of healing and health and considered a good omen. A single peach fruit, 'Amygdalus persica' – also known as the fairy fruit. A book scroll with a tassel and ribbon and a 'lingzhi' mushroom.
 Porcelain Eight Immortals Plate
Jingdezhen, China
  Inkstone from the tenth year of QianLong Reign, carved with the symbol of Happiness, an immortal crane and the God of longevity
Qing Dynasty
 Reticulated oval plate showing a finely dressed lady walking in a landscape accompanied by a deer,
The deer is the symbol of both longevity and riches. The Taoist physical " deer exercise " promotes longevity.
Polly Latham
 Round Ceramic incense stick burner with Chinese longevity Shu symbols
 Running rabbit carved from mountain mahogany – Netsuke, Japan
 Shoulao, God of Longevity, Qing dynasty (1644–1911)
Kangxi period (1662–1722)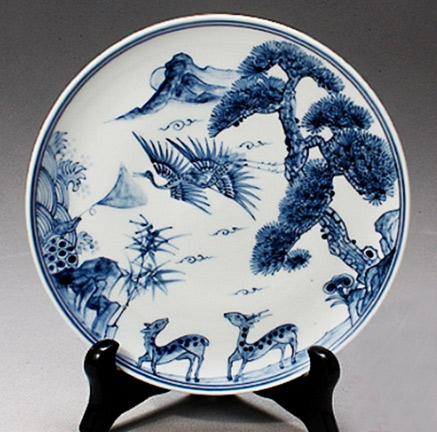 The pine tree (song 松) is a very popular symbol for longevity because it is an evergreen and can endure severe winters. The stork (guan 鹳) is believed to live 1,000 years and is also a symbol of longevity. The stork is frequently shown together with pine trees .
  Egyptian scarab Art Deco vase
Designed by Charles Schneider, France – 1923
A symbol of rebirth and good fortune
1923
 Japanese netsuke depicting the Immortal Kasenko in a cloud
 Tenmoku Pottery "fook luk sau" Tea Pot Set
Fook Luk Sau – the Chinese characters mean LUCK and WEALTH (Fook), HAPPINESS and RECOGNITION (Luk), LONGEVITY (Sau).
 Vase with immortals bearing the character for longevity (shou)
Ming dynasty
 Scholars rock, China
The interest in collecting rocks for religious or aesthetic purposes began with the Han dynasty (206 B.C.-A.D. 220) when  large stones were used to decorate their gardens and courtyards. Scholar's Rocks (or Gongshi) were stones that were chosen if they resembled or represented mythological and famous mountains and were used by scholars as objects of meditation.
 The qilin (麒 麟) or Chinese unicorn represents good luck , prosperity, goodwill and benevolence.
It is described as having a deer's body, an ox's tail, fish scales, five-toed hoofed feet and a horn on its head.
Wedgewood willow plate
 The willow (liu 柳) branches were regarded as being magical and became associated with the life of scholars and poets who drew inspiration while strolling among them.
Vase depicting immortals offering the peaches of longevity.
The peach symbolizes marriage, spring, justice and especially Taoist immortality.
Qing dynasty, Kangxi period
…
Sources quoted – primaltrek
–