Erskine, Hall and Coe – contemporary art and ceramics
Shozo Michikawa
Erskine, Hall & Coe is a gallery that displays modern art along with 20th century and contemporary ceramics.
The London gallery is in central Mayfair, off Bond Street, at 15 Royal Arcade. The gallery carries an extensive stock of ceramics, often including works by, Lucie Rie and Hans Coper, Jennifer Lee, Gustavo Pérez, Shozo Michikawa and Sara Flynn. It is currently under the directorship of  James Erskine, Matthew Hall and David Coe.
–
Latest  Exhibition
Irish ceramicist/sculptor Sara Flynn's exquisite and tactile contemporary porcelain sculptural forms are on display from 3rd -25th of October, 2018
Sara Fynn 'Camber Vessel'
2018
Sara Fynn – 'Flection Vessel'
2018
Erskine, Hall & Coe Ltd
15 Royal Arcade
28 Old Bond Street
London W1S 4SP
+44 (0) 20 7491 1706
[email protected]
www.erskinehallcoe.com
Past exhibitions 
Lucie Rie
Erskine, Hall & Coe is pleased to present an exhibition of exquisitely thrown works in porcelain, stoneware and earthenware by Lucie Rie (1902-1995) Lucie Rie has a long history at 15 Royal Arcade in London. Her work was first shown here at the opening of Galerie Besson in 1988, and has been regularly exhibited since. For our forthcoming exhibition we are delighted to be showing over thirty works from throughout her lifetime, including the first bowl bought by Galerie Besson. The show will consist of works that span over six decades, from rare pieces made in Vienna in the early 1930's to beautiful bowls made in Rie's Albion Mews studio in London in the late 1980's.
 27 June – 20 July 2018 
Lucie Rie Bowl with Spiral Clays
1960s—stoneware
Lucie Rie- Vase with Flared Lip
1960s
Genta Ishizuka
Kyoto artist Genta Ishizuka's first European exhibition 'Membrane' will be running from the 21st February to 22nd March, 2018, featuring 21 works in urushi lacquer.
"I believe "membrane" is a word that is connected to both my production method that utilizes elastic cloth, as well as the sense of envelopment given by applying the urushi, in the way it covers the whole work like a skin. This word that is used with animals, plants and other organisms also has an affinity with the organic material of urushi, and be a  kind of skin, connoting physicality."
Genta Ishizuka
Genta Ishizuka
Past exhibitions 
Yasuhisa Kohyama & William Wilkins     ——  An exhibition of ceramics and paintings
This exhibition comprises 28 ceramics by Yasuhisa Kohyama and four paintings of Kohyama's work by William Wilkins.
8th – 30th November 2017

  –  Opening hours: 

Tuesday

 to 

Saturday

, 

10am – 6pm.
Yasuhisa Kohyama anagama fired ceramic sculpture
'Still Life I, Kohyama Vessels', 2016—-William Wilkins
Yasuhisa Kohyama
Erskin Hall & Coe are hosting an exhibition of 6 new works by Claudi Casanovas through to 23rd July, 2017
Quart Minvant (Waning Crescent) consists of six new sculptures, which make up the final instalment of 'The Lunar Cycle' by Claudi Casanovas. This monumental series began with Lluna Nova (New Moon) in 2013 and included Quart Creixent (Crescent Moon) in 2014. We are delighted to present this exhibition of new work in the historic Fitzrovia Chapel.
Opening hours:
Daily, 11am – 4pm
Please click here for the Fitzrovia Chapel's location
'The Lunar Cycle' by Claudi Casanovas
Past exhibitions 
Seven Japanese Artists
Erskine, Hall & Coe are delighted to present an exhibition of 36 works
by the following Japanese artists:
Yasuhisa Kohyama
Ryoji Koie
Shozo Michikawa
Jihei Murase
Machiko Ogawa
Tatsuzo Shimaoka
Shiro Tsujimura
'Suemono' – Yasuhisa Kohyama
2014 – anagama fired stoneware, 17 x 11 x 8 cm
Machiko Ogawa
2015 –  porcelain with silica sand and Feldspar, 11.2 x 26.5 cm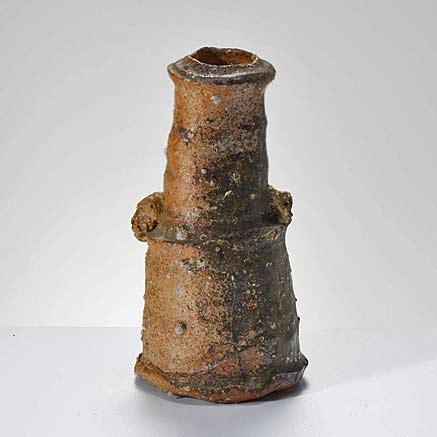 Shiro Tsujimura
Stoneware Vase, 1993
Shozo Michikawa
Natural Ash Sculptural Form, 2013
15 Royal Arcade 28 Old Bond Street London W1S 4SP
Past exhibitions 
Sarah Flynn
Tuesday to Saturday, 10am – 6pm.
"Having begun my career producing small-scale functional pots, as my skill and confidence have increased I have moved entirely into making one-off vessels which are purely sculptural in their intent.
Increasingly the main elements feeding the development of the work are Process and Finish; coupled with constant exploration and a deepening understanding of Form and Volume."
Spine Camber Vessel, 2016
Height 24cm
Gordon Baldwin & Ewen Henderson
Works from the Mike O'Connor Collection
Erskine, Hall & Coe are pleased to present Gordon Baldwin & Ewen Henderson, comprising 30 works by two of the most important and influential 20th century British artists working in clay.
"On the face of it, the two ceramic artists exhibited together here could not be more different. Gordon Baldwin's sculptural vessels, with their smooth, painterly surfaces, and considered forms, stand perfectly balanced. Although invariably asymmetrical, enquiring, the questions they explore elucidated with patches, pocks, grids and lines, they have a poised authority. Ewen Henderson's sculptures, by contrast, seem to re-enact the drama of their making. Craggy, rough, your eye dances over their surfaces, drawn from one excitement of texture or colour to another, discovering their formal logic as you move around them. They seem to triumph in accident, just as mountains owe their magnificence to cataclysmic movements beneath the earth's surface."
– Emma Crichton-Miller
Ewen Henderson
Developed Sculptural Form, 1984
Gordon Baldwin
Exhibition catalogue here 
International Ceramics
The current exhibition featuring works by twelve artists from six countries, draws to a close on 8th September. The earliest work in the exhibition is a trio of bowls by Lucie Rie, dating back to 1949, and the most recent is from last year by renowned Japanese artist Machiko Ogawa.
Featuring:
Gordon Baldwin,
Claudi Casanovas
Hans Coper
Ruth Duckworth
Ian Godfrey
Gwyn Hanssen Pigott
Ryoji Koie
Jacqueline Lerat
Magdalene Odundo
Machiko Ogawa
Lucie Rie
Zung-Lung Tsai
Hans Coper Mid-century bowl
Ruth Duckworth
Zung Iung Tsai -'The Temperature of Tranquility'
2009
Machiko Ogawa  – First European Exhibition
8 June — 3 July,  2016
Machiko Ogawa
"I feel overwhelmed by her tremendous spirit when I look at some of the work that will be shown in London. Delicate jade-color glazes that remain in the bottom of bowls that look like broken shards of ancient earthenware; and that suggest the deposition of memories and time."
Issey Miyake
Winter Exhibition
4 December 2015 – 28 January 2016
1. Jennifer Lee  2. Hans Vangsø  3. Matt Wedel   4. Shugo Takauchi  5. Yasuhisa Kohyama  6. Sara Flynn  7. Anthony Benjamin  8. Ewen Henderson  9. Tatsuzo Shimaoka  10. Gwyn Hanssen Pigott
An exhibition featuring ceramics by Claudi Casanovas and glass by Bernard Dejonghe, which is open until the 20th of October, 2015 – Monday through Sunday.
Claudi Casanovas
Bernard Dejonghe

'Avis on a Base' – Gordon Baldwin
'Painting in the Form of a Bowl' – Gordon Baldwin
1988
Matt Wedel 
Born in Palisade, Colorado, USA – Matt Wedel currently lives and works in Athens, Ohio.  He earned his Bachelor of Fine Arts at The School of the Art Institute of Chicago, and then obtained a Master's degree in Ceramics from California State University.
Matt Wedel
Matt Wedel
YASUHISA KOHYAMA   –  4-27 February 2015
Kohyama has played a very unique and significant role in reviving the use of the traditional Japanese 'Anagama' wood firing kiln, as he was the first potter in Shigaraki to build such a kiln since the Middle Ages.  He is also a contemporary master of the ancient practice of Sueki, a method that originated in southern China and which accounts for his unglazed yet glassy surface textures. Kohyama's work is collected internationally and exhibited widely throughout Japan and overseas.  It is included in the Metropolitan Museum of Art and the Museum of Art and Design in New York, the Philadelphia Museum of Art, the Cleveland Museum of Art, as well as several museums throughout the Netherlands and Germany."The work of Kohyama…is an expression and bold bridge between the ancient techniques of Sueki and anagama firing and contemporary Japanese abstract ceramics. No glazes are used on his works; the varied surface texture, sheen and matte effects, and subtly restricted colors of each piece are achieved entirely by the potter's hand, the clay body composition, the firing wood and the placement in relationship to the intense heat of the kiln, and the unpredictably swirling ash, all highly natural results." –Ann Albano, Executive Director, The Sculpture Center, Cleveland, Ohio, 2009
 Anagama fired ceramic sculpture – Yasuhisa Kohyama
Wood fired anagama ceramic sculpture – Yasuhisa Kohyama
Anagama woodfired ceramic vessel – Yasuhisa Kohyama
Anagama contemporary ceramic vessels – Yasuhisa Kohyama
Contemporary Japanese ceramics – Yasuhisa Kohyama
 Sara Flynn
Erskine, Hall & Coe is pleased to announce the opening of our second solo exhibition of new work by Sara Flynn, which will be open from the 5th through the 27th of November. The exhibition will comprise of twenty-seven vessels and bowls, and will highlight Flynn's movement to new forms and glazes.
 Sara Flynn black vessel
On the surface Erskine, Hall and Coe believe they are hosting an exhibition of mainly black pots but it is really a dance performance expressed through the potter's hands. No music is needed. The rhythmic sway and lilt of Flynn's vessels provide the syncopation. – Garth Clark
 White exterior, black interior bowl – Sara Flynn
Sara Flynn – mustard glaze vase
 Contemporary vase – Sara Flynn
 Sara Flynn
"The best of handmade pots are kinetic, they move as the eye explores line and
silhouette and Flynn's are no exception, indeed great exemplars."
—Garth Clark, Chief Editor of CFile
Ψ
Claudi Casanovas – 'Quart Creixent'
A solo exhibition of ceramcis and works on paper by Claudi Casanovas.
Claudi Casanovas sculptures
Claudi Casanovas
Claudi Casanovas exhibition London
A pair of stoneware sculptures
Each pair of works in the 'Quart Creixent' group have a unique name which refers to organic and eternal growth and the Myth of Dionysus.  The title 'Bacant' relates to Bacchus (Dionysus).
 Claudi Casanovas
Quart Creixent  – Claudi Casanovas
Colin Pearson
Ewen Henderson
Gwyn Hanssen Pigott vessels
James Tower
 Mustard glaze vase by Lucie Rie
Rita Duckworth contemporary art sculpture
Contemporary ceramic vessel – Hans Coper
Jacqueline Lerat Chateau Japonais, 1994
—
Ewen Henderson
 Born in Staffordshire in 1934, Ewen Henderson studied painting and sculpture in Cardiff, and later trained in ceramics under Hans Coper and Lucie Rie at the Camberwell School of Art.  Henderson's work is very closely linked to the landscape which surrounded him, which includes Avebury, Eden Valley in Cumbria, the Rollright Stones in north Oxfordshire, Orkney and Manorbier in Pembrokeshire.  His vessels and tea bowls are hand-built and made of laminated stoneware.
"I fell in love with both the material and the vessel as a magical form; but it was a long time before I realised how I wanted to use it…I was seduced by the alchemy of change where you take a material…and it is transmogrified into something else."—Ewen Henderson
Annie Turner & Hervé Jézéquel  :   Annie Turner is a British ceramic artist from Suffolk, whose art is very closely linked with the river Deben and its surrounding environment where she grew up. Turner's sculptures are delicate and fragile, yet possess a quality of strength that suggests movements of currents and the tides of the water, changing seasons and the passage of time. Her work communicates with the concepts of Hervé Jézéquel's pictures. Jézéquel is a French photographer living in Paris, who explores ideas of ruined architecture and landscape in his work. He has travelled to many diverse areas such as Iceland, Spain, Greece, Italy and Turkey.
Annie Turner
Annie Turner
Annie Turner Ceramics
Annie Turner ceramics
Annie Turner ceramic art
Hervé Jézéquel
Hervé Jézéquel
Hervé Jézéquel
Hervé Jézéquel
Hervé Jézéquel
James Tower :
James Tower is one of the most distinguished ceramic artists of the 20th century.  His ceramics are unique for their visual effects which suggest that he responds to nature and his environment.  He became an established artist in the 1950's and has exhibited alongside such artists as Barbara Hepworth and William Scott.  A goal of Tower's was to achieve a quality in his work that is, in his words – " perhaps best defined as a sense of completion,  a longing for a serene harmonious whole which contains dynamism and vitality, satisfying our intellectual and spiritual needs.' — James Tower.
Chest Form, 1982 
James Tower ceramic art
Divided Form – 1982  – James Tower contemporary ceramics
Vessel James Tower
glazed earthenware  1985
Large Bowl,  James Tower
1983
James Tower – Leaf Form ceramic vase
James Tower  – Concave Form
white earthenware  1965
Butterfly Form, – James Tower
1980
'8 Artistes & la Terre' 
Claude Champy, Bernard Dejonghe, Philippe Godderidge, Jacqueline Lerat, Michel Muraour, Setsuko Nagasawa, Daniel Pontoreau and Camille Virot.  These artists currently work in France and were first brought together by a book, '8 artistes & la terre,' published by Argile Editions in 2009.  Following in the footsteps of the group's show at Musée Ariana in Geneva, this exhibition marks the first time these artists have shown together as a group in the UK.
The-Shelters – 2013  – Philipp Godderidge
terracotta and engobes on glazed brick
Bloc noir  – Claude Champy
Bolis, III,-2013  Bernard Dejonghe
Bol,  2013    Camille Virot
Cylindre 2011  – Michel Muraour
72 x 17 cm
Pierre étoilée   – Daniel Pontoreau
stoneware with porcelain; porcelain slip
Sculpture 2008 – Setsuko Nagasawa
stoneware, 42 cm long x 29 cm diameter
Sculpture, circa 1970-75    Jacqueline Lerat  (1920-2009)
Shozo Michikawa
Shozo Michikawa lives and works in Seto, a home to potters for 1,300 years.  His work has been exhibited internationally, including a landmark exhibition in 2005 in Beijing's Forbidden City.
Angus Stewart, in an essay about Michikawa's work written in 2011, declares:
"…Michikawa's originality calls out for attention.  He offers freshness, technical prowess and figurative puzzles that irk and stimulate the alert.  The traditions he draws upon dates back to the cave dwellers.  Michikawa's excellence as a technician, his empathy with natural phenomena, and his outstanding artistry, are something to shout about."
shozo michikawa sculpture
shozo michikawa
Shozo Michikawa ceramics
Shozo Michikawa
Shozo Michikawa, Japan
Shozo Michikawa teabowl
Ruth Duckworth vessel (1919-2009)
Lucie Rie  footed stoneware bowl  – c. 1968
Hans Coper  Spherical Pot with Disc Top, 1965
Lucie Rie  Large Porcelain Bowl, 1984
Ruth Duckworth  –  Untitled Bronze Abstract Statue
…
From Stronghold, Witches Flew, The Kissed and Murmured series, 2012 earthenware; glazed and sag gar fired porcelain and stoneware.
Ian Auld – 1960s
Ewen Henderson – sheeps skull
[divider type="plain" width="thirdwidth" align="aligncenter"]
Matthew Harris & Tim Rowan
Gustavo Perez
   Gillian Lowndes, 2013
Gillian Lowndes   1936 – 2010
Gillian Lowndes Wall Sculpture
…
Frank Auerbach
Gwyn Hanssen Pigott
Claudi Casanovas

Leon Kossoff

Ruth Duckworth.
R B Kitaj
Inspired by the work of modernist potters Bernard Leach, Hans Coper and Lucie Rie, as well as the paintings of Giorgio Morandi, Hanssen Pigott is one of Australia's most successful ceramic artists.  She is distinguished for the unique abstract simplicity of her meditative, off-white porcelain pots, arranged in close groupings, which can be seen both as metaphors and as ordinary everyday objects.
Gwyn Hanssen Pigott
Gwyn Hanssen Pigott
Gwyn Hansen Piggott contemporary ceramics
Gwyn Hanssen Pigott
     Claudi Casanovas :
Claudi Casanovas
Claudi Casanovas
Claudi Casanovas
Claudi Casanovas
Claudi Casanovas
      Rafael Perez " My way of working is based on my personal "opened eyes" and "looking firstly" point of view. I try to transfer this sensation to my works, and I consider them good when opening the kiln I don't recognise the pieces as mine and I get surprised. " ~ Rafael Pérez 2012
Rafael Perez
Rafael Perez
…
[divider type="plain" width="thirdwidth" align="aligncenter"]
       Ruth Duckworth   ( 1919 – 2009 ):   Ruth approached clay as a sculptor rather as a potter, and brought an aesthetic rigour to her refined vessel forms, figurative sculptures and installations. She helped shape a new way of thinking about ceramics in the second half of the 20th century, and was the recipient of many awards for her extraordinary contribution to the arts.
Ruth Duckworth – Untitled Porcelain
Ruth Duckworth Wall Mural
      Sara Flynn
Sara Flynn
Sara Flynn  – Pressed Vessel
      Shozo Michikawa :   Shozo Michikawa was born in Hokkaido, the most northern area of Japan. He initially had a career in business but took up evening classes in art where he discovered his talent and passion for pottery. A few years later in the 1970's, Shozo made the decision to give up his life in business and to focus on creating ceramics. In July 2005, Shozo was given the rare honour as being the first Japanese artist to have a solo exhibition of his art in The Forbidden City in Beijing. He has widely exhibited in Japan and around the world, including the Philippines, Mongolia, France, China, New York and London.
Shozo Michkawa  – Natural Ash Glaze Plate
Tall Natural Ash Glaze Cut Sided Pot
Shozo Michikawa  – Kohiki Sculpture
Shozo Michikawa – Twisted Form 2010
Shozo Shino square pot
   Tim Rowan :
Tim Rowan sculpture
Tim Rowan –  Teabowl  201
Tim Rowan Untitled 2008
  Toru Kaneko :
Toru Kanekou –  Untitled 2008
…
 Yasuhisa Kohyama :
Yasuhisa Kohyama  – Bachi 2011
Yasuhisa Kohyama Kaze -2012
       Yasuyuki Oyama :
Yasuyuki Oyama – Obi 2010
Yasuyuki Oyama Untitled 2009
     Anna Vannotti :
Anna Vannotti – Slab 1996
    Catherine Yarrow :
Catherine Yarrow Dish
Catherine Yarrow Tower with Discs
Catherine Yarrow Yoni 1970
     Deirdre  Hawthorne :  
Deirdre  Hawthorne – Impart  2012
Deirdre Hawthorne – Riverbed Group
   Ewen Henderson : For Henderson, "fluxed earth", as he called clay, was capable of being stretched and teased into complex new forms. His construction methods produced objects with a multiplicity of colour and textures, edges and interior spaces. His mastery of form was based on his insights as a painter, and he always stressed drawing as the key to his three-dimensional achievements. In the late 80s, Henderson's ceramics became more sculptural, and he largely abandoned the vessel in favour of intricate open structures – often monumental – investigating his interest in intersecting volumes, spaces, edges and contours: a three-dimensional development of Cubism.
Ewen Henderson – Tea Bowl circa 1990
Ewen Henderson – 1992
Ewen Henderson sculpture
 Akire Yagi :
Akire Yagi Twisted Form 2012
      Gordon Crosby :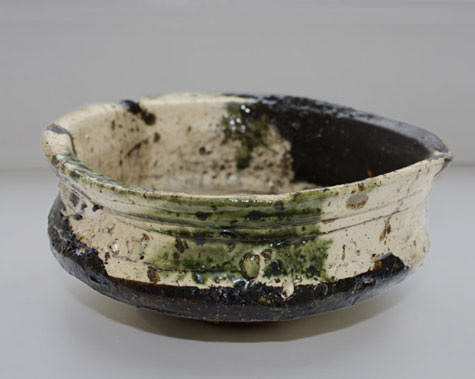 Gordon Crosby Large Teabowl
     Gustavo Pérez :
Gustavo Pérez Vase Sculpture – 2011
Gustavo-Pérez –Vase Sculpture 2
       Hans Coper :
Hans Coper Cycladic Form On Cylindrical Base
Hans Coper – Large Square Bottle
Hans Coper  – Thistle Form 1975
Gustavo Pérez
    Jennifer Lee :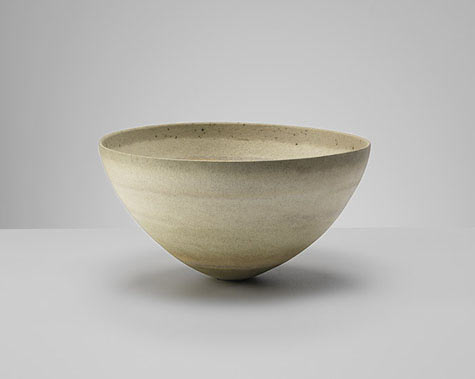 Jennifer Lee  – Large Open Bowl 1989
     John Ward :
John Ward  – Large Bowl 1980
     Keiishi Tanaka :
Keiishi Tanaka
      Koji Hatakeyama :
Koji Hatakeyama  – Six Faces 2012
Koji Hatakeyamaz  – Eight Faces-2011
     Lucie Rie :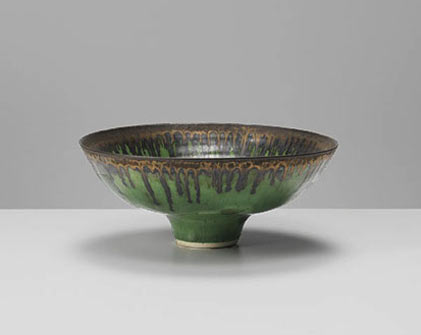 Lucie Rie Green Bowl with Brown
Lucie Rie large Bowl 1984
 Above images © Erskine, Hall & Coe Limited
Royal Arcade 1
( Copyright Joan Street )
–