Most of the Korean art forms–calligraphy, painting, architecture, or sculpture–are strongly linked with that of neighboring China, while Korean ceramics stand out as highly individual and largely independent of such cultural exchanges. Perhaps their most remarkable quality is an inherent spontaneity, seen in their uneven shapes and playful designs. Imperfection–a characteristic that strongly distinguishes Korean ceramics from Chinese–is not only tolerated but accepted and respected as enhancing the beauty and individuality of a piece.
In the early part of the 18th century, Chinoiserie was in vogue in Europe followed by Japonism in the latter part, this Eastern influence having an impact on shaping the arts in  Modernism at that time.The Korean influence on the pottery of Japan and China didn't receive recognition till later in the West. The Chinese and Japanese have always regarded Korean ceramics as unique and refined and have drawn inspiration from the Korean ceramic arts and techniques. It is always refreshing to see the contemporary Korean ceramic artists revitalizing  their traditional styles into new interpretations that look contemporary while remaining  respectful to their rich heritage in ceramics. The Korean aesthetic lies in its subtle details  while maintaining elegant simplicity.
Large Jar 2 – Ree Song-Jong
Lee Kang Hyo
Korean artist, Lee Kang Hyo (1961) creates masterful works combining ancient traditions with earthly red and white clay materials from his homeland.
"A true potter only speaks through vessel," he says. He attempts to show the right working attitude in modernizing the artistic sense and lifestyle inherited by his forefathers to the people's tastes of today. The works of  Lee Kang-Hyo  infuses ancient tradition with whimsical and contemporary interpretation.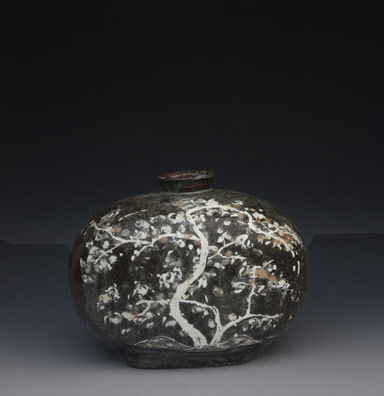 Tree motif flattened ceramic bottle – Lee Kang hyo
Square bottle, rounded edges – Laa Kang Hyo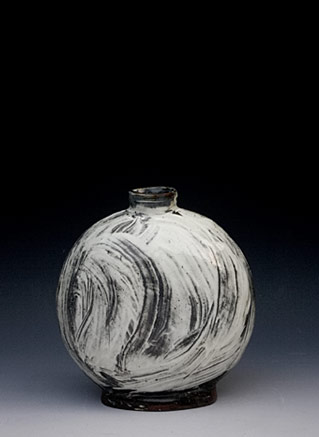 Ceramic bottle Lee Kang Hyo
Lee Kang Hyo bottle
Lee Kang Hyo plate – 2011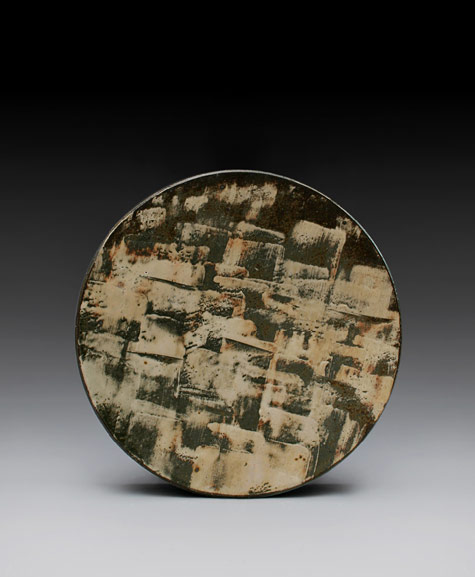 Lee Kang Hyo plate
Lee Kang Hyo
Large Buncheong Pitcher –   Lee Kang Hyo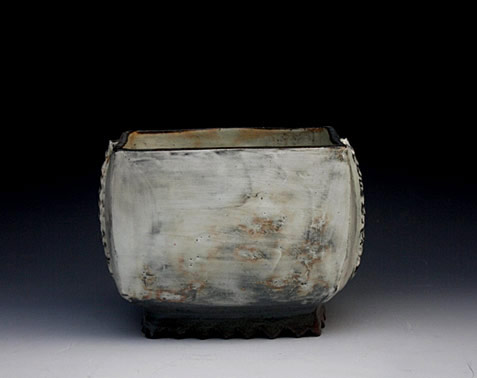 Lee Kang Hyo
Buncheong Bottle  with Ash Glaze – Lee Kang Hyo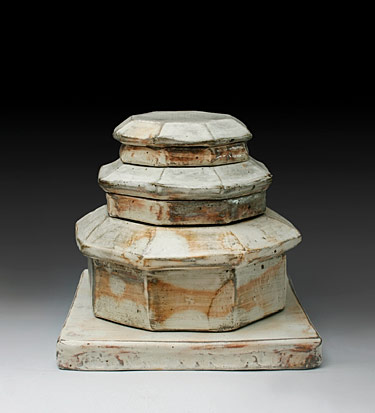 'My House 3' – Lee Kang Hyo
'My house 2' – Lee Kang Hyo
Lee Kang Hyo plate
SunKoo Yuh
" My work is a means of transformation from interior images to tangible ceramic sculptures, sometimes monumental, sometimes small. Images come from inside me then I draw intuitively and spontaneously with ink and brush. These two-dimensional images contain unconscious concerns in my life. I closely study my drawings and select a few to transform into three-dimensional clay sculptures. My work expresses my inner emotions, communicates about life, and directly draws from mundane experiences. I want to record my daily impressions through my works with the hope that it will lead me to small insights into my life and family."
'I want to know you better' – Sun Koo Yuh
'Inspiration' – Sun Koo Yuh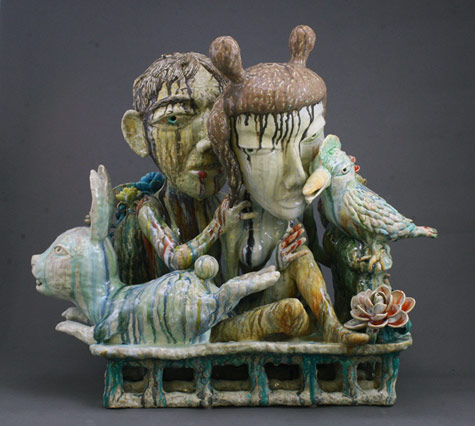 'Just you and me/Year of the Rabbit'  – Sun Koo Yuh
Won Dae-jong
 Won Dae-jong (born 1920) made this pot in 1994. Porcelain with incised and inlaid decoration of copper oxide.
( British Museum )
Jin-Jang
 'Blue Bowl-Silver'  – Jin Jang
2009
Ree Soo-jong
Ree Soo-jong is a much-admired artist whose interpretation of traditional Korean ceramics has earned him high praise worldwide. Korea's ceramic traditions, in particular that of punch'ŏng  stonewares, form the base of Ree Soo-jong's work.
Typical of punch'ŏng is the wide range of decorative techniques which potters used, including stamped, incised, inlaid and sgraffiato-cut motifs. Underglaze iron-painted designs were also popular as were wares that were either brushed with or dipped in slip. Through the use of similar decorative techniques Ree Soo-jong has consciously sought to emulate the earthy quality and unsophisticated beauty of punch'ŏng. Many of his wares are spontaneously painted with white slip, which he often applies with his fingers. Some are further decorated with abstract compositions in iron oxide, resulting in a rich brown colour. Like punch'ŏng which are famed for their unrestrained and innovative shapes, Ree Soo-jong's pieces expose an air of easy elegance in their natural and unrestrained forms. His work is very varied and ranges from sculptural abstractions to dishes, trays and tea pots. Many of his wares are containers, ranging from bowls to wide-shouldered vases. For Ree the bowl carries a particular importance. He argues: "More than being a simple container, the bowl bears a cultural definition." Being sceptical about man's ability to live in a purely linear and rational manner, for him the bowl takes on a strong symbolic role as a container for life in its more chaotic and less defined state.
Although a hard material when fired, the warm, soft and malleable qualities of the wet clay is expressed in many of Ree's works. In their textures, colours and shapes, his vessels superbly embody the basic and natural characteristics of the material with which he works.  Lee feels that a potter should become one with nature and should see clay as a natural part of this process. Thus, rather than fighting against the clay, he allows for its intrinsic beauty to emerge. He does not disguise the ways in which it has been handled and modelled, nor how the slip and the paint have been applied. Instead the surfaces of his irregularly shaped wares frequently carry imprints of his fingers and often the applied slip is allowed to freely form uneven droplets. ( via Mindy Solomon Gallery, Florida )
Bottle #1 – Ree Soo-jong
Ree Soo-jong
Ree Soo-jong
Ree Soo-jong
Ree Soo-jong
Choi Seong-Jae
Choi Seong-Jae uses a technique called  Boon-chung which  is achieved by painting the exterior of the vessel and scratching  it with the  finger to draw natural figures, including reed, bamboo or  lotus flower and other designs.
Choi Seong-Jae – Boon-chung bottle
Bamboo motif bottle – Choi Seong-Jae
Choi Seong-Jae
Choi Seong-Jae
Kim Ik-Yeong
Kim Ik-Yeong
Kim Ik-Yeong
Yang Seung-ho 
Yang Seung-ho
Yang Seung-ho
Kwon Sun Hyeong
Kwon Sun Hyeong
Kwon Sun Hyeong
Cheon Han Bong
Cheon Han Bong – footed bowl
Cheon Han Bong
–