'Orb' by David Ball
Photo – J Griffiths
Kangaroo Valley art festival May 2017
Since 2007, Arts in the Valley has attracted some of the finest musicians, artists and sculptors in Australia to Kangaroo Valley for concerts and festivals. Surrounded by sweeping views of the rugged escarpments, the location provides an impressive backdrop for the outdoor art works on display and is presented in a biennial format.
Kangaroo Valley is nestled between the neighboring regions of Shoalhaven and the Southern Highlands in New South Wales and is an idyllic and picturesque location, approximately 2 hours drive from both Sydney and Canberra. Here is a collection of sculptures featured at the Kangaroo Valley Arts Biennial.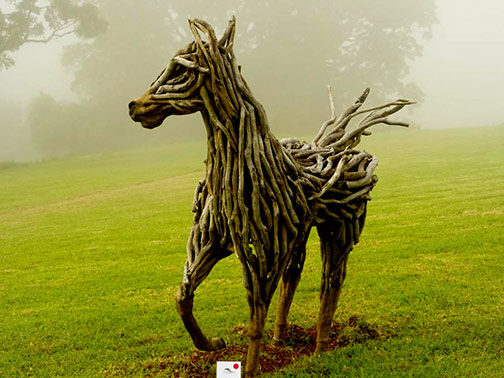 'Illusion' by Vikki Holik Blazley
Kangaroo Valley art festival 2017
Photo by Sue Agar
Michael Purdy — 'Weave' sandstone sculpture Kangaroo Valley
'The Hard Yards' by Michael Purdy
Hardwood timber and mild steel sculpture
'Awakening' – Elle Szpindler wire sculpture
Kangaroo Valley, 2015
Al Phemister's 'Dandelion' series
2015 – Kangaroo Valley sculpture
Elle Szpindler? wire sculpture
2015
Antonio Francisci bronze life size 'Girl with Golden Hair'
Galeria Aniela, Kangaroo Valley
'The Hillarys' — Dora Rognvaldsdottir
2015
'Lizard' outdoor sculpture  –  Areneria
'The Red Ball' by Paul Dimmer
2007 – photo Gary Steer
'Banksia Women' by Bronwyn Berman
2013
Meditation figure sculpture by Ole Nielson
Ole Nielsen is an Australian sculptor, born in Denmark, who resides in the Kangaroo Valley
John Rafter—-automobile sculpture 'The Volvo'
2015
'Crosswind' – Greer Taylor
David Hudson didgeridoo
Sea creature sculpture
'Grand Piano' by Derek Watt
Bronwyn Berman — 'The Hive'
Bronwyn Bermann— 'Waterfall'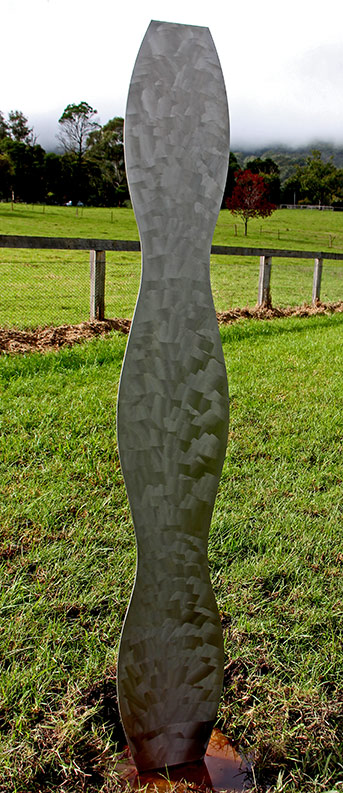 Christopher Hodges   'The Maid'
'Duet' — Dora Rognvaldsdottir
Metal elephant sculpture – Kangaroo Valley
Contemporary metal sculpture
Galeria Aniela, Kangaroo Valley
Feeding Kangaroo – photo by Adam Foster
The kangaroo only moves forward, never backwards. The herbivorous Kangaroo was originally named the Kanguru by Captain Cook. They can move at speeds of 60km/hour and clear 25 feet in a leap up to heights of 10 feet. It moves instinctively and appears to be sure footed at high speeds and its totem symbolizes leaping into the unknown fearlessly. As a totem, the kangaroo teaches you how to balance the creative energies necessary to complete tasks, trust your instincts and gives you the strength, stamina and power needed.
Palawa kangaroo lore
One of the terms Tasmanian Aboriginal people used when referring to themselves was 'Palawa'. This was the name of the 'first man', who was created from the kangaroo by a creation spirit. Palawa identity also has a supernatural origin, related to the powers of animals, plants, rivers, mountains, spirits and ancestors, which often merge into one another. Through kinship obligations, the kangaroo bound Aboriginal people to the land and gave them a mythical identity as descendants of a creation spirit. . Its ecological requirements motivated traditional fire-based land management practices, whereby Aborigines maintained the country so it was favourable to the kangaroo. The kangaroo featured in  tribal songs and dances and as the totems of individuals.*
Contemporary sculpture musicians
Galeria Aniela, Kangaroo Valley
'Growth' by Thomas Westre
Harp quintet concert – Kangaroo Valley Art Festival
'High Flyer' by Amanda Harrison
Ulan Murray tree sculpture –  'Ultima stans'
'Illusion' by Vikki Holik Blazley
2017
White bird sculpture – photo J Griffiths
Contemporary sculpture – David Bell
Photo – Sue Williamson
'Meeting' by Yamuna Bruce
2015
'Metalicus floribunda' – Jen Mallison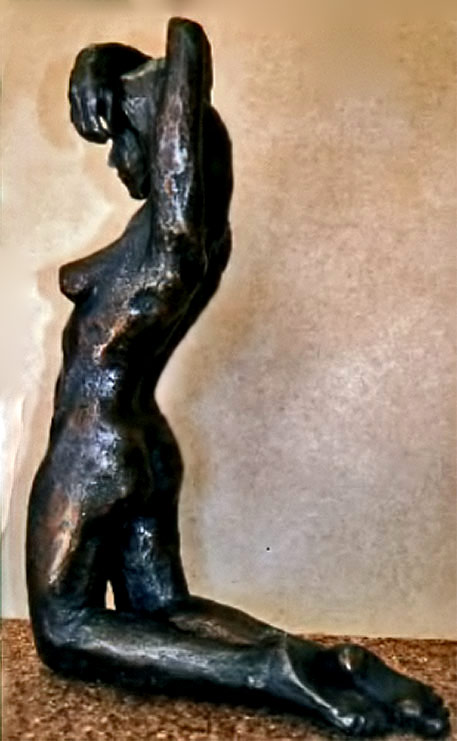 Miranda Lean — La Printemps
2015
Elle Szpindler wire sculpture
photo Julijana Griffiths
'Naked Neptune' by Andrew Saunders
'Nero on Edge' by Malcolm Utley
Ole Nielsen meditation figure sculpture
Photo Sue Williamson
'Paia' – Senden Blackwood
 Kangaroo Valley
'Torso 2'  by Paul Dimmer
Patricia Lawrence's – 'Conversation'
2015
Paul Dimmer's- 'Dreamcatcher'
Phlyssa Koshland — 'Skipping Girl'
Possum sculpture – Arenaria
Brush Tailed Possum – Adam Foster
Kangaroo Valley
'Rabbitcatcher' – Randall Sinnamon
Kangaroo Valley
'Response in Movement' wire sculpture by Elissa Sykes Smith
'A Shared Weight', Elyssa Sykes Smith recycled timber
Sculpture by the Sea, Bondi, 2013
'Sea Spiral' by Ross Cameron—2015
Kangaroo Valley
'Sea the light' by Paul Glendenning
'Shrouded Gods Mountain', The Budawangs
South Coast hinterlands of NSW, Australia
Summoning the storm sculpture -Kangaroo Valley
'The Gods Had No Mouths' by Myangah Pirate
Kangaroo Valley
Rosie the orphaned Joey and Elliot the 1yo Bearded Dragon lizard
Greenough Wildlife & Bird Park in Australia
'I've got your back'  Aussie mateship
These two apparently like hanging out together
Sydney Koto Quintet concert – Kangaroo Valley
'Boat People' by Julie Love
Helmut Newton – Vogue Australia, May 1964
(originally shot at the beach, this one is with a backdrop of the Cambewarra range, NSW)
'Trio' sculpture by Dora Rognvaldsdottir
 Kangaroo Valley. 2009
Penny Lovelock
'The Kongouro from New Holland'  – oil painting by George Stubbs
1772 – National Maritime Museum in Greenwich, London
This painting was the first depiction of an Australian animal in Western Art and was originally exhibited by the Society of Artists in London in 1773.  Stubbs had never seen a living kangaroo, but created 'The Kongouro from New Holland' based on verbal accounts and a viewing of a preserved skin from a Captain Cook voyage. This painting, which I feel is of cultural importance to Australians, was purchased by an anonymous collector for 9 million dollars, but has been prevented from being returned to Australia by the Department of Culture?
Naked female sculpture on the roof,Eco House
Galeria Aniela, Kangaroo Valley
Fitzroy Falls at Kangaroo Valley Australia
Photo – David Smith
'Reflecting on end of day' – Cybernetic Kangaroos—Shane Gehlert
* Copyright 2006, Greg Lehman, Centre for Tasmanian Historical Studies
–