Claudia Beldent – 'At the party'
Adapting images to the curvature of thrown forms introduces many challenges such as shifting perspectives, limited space and the myriad of decisions involved in deciding how to apply the paint to the surface of the clay. Here is a selection of curvy vessels chosen for their vivacity and spontaneous stroke work along with highlighting the ingenuity of clayartists in creating and adapting hand painted art on sinuous forms.
Castelli twin handled vase, circa 1540, Italy
Sotheby's
Anna Pottery quad legged, carved stoneware vase, salt-glazed with brushed cobalt highlights
Japonais vase pair
Laura Zindel botanical motif bottles
(Photograph by Jarrod McCabe)
To create her unique pieces, Zindel transfers her whimsical graphite drawings onto handmade dishware using a modernized version of the transferware technique, which was developed in 18th-century England for printing patterns on pottery with an engraved metal plate. Once Zindel's drawings are ready, they're photographed digitally and converted into black-and-white silk-screens, then printed onto individual pieces and refired in the kiln. (BostonMagazine)
Botellas y vasos — Alfajar, Spain
Matthew Metz — Large Pitcher
Schaller Gallery
Botellas y vasos from Alfajar — cubist Picasso style female head
Ceramic Pitcher Vase by Robert Picault, gold lustre highlights
Vallauris, 1950s
A fahua 'Scholar and pine' meiping vase
Ming dynasty – Alain Truong.
Gouda Pottery-Semi matte Glaze bird on branch vase
Zuid Holland, 1923
Nathalie Djakou Kassi Creations hand carved ceramic vessels
'Circles and Squares II', ceramic, oxide, underglazes — ME Taylor
Bathers in yellow and black — Raoul Dufy & Llorens Artigas Collaboration
France
Teacup & saucer set Underglazes handpainted & airbrushed – Tanya Bechara
Australia
Hungarian artist Hansi Staël design for Secla of Portugal
Marty Ray
In the late 60's I began classes in clay, creating sculpture and pottery. My first clay teacher was sculptor, Octavio Medellin and then potters, Michael Obranovich, John Miller (TWU) and John McElroy (SMU). Clay grabbed my full attention with all of the possibilities that takes more than a lifetime to explore.
Technique — (1) Scraffito thru black slip on white clay  (2) incised drawing on brown clay  painted with colored slip & glaze — Stoneware Clay fired to Cone 6 – electric kiln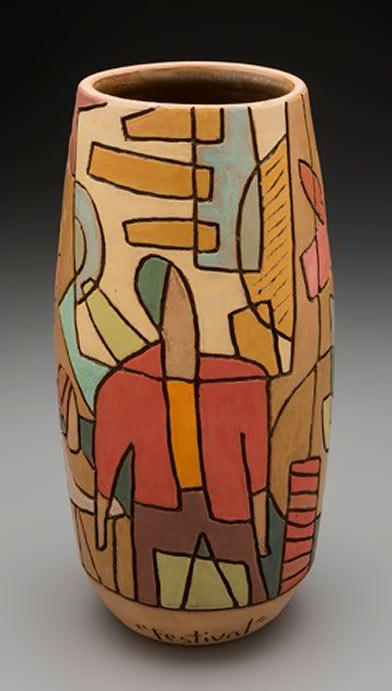 Marty Ray — 'Festival'
Stoneware, Slip, & Clay  10.5 x 5 inches
'City Skies'  —  Marty Ray
Stoneware, scraffito thru black slip with color underglazes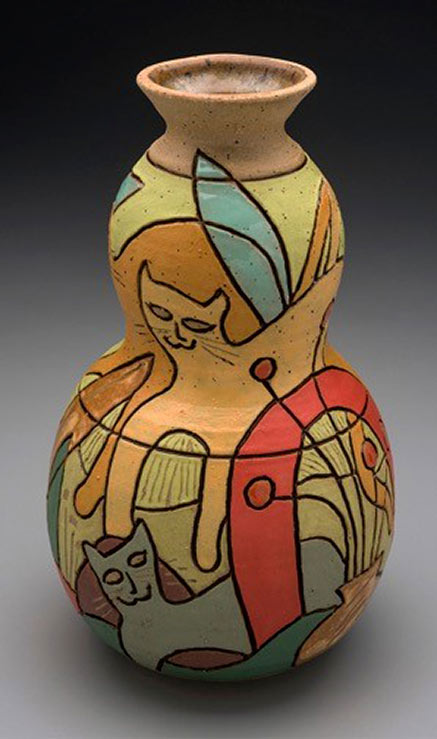 Marty Ray 'Happy Cats'
Stoneware, Slip, & Clay-11×6-inches
Marty Ray-ceramic tea pot
Stoneware, Slip, & Clay
'Interaction'   Marty Ray
12 x 7 inches
…
Italia Liberty vase
Laura Bird — long haired ladies dish
Inna Olshansky ceramic raku fish sculpture
Israel
Jacques Innocenti,- Large Ceramic Vase Pitcher
Gouda –  stylized abstract design semi matte glaze Breetvelt Pottery Vase
Holland, 1920
Jenny Mendes bunny hug vase
'Face Cups' – Jenny Mendez
Jenny Mendes
Cats – Jenny Mendes
The descent of Jenny Mendes into the swamp of chaos and returning in triumph
I started the painting on this cup yesterday.(see above) I liked the drawings, and needed to fill in the details. Somehow, I lost my clarity and the background got totally confused. But I still really liked the figures, so I kept trying to fix it, only getting deeper and deeper into the swamp of chaos…… I actually almost gave up, it looked horrible and felt like a failure, and I was so close to throwing it into the trash, but still I really liked the initial drawings, especially this one, so I didn't quit, and eventually, by washing back the surface I got to a place that I really liked. It kind of reminded me of Van Goghs starry starry night… But, it was tough getting there. Why am I writing this? To encourage anyone in their work not to take the easy way out, but stick with it and find a way out of the darkness when it isn't going well. Up until this point for the last ten or so paintings I have done, it was easy, but on this one I really hit the wall, and then, like coming up to the surface of the water after diving down way too deep, and thinking I might drown, I surfaced, and with a new discovery! By wiping away the background, I created a really lively surface that excited me, and at that point the hours of distress that it took to get to that point were worth it……
Jenny Orchard bubble vase
Jenny Orchard
Sydney, Australia
Large majolica teapot — Kathleen Raven
BC, Canada
Three sided vase by Rybasolnca, Ukraine
Footed rectangular ceramic planter with figures drawings — by Rybasolnca
Rybasolnca ceramic plate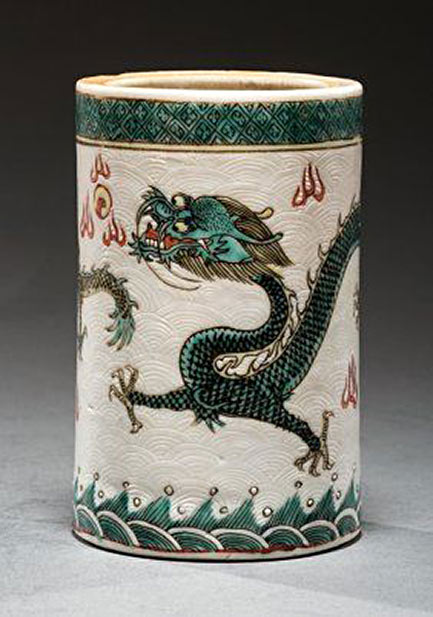 Dragon motif Chinese Famille Verte porcelain brushpot
probably 19th century
Picasso Matador and Bull ceramic jug
1950's Madoura
'Pianissimo' — Galina Bulganin, Russia
Boccale porcelain cup Royal-Copenhagen
Itallian Marcello Fantoni — 'Five Ladies vase'
Martin Boyd lidded jar
Michael Anderson
Miltos Manetas large ceramic vase with abstract decoration
Cone vase with figures – Sally Hook
Sally Hook Festival Vessels in black and white
Height 51cm  &  55cm
Ceramic vase by Polly Courtin
Nicolas Rousseau footed bowl
Paul Louis Mergier – ovoid vase of copperware
Pol Chambost jug
Ceramic 'Eared' Vase 'Vase à Oreilles' with Horse by Roger Capron
1950's
Hand painted ovoid vase by Rene Buthaud
Vase céramique émaillée craquelée. Vers 1920-1923.
Rorstrand ovoid vase with a musician and a female dancer
Royal Copenhagen ceramic vase by Johanne Gerber
Sandra Wray abstract figure vase
Sandra Wray vase with offset lip
Sandra Wray
'Shot Putting', earthenware bowl by Jitka Palmer
Painting a vase – Jitka Palmer self portrait jug
Titano San Marino asymmetrical abstract  vase
Vase à corps ovoïde with muscular hunter and mottled pattern– Rene Buthaud
Moorcroft Littoral Life vase, shape 300-13,- signed by Paul Hilditch
Vase Romano Innocenti
1958
Vintage Mexican pottery vase
Vintage Tlaquepaque 'petatillo' olla
Contemorary Celedon Porelains from Chen Lu, China
Waylande Gregory Art Deco rooster motif ceramic table lamp
–