Small Works, Great Artists exhibition, London
Small Works, Great Artists 
Erskine, Hall & Coe present their second annual Small Works, Great Artists exhibition.
– running till 19 March 2020
Maintaining the gallery's tradition of representing exceptionally accomplished, international artists, EHC are delighted to introduce the work of Ryūichi Kakurezaki, one of the great living Japanese ceramicists.
Among the many highlights of this show is a colourful sculpture by the legendary Ron Nagle. Two other notable works on display, Châtaigne by Élisabeth Joulia and a bowl by Alev Ebüzziya Siesbye, come from the special Fina Gomez Collection. Gomez, photographer and founder of the Fina Gomez Foundation, amassed over 500 pieces by famous potters, and in 1991 her collection was exhibited at the Musée des Arts décoratifs in Paris.
The exhibition comprises over 40 works by 21 makers coming from nine countries.
Claudi Casanovas
Joanna Constantinidis
Hans Coper
Alev Ebüzziya Siesbye
Sara Flynn
Gwyn Hanssen Pigott
Koji Hatakeyama
Ewen Henderson
Eriko Inazaki
Genta Ishizuka
Élisabeth Joulia
Ryūichi Kakurezaki
Ryoji Koie
Jennifer Lee
Ron Nagle
Machiko Ogawa
Sara Radstone
Lucie Rie
Zung-Lung Tsai
Shiro Tsujimura
John Ward
Erskine, Hall & Coe
15, The Royal Arcade
W1S 4SP
Tel: 0207 491 1706
www.erskinehallcoe.com
Eriko Inazaki ceramic sculpture
Ewen Henderson, UK
Jaques Kaufman
Matt Wedel – 'Flower Tree'
USA
Ewen Henderson
Gywn Hanseen Pigott
AUS
Eriko Inazaki
Hans Coper
Joanna Constantinidis –'Duo'
Joanna Constantinidis – 'Enclosed Pot'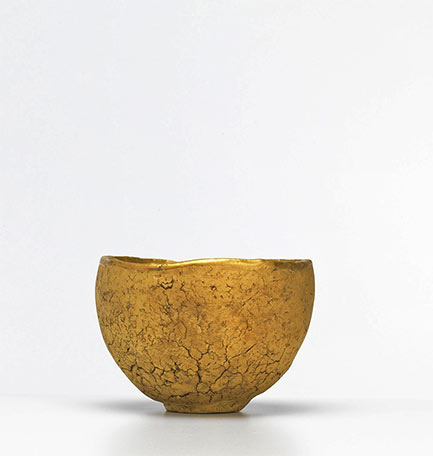 Machiko Ogawa stonewareTea Bowl
2019
Alev Ebuzziya Siesbye
1991
Machiko Ogawa – Tea Bowl
Japan 2018
Ron Nagle – 'Tail Dragger'
1995
Ryoji Koie Tea Bowl
Ryuichi Kakurezaki
Sara Flynn white porcelain vessel
Ryuichi Kakurezaki – Black Tea Bowl
2019
Ryuichi Kakurezaki – Una Mistura Teabowl
Ryoji Koie – Sake Bottle and Cups
1990s
Shiro Tsujimura Tea Bow with Brushed Pattern
C2010
Shiro Tsujimura Tea Bow with Brushed Pattern
C2010
Châtaigne by Élisabeth Joulia
Genta Ishizuka
Urushi, hemp cloth, 2 way tricot, styrene foam ball, Kanshitsu-technique
Small Works, Great Artists exhibition
Erskine, Hall & Coe
Lucie Rie
Jennifer Lee
Sand-grained, olive bands, coned rim
1995
Claudi Casanovas
Sara Flynn
Zung Lung Tsai – 'Landscape'
Zung Lung Tsai – 'Landscape' sculpture
–