Crackle glazed chalice vessel – Isabelle Petrik
Armagnac Eggnog Goblet
Goblets have a festive look about them, whereas the chalice is more ceremonial in appearance and use, while both conjure the impression of celebration and revelry. The chalice and goblet tend to be large in size and regal in appearance, with the chalice being more ornate and detailed while the goblet is more basic in comparison.
After experiencing the divine nectar of the French Armagnac brandy for the first time recently, which I discovered in preserved figs from France, I decided on a whim to try it for creating an Armagnac Eggnog for the festive season. Its pronunciation rolls off the tongue rather awkwardly, but sounds amusing nonetheless, and I decided to serve it in a goblet, so I am looking at possibilities for an Armagnac Eggnog Goblet. As the Armagnac brandy of Southern France dates back to the fifteenth century and is actually the first wine spirit produced in Europe, I thought its presentation in a goblet would be appropriate.
The goblet name came from the French word 'gobelet' around 1300-50 AD, whereas eggnog was derived from from the word 'nog', appearing in 1693, which was a wood carved drinking cup. Eggnog is a festive concoction consisting of cream, eggs, sugar and spices mixed with a strong alcoholic beverage or two, created to elevate the spirit. As the chalice can be large enough to function as a compote, I contemplated using one with a more creamy fluid mixture, an Armagnac Le Creme, but settled for a more petite goblet, being appropriate as I didn't want to start the day with the guests staggering around the garden in a festive stupor. The exotic Armagnac drop has a bit of a kick and cream tends to mask its potency. It also lends itself dramatically to a Crepe Suzzette Flambe.
Downunder, Xmas occurs in the middle of summer, so  a ceramic vessel would also keep it chilled longer then a glass one.
Camelot White Goblet
The Armagnaçais of the Amragnac region were distilling brandy two hundred years before cognac was made, the process being brought over from Africa into Southern France by the Moors, who had used distillation for making perfumes. Distinct from Cognac, it undergoes a simplified single distillation process at a lower temperature and is similar to the ancient Georgian wines, the whole vine (stems,leaves and grapes) being used in its production, which delivers more threapeutic qualities to the brandy. Armagnac brandies are the earliest examples of distilled wines known in France and also had the title agua ardente, or fire water.
Justin Lambert wood fired goblet, CO,USA
Spun Pottery Wine Goblet Handmade
'Lycurgus Cup'  —  King Lycurgus entwined in the vine of Ambrosia, a devotee of Dionysus
4th-century Roman glass cage cup made of a dichroic glass, which shows a different colour depending on whether or not light is passing through it: red when lit from behind and green when lit from the front.
Aldo Londi chalice
Italian MCM
Catherine Rehbein 'Lakeside Sangria' goblet
Catherine Rehbein goblet
Large ceramic chalice by Pustovit
The Titans Goblet by Thomas Cole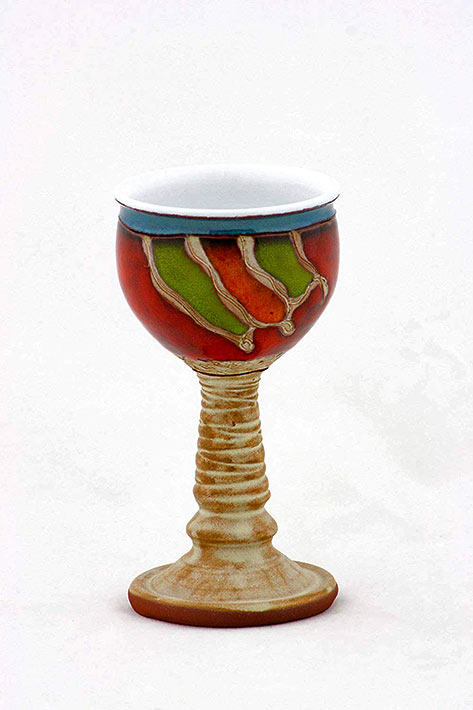 Stoneware goblet, wine chalice
Carol Long ceramic goblets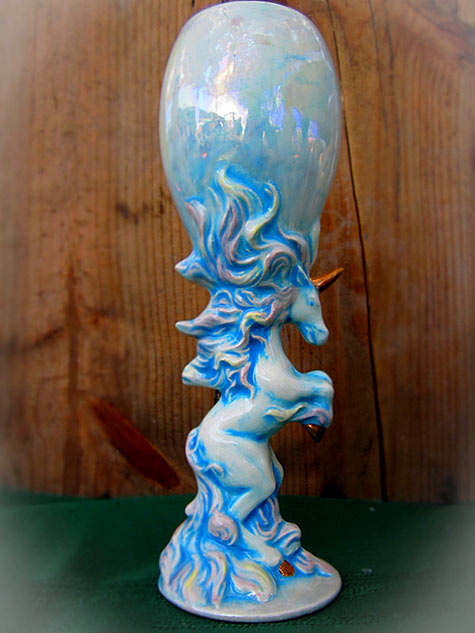 Ceramic Painted Blue Unicorn Wine Goblet—Wendy's Ceramics
Ceramic Goblet blue-turquoise–Sharon Miranda Pottery
Bitossi 'Seta' Ceramic Compote/Chalice-vessel
Ceramic Wine Glasses from Lee Wolfe Pottery
Egyptian chalice with Pharoh worship decoration in relief
Chalice with paprys motif
Egyptian—ca.1295–1185 B.C
Chalices from Popjoy Pottery–etsy
Chalice shaped ceramic vase by John Bennett with floral design featuring a butterfly.
Chian chalice decorated with a sphinx motif
Ornate-19th Century Medieval Style Bejeweled Goblet/Chalice
1st-dibs
Handmade stoneware goblet by John McCoy Pottery
Etsy
Female faces in releif goblets  —  Kathleen Raven
Hand Thrown Wine Goblet/Chalice –Brenner Studio Art Pottery
Bold glazed pottery Goblets by Marilee Hall
Autumn Wine Goblet -0- Mangum Pottery
Communion Chalice and Paten — Mangum Pottery
Stephen Benwell — abstract chalice
Govenors Bowl–Peters Pottery
'Goblet in sage' – Newman Ceramic Works
Gold Goblet with personifications of Cyprus, Rome, Constantinople, and Alexandria
Terracotta goblet with orime band on lip
Celtic Web Merchant
Vintage Pugi Chalice
1960's
Andrew Clark ceramic goblet
Porcelain wine goblets finely sculptured in a shape of an old tree trunk with newly grown branches
 A R Ceramics—slender wine goblet, UK
Brother Thomas Bezanson (1929-2007) Dark green celadon chalice with kaki and iron oxide glaze,
height 6. 38 in
A-R-Ceramics—wine goblet
Antique Russian or Bohemian Cased Cut Blue Overlay Glass Chalice
Ruby Lane
Beatrice Wood – Luster Glaze Earthenware Chalice Cup with relief figures
Bennett Bean –– 'Goblets of Fire'
Japanese studio art pottery Ikebana chalic style vessel with color textured salt glaze
Large divided blue/green chalice, used for intinction with wine & grape juice.
Bungalow Studio
California Studio Potter Beatrice Wood, Chalice Form Vase with relief masks
Matt Nafziger ceramic wine goblets
Matt Nolen 'Chalice'
Gravers Lane Gallery
Matt Nolan  chalice – 'Say you sure are drinking a lot'
porcelain 1996
Judith and Martin Schwartz Collection Photo – John Polak
Matt Nolan  chalice – 'Say you sure are drinking a lot'
Festive Vix Krater –  largest Classical Greek bronze vessel found to date, discovered in Burgandy, France,
The massive Vix Krater stands 5ft 4inches tall, weighs 208 kilos and had a capacity of 1,100 litres and was used for mixing wine.
530 – 520 BCE
 Museum of Pays Châtillonnais – Trésor de Vix
Russian gold chalice
Hermatige Museum, St Petersburg
Michael Andersen & Son Baptismal Font/Chalice
Michael Cardew – Wenford Bridge Chalice
Height 17cm
Murano glass chalice
Murano Venetian goblet with floral bowl and dolphin stem
Otto Natzler Tall chalice covered in mottled sky blue and amber glaze
Handmade ceramic wine goblet – JessStarkArt
NZ Studio Pottery – Wine Goblet
Peg Tootelian Stoneware  Goblet Ceramic Cup
Etruscan servant with large goblet
Peruvian Colonial Chalice–Post Contact
Polia Pillin chalice, footed form
Mid Century
Wine Goblets Set – Salt-Fired Ceramic—Deborah Britt Pottery
Red Lodge Clay Center–George McCauley
The Antioch Chalice — found in Syria 1910
MET NY
University of Southern Denmark researchers revealed that the goblets and plates, which were used by the elite, were glazed using lead, and entered bodies when people ate acidic foods.
Vintage Shorba 1986 Ceramic Pottery Wine Goblets
Andrew Clark
Goblet vessel – TriUshi Ceramics
Zsolnay Chalice –  Mihály Kapás Nagy, stoneware, eosyna
Janus Pannonius Múzeum – 1898
Pair of Majolica Palissy Relief Chalices with Grapes
Murano jewel encrusted goblet
Mark Anthony raising a goblet
Le repas de Cléopâtre et de Marc Antoine by Charles Joseph Natoire
Fresco of Theodelinda passing a chalice to her future husband Authari by the brothers Ambrogio
1445
Goblet refill at 'Psyche's dinner in the palace of cupid'
Faubourg Saint Germain workshop, circa 1660-Composition–Silk and wool Tapestry from Paris Manufacture
Minnoan Fresco, Knossos Palace
c 1450-1350 BC
–