Fat lava vase by Strehla, E.Germany  60s – 70s
Lava glazes that amaze
The Lava glaze ceramics of the 60's were an extension of the Bauhaus design concept of creating affordable decorative arts for mass consumption during the middle of the 20th century. The manufacturing process was simplified with the use of pottery casting molds and the application of a diverse variety of glazes by the enamelers and glaze technicians. This was combined with applying integrated craft procedures to produce large numbers that maintained an aesthetic appeal of high quality. The first "lava"glaze appeared in 1967, coinciding with the sixties "summer of love", so the bold colors, textures and vivid abstract styles were really in harmony with the spirit of the era.
The repetitive pottery forms of the mold created industrial vessels were given more distinctive features by the enamelers, who were encouraged to be adventurous and experimental with their decorations, particularity after the introduction of the foamy, dripping, rich textural Fat Lava glazes in the early 70's and was instrumental in helping to redefine the vase in a modern, sculptural context. The Fat Lava glazes at this time, in French Vallauris, became a sublime match with the studio hand built, 'free form' modernist ceramics.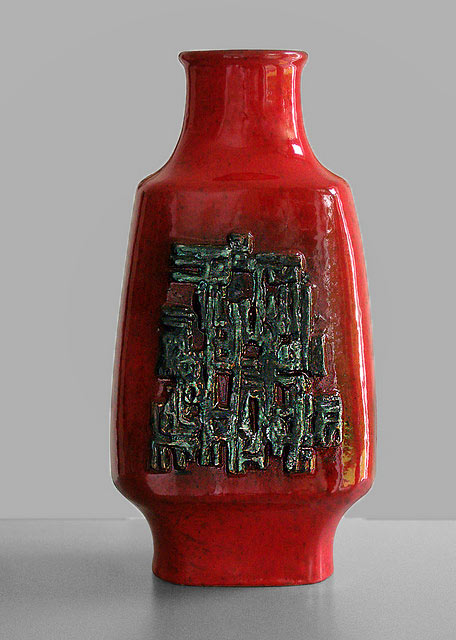 Walter Gerhards red glaze vase with brutalist Fat Lava motif
Fat Lava Wadersloh – flickr
This remarkable era of design freedom unleashed structural geometric reliefs, contrasted with smooth glazes in black, blue and red, providing a vibrant decorative language for  the abstracted modernist forms. An exotic plethora of other imaginative combinations of textures and colour were also abundantly evident. The use of lava glazes heralded the emergence of a more eccentric aesthetic along with other forays into  reactive, evocative ceramic designs. The rugged surface craters that appeared in the glazes were symbiotic with the lunarscapes of the sixties space exploration and lava clad Sputnik shapes were even created by the German designers. This flamboyant Mid Century phase of ceramic art spurned a wave of affordable modern decor designs which also included inspiring contributions from Italy, USA, Spain, UK and Scandinavia.
Ingvil Havrevold lava glaze pottery vessel
Ruscha 'Pompeii' lava glaze vessel
West German fat lava ribbed Vase
 Tall Lava Glaze Vase with Relief Bull and Volcano's  –  Scheruich
Assemblage , Chicago
Scheurich 291-20 Lora Fat Lava Vase
West German Pottery
Mid Century lava glaze Vase-–-Bay Keramik
1950's
Scheurich 517-45 Fat Lava glaze Floor Vase
Fat Lava Wadersloh – flickr
Gerda Heuckeroth Carstens Atelier handle vase
Scheurich  520-28 red drip lava glaze vase
60's
Ruscha ceramic panel wall art
Fat Lava glaze planter
Large Lava glaze colorful Ceramic table or floor lamp by Melior
Height 28 inches
Fat Lava Ceramic Owl Table Lamp – 70s
1st Didbs — 24inches height
Large Avacado Green Lava Glazed  Pottery Floor Vase by Carstens
1970's  West Germany
Red and Yellow ovoid pottery drip glazed vase shape table Lamp
Ettore Sottsass ceramic tableware for Bitossi
Vintage sgraffito lava glazed pitcher – Fratelli Fanciullacci, Italy
Helmut Schäffenacke lave glaze vase
West German Bay-67-17 fat lava vase
Bay – Vase model 102 18-Fat lava Mid-century
West Germany
Lava glaze Vase by Marius Bessone
Vallauris 12inches – 1stDibs
Carstens 1960s Large relief  fat lava Floorvase-–-Mid-Century
Everglaze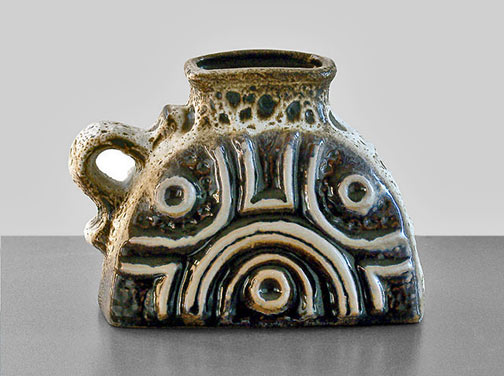 Vintage Carstens 'Luxus' Vase designed by-Peter Dieter
Carstens Tönnieshof vase – 7607-20
Ceramano 229—219—Decor Syrakus ceramic lava glaze jugs
Ceramano 'Koralle' Fat Lava Vase
West German Pottery
Chocolate lava cups Mid Century
Vallauris modernist vase – lava drip glaze
France
Fat lava ceramic bottle – Emons & Sohn Keramic
West Germany, 1960's
ES Keramik
70's West German Pottery
Fat Lava Vase-–-Jopeko-404-12-–-Green White with Thick Crust
Everglaze  – 1950's – 1960's
Brutalist Style Fat Lava Vase – VEB Haldensleben Label – ocean green white black & brown
1960's – 1970's – East German Mid Century Pottery
French Ceramic Vase by Marius Besson
Vallauris
 French Cyclope Emaux Des Glacier, lava glaze pitcher
Gallery Hero Il_Fullxfull
Glazed Lava bottle geometric motif vase by Scheurich Keramic
IstDibs
Lava fountain eruption of Mt Etna volcano, Italy
Jopeko Modernist  Space Age Fat Lava Vase. 11 cms
70's West German Pottery
Jopeko Modernist  Fat Lava Vase
West Germany
Red and black Marei Fat Lava vase
Jopeko Keramik West German Pottery Fat Lava vase with handle
Lava glaze abstract motif mid century vase
Lapid Pottery, Israel
Large San Marino Italian Art Pottery Raymor Vase
1960's
Tall and elegant Vase by the La Roue studio Vallauris. Glazed with a Lava type Glaze and enameled floral decor.
Jean Besnard Earthenware Vase
circa 1937
Scheurich large lava vase West Germany
Scheurich fat lava vase, yellow with black stripes
Scheurich-420-54—21 vase with handle,  Black lava glaze leaves on on red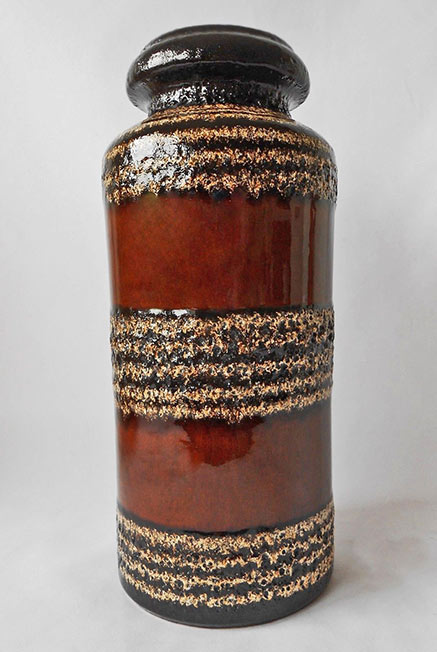 Scheurich 70's Vintage West German Fat Lava Floor Vase.
Height 30 cms.
Scheurich lava glaze vase with horses motif
Pair of vintage table lamps with lava glaze patterns
Marius Giuge huge and heavy classical style vase with drip lava glaze
Vallauris
Marei lava glaze bottle
2003
Scheurich baluster lava glaze vase — West-Germany
Vallauris Fat Lava glaze vases
Faceted Turquoise lava glaze lamp base
Vintage Lab
I had one of those "whoa" moment when I saw this abandoned 60's lava relic perilously perched on top of a junk bin at a home reno in my neighborhood. It's still in superb condition, and has now been retired to my balcony.
Kreutz Keramik German jug vase ceramic lava 60s – 70s mid-century
Designclassics
Vase in Brown with a Light foam Glaze by Jørgen Mogensen
1960's

Vallauris ecume de mer glaze vase – 1960's
LCT Home
Vintage 60s –  70s Mid Century Modern Drip Lava Glazed Ceramic Table Lamp
by Maurice Chalvignac  ( see comment below)
Vintage West German pitcher vase by Jasba
RetroMungo – Etsy
Walter Gerhards swirly portal Lamp Base
ES Keramik 70's West German Pottery Modernist drip Fat lava Space Age Vase
Awaji Pottery Manipulated Jar with Crawling Lava Glaze – circa 1930
–