The Egyptian Goddess Isis – 1st century AD
Photo © Joan Ann Lansberry
Evolution of Egyptian Revival :
The Roman rule of Egypt from 30 BC to 395 AD led to Roman decorations incorporating Egyptian motifs and an increased interest in the Egyptian culture. During the Italian Renaissance "Egyptomania" resurfaced again when ancient Roman artifacts reflecting an interest in Egyptian culture along with actual Egyptian artifacts were discovered and exhibited and elements of Egyptian art were used by Italian artists. Travellers took theses Egyptian themed designs back to other parts of Europe in the 18th century.
Napoleon's Egyptian occupation in 1798 lifted exposure of Egyptian art in the West after he assembled a contingent of over 500 scholars including biologists, archeologists, historians, artists and scientists, who were employed to catalogue their sights and new discoveries in Egypt. This was considered as an indication of Napoleon's devotion to the principles of the Enlightenment. The results of their labours appeared in the monumental 20-volume Description del' Égypt, completed in 1828, and in the course of their research Egyptology was born.
The British confiscated most of the French collection of Egyptian artifacts after the defeat of the French in Egypt in 1802 and most ended up in the British Museum. However the grandiose scale of Napoleons research project and their discoveries in Egypt gave rise to an increased fascination with the ancient Egyptian culture.
Statuette of a standing woman with crossed arms Naqada III– early Dynasty 1 (ca. 3300– 3000 BC)
Ashmolean Museum of Art and Archaeology, Oxford,
The mysteries of Egypt also captured the imagination of many artisans and designers and its influence filtered through to architecture, furniture, ceramics and  jewellery where Egyptian symbols like obelisks, hieroglyphs, scarabs, pyramids and the sphinx appeared in numerous designs. Organic and plant forms such as lotus flowers and papyrus reeds appeared in the geometric decorative patterns.
Monumental Egyptian-inspired sculptures were erected throughout Paris in the ten years after Napoleon's invasion of Egypt..The literal translations of ancient Egyptian art eventually merged into other styles such as Art Deco, in the 1920's, and Egyptian motifs would become an integral part of the language of Art Deco, a style that dominated the decorative arts until the late 30's. The discovery of King Tut's tomb in 1922 also fed the public imagination and desire for Egyptian art.
Architecturally, the Egyptian Revival style attempted to recreate the appearance of Egyptian temples, especially with the use of massive columns and details referring to ancient Egyptian symbols—the phoenix, the sphinx, and the vulture and sun disk.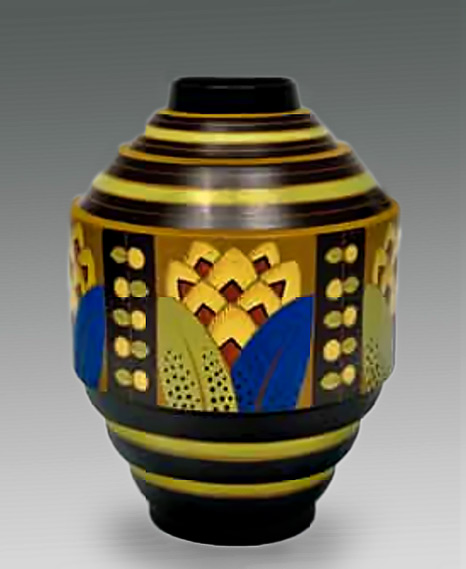 Charles Catteau Art Deco vase
 20th c. Egyptian Revival Pharaoh Table
( 1st Dibs – Newel, NY )
 Art Nouveau Egyptian revival statue – Hôtel Bouctot-Vagniez, Amiens
Wall  painting fragment from the Tomb of Nebamun
( British Museum )
Piel Freres  – Egyptian Revival Scarab Buckle
Belle Epoque Period
Brown-Westhead, Moore & Co. majolica Egyptian Revival garden seat.
Large 19th century Egyptian metal Charger
Continental porcelain Egyptian revival plaque in a giltwood decorated frame – 1880
( 1stDibs )
Large twin handled Egyptian Pottery – marked FG
Longwy Vase
Egyptian revival – Wedgwood Jasperware Egypt collection – canopic jar.
Egyptian revival statue
Egyptian Revival marble, slate, and bronze-mounted mantel Temple Clock
Egyptian Revival enamelled pendant
Egyptian Museum, Cairo
 Perfume bottle with Egyptian dancers – Rene Lalique
'The Temptation' table lamp – Edgart Brandt and Daum
( Southebys )
 Carltonware Egyptian Revival Fan Vase
( reissantiques.co.uk )
Wings of Isis clock – Toscano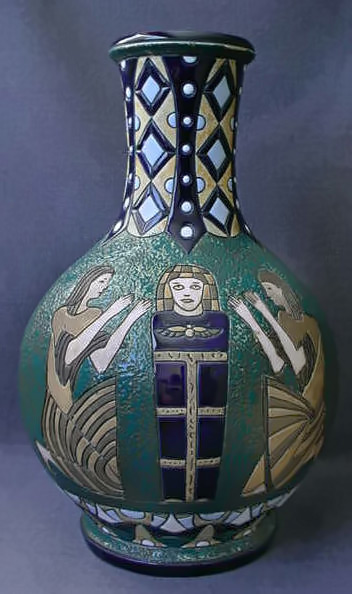 Amphora Egyptian Revival vase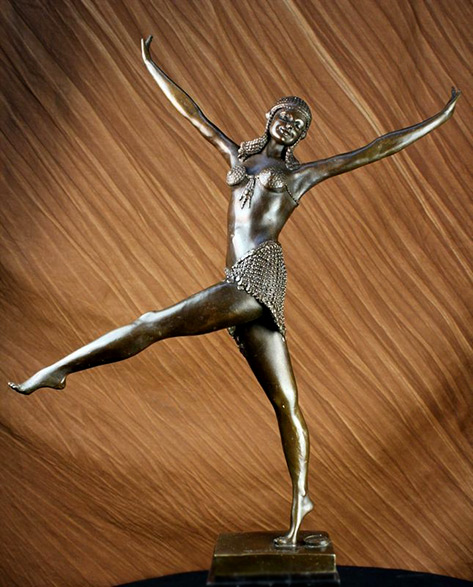 Demetre Chiparus – Egyptian Dancer
Bastet, the Cat Goddess
Austria,late 19th-century Egyptian Revival vase
Art Nouveau Scarab and Papyrus brooch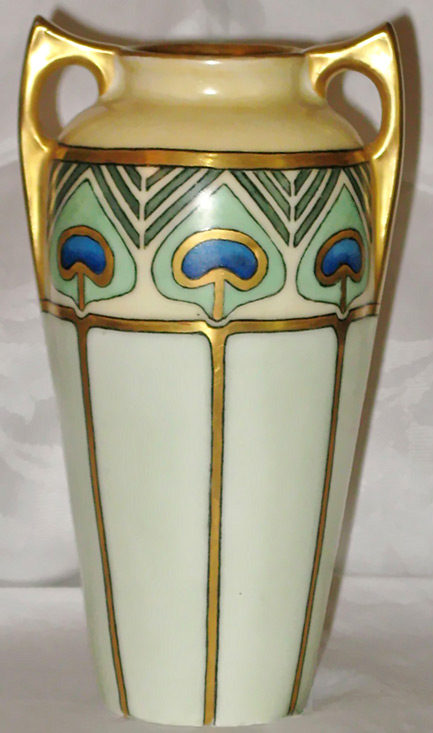 Art Deco Egyptian Urn Vase
Large Carlton Ware Art Deco vase
( carltonwareworld.com )
French Art Deco Egyptian revival gem-set plaque brooch
( Skinner Auctions )
Two kneeling Egyptian maidens holding chains attached to a flaring vase.- Dagoty, Paris
( Christies.com )
Women at a Banquet, Tomb of Rekhmire – New Kingdom, Dynasty 18
( The Met, NY )
Antinea by Demetre Chiparus, ca.1928.
The " Scarab Vase " by Adelaide Alsop Robineau
( Everson Museum )
Carved Egytpian Revival armchair made in Egypt, circa 1925-30.
Art Deco Egyptian Papyrus inspired elevator entrance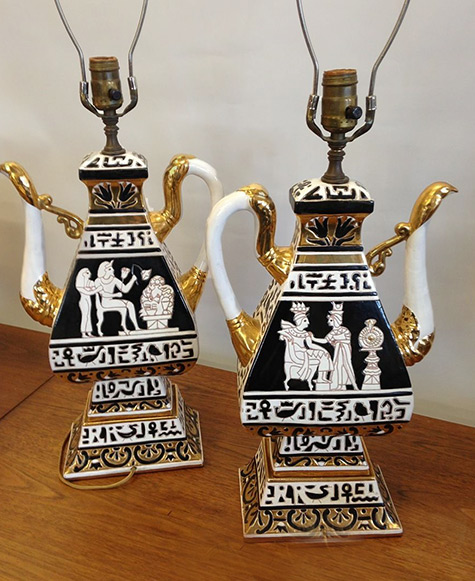 1950s Italian Pottery Lamps Egyptian Revival style
1920's Egyptian revival scarab jewellry
Vantines Art Deco Egyptian revival Incense Burner
Minton Egyptian Revival vase
Wedgwood Rosso Antico Egyptien revival teapot
Antique Centrepiece Egyptian Revival Art Deco- Czechoslovakia
Vintage 40's red pharaoh earings
 Early 19th century Coalport Porcelain Classical Urn or Vase with Egyptian Hieroglyphics, 1810
( RubyLane )
Sarreguemines French ceramic vase
 Late 19th c. French Porcelain Egyptian Revival Lidded Box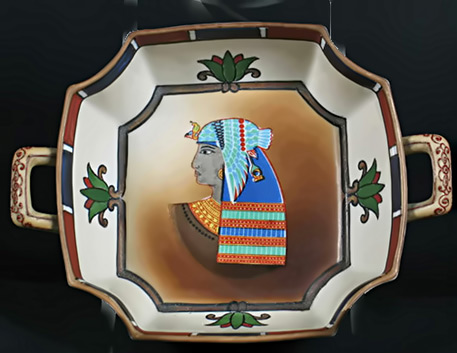 Nippon Egyptian revival dish
An antique French Egyptian revival mantel clock set with Sphinx's and Griffon's.
( Antikolga.com )
Art deco statue, seated lady with fan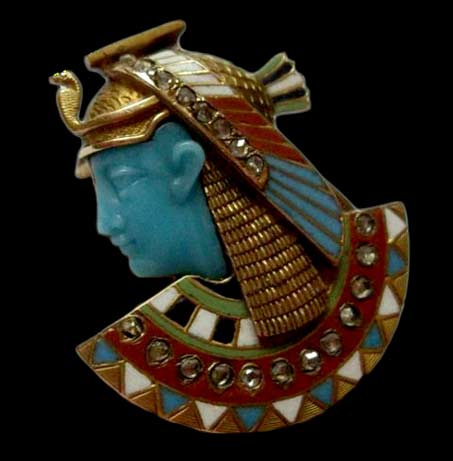 Art Deco Egyptian Revival Cleopatra brooch
Bronze Egyptian Revival Lamp Figure
1920's
 Egyptian Revival Bastet poster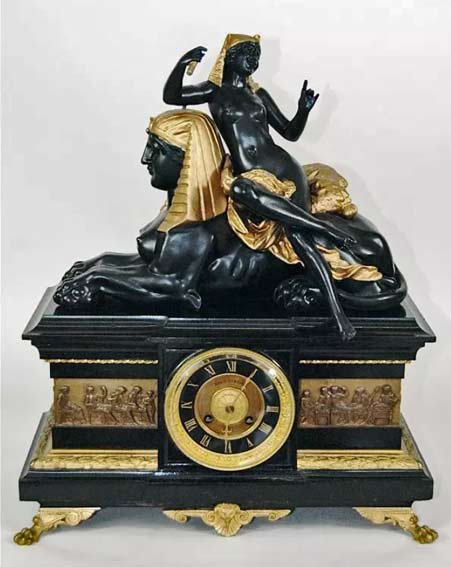 Egyptian Revival black marble and bronze case clock with surrounding Roman relief on animal paw feet, Egyptian figure of nude woman leaning on Sphinx. Works signed Japy LeMaire, Paris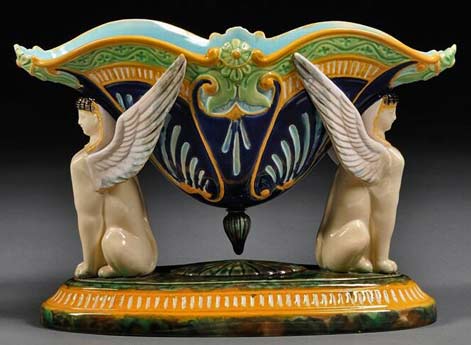 George Jones Majolica ceramic compote
England, 1857
 Art deco enamel compact
Female Bronze Sphinx candle holder
Pair of Ronson Egyptian Revival Bronze Bookends
Aspire auctions
Victorian Egyptian Revival gold Locket
1890
Pair of French gilt and-patinated Egytpian style candle holders
–