Faïence   – Delphin Massier  1908
ψ
Rambervillers :  In 1903 Alphonse Cytere set up an art studio in Rambervillers which produced ceramics often designed by prestigious artists of the Ecole de Nancy such as Bussiere, Gruber, Jeandelle, Majorelle. Rambervillers specialized in unusual and iridescent glazes on organic forms.
Rene Jeandelle for Rambervillers Art Nouveau iridescent ceramic vase with a relief nude under full blown poppies.
1905-1906 ( Terra Mare Antiques )
ψ
Montieres : Jean Barol :  (1873-1966) formerly a glaze artist in Clement Massier's Golf Juan workshop founded the company B.A.C.S. in Vallauris in 1912. In 1917 Barol left B.A.C.S. and with Francois Sicard founded Montieres in the city of Montieres-les-Amiens, in the north of France. Montieres produced iridescent and enameled ceramics similar to Massier and B.A.C.S. Barol was artistic director of Montieres  until 1920.
Montieres small metallic glazed match holder with etched flower and leaf designs.
1917 – 1920
ψ
Theodore Deck :  (1823–1891) was a 19th century French ceramist. Deck moved to Paris and in 1856 he established his own faience workshop and began to experiment with the Islamic and Oriental styles that mirrored his interest in historicism and exotic influences that were popular at the time.
French Art Nouveau Theodore Deck brilliant flambé glazed vase. Signed on base.
Circa 1890
French Montieres Pottery Vase
 This French art deco vase of remarkable presence is by Sevres and dates from the mid 1920's.
" Dancers "
Mougin– Nancy, France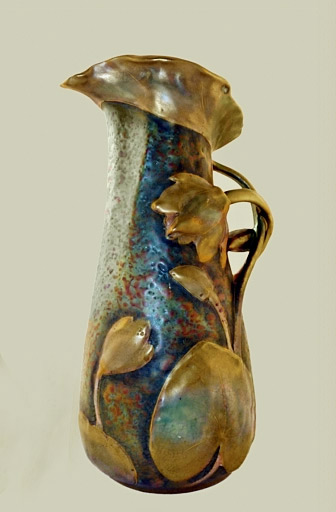 Art Nouveau Vase – Zsolnay
Clement Massier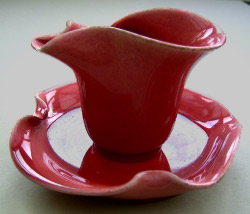 Clement Massier  Cup  and Saucer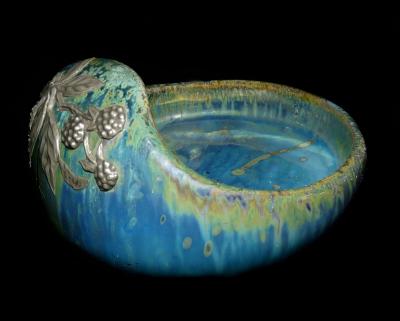 Alphonse Cytere
French metallic glazed pottery with pewter chestnut leaf overlay.
Alphonse Cytere – 1936
Pierrefonds  :
 The Societe Faienciere Heraldique de Pierrefonds pottery studio was founded in the village of Pierrefonds in 1903 by Count Hallez d'Arros and is renowned for it's crystalline and flambe glazes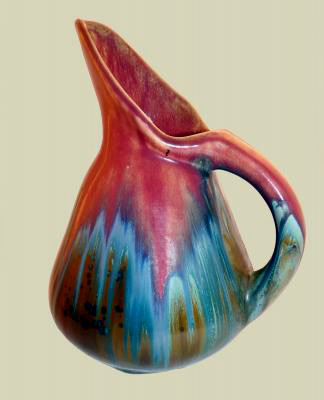 French art pottery Pierrefonds red flambé glazed pitcher with exaggerated spout.
1920's – 1930's
Pierrefonds French Art Pottery Double Handled Vase, beautiful blue and green crystalline glaze
Pierrefonds  Three Handled Crystalline Vase
ψ
Denbac : 
Denbac Pottery Vierzon, France was started by Rene Denert, an artist and ceramist who started making pottery in 1908. In 1921 he partnered with R.L. Balichon under the name Denbac. Denbac used the local grey clay and a flame pattern of glazes known as "gres flamme" and distinctive crystalline glazes. The company closed in 1952.
 Small Denbac handled vase with scarab beetles circling the rim.
Pierre-Adrien Dalpayrat – 1896
V & A Museum
French art pottery vase by Jacques Blin (1920-1995); c. 1950.
Tall earthenware vessel decorated with birds in sgraffito.
A French Art Nouveau ceramic bowl by Clement Massier, featuring an abstract foliate decoration with a brown glaze.
( Macklowe Gallery )
Menelika  Suisse
Belgian Art Deco Vase " Biches Bleues "
by Catteau for Boch Feres – 1925
Adrienne Picard:
She left the school of Fine Arts in Lyon in 1913 to enter the workshop of the glass master NICOD. In 1920, she settled in Paris where she drew sketches for stained glass windows in the workshop of Maurice DENIS, then in 1921 she completed her training as a ceramist at the National Manufacture in Sèvres. In 1922 she went back to Lyon to take over the management of her father's ceramics workshop, Henri PICARD. Until 1951 she made big stoneware vases mainly meant for  urbanism, large fountains, medallions, decorative plates and panels, and pieces intended for garden art.
Adrienne Picard
Léon Pointu
Gilbert Portanier  :
Between 1945 and 1948 Gilbert PORTANIER studies architecture and painting at the Ecole des Beaux-Arts in Paris. In 1948, he settles down in Vallauris and immediately followed the way initiated by Picasso by founding Le Triptyque with Albert DIATO and Francine DELPIERRE. A year and a half later, he went from one workshop to the other, multiplying his baking experiments, favouring  unique pieces, before moving into an old traditional workshop in 1954 where he still is to-day
Gilbert Portanier
Gustave Reynaud
Georges Serre
This  French art deco vase in the form of a pilgrim flask was created in 1925 at the Belgian firm Boch Freres under the artistic direction of Charles Catteau (1880-1966).
The ceramic, which is glazed in an Egyptian Faience blue with a craqueleure finish is mounted with a silver metal rim .
Longwy vase with floral motif
vanderleelie.hubpages
Sevres Vase
Paul Jean Milet
Images courtesy of Jason Jacques Inc.
Emile Decoeur (French, 1876-1953)
Images courtesy of Jason Jacques Inc.
Volute Vase by Auguste Delaherche
Images courtesy of Jason Jacques Inc.
Hans Stoltenberg
Decapod, circa 1899
Images courtesy of Jason Jacques Inc.
Edmond Lachenal
Friedrich Goldscheider
In 1885, Friedrich Goldscheider came from the small Bohemian city of Pilsen to Vienna and founded the Goldscheider Manufactory and Majolica Factory. It became one of the most influential ceramic manufactories of terracotta, faience and bronze objects in Austria with subsidiaries in Paris,Leipzig and Florence.
Friedrich Goldscheider
Art Nouveau Vase
Friedrich Goldscheider – Sculptor, Pecheur
( ceramique1900 )
Lucien Brisdoux (1878-1963) :
He succeeded his father Achille in 1905, then in 1927  created his own studio his production was then exclusively dedicated to decorative cast stoneware. He particularly liked metal glazing (gold or platinum) with special casting effects through creosote-blasting, after applying ceramic gold.
Lucian Brisdoux
Lucian Brisdoux
Rare Art Nouveau Jug  – Pierre Adrian Dalpayrat
( the bohemian.com )
 (Faience) flattened Ovoid Vase On Heel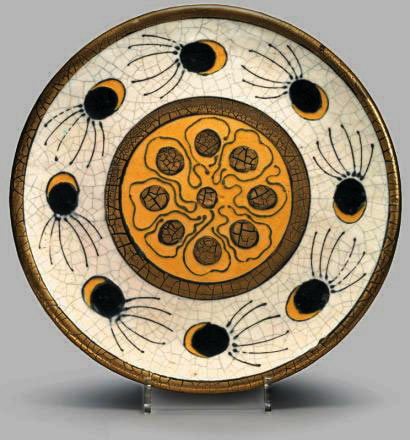 André  Methey – (1871-1921)
( millon-associes.com )
Mougin Bros Art Deco
Tall vase  red ox blood colour – Pierre-Adrien Dalpayrat  (1844-1910)
( aguttes.com  )
Art Nouveau Vase –  Clement Massier / L. Levy
 ( Armin-Cichos.de )
Pierre Adrien Dalpayrat
( aguttes.com  )
Mid-Century bottle by Jean Derval – (1925-2010)
Jacques & Dani Ruelland
Iridescent drip glaze vase – Émile decoeur  (1876-1953)
Alexandre Bigot
Fernand Lacaf & Françoise Delacourt Lacaf – Large bowl
Eugene Lion -(1867-1945)
Unique vivid orange pitcher – Fernand Lacaf – (1920-1991)
 The Jungle – Maurice Gensoli   (1892-1972)
Henri Vallombreuse
 Slipcast stoneware vase, decorated with glossy and matt patches of rust, cream, brown, purple and black glazes by Léon Pointu, France
Ψ
–