Merete Rasmussen
Puls Gallery  " 10 years on " exhibition
Puls contemporary ceramics – is the only gallery in Brussels exclusively dedicated to ceramics. The gallery stages around eight exhibitions annually, showing the best of international contemporary ceramics, with a special focus on Denmark. The gallery features the works of both established international artists and also upcoming new artists. Below are some of the European artists that have exhibited their ceramics at Puls over the last 10 years since its inception.
Merete Rasmussen /Denmark  & UK :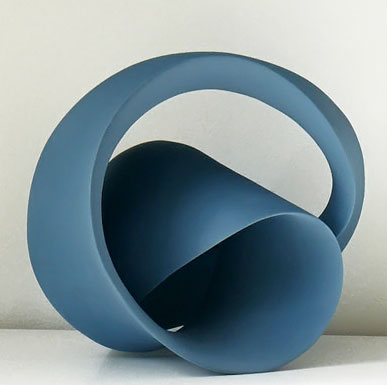 " I work with abstract sculptural form. I'm interested in the idea of one continuous surface, with one connected edge or line running through the whole form. Clear, clean shapes; soft smooth curves in contrast to sharp edges; concave and convex surfaces; the discovery and strength of an inner/negative space – these are all form expressions that appeal to me and results in my continuous exploration and expression in many different variations.
My sculptures are either asymmetrical or with a repetition of form:
Asymmetrical where I mainly work with the idea of continuous surface. The form has only one side and one edge connected throughout the shape.
Repetition of form with three symmetrical parts that are connected; three being both a strong number and a balanced repetition of form. The negative space – the shape of the space in between, is equally important. "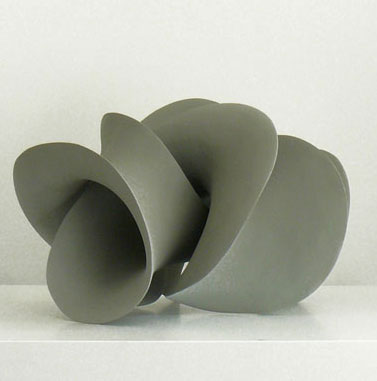 Jean-François Fouilhoux /France :
Jean Francois calligraphic like forms are done exclusively in Celadon glazes.
" His shapes", he notes, "arise from a unique course, without remorse or recovery," with both an entry and an exit in the clay. They are "graphs in three dimensions, types of ideograms" whose meaning is revealed to anyone with the ability to look and truly be seen. Touch and genuinely be touched. Listen and hear his music. Every gesture that ultimately shapes a piece is associated uniquely to each object, despite its sometimes apparently fraternal twins or more distant cousins. Each movement is a choreography rehearsed mentally and physically time after time before the first action, before the initial sweeping movement. Before the moment the dance begins. "The rest," he says, "is just technique."
Rafael Perez /Spain :
" My work is about surprising myself and the audience, using white porcelain and black earthenware clay, fired at high temperature. The black earthenware expands, thus creating a volcanic landscape. It is not just a natural landscape, because it is directed by me. I have created the cuttings from the beginning, but still the aspect of surprise is always present, because what happens in the kiln is unpredictable. "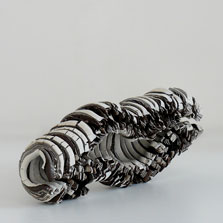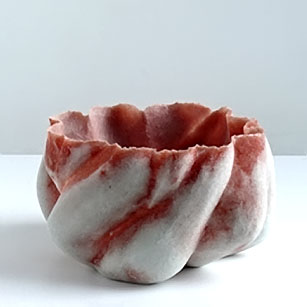 " I can work quietly, at my own speed when using  clay, my favorite material. I cast the clay model in plaster of Paris and silica, and then I can introduce the glass paste granule by granule. The trick with glass is applied to controlling the baking process so as to preserve the glittering of the granules of glass. Apart from washing the glass object after it has been taken from the mold, no further treatment is necessary. "

 " I had just returned from a heavenly holiday on La Graziosa, a tiny island in the Canaries off Lanzarote. That was the foundation for my glass working. The lava stone that I found there was the model for my first trial pieces. After my angular works in stone structures, I have recently began working on organic shapes and structures. Now I am getting more confident, daring to experiment with colors and strange combinations. I combine parts, and let them grow together or live in symbiosis.My glass work is a personal interpretation of what I experience, see and feel. I do not make stones and corals, I make glass objects. They are a distillate of my feelings and emotions, or the response that naturally evokes in me. "
Annette Sloth, the owner of Puls Gallery made the observation, " Carine Neutjens' bowls remind one of stone, coral, lava and other natural elements. These are extremely vulnerable, fragile pieces All which SEEM to have come straight from nature. "
Jane Reumert/Denmark :
In her more than 40 years career as a studio ceramist, Jane Reumert has undergone an evolution from more functional pieces in stoneware to working with porcelain, creating paper-thin bowls and vessels, salt-glazed and fired to 1330°C. In the 1990's she experimented with fibreglass in the pure form, which lead to a new chapter in her artistic process, whereby she incorporated her experiences with fibreglass into her work with porcelain clay. By mixing fibreglass into the clay, she was able to work sculpturally and create bigger volumes, yet achieve translucency at the same time. Her almost eggshell-like vessels seem to defy the laws of gravity. They are often perched on delicate wire tripods so they float over the circle of their own shadow, seemingly held in levitation by the force of their own lightness. The particular strength of her work lies in the harmony between the shape and the decoration, patterns which are varied almost indiscernibly and are often reminiscent of personal experiences, things one has seen before: the bird's feathers, the wasp's nest, the larva's cocoon, the sea-shell. Reumert's astonishing pots evoke the fragility of human endeavour and the mystery of its inescapable link with the primitive drives of Mother Nature.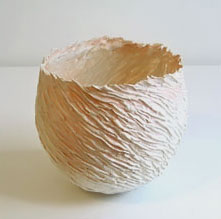 Morten Løbner Espersen/Denmark
Morten is one of the most successful Danish ceramists of his generation. He has had numerous major international exhibitions since graduating in 1992 and establishing his own studio. He has been a professor at HDK Göteborg University in Sweden since 2005 as well as continuing to work in his own studio in Copenhagen
Yoshimi Futamura/Japan/France :
 Born in Japan in 1959, Yoshimi Futamura learned ceramics in the tradition of her masters. She came to France in 1986 and studied at L'Ecole Duperre. She decided then and there that she wanted to be an artist, using clay as a medium.
Nature is at the heart of her inspiration. It is the material itself which underlines nature: cracked structures that resemble bark, breathing clay that almost seems alive, where primeval forces seem to be at work. ( I wonder if the above set inspired by car tyres ? )
Jonathan Keep /South Africa /UK :
"Nature – not objective nature out there but subjective nature within us -maker and viewer – is what interests me. As conscious beings I feel we forget the unconscious, instinctive role biology plays in our lives, especially with respect to aesthetic experience. It is how so often we respond at that unexplainable gut level to art that intrigues me. Most often my work develops out of the way I work, responding to the material and process. The work becomes an exploration of the nature in myself, as a reflection of the greater nature out there. My first and primary concern is with form, both inside and outside form and how we read it in a very bodily and physical way. By trying to understand these qualities in myself I am seeking to test the idea of natural creation being that which drives artistic creation – Nature as the inner cause of everything. The importance is not in the objects themselves, but how the work can communicate the pleasure of natural order – pattern, symmetry, structure, process. It is not necessarily personal expression I am seeking but a more universal awakening."   
Wim Borst/Netherlands :
This ritual of analysis and synthesis is the connecting theme in his gradually evolving oeuvre. After having used straight lines and angular shapes for twenty years, he started to apply cylinders and ovals from 1998 onwards. The mat and smooth skin developed into a granito-like skin with a silica-like, mineral structure. He stacks volumes just like an architect, playing with interior and exterior spaces, proportions, rhythm, surfaces and corbellings. Glaze and strips of perspex direct the light. Architecture serves as an important inspiration, from Greek temples to modern grain silos. Ad Dekkers' reliefs, where squares transform into circles, inspire him as well.

Wim Borst became a professional ceramist at a rather advanced age. At the age of 31 he exhibited for the first time. As a self taught artist he took lessons in ceramics from Ru de Boer and Emmy van Deventer a.o.
Hank Wolvers/Netherlands :
Hans specializes in very thin walled, translucent ceramic wares.
Claudi Casanovas/Spain :
 He studied and began working in clay in the town of  Olot in his native Catalonia, becoming a member of a potter's cooperative and working with them from 1978 to 1987. He creates his sculptures—often large-scale work—from a variety of clays and media. His pieces are reminiscent of the earth from which they come. While not a direct evocation of the forms and textures of the geology and landforms of his native region, it is nevertheless powerful and uncompromising work that is modern day alchemy with clay and water, fire and ice.
Alexander Engelfriet/Netherlands :
Tjok Dessauvage/Belgium :
Tjok Dessauvage is without any doubt today's master of the ancient technique of Terra Sigillata. The ceramic pot is turned on the wheel, after which the slip is added, without the use of glazes. The pot is then polished and fired in a kiln with a reduced atmosphere. Tjok Dessauvage then gives his personal comment, by grinding the pot and adding other materials like gold, porcelain or bone and thus marking the     pot with graphic or pictorial accents.

Hans Vangsø/ Denmark 
Anna Torfs / Czech Republic :
Monika Patuszynska/ Poland :
Pippin Drysdale/ Australia ( slight exception to the Euro theme ):
Arnold Annen/ Switzerland :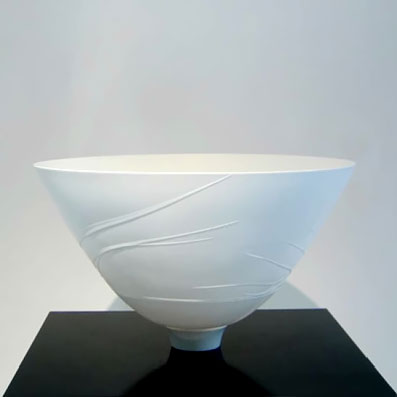 Tora Urup – Denmark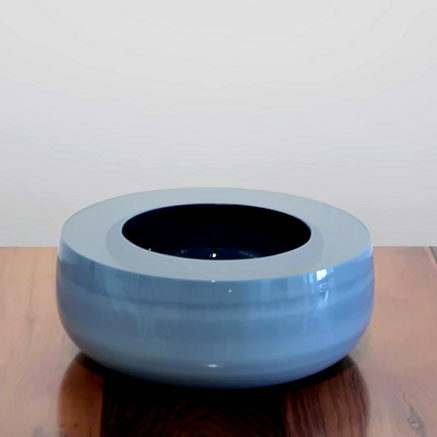 Explore more about Puls Gallery here




–