'Abstract Brooch' — -by Bettina Welker from series The Place In Between
via Polymer epiphany
Brooch/pin adornment
Brooch jewelry artists are always presented with the challenge of limited size & weight, while maintaining strength, which can lead to clever minimalist creations and miniature pieces of fine detail that are fascinating as a compact mobile sculptural art. Brooches probably peaked as a fashion accessory during the Art Nouveau and Deco eras, where the iconic Nouveau curves and Deco geometrics easily adapting to the limited size. Up to the 50's, Brooches were still popular where they became more kitsch in comparison, and some modernist pieces appeared in the 60's and 70's but as fashion became more streamlined and casual, they eventually fell off the fashion accessory radar.
Maybe with rebranding or if Apple came up with a pin-on "brofone", interest in this fashion accessory might receive a boost. However, as it wouldn't be that pragmatic for taking a selfie, which in itself would be a statement of good taste, its desirability would be compromised. But then again it would be useful for heart monitoring, hands free photography and a flashing beacon for a bike rider, but hardly a fashion statement.
The original brooch was purely functional and originated in the Bronze Age where they were carved from bone, wood and materials like tortoise shell, to be used as a pin to secure pieces of clothing attire like a cape. During the Iron Age they eventually became more ornate, especially after they were forged from metal and had jewels added, evolving into items of decoration. In the colder regions such as Scandinavia, they were larger in size as the clothing was heavier and they became bold fashion adornments, sometimes containing spiritual motifs and symbols and they were quite often discoidal in shape. From the Sixth to the Tenth century, during the Byzantine era, enameling was introduced with more vivid colours and detail. These brightly colored brooches found their way along the trade route to as far as Britain and Europe.
I have been noticing for awhile on sites like etsy that the emergence of new lighter composite materials and polymer clays have rekindled interest in brooch designs. Although brooches now are rarely regarded as a mainstream fashion item, they still feature as an accessory for more formal outfits, with some contemporary, elegant designs featured below.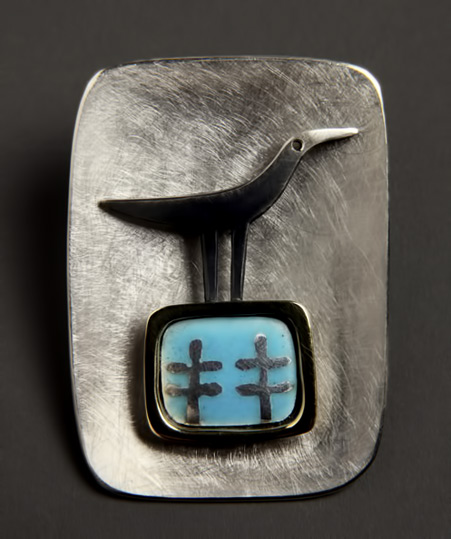 'One Fine Day' – Alan Ardiff, Irish jeweller.
French Egyptian Revival brooch – Eugène Feuillâtre
circa 1900
Typically elegant Erte gold and black enamel Art Deco pin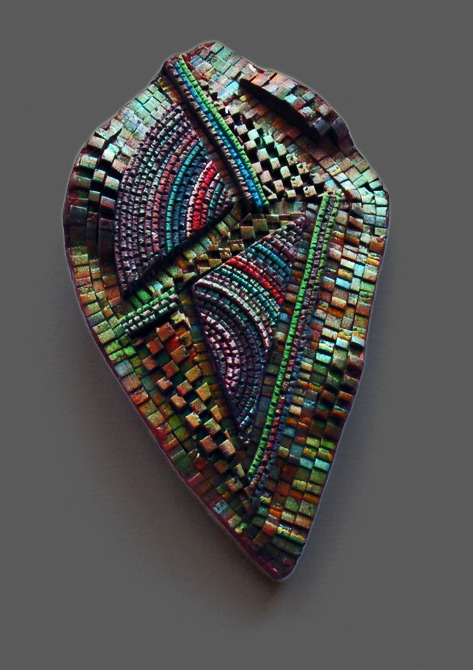 Polymer clay brooch – Ann Dillion
Art Nouveau pearl diamond, enamel and 18K gold brooch pendant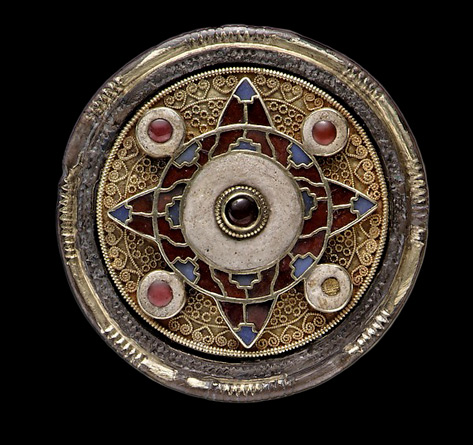 Disk Brooch–early 7th-century Anglo Saxon made in Faversham
Askew Rectangular Bug Brooch Pin, London
Levinger & Bissinger – Jugendstil Art Nouveau Brooch attributed to Otto Prutscher
c.1900
tademagallery.com
'Eyebright' – Beppe Kessler Brooch
2011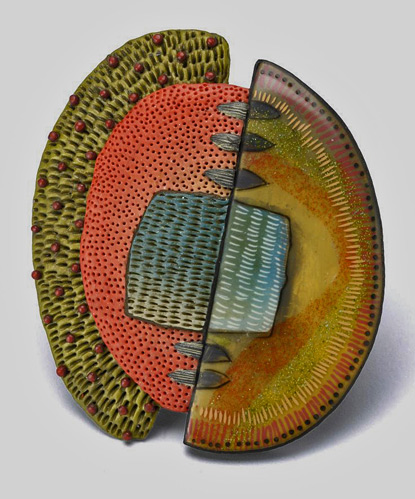 'Tribal Pin in Green' – Kathleen-Dustin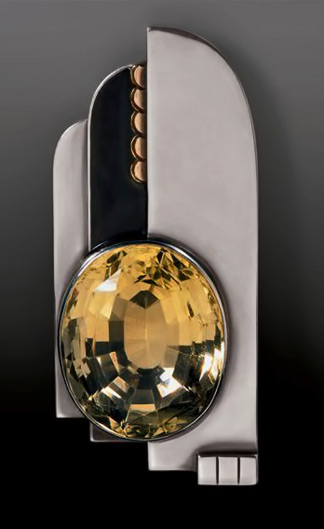 Bijou Art déco et Avant garde – Jean Després, pendent/pin
1932_Brant Foundation, Greewich,
French Art Nouveau Twin Stork pendant/brooch in gold, garnet and pearl
c. 1900
"Poetry" brooche by Eugène Grasset for the house Henri Vever
Museum of Decorative Arts, Paris
Ceramic White Tara, Kwan Yin Little Face Original by Jill Taylor
Daniel di Caprio, Ebony and Silver, Vessel Brooch
Chinese Silver, Enamel and Coral Carved Pin
Early 20th Century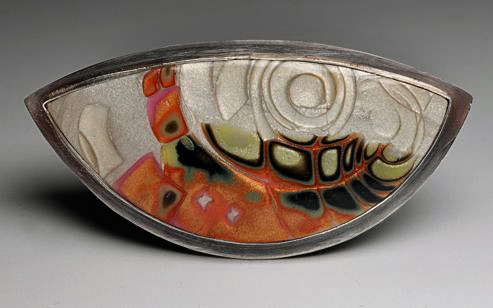 'Earth+Sky Brooch' by Tory Hughes
Egyptian Revival Nekhbet Brooch- Silver & plique a jour enamel.
Circa 1925
'Night Owls' brooch – etsy Baubukas
Art Nouveau plique-à-jour enamel, diamond and pearl brooch
circa 1900
Egyptian Revival brooch
'Head of the Gorgon Medusa' –  Late 19th Century Czechoslovakian brooch, gold, jasper, and crystal
"Fire Fly" Custom Handmade Pin with Diamonds, Pearls, Onyx, 18k
Pearl and diamond Jarin Blackamoor Brooch
Ruby-Lane
Eugène Grasset, pour Maison Vever, "Apparition" broche
Ivory, repoussé gold, cloisonné enamel translucent and opaque, topaz cabochons
Musee d Orsay— 1900
'Owl' by Ahlene Welsh
sterling silver, brass, bronze, nickel, 14k gold, 1990
The Ganoskin Project
Art Nouveau Jugendstil Silver Adolf Mayer Pendant
Art Nouveau pendant composed of gold, diamonds, carved amethyst and baroque pearls, circa 1900.
Head Brooch by Pickney Creations – etsy
Porcelain Flower brooch – Nausika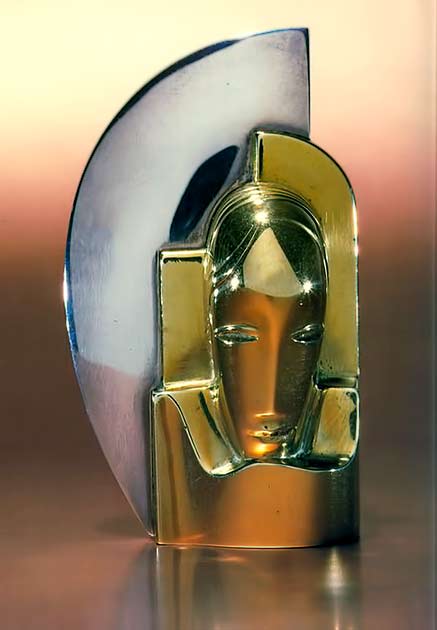 Art Deco Templier face brooch
Ruffle Brooch by Elise Winters
Tova Lund sculpture brooch
Carol Beal polymer clay brooch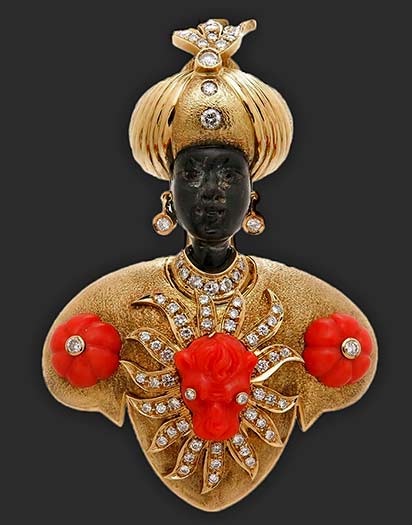 Nardi large Gem set Onyx Coral diamond Gold Blackamoor Brooch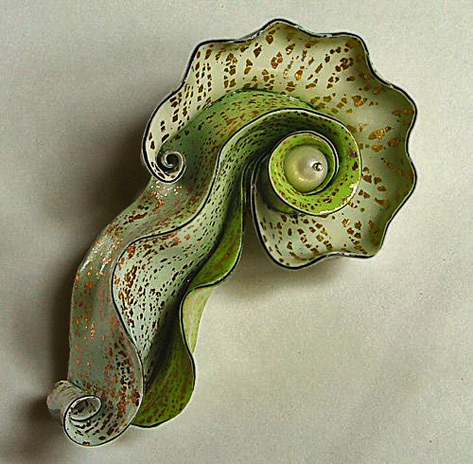 Organic sea life inspired clay brooch – Jana Roberts Benzon
50's Vintage Elzac Brooch African Tribe Head Copper Ceramic Lake Breezes
1950's
'Voodoo Queen' – Laser Cut Wood Brooch wearable art
QLD, Australia
Art Deco/Jazz Age brooch
Art Nouveau pendant House Vever (Paul and Henri)
Egyptian Revival turtle scarab brooch
Mid- Century Deco style abstract hand painted gazelle brooch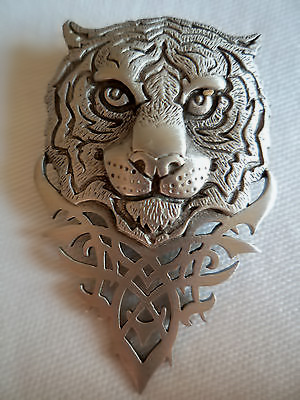 Vintage Silver pewter Tribal Tiger Brooch Pin  – -Signed JJ
Art Deco cat pin – Lea Stein
Polymer pin – Two landscapes, one rural and one urban, bisected by a bold zigzag – Dan Cormier – La Peñita, Mexico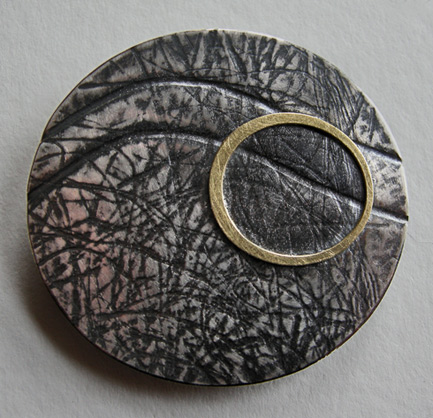 'Watery Deep' –  Oxidised contemporary brooche by jewellery designer Dot Sim
Enamelled brooch/pendant – Ricky Frank
 Guntis Lauders  – Silver, topaz, mammoth bone & blue coral brooch
 klimt02 net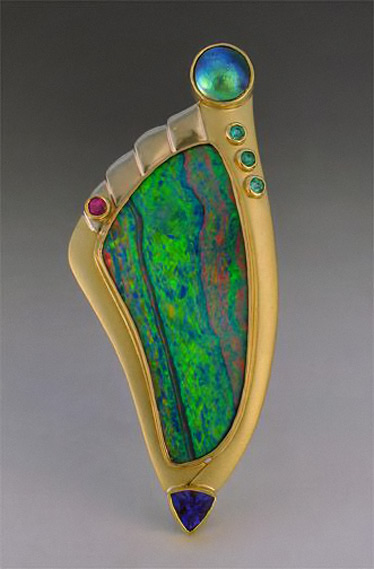 Opal pin/brooch —Patrick Murphy
with abalone, tanzanite, pariaba, spinel, and diamonds
Brooch by Latvian contemporary jewellery artist Guntis Lauders.
klimt02-net
Aaron Macsai 'Monet' brooch Gold, diamond and opal.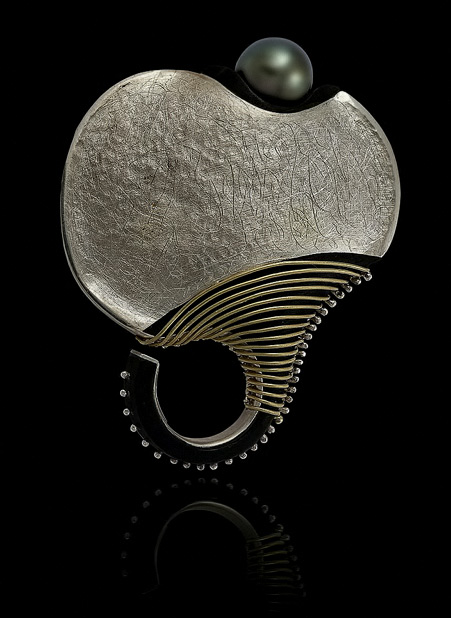 Alishan Jewelry Designs 'Akoli' brooch/pendant –  18k yellow gold, sterling silver, ebony wood and Tahitian Black Pearl.
Akoli symbolised African thumb knife.
Erica Druin Enamels
Eleanor Moty
Contemporary Layered Brooch- Jessica Briggs
'Lightness of Being' by Eve Llyndorah Design  Brooch, 18k gold, opal doublet, pearls, diamonds
Lindy Darty – Garden Badge Series
USA
 'Feeding Desire' – Mary Hallam Pearse,brooch
Captivating ocean inspired underwater design –  Tory Hughes— 'Seacliff Brooch'
'Multiply' – Tova Lund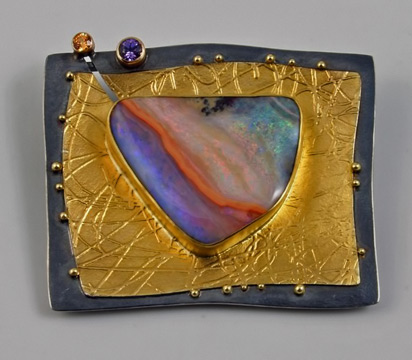 Striped Opal pin-pendant – Sydney Lynch
'Cusheen' – Carly Wright, NY
The one-of-a-kind pieces are inspired by the fractured and sedimentary layers of rock cliffs, and glacially produced marks on the rocks.To increase the luminosity and brilliance of the enameled colors, gold foil will be placed underneath the enamel powder before it is fired, creating a sense of depth and vibrance in the finished pin. They can be are fired upwards of thirty separate times in the enameling kiln.
'Cortez Mabe Pearl' pin/pendant; Sea of Cortez pearl, champagne diamond, grape garnet oxidized sterling silver
Sydney Lynch
'Collaboration with a Bird ll' – Teresa Faris
Sterling silver, wood altered by a bird, stainless steel
2010
www.snagmetalsmith.org
'Kaleidescope' brooches – Sheila McDonald
'Trine' brooch by Eleanor Moty, 2002.
Sterling silver, 22K gold, rutilated quartz and topaz.
Sheila McDonald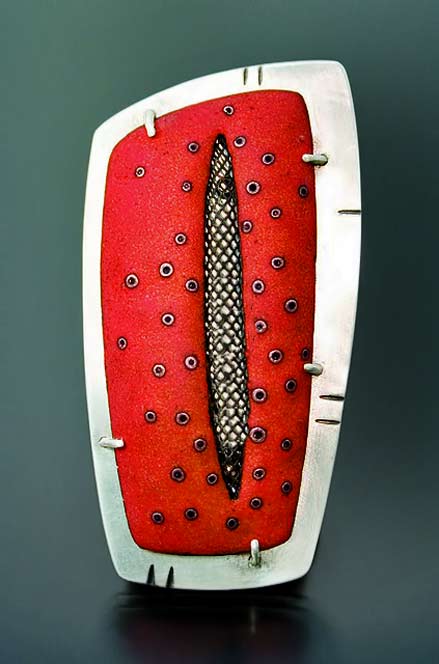 Angela Gerhard
Black-Throated Clue Warbler Pin'  Ali Wieboldt
Acrylic on deer antler, sterling silver, 14k gold, druzy, psilomelane, blue topaz, opal
Barbara Patrick
Art Nouveau Jesters Brooch – Rene lalique
Silver 'Shemyasa Angel'  brooch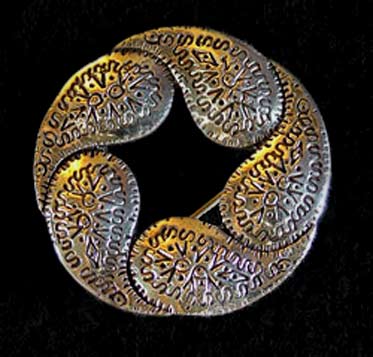 Paisley Brooch Kiltpin
Edinburgh Hallmarked Silver made to celebrate Paisley's 500th year.
HM Queen Elizabeth was presented with same brooch in 18ct yellow gold.
'Shooglenifty' silver brooch by Kiltpins
Michael Boyd
Deb Karash
Lilly Fitzgerald opal and gold snake brooch
Hand built and cast 22kt pin set with black opal and diamonds – Lilly Fitzgerald.
Of all the ancient myths about gemstones, none endure like the superstitions surrounding opal. The bad-luck opal myth isn't really ancient. It comes from 19th-century fiction. For centuries, opal was considered a lucky talisman. In ancient times, when most gemstone myths were born, you find glowing reports. Arabs believed opals fell from heaven in lightning flashes, and anyone possessing such a divine relic could consider himself safe from harm.
–