A selection of ceramicists, displaying between 7 and 13 images per artist. Beginning with two potters that have distinctive decorative styles, Jim Robison with his landscapes and monumental pieces and Beth J Tarkington, with her narrative figurative drawings. They are both similar with their use of muted palettes.
Jim Robison – UK  :
Born and Raised in Missouri, USA, Jim Robison set up a studio and home in Yorkshire, England in 1973.  He established the Booth House Gallery in 1975 as an exhibition/sales outlet for contemporary ceramics. Jim's technique  – Individual slab pieces are created through a process which includes using an antique mangle to roll and re-roll prepared sheets of clay . This creates broken edges and areas which are stretched and stressed, generating their own feeling of history. Slips, which are painted, combed, sponge printed and stencilled provide contrasting colours and these are emphasised by applications of up to six glazes and the firing in the reduction atmosphere of a large gas kiln.   Jim Robison website here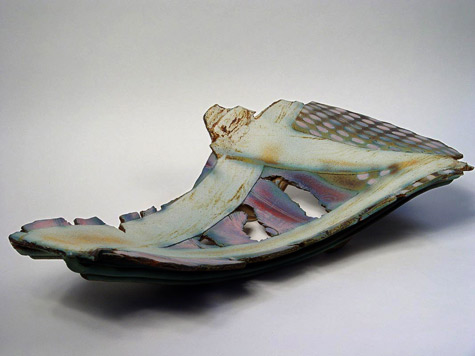 Dish – Jim Robison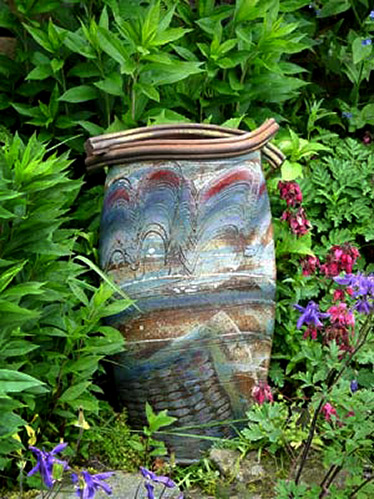 Garden vase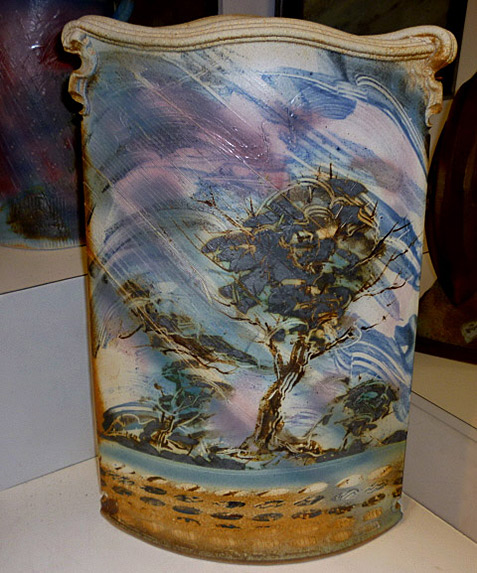 Decorative landscape vase
Jim Robison vase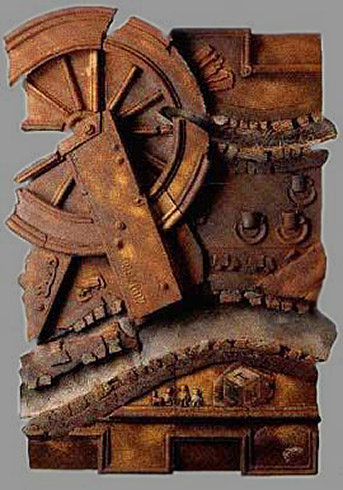 Jim  Robison ceramic sculpture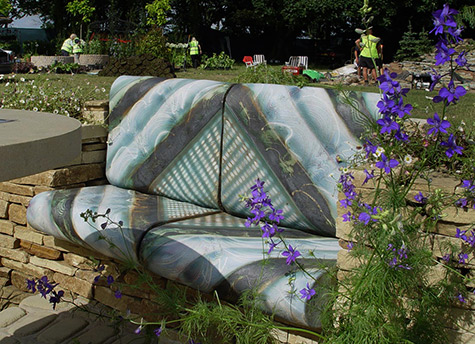 Stoneware Garden Seating – Jim Robison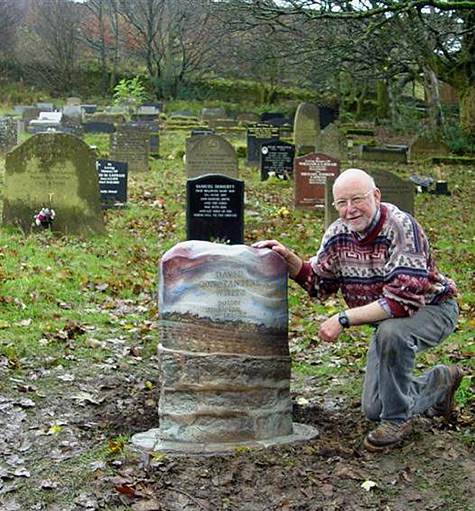 Memorial head stone created by Jim Robison for David Constantine White, potter and friend.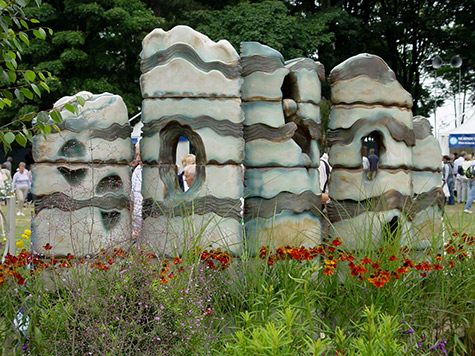 Tatton Park Public Sculpture – Jim Robison
Three vases – Jim Robison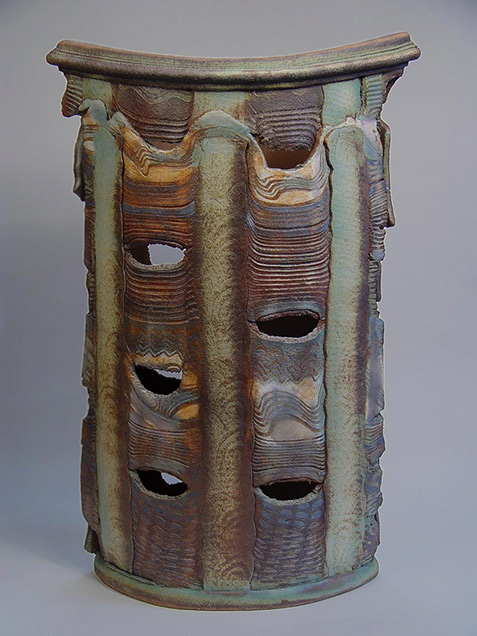 1m Vase sculpture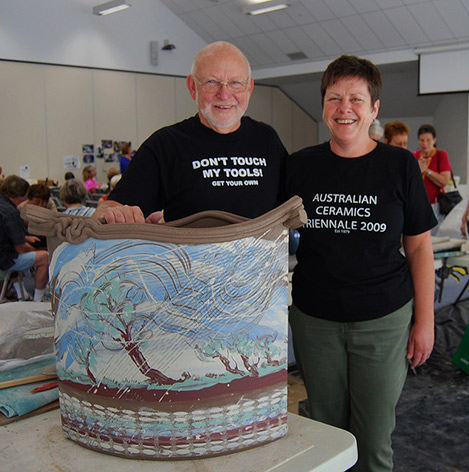 Jim Robison (UK) and Vicki Grima ( AUS )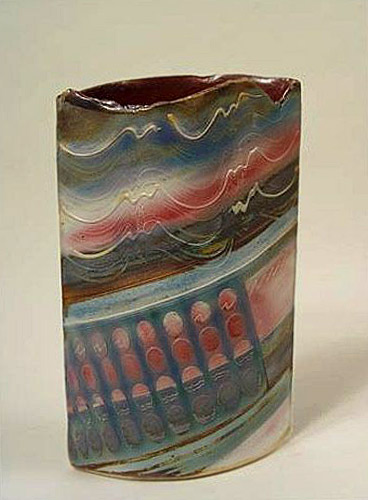 Wavy vase – Jim Robison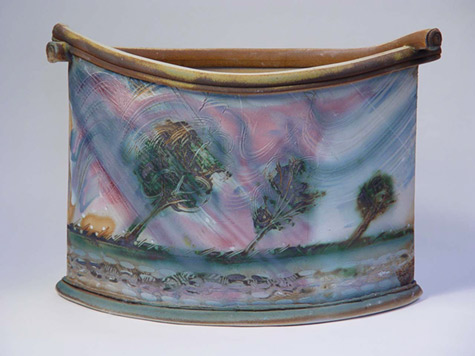 Planter – Jim Robison
…
 Beth J Tarkington – Atalanta USA  :
" There is a Greek word, Kairos, which loosely means:  to be in the place you were meant to be, or where time and destiny meet. Within this search for place, I found a natural progression from painting and surface design into clay. My artwork has evolved as narrative, one-of-a-kind pieces; conceived, designed and crafted entirely by me.  The narrative in my work centers around landscapes, the figure and related symbolism. I have borrowed loosely from the teachings of Native Americans, who instruct that the rhythms and forces of nature are not separate from our lives. Their concept of "totems" as any object, being or animal whose energy we feel closely associated with, is one I have generously embraced. Sometimes words will find their way onto pieces . . . a snip of conversation, a quote, a lyric, my thoughts. Above all else, my work reflects a passion for the people, the places and the experiences that have inspired and created me. My goal is to create objects that connect with the viewer through recognition of shared experiences. I think of my clay pieces as metaphors for each of us in the search for our place – somewhat functional, pleasant to be around and hoping to engage ".  .. Beth J Tarkington   Beth's   website here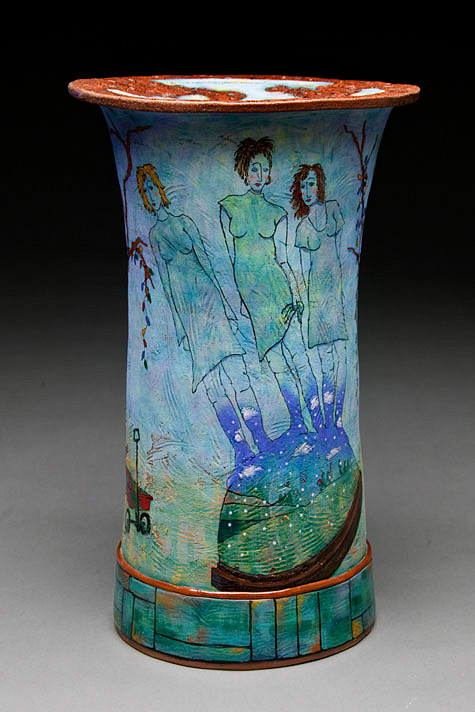 'We have taken this season into us' – Beth J Tarkington
…
 " All of my work is handbuilt, using slab, coil, mold and sculptural techniques. My surface work is very painterly, involving layering of slips, stains, underglazes, oxides and glaze through the processes of wax-resist, texturing and carving, painting, slip trail and brushwork. This requires multiple firings. "
Caretakers of our place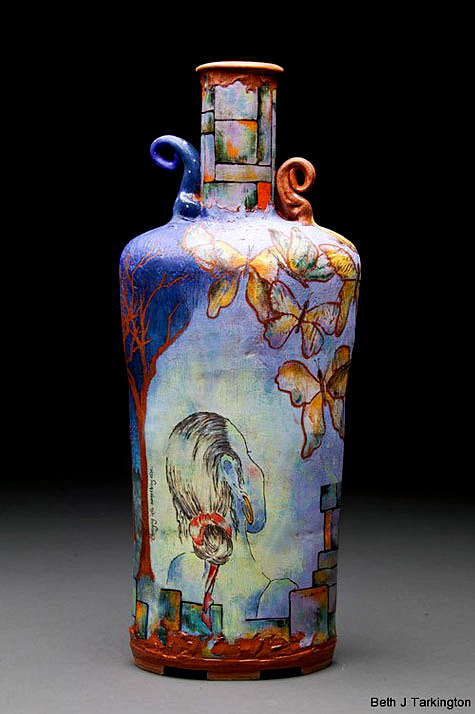 Changing into something else – bottle
Beth J Tarkington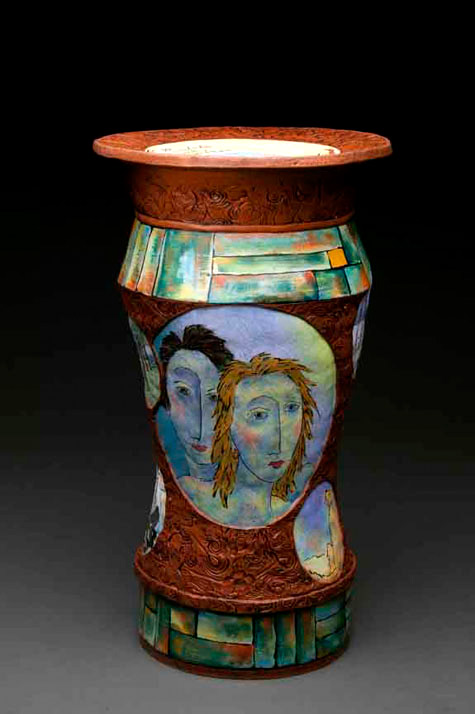 Circles of the seasons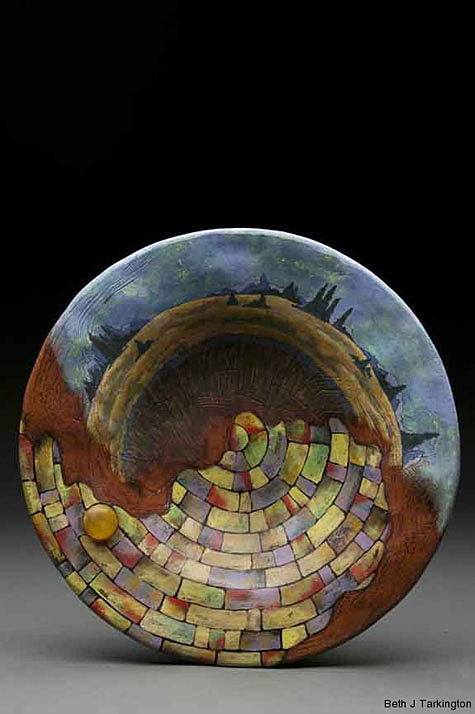 Contours of place-II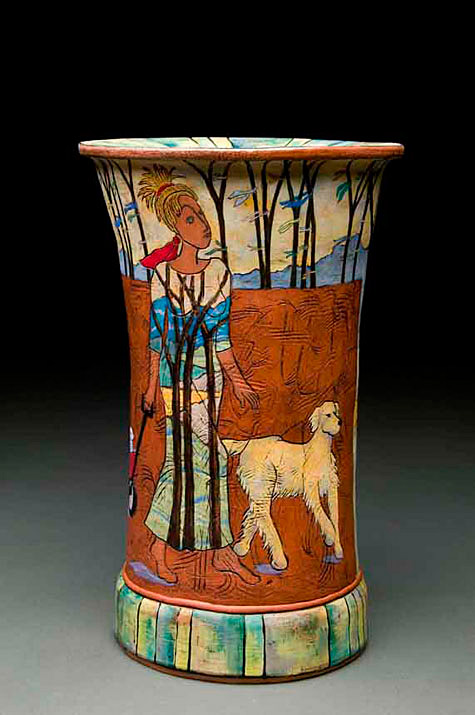 Escape from places -Beth J Tarkington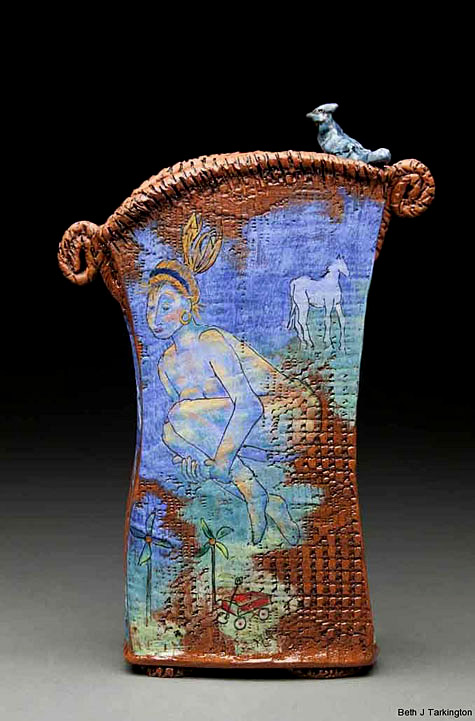 I take my father with me
Beth J Tarkington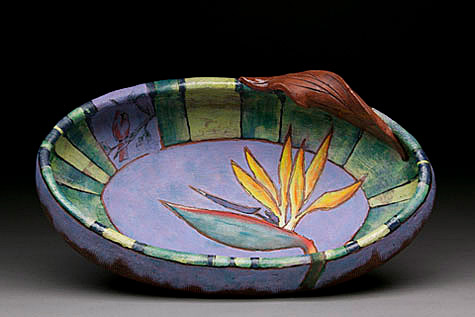 Paradise bird bowl
Beth J Tarkington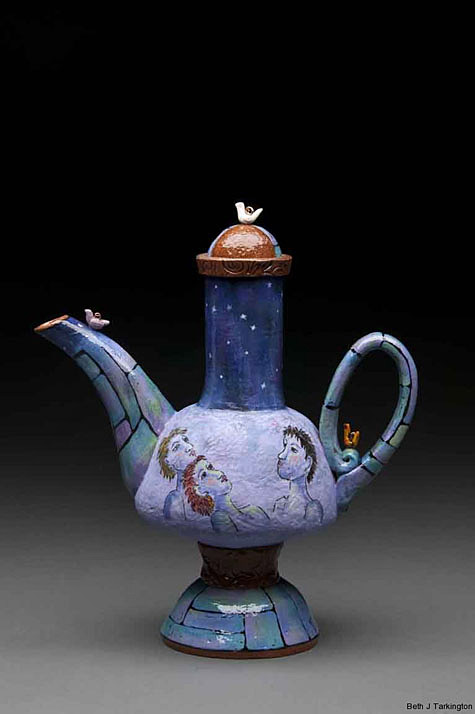 Reasons to look up – Beth J Tarkington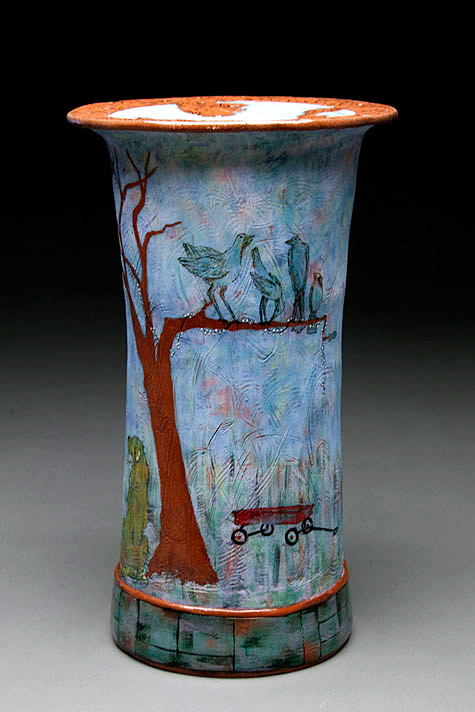 The teetering machine – Beth J Tarkington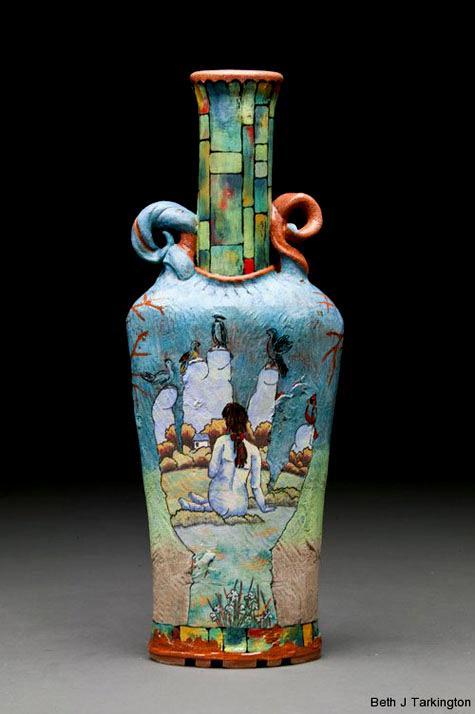 This place holds me safe – ceramic bottle
Beth J Tarkington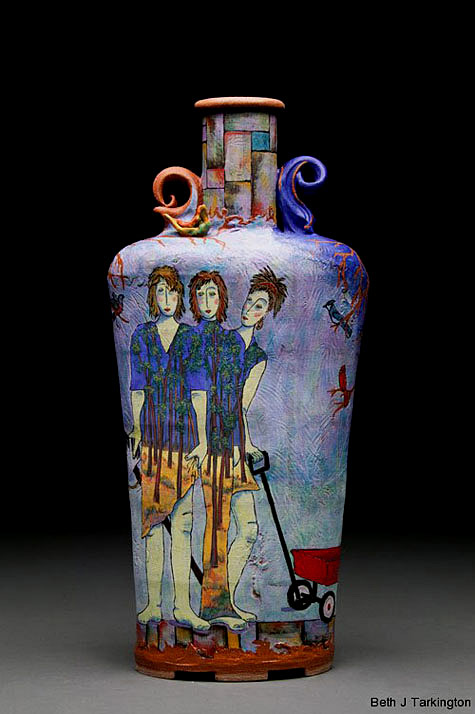 We each wear it a little different
Beth J Tarkington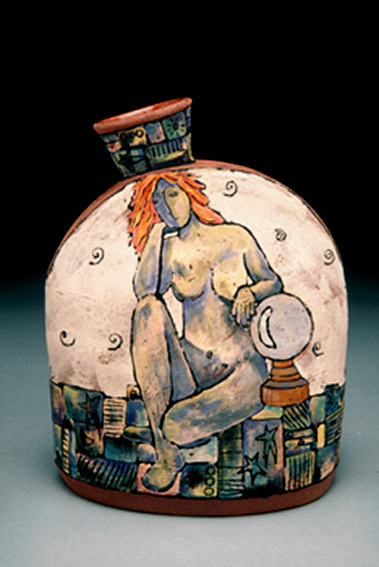 Secret Potion bottle – Beth J Tarkington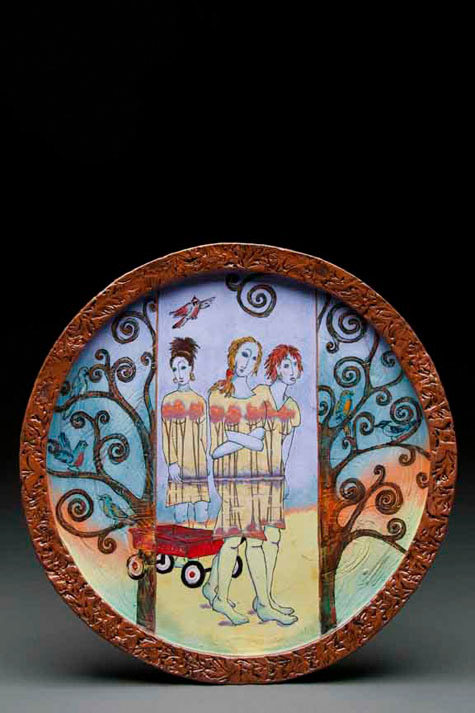 We have grown this way together
Beth J Tarkington
…
Rebecca Hillman  –  pottery exuberance
" Embrace Change, Keep Open Minded and try to Let "the quiet fermentation of your creativity go where it may lead you … allow yourself the space and time. "
Rebecca Hillman from Scarborough, Maine originally exercised her creativity as a chef and the intuition she cultivated in the kitchen later proved to be an asset when she turned her attention away from the fire of the stove to that of the kiln, when she shifted her career to ceramics. Beginning with Kit Cornell's Pottery Classes in Exeter, New Hampshire, ( who became a mentor ), she also did  wood firings at Jeff Browns' Studio in Northwood and also with Andy Hamptonen. Along the way she studied Sgraffito with Tim Christiansan and worked with artist Jessica Brandle. "I so appreciate all these special opportunities to learn. The hard work was so worth it! Jessica's work ethic, scope of talents, teaching skills, passion, drive and just plain attitude were a gift to be around."
Website – Rebecca Hillman Pottery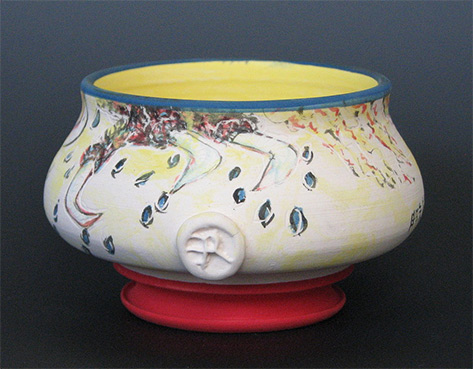 Rebecca Hillman –  Bright Red Dragon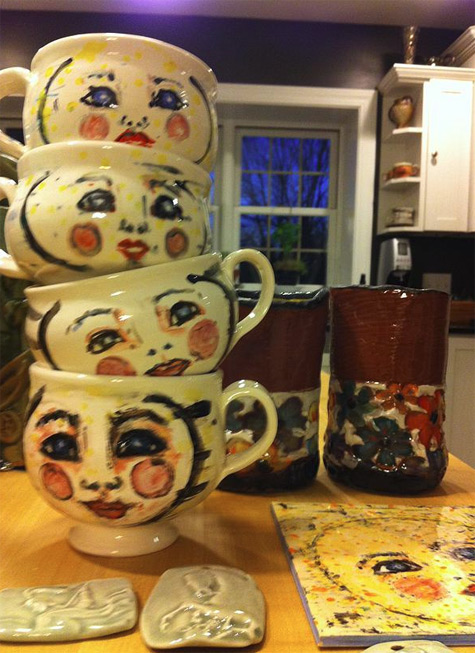 Moon Face footed cups – Rebecca Hillman
Rebecca Hillman – owl figure candle holder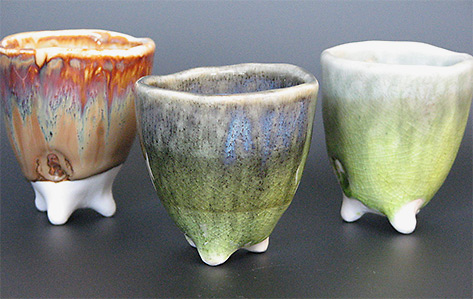 Rebecca Hillman polychrome Glaze Combo Shots
Rebecca Hillman Pottery — Large Wood Fired Bowl
Rebecca Hillman Pottery – Opera Cape figurine with  inverted wood fire  tea bowl stand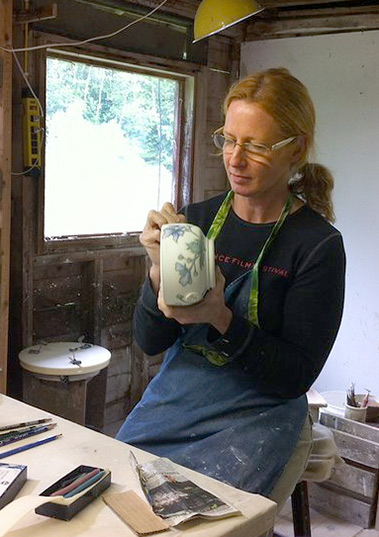 Rebecca Hillman in studio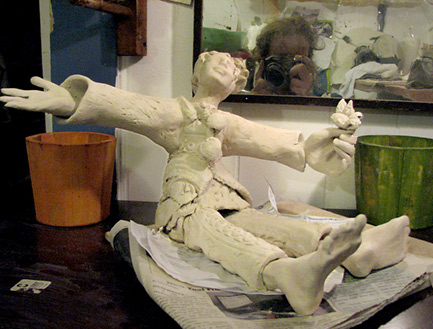 Rebecca Hillman Pottery – liberated figurine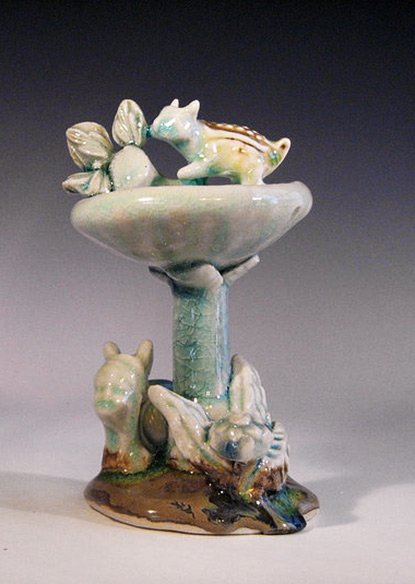 Rebecca Hillman Pottery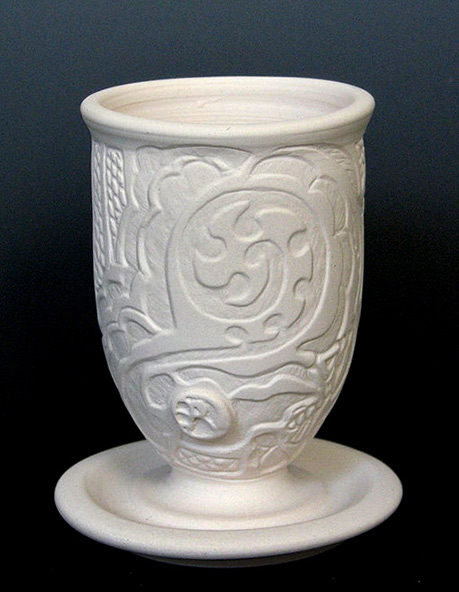 Rebecca Hillman Pottery – carved cup
Rebecca Hillman— 'Cups and nature' – sgraffito cups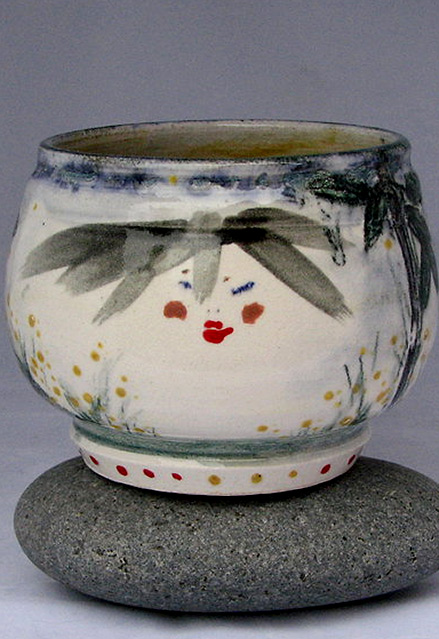 Rebecca Hillman Pottery-hand painted cup
Rebecca Hillman Pottery – frog sculpture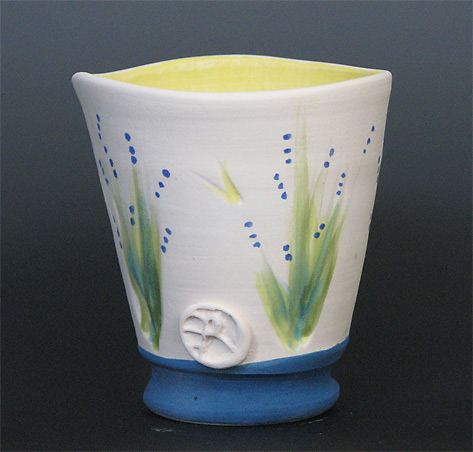 Rebecca Hillman Pottery  – vase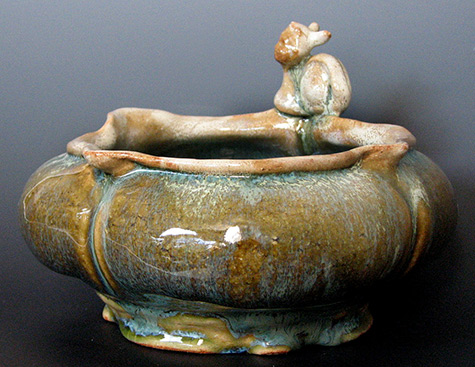 Rebecca Hillman Pottery — Snail Pod Bowl
10 x 6 inches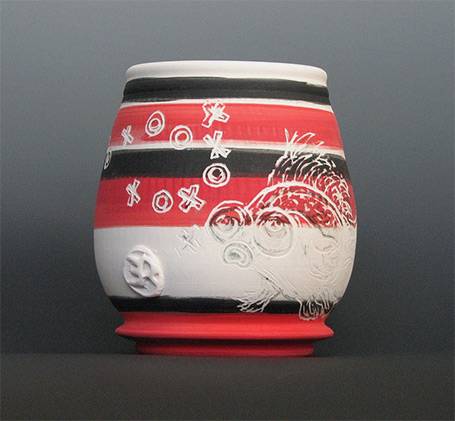 Rebecca Hillman Pottery Tumbler.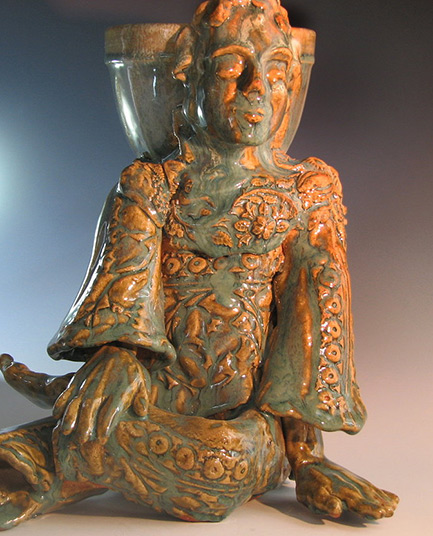 Rebecca Hillman – 'Yoga Zen Garden Pot'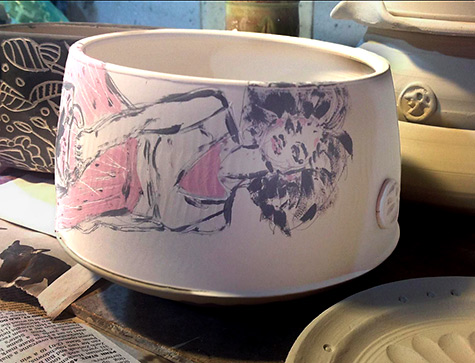 Rebecca Hillman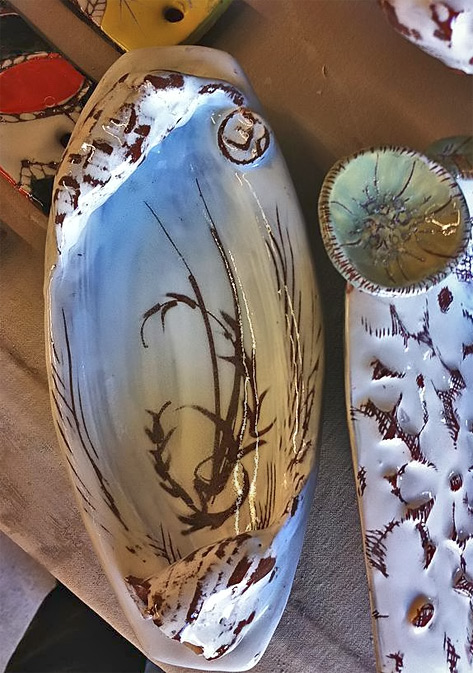 Ovoid dish with incised field grass motif – Rebecca Hillman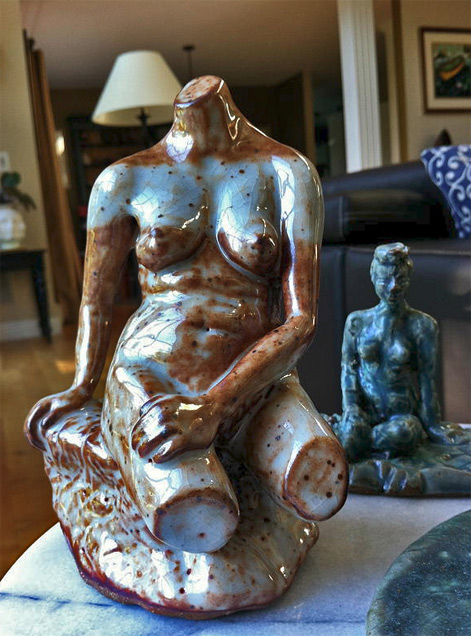 Model study sculpture – Rebecca Hillman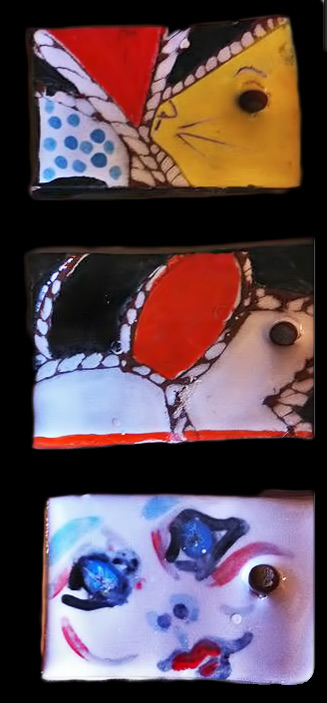 3 pendants – Rebecca Hillman
Green teabowls – Rebecca Hillman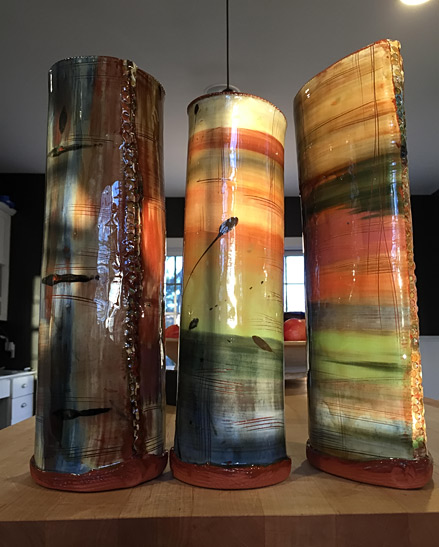 'Fall series' – Rebecca Hillman
…
Angela Walford – South Australia
Angela is a  South Australian Ceramic Artist and she has wares locally in 'The Urban Cow Studio', Adelaide and 'The Terrace' at Eastwood. webisite here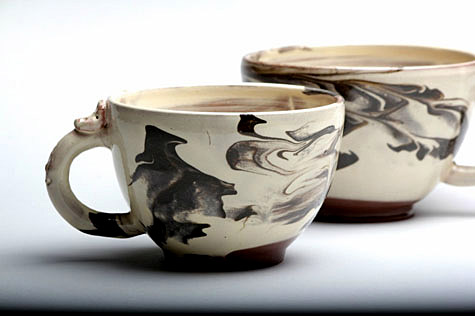 Angela Walford cups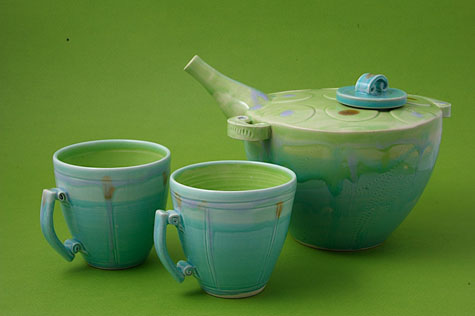 Tea set – Angela Walford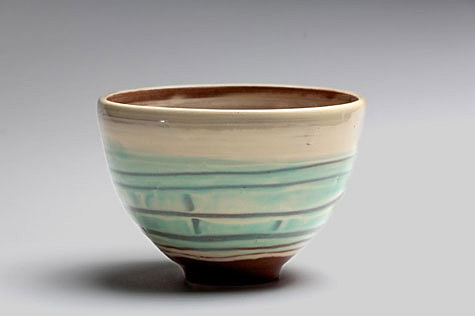 Angela Walford tea bowl
Technique  " I'm using terracotta filtered clay and the slip is ball clay, the copper slip has a rounded desert spoon of copper carb in 1 litre of slip and the black slip is red iron oxide, manganese dioxide and terracotta clay equal parts in one litre of slip. Some of these pieces were marbled in the white with black slip trailed over and quickly flicked to merge together. Colouring on top of the clear glaze is turquoise satin and red iron oxide in the honey glaze. "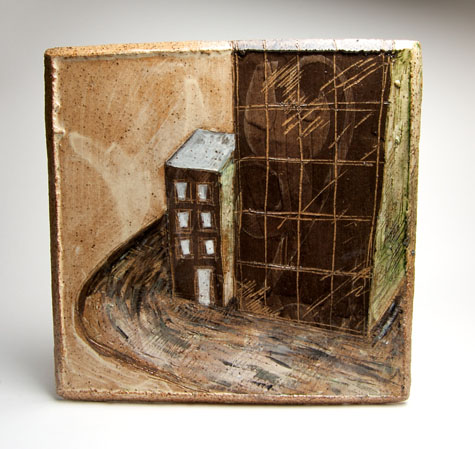 " On the corner " wall tile " by Angela Walford
The surface within — mini wall tiles
AngelaWalford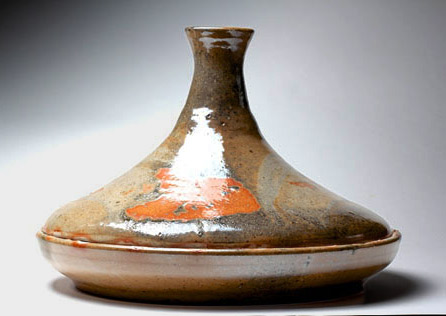 Tagine – Angela Walford
" The colour and intensity of the shinos depend directly on the reduction and the intensity of it, I fire for approximately 12 hours with reduction for about half of that time. Carbon trapping and colour washes are a gift from the firing and with a heavier atmosphere comes flashes of colour in spot areas. "
Shino teapot, creamer and sugar bowl teaset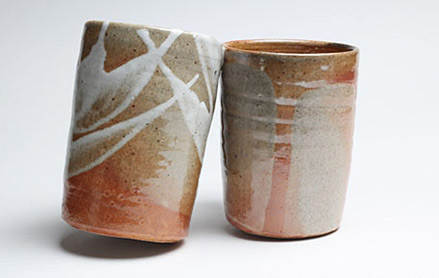 Tumblers – new breed shino
The new breed shino 8  by Angela Walford
The surface within — mini wall tile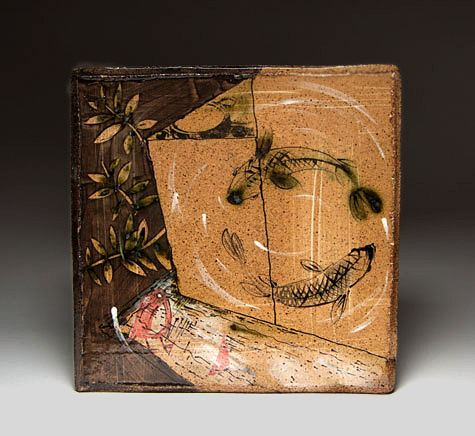 3 Seasons in One Day terracotta wall tile by Angela Walford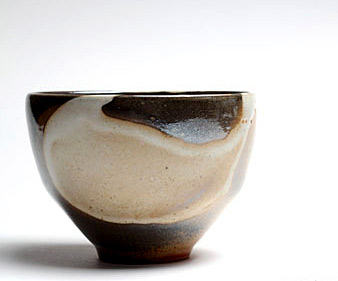 Shino tea bowl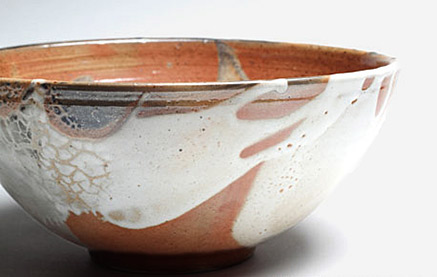 The new breed shino bowl  – Angela Walford
…
Catherine Warwick – UK
The featured black and white 'MONO' range (pic below) derives it's inspiration from 1960's op artists such as Bridget Riley and Victor Vassarley. Catherine Warwick was interested to see how similar designs would translate to a three dimensional surface and the resulting optical effect. The use of black and white exclusively aims to draw attention to the form while highlighting positive and negative shapes, spaces and patterns.   Website HERE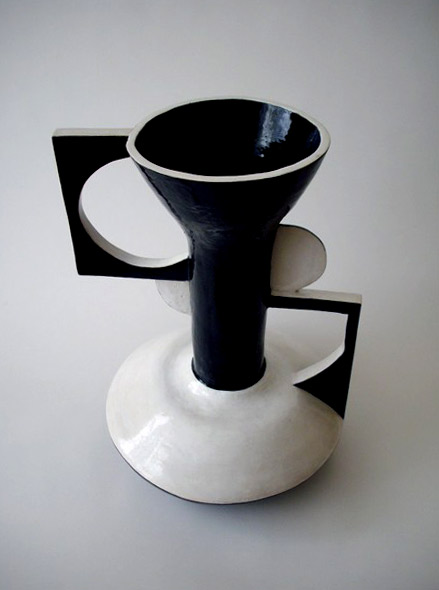 BW6 – Black and White vase – Catherine Warwick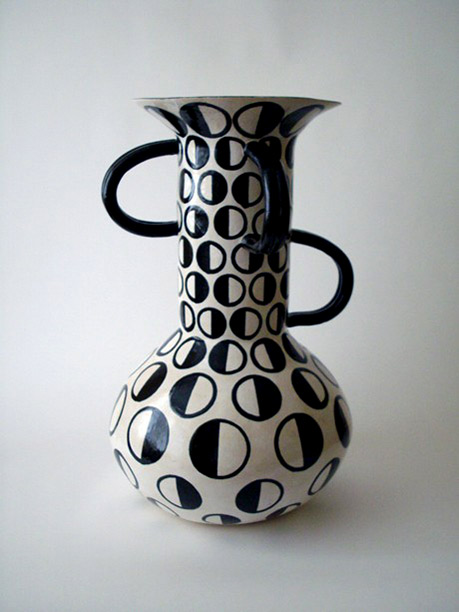 BW10 – Black and White vase – Catherine Warwick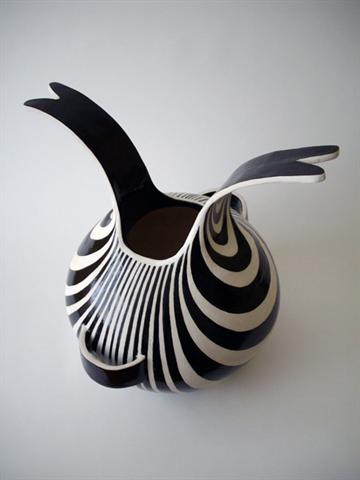 Spacehopper  – Catherine Warwick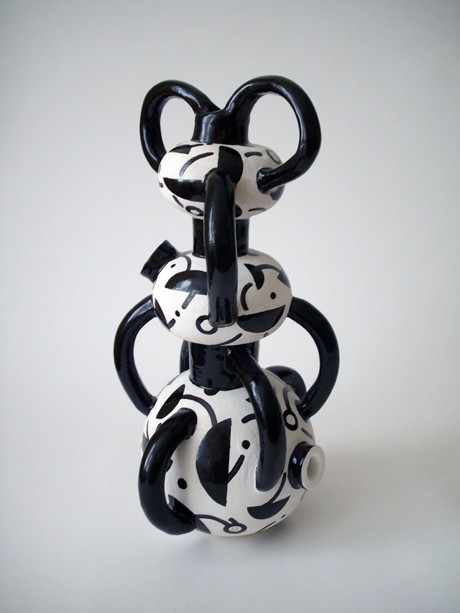 BW13- Black and white sculpture
Diana Ross – Catherine Warwick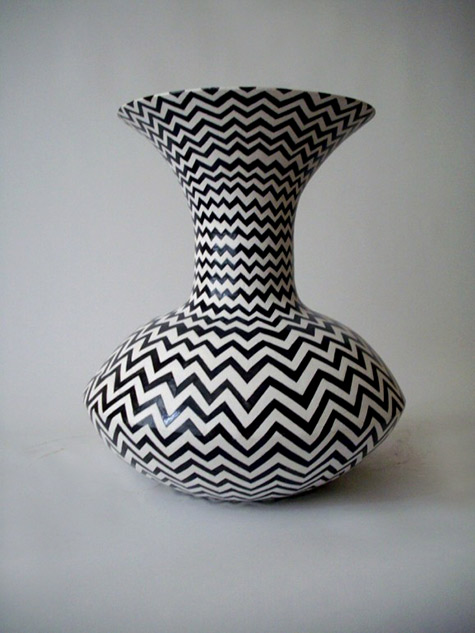 Geometric black/white vase – Catherine Warwick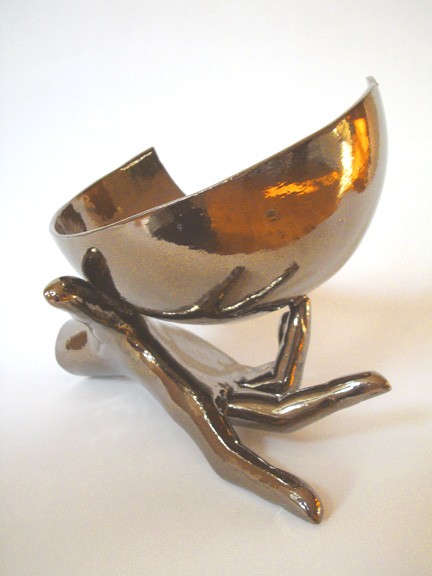 Hand With Bowl – Catherine Warwick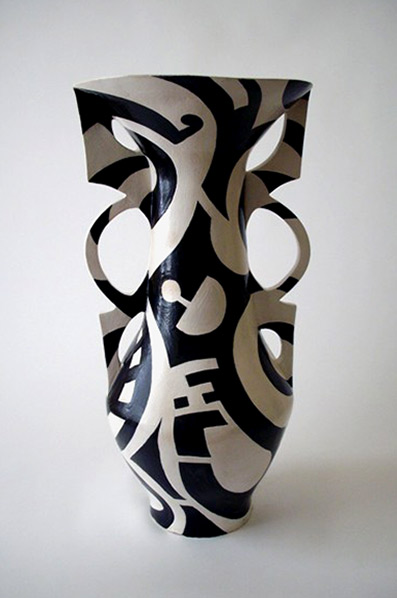 Black White Abstract Vase – Catherine Warwick
79cm x 37cm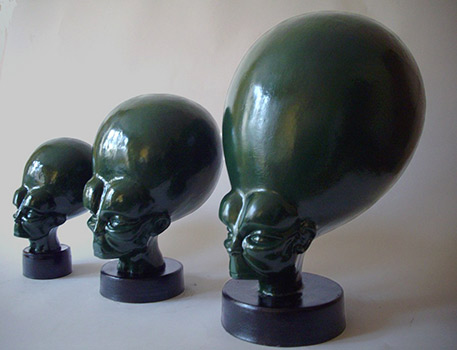 'Mekons' – Cahterine Warwick
Catherine Warwick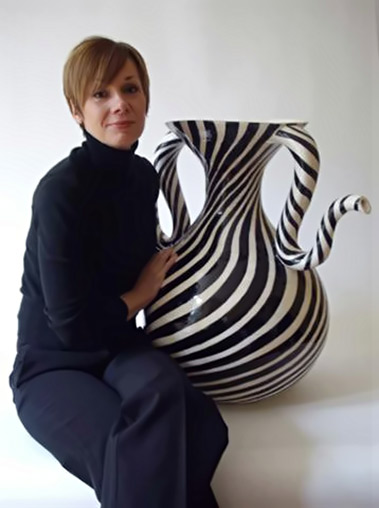 Catherine Warwick with her monumental black and white striped vase
" As a freelance ceramic design artist I am involved in the design and making of one off individual, limited edition ceramic pieces. These are made using a combination of handbuilding and slip-casting techniques. The motivation behind my work is to create pieces that are both unusual and striking in terms of shape, decoration and scale. The vessel is the basis upon which to experiment with sculptural ideas, where the 'pot' is cut into or added to and works visually from many different angles. "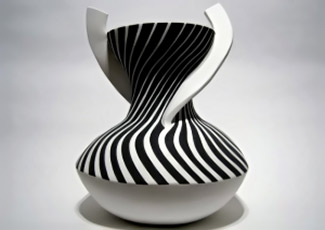 Catherine Warwick
…
Guadalupe Lanning Robinson
Guadalupe Robinson has been working in clay in Huntsville, Alabama since moving from her native Mexico City in 1985. Guadalupe's wonderful vessels are globe-like, large and feature botanical and geographical designs with earthy colour tones. Guadalupes artistic statement – " I was born and grew up in Mexico City, a place with strong cultural ties and great tradition, full of sights, energy, sounds and flavor. Bringing together my Mexican heritage with the richness and tranquility of the Deep South has enriched my life. This constantly moves my work toward blending the two cultures.  A great fascination with different- colored clays and the textures that can be produced with stoneware has led me to experiment with and study clays for the past thirty years. Continuous respect for the material is a factor I try to maintain in my work.   I also have a great reverence for the idea of "craftsmanship" and it is an strong element when creating my work.  My work has developed from the respect I have for clay and the joy I experience when working with it. Texture and color are achieved by applying different colored clays in different stages and consistencies. The larger pieces have to dry for a minimum of four weeks, then they are bisque fired to a soft 1,700˚ fahrenheit. They are glazed only on the inside and fired again to 2,240˚ fahrenheit. It has taken me years to figure things out and how to make my techniques work. The fact that there will always be new tools to use or a different way to approach the process is what fills this journey with excitement and happiness. "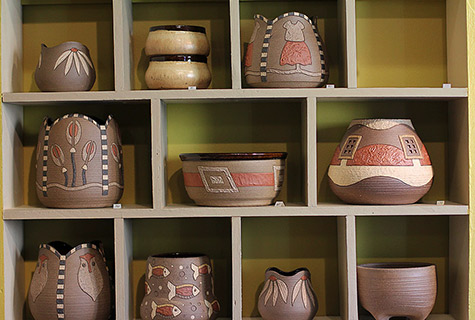 Guadalupe Robinson pottery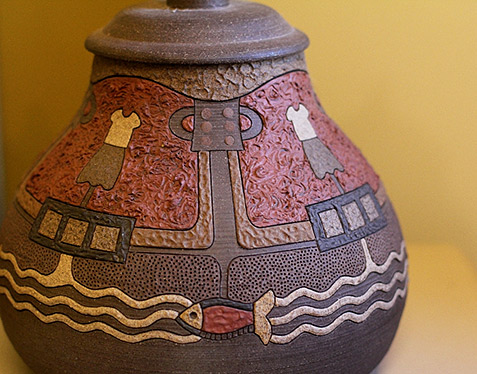 Rio Girl – Guadalupe Robinson detailed textures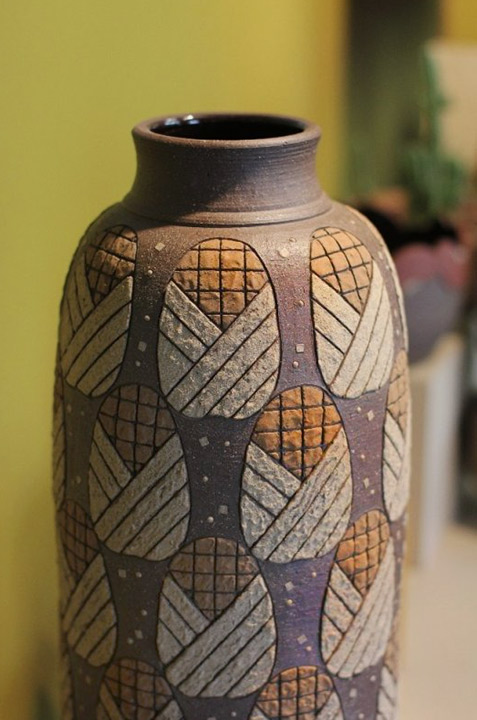 Guadalupe  Lanning Robinson–Pottery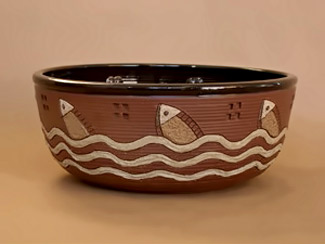 Guadalupe Robinson bowl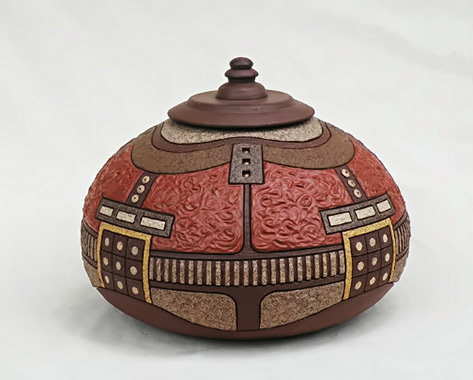 'Cerebro' lidded vessel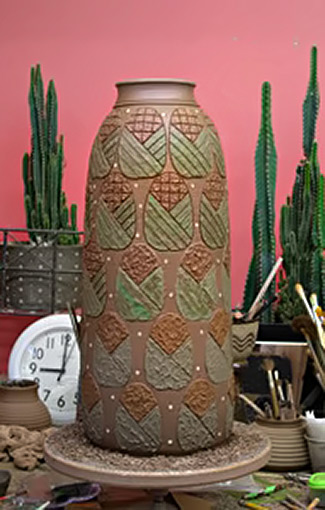 Guadalupe Robinson large vase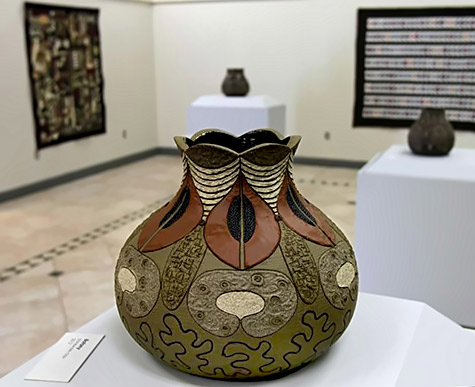 Guadalupe Robinson
Tehuana Dress  – Guadalupe Robinson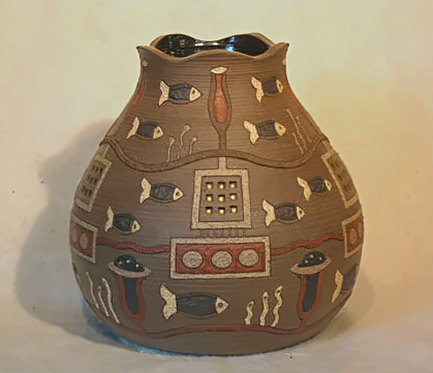 Guadalupe Robinson vase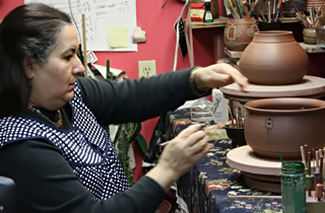 Guadalupe Robinson in studio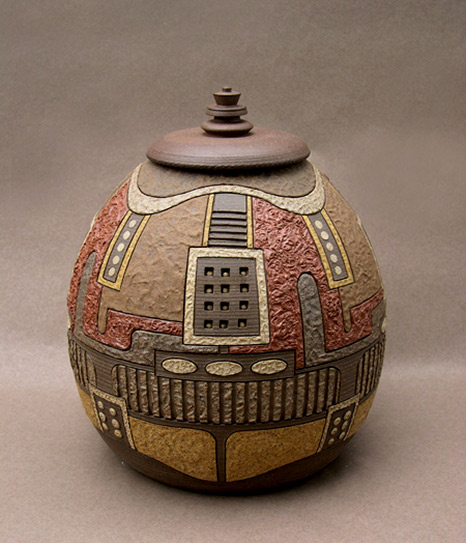 Mexican ceramicist Guadalupe Robinson lidded pot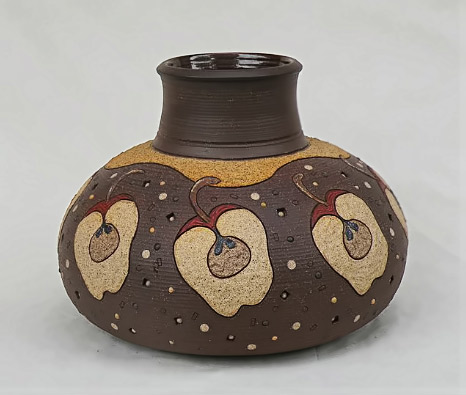 Manzanas Pot – Guadalupe Robinson
Ladies with Attitude ceramic pot – Guadalupe Robinson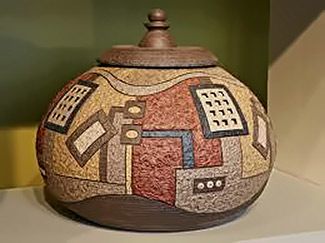 Guadalupe Robinson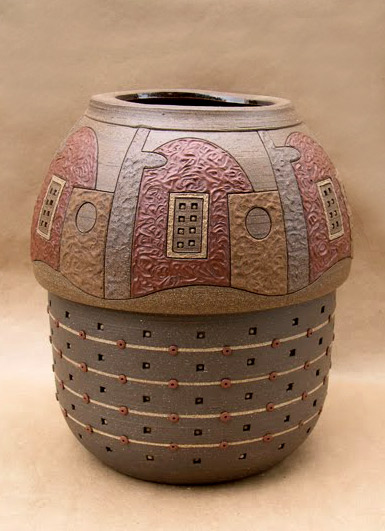 Guadalupe Robinson
Katrina Pechal –  UK
Her work is all thrown and often distorted. The silicon carbide in her slip, causes the glaze to pull away from itself revealing the layers beneath. Reminiscent of ancient pots found washed up on the beach, covered in barnacles and eroded by time. "I try to capture the essence of time in my work, something which can be seen in weathered surfaces, pebbles or crustacean covered sea objects. All my pieces are vessels with a growing form to them. They are all thrown often upside down or in sections. Sometimes cutting sections away from the thrown piece and rejoining altering the form. Shapes evolve from piece to piece, carrying through ideas from one to another. I continue to develop new colours and textures in the glazes and look for inspiration in my surroundings on the beach and coastal landscapes."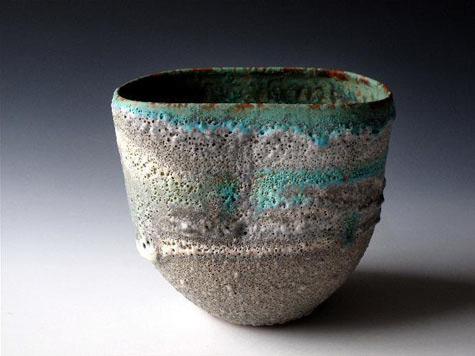 Ceramic tea  bowl  Katrina Pechal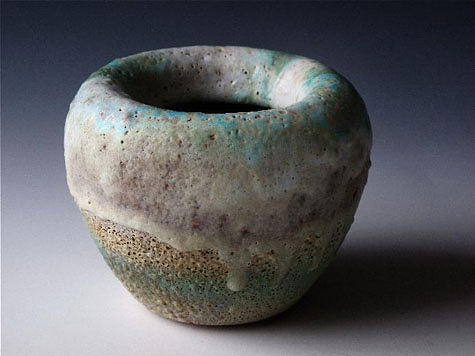 Ceramic vessal  Katrina Pechal
Katrina Pechal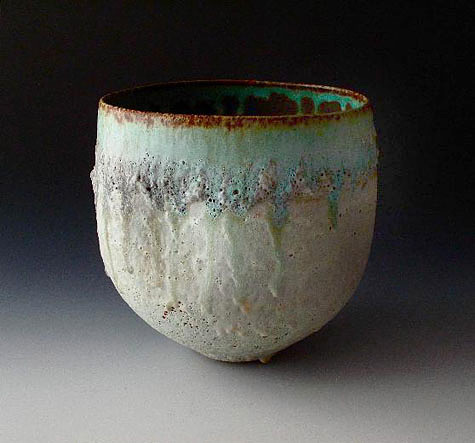 Katrina Pechal
Katrina Pechal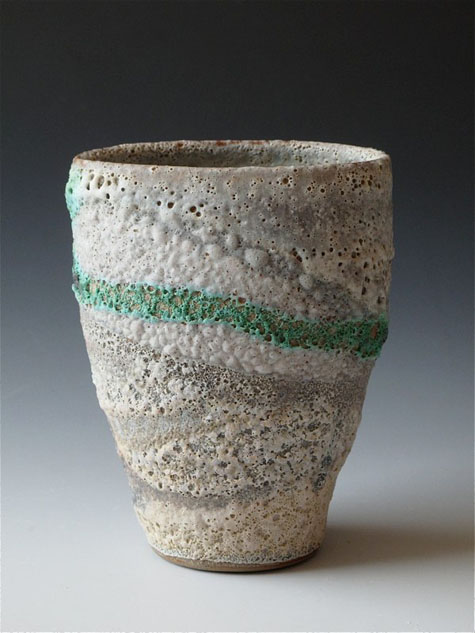 Katrina Pechal
Katrina Pechal vase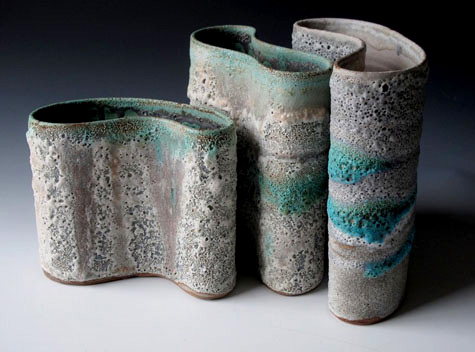 Katrina Pechal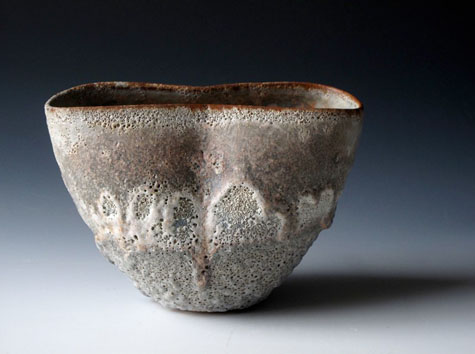 Katrian Pechal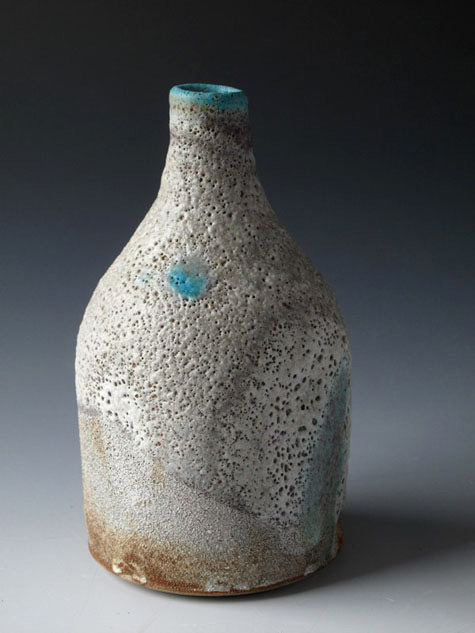 Katrina Pechal ceramic bottle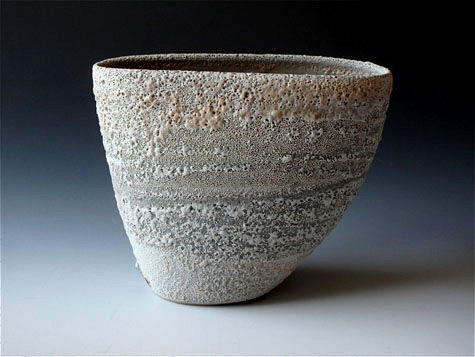 Katrina Pechal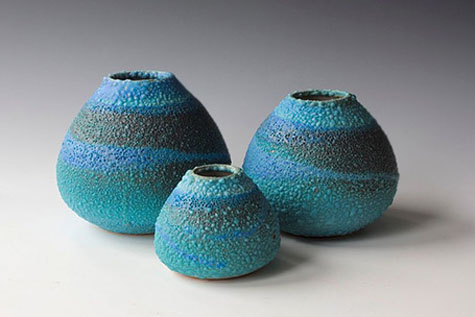 Katrina Pechal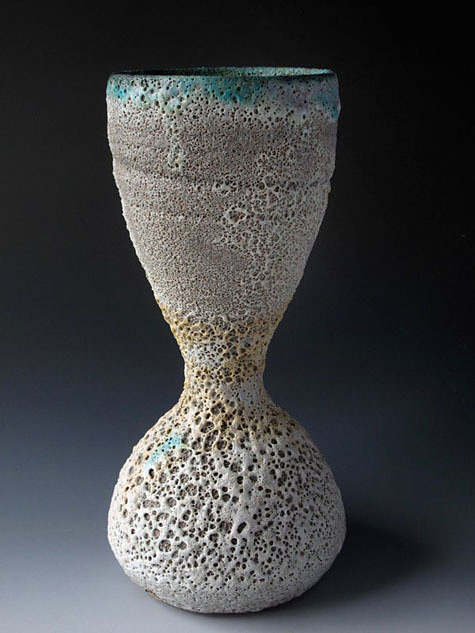 Katrina Pechal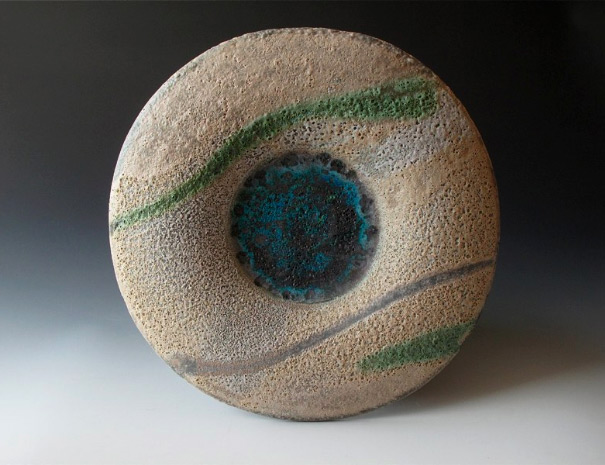 Katrina Pechal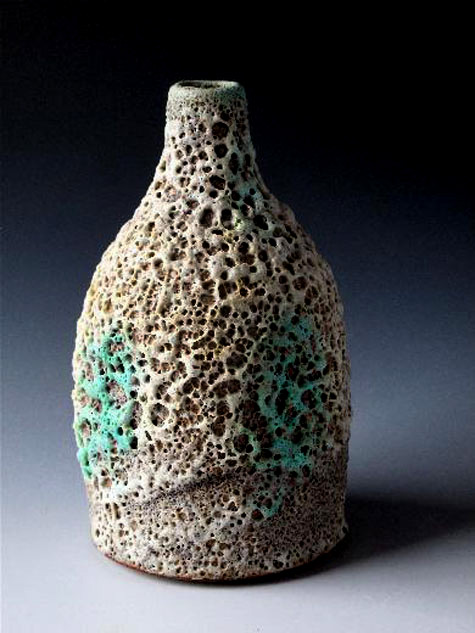 Ceramic bottle –  Katrina Pechal
Daniel Slack
"Pottery forms that function mark a boundary that I choose not to cross. The age-old forms are inviolate and have a resonance for all of us. I want to celebrate these forms; giving them all I have."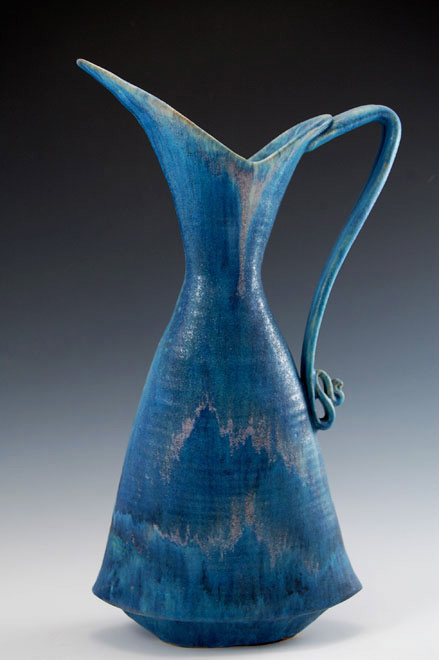 Solstice – Daniel Slack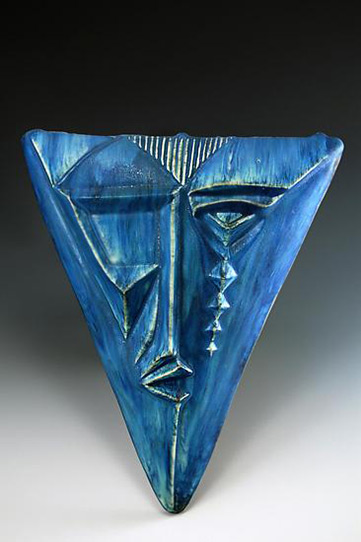 Triangle Mask – Daniel Slack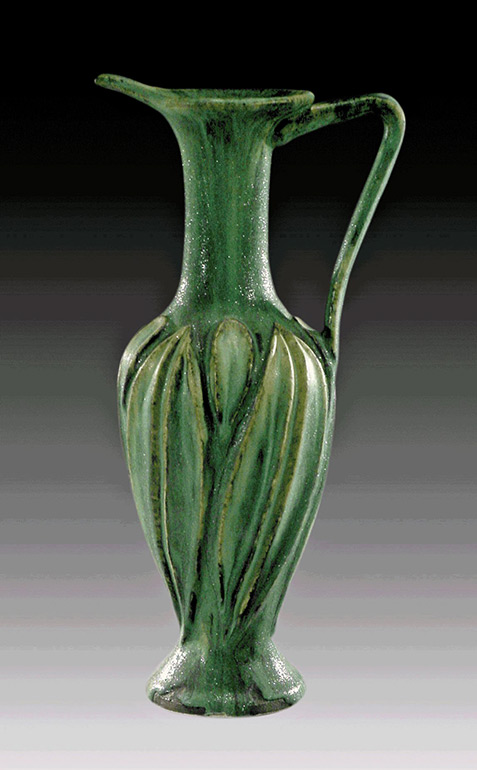 Water Pitcher – Daniel Slack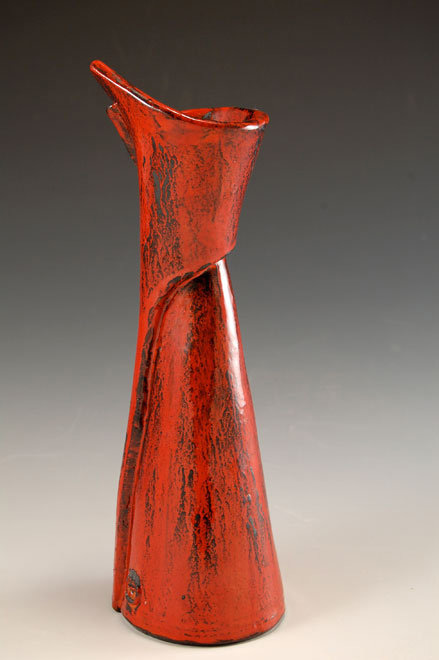 Wrapt Candlestick  – Danial Slack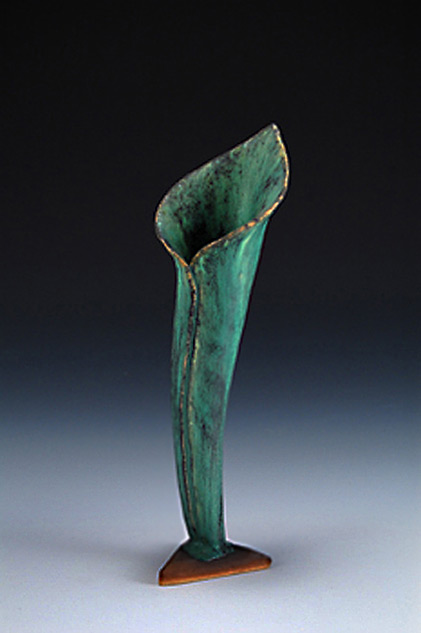 Wrapt Vase – Daniel Slack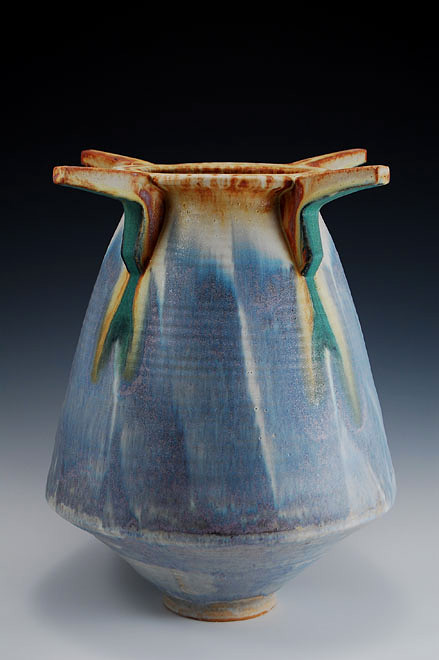 Ceremonial Bowl  – Daniel Slack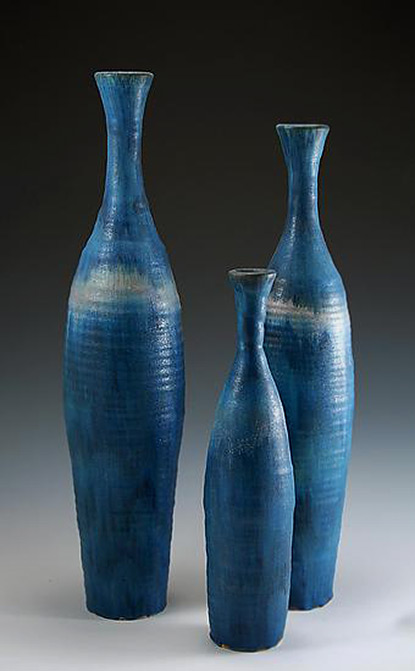 Daniel Slack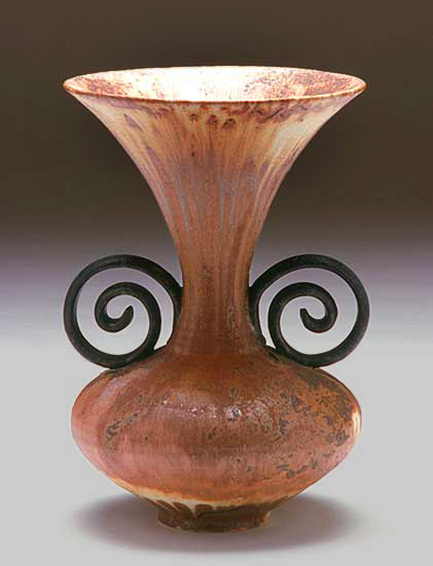 Renewal – Daniel Stack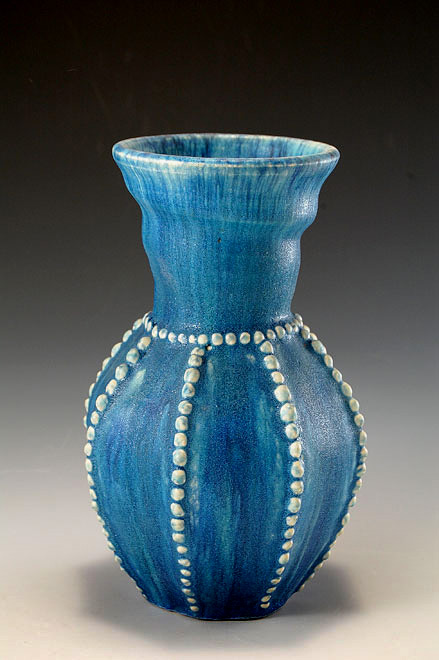 Sewn Vase – Daniel Slack
…
Jo Connell  Uk :
My influences and methods are wide ranging, but central to my work is an appreciation of natural form and landscape, a love of colour and of clay itself. I work with coloured clays which are marbled, rolled, stretched and manipulated to achieve a variety of effects. The work is high fired and the surface is usually left unglazed, giving a textile-like quality. The range includes functional and sculptural vessels, wall pieces and garden sculptures. Work is formed from slabs of clay incorporating colour and pattern during the making process.
Website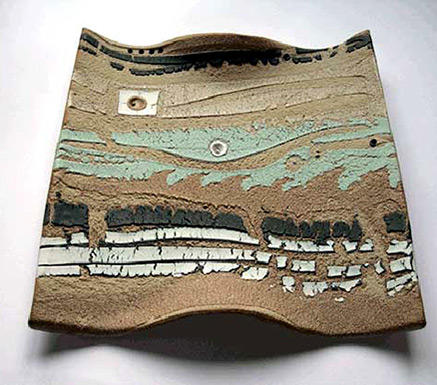 Jo Connell – Manganese dish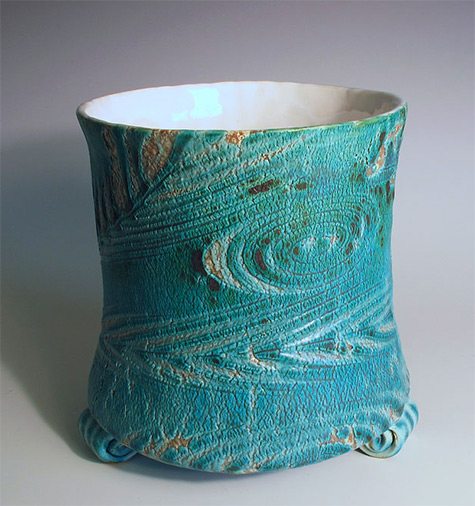 Tripod Fern Vessel – Jo Connell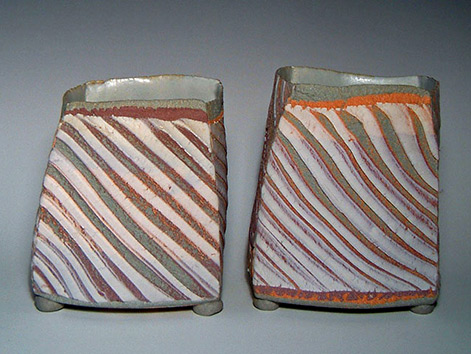 Stoneware vessels  – Jo Connell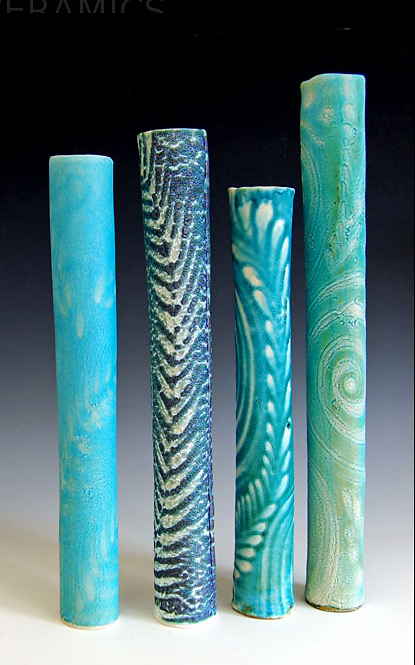 Jo Connell Ceramic Tubes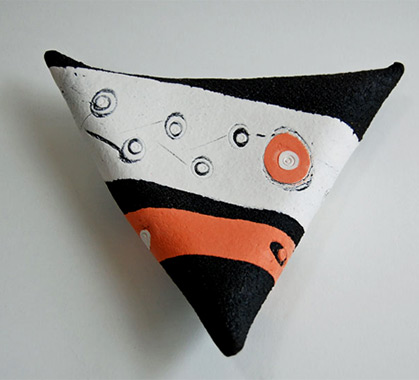 Black tricorn pillow – Jo Connell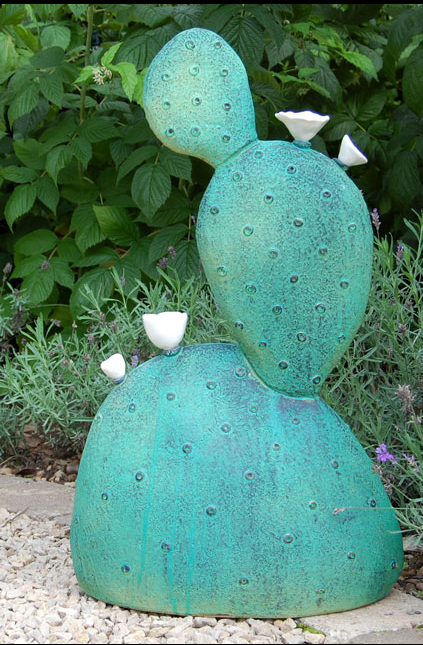 Cactus Garden Sculpture with Prickly Pear Porcelain Flowers- Jo Connell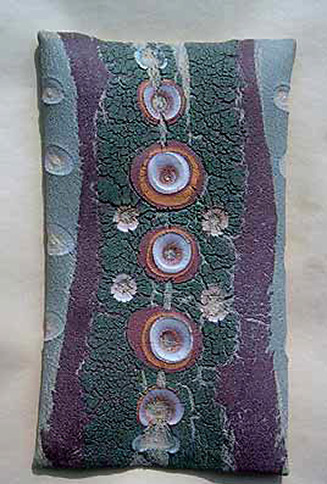 Jo Connell- Wall pillow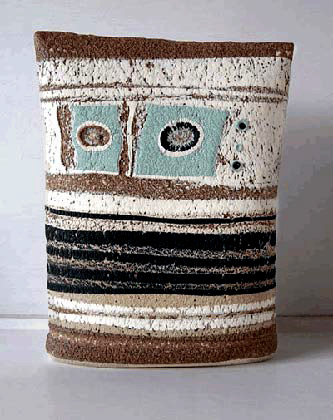 Jo Connel – folded vase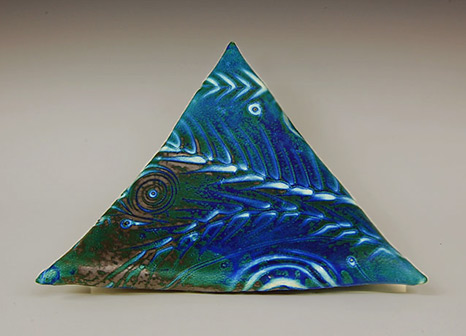 Tricorn Fern Pillow -Jo Connell
Salt & Pepper sculpture – Jo Connell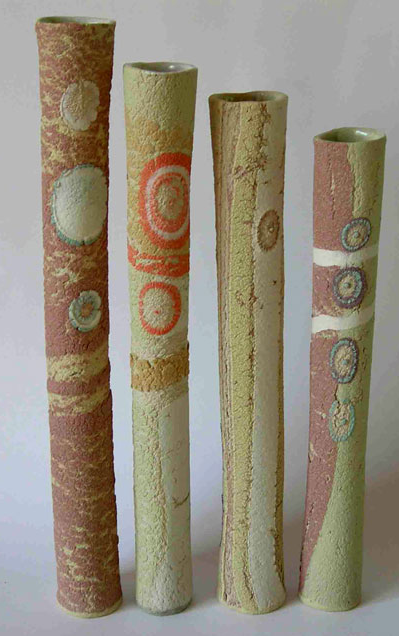 Stoneware vessel Tubes – Jo Connell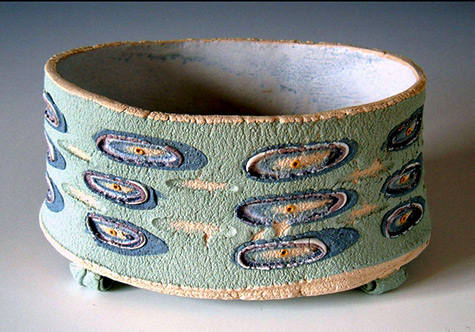 Stoneware crater vessel- Jo Connell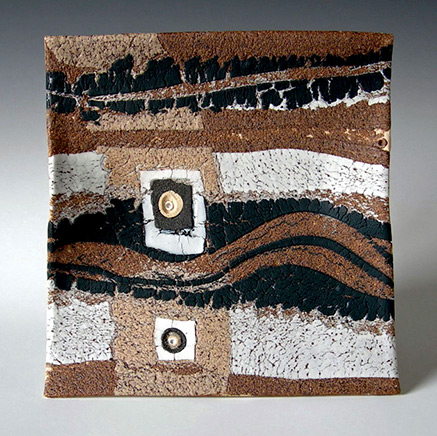 Platter -Jo Connell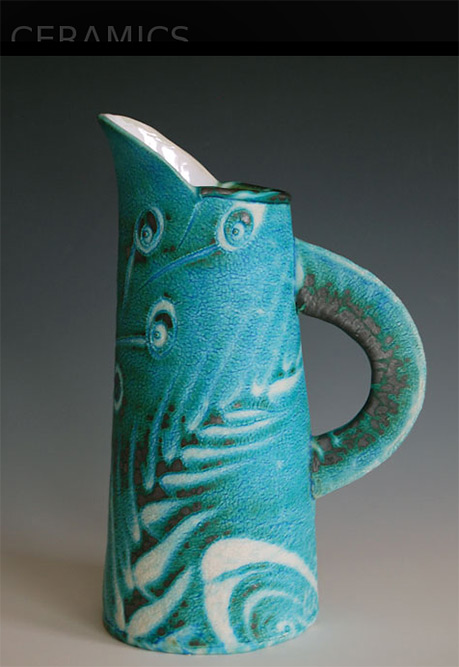 Turquoise jug – JoConnell
Height  30cm
…
Sylvia Tello-Trumbull,  Mexico :
Self taught Sylvia Tello Trumbull moved from San Diego, CA to San Miguel de Allende, Mexico, 8 years ago. Through the mentorship of a dear friend, she discovered a love of ceramics and clay and was drawn to hand-built techniques and alternative firing methods.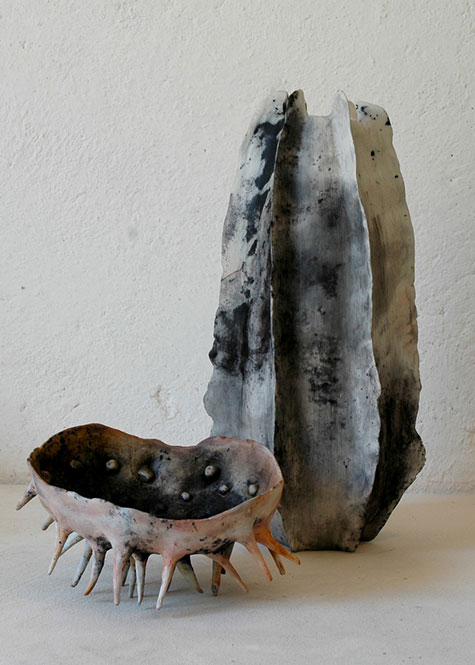 A Collective of Two  – Elaine Greiner ( left ) & Sylvia Tello-Trumbull
Fractured Discs – Sylvia Tello Trumbull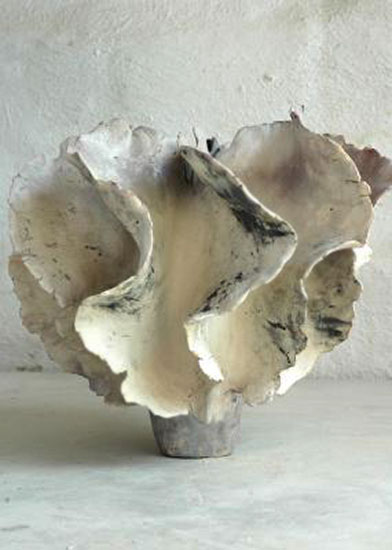 Sylvia Tello-Trumbull – Medium winged urn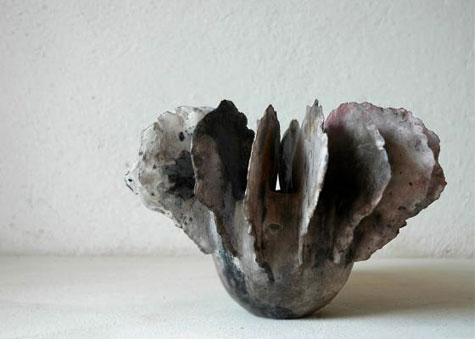 Small winged bowl – Sylvia Tello-Trumbull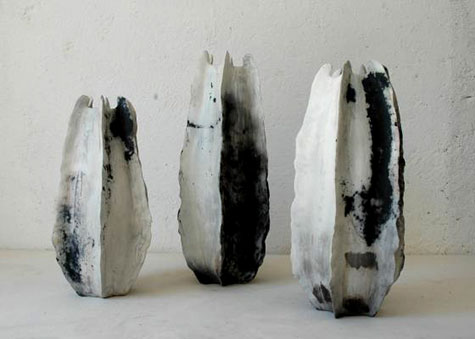 Three graduated urns –  Sylvia Tello-Trumbull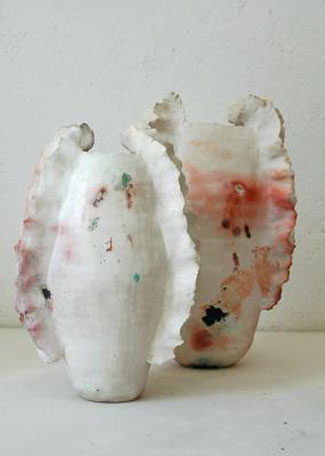 Two wings urns – Sylvia Tello-Trumbull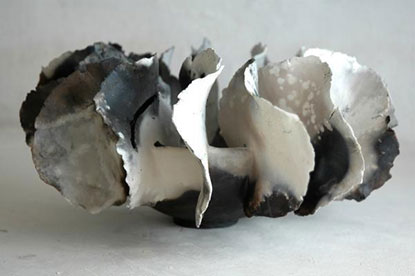 Sylvia Tello Trumbull – winged bowl, pit fired clay
–