Paul Manship "Day" sculpture *
…
As they say, whimming isn't everything. Some you whim, some you lose. For most people, losing is such an undesirable option and whimmers are grinners, because everybody loves a whimmer. At least for a cliche enriched subject, you're on a whimmer. The extremes of the ambitious are played out in the realm of the contest. Elation if you win, despair if you fail. Nobody remembers a second place whimmer. A quitter never whims and a whimmer never quits. Whim at any cost. Play to whim !
Or you can take the middle ground, the path of the truly whimsical, amused but detached in succeeding, and equally unperturbed and content if success eludes you. Relish the contest, enjoy the journey, That's how to be first past the whimming post.
…
The Fountain of Apollo in Versailles – the Marble Version, carved by Cervietti Studio in Pietrasanta, Italy
Ceramic Storyteller Figure
100-800 AD, Jalisco, Ameca Valley, Mexico
Whimsical 'Contrebassiste 2' – Pauline Watteau
A.Ali Daher painted gourd lamps – Vordingborg, Denmark
Kalabas Art Gallery
"…..Going, Going, Gone"  pottery vase by Hippopottermiss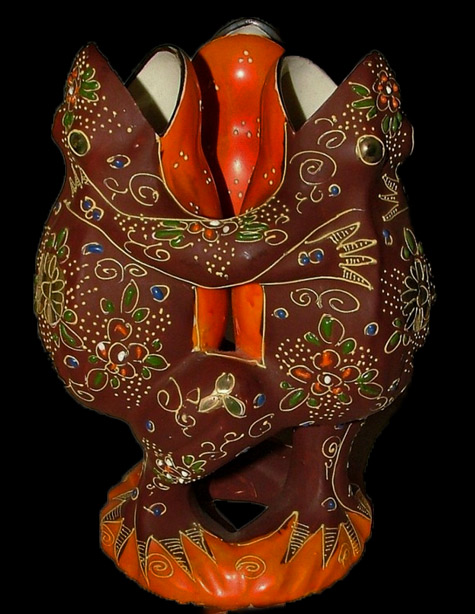 Japan Satsuma – Three Dancing Frogs Kaeru Good Luck Okimono Objet D Art   eBay
1920s
Chalkware Cuban dancer statues
1955
NY mannequin decorated by Naeem Khan
Salvador Dali – Barcelona
'The Chilly' — Subodh Kerkar
Cottesloe beach – 2013
Turquoise and gold Chinese figurines.
Florida Modern, Etsy
Japanese Noritake Chinaman Inkwell
1925
'Calucy' – Todji Kurtzman
Bronze, 22 x 10 x 24 inches
'Chain Reaction' & 'Loop' by English glass artist Diana East
Pottery whale watering can
atwestend.com
Mermaids fountain
flippinyourfins.tumblr
'Frogpile' – Pauline Do
'Sailing' – George Lafayette
Greater Paris,  Bassin de l'Automne, Bacchus et faune endormi, Versailles
'Morphology 1'  by James Kemp – Cone 6 Ceramic sculpture
25 x 17 x 19,  2013
'Imaginative Bloom' by Michelle Summers- Handmade ceramic coffee cup
 Imaginative welded sheet-metal sculpture Hanging Bat by Henry Dupere
Harris Deller abstract teapot
Mold making studio –  Pietrasanta, Tuscany
Photo Heinryk Hetflaisz
"Eye Of nautilus"  – Hilary Simms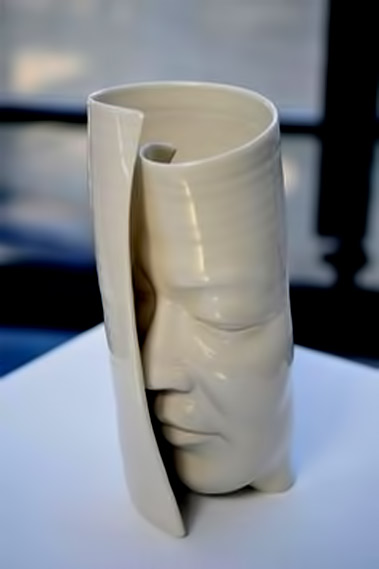 Johnson Tsang porcelain sculpture
Large Italian vase from Albisola
Vince Sansone
Linda Hoffhines, USA
http://lindahoffhines.blogspot.com.au/
Fist handle mugs – liveart store, Japan
Lunch Plate – Liz Quackenbush
Terracotta, majolica, lustres, glass enamel, cone 04
Polar bear vase – Mats Gustafson, Stockholm
Melanie Ferguson – 'On The Lookout 2′ —Crow Series
Pam Summers   'Ribbon Bowl'
Robj tea set with Fez wearing Turks, France
Sculptor Robert Aitken
sirismm.si.edu
'Ram' – Sharon Stelter
Basilica of Santa Croce – Florence,
Squat, bulbous vase with carp – Sally Tuffin
1938
1939 World's Fair salt and pepper shakers and holder
Atomic Dimestore – etsy
 Cactus cookie jar
Standing Cello Player, Janos Török design for Zsolnay, Ungarn
1950
'Crossing' – Sarah Swink
2013
Jacques POUCHAIN ​​(born 1925) – Pitcher anthropomorphic 'Bird Woman'
A sculpture titled 'Scarlet' (Colourful Mosaic Contemporary Abstract Seat/Bench) by artist Francony Kowalski
* ( minus the caption)
–